"Good, better, best. Never let it rest until your good is better and your better is best."
St. Jerome may not have been speaking about the construction industry when he uttered these words in the fourth and fifth centuries, but they hold true for those working at height by accurately describing the OSHA Safety Hierarchy of Controls for Fall Protection.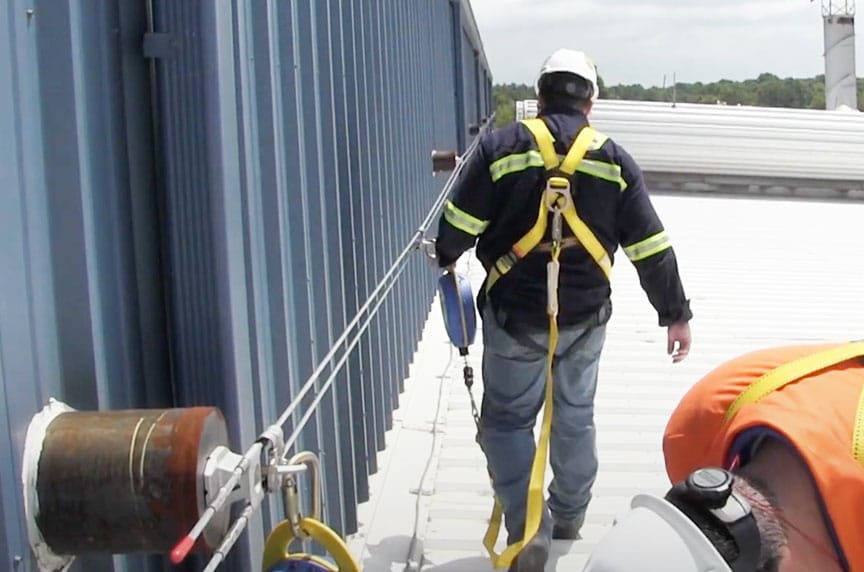 There are going to be times when fall hazards can be eliminated or minimized, and others where workers will need to be protected because the chances of a fall could not be reduced or removed.
Removing or eliminating the hazard is considered the "best" method of protecting workers from falls, while a collective fall prevention measure is "better." A fall arrest system that is designed to protect workers should a fall occur, which is considered "good."
The goal with fall arrest systems is to protect workers during a fall, but OSHA (Occupational Safety and Health Administration) Hierarchy of Controls states the best way is to completely remove the fall hazard.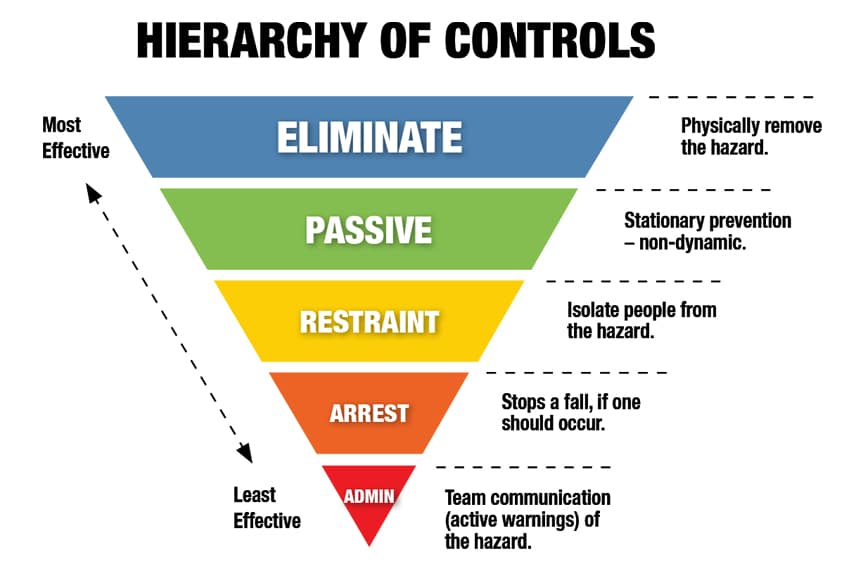 In this article, you'll learn about:
Eliminating the hazard completely
Reducing the risk of a fall by installing prevention systems
Protecting workers during a fall
Best: Hazard Elimination
---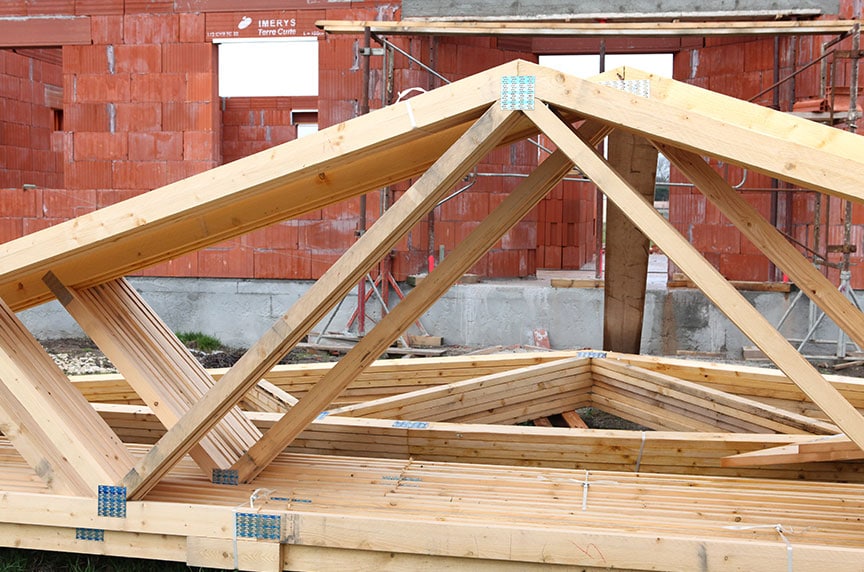 According to the OSHA Hierarchy of Controls, identification of a hazard is the key to control or eliminate the hazard.
***Remember the most effective way to reduce falls is to remove the hazard completely.
This is the result of active participation from the workers and communication with employers.
Examples: If you have to change the light bulb that is at height, a safer way of completing the task would be to bring the fixture to the floor for the switch to be made. That would require a redesign of the light fixture, but the upfront investment may save your workers from injury and company time and money.
Pre-fabricating roof joists in home building is another example of fall hazard elimination. Instead of having the roof built on-site, piece by piece, companies around the country have been pre-building the framing for the roofs to drastically reduce the amount of time workers spend at height while installing the structure.
Better: Fall Prevention Measures
---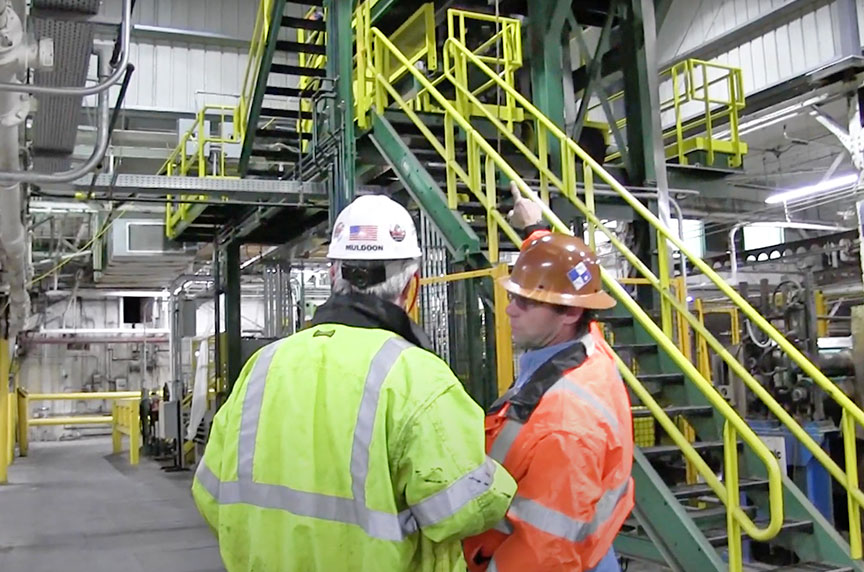 This engineered control helps eliminate a fall hazard by the installation of a collective/passive system, including but not limited to:
Guardrails
Stairways
Platform systems
Netting
Barricades
Good: Personal Fall Arrest Systems
---
Fall Restraint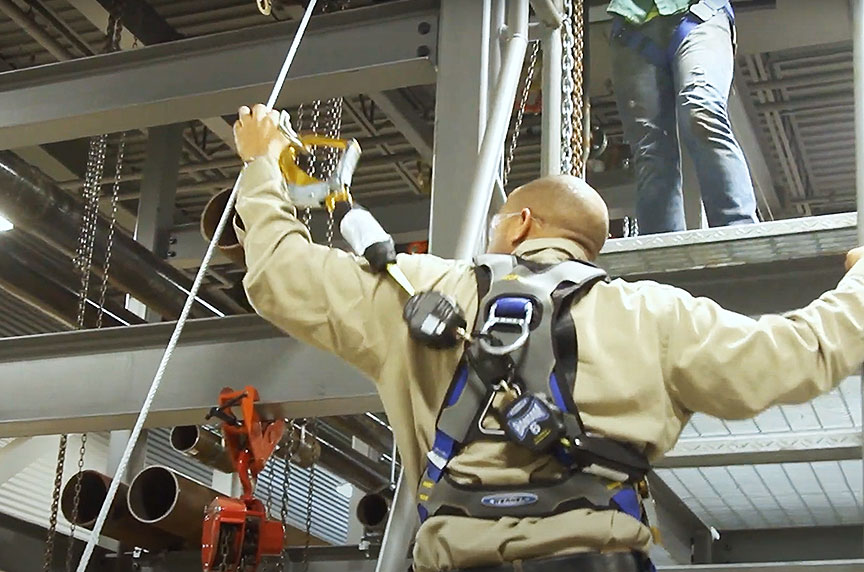 Fall restraint systems consist of a full body harness that is connected to a lanyard through a D-ring on the back of the harness. Once the system is in place, you won't be able to get close enough to the hazard to experience a fall in any direction.
You're being restrained from getting close to the hazard.
Fall Arrest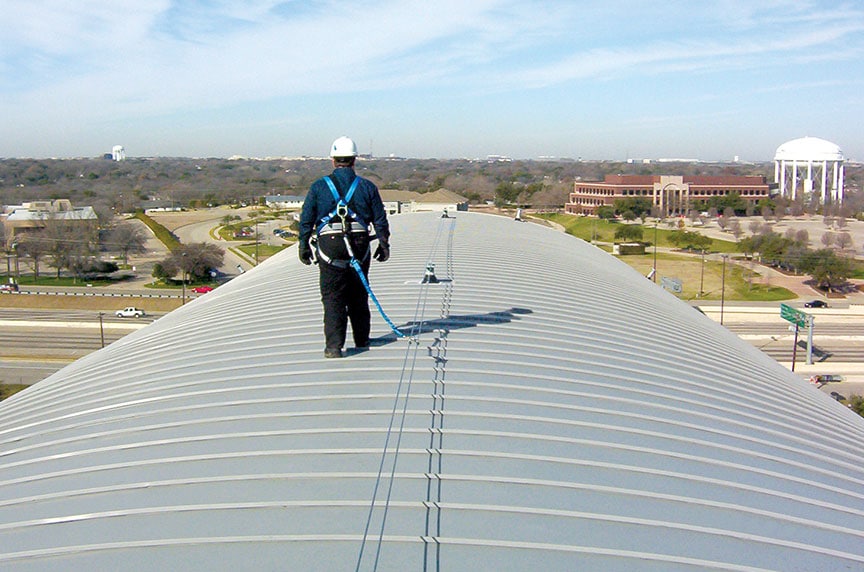 When a fall restraint system isn't going to work, and you're getting close to an edge, fall arrest is the next option.
These types of fall protection systems are used commonly by:
Ironworkers
Bridge workers
New construction
Steel mills
You would be using a lifeline, which is made up of two anchor points connected together through either an intermediate anchor or stanchions. That means multiple workers can be connected to one line and be protected in the event of a fall.
If a fall occurs, it will be arrested, which will prevent the worker from hitting the ground or another object.
A personal fall arrest system (PFAS) consists of a:
A climbing system refers to ladders that are fixed or portable, while rail systems can be attached to fixed ladders.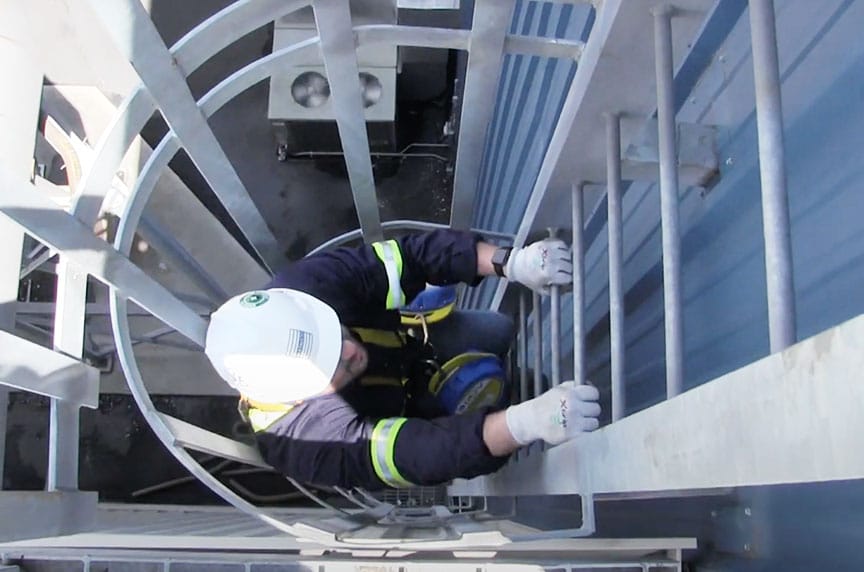 A personal riding system includes safety measures for:
Bucket lifts
Aerial lifts
Boom lifts
Powered platforms
Scissors lifts
Work positioning systems consist of locking rope grabs and positioning lanyards.
---
---
Administrative Controls
---
The most complex of all the methods in the Hierarchy of Controls for Fall Protection, Administrative Controls require a professional engineer and competent person to install a system that protects you from the fall hazard.
There's no equipment necessary to restrain you. It is a knowledge-based training system meant to give you the information necessary to create safe environments for your employees who will be working at height.
ACE Method
Keep the acronym "ACE" in mind when planning for safe operations while working at height.
"A" stands anchorage, and it refers to the point where a personal fall arrest system is connected to and is independent of other anchors. This form of individual protection is generally able to support 5000 lbs. of force or is specifically engineered to code standards.
Anchorage points are governed by the ANSI Z-359 and OSHA 1926 safety standards.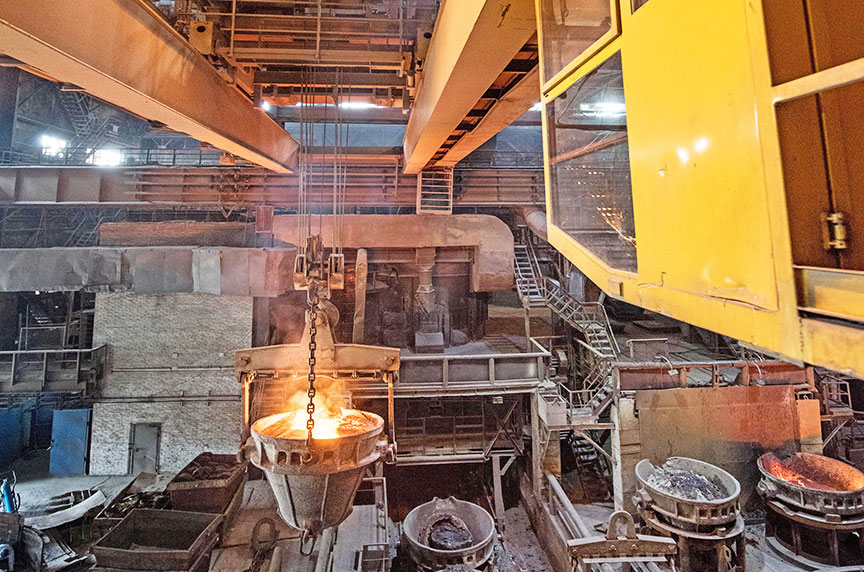 "C" refers to the conditions of the work being done and is site specific.
Every job site is unique, and thus, safety requirements may be very different based on:
Environmental concerns
Chemical exposure
Electrical units in close proximity
Atmospheric conditions
Traffic
Other work being done at the site
"E" stands for equipment, and to determine which method is best, you must consider whether an active or passive fall protection system is more appropriate for the hazards presented by the job site.
The distance to stop the person suffering the fall, the size of the worker, resistance to environmental degrading, or whether you want to restrict or limit movement while working at height all must be considered when determining what system is best for you.
Best Fit Applications
---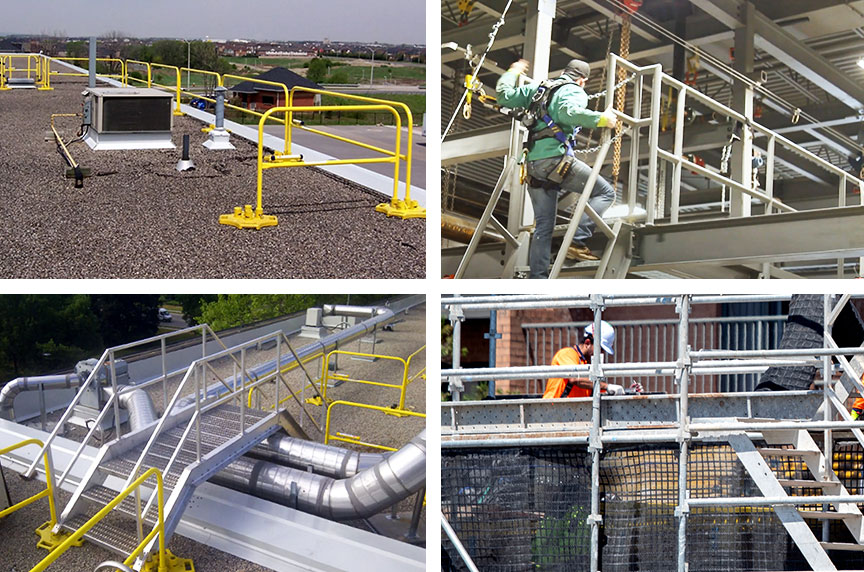 Guardrails
Guardrails are commonly used for walking/working surfaces inside factories, and they are important components of scaffold platforms.
On scaffolding, guardrails are mandated to be installed along all open ends and sides of the platform before the systems are fit for use.
Like other fixed guardrails, workers on scaffolds must be protected by a toprail, midrail and toe board to prevent objects that are kicked on the deck from falling down and injuring workers on lower levels of work sites.
Stairways
Fixed stairways are necessary when travel of 19" or more of elevation change is required between levels on a regular basis. Travel on a regular basis is defined to cover every day and every shift.
Also, stair rails are required on all open sides of a stairway to act as a barrier in fall prevention.
Platforms
Platforms are most commonly used with scaffolding and on fixed ladders.
Netting
OSHA 1926.105 states: "Safety nets shall be provided when workplaces are more than 25' above the ground or water surface, or other surfaces where the use of ladders, scaffolds, catch platforms, temporary floors, safety lines, or safety belts is impractical.
"Where safety net protection is required by this part, operations shall not be undertaken until the net is in place and has been tested."
Personal Fall Arrest Systems (PFAS)
You're going to use a Personal Fall Arrest System when working on formwork or rebar, and according to the standards, you need to take the added measure of covering or capping any protruding rebar. That could prevent an impalement should a fall occur.
Other Examples
Every construction site comes with its own unique challenges and hazards, and the following situations require fall prevention/protection measures to keep workers safe:
Excavations-Excavations of more than 6' must be protected by a guard when they aren't readily seen because of plant growth or other visual barriers. Additionally, excavations must be properly shored up to prevent/limit a collapse.
Wall openings-If you have an opening of 6' or more above lower levels, you must have fall protection.
Roofs-If you're working on a roof, and can fall more than 6', a protection system must be in place.
Scaffold and Man-Lifts-A handrail or PFAS must be used when the scaffold is 10' or more. Fall protection is required for all man-lifts/boom lifts.
Suspended scaffolds must have a PFAS and independent lifelines of 5/8" diameter made from a poly-blend.
Wrapping it Up
---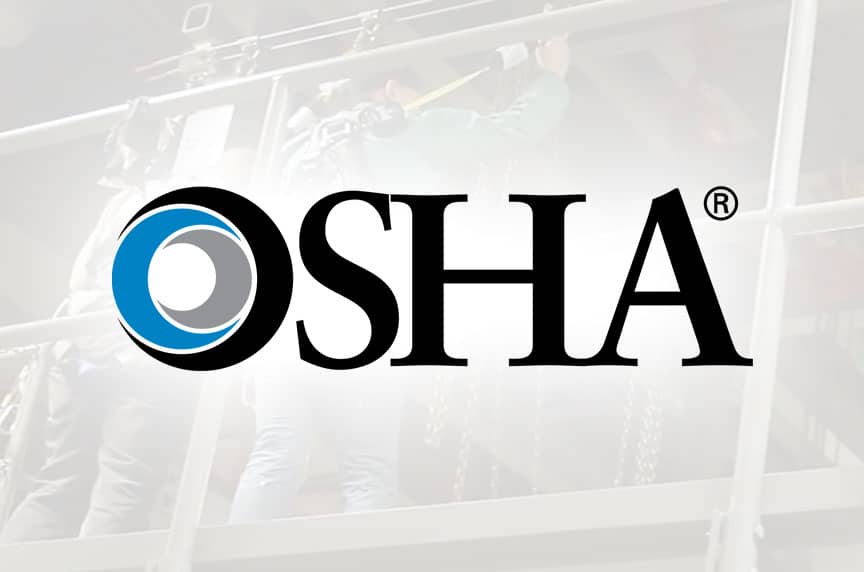 Making sure work is done efficiently, and most importantly, safely are top priorities for company owners, supervisors and employees, alike.
Regardless of which method of fall prevention or fall protection you determine will work best for your company's needs, we want to make sure you're thinking about safety at all times and understand the benefits of and consequences for not working safely.
OSHA's Hierarchy of Controls provides you with guidelines for protecting your workers at height, but the best way to take care of your employees is staying up-to-date on the latest safety standards and constantly evaluating your work sites for potential hazards and solutions.
Have more questions about protecting your workers? Contact our fall protection specialists today at 800.362.4601 or click here for solutions or training for your workers at height.
---
---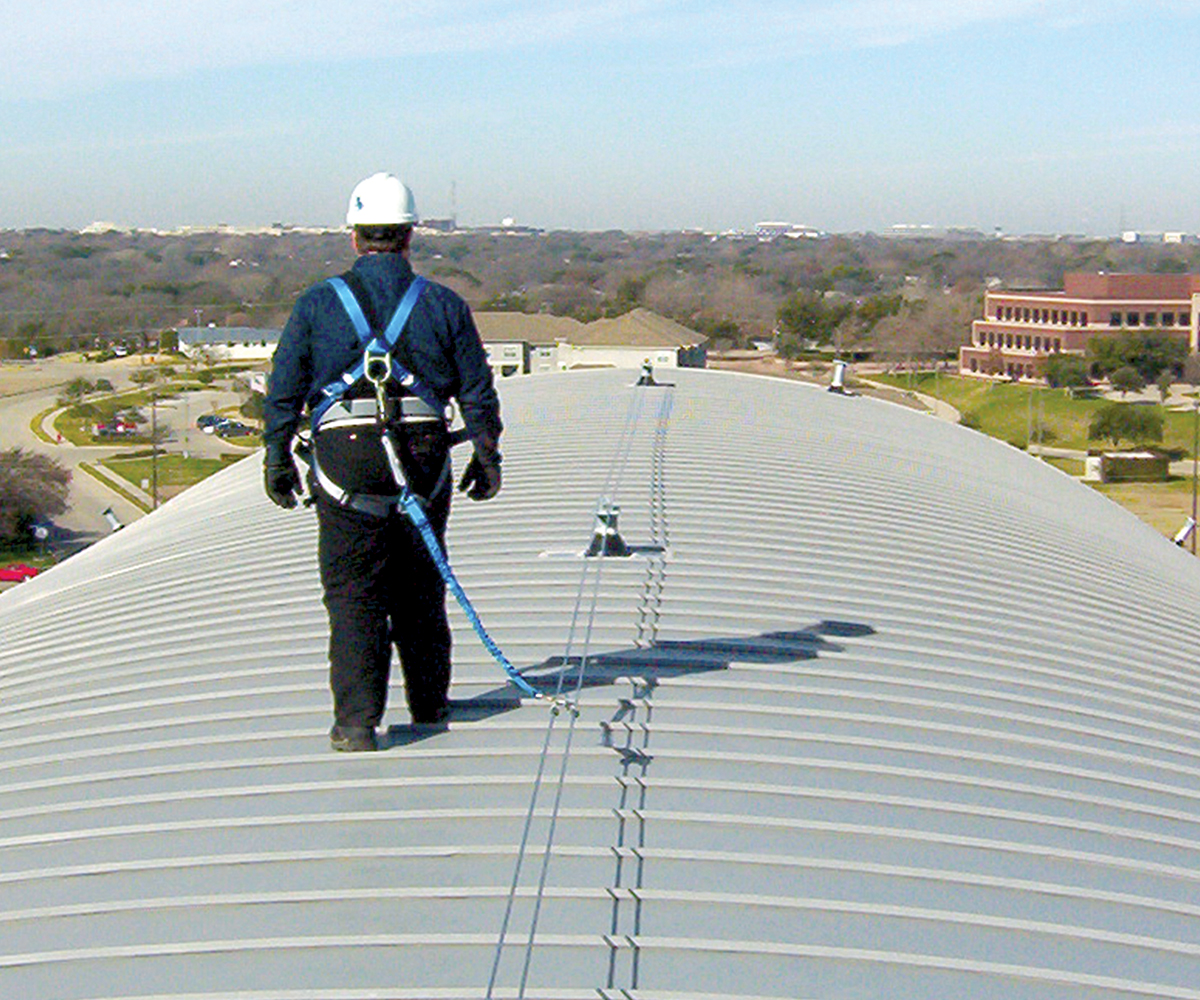 We are a leading supplier and installer of engineered fall protection systems in the U.S., as well as a distributor of soft goods like harnesses, lanyards, self-retracting lifelines, scaffolding, and netting.