Strands are basic building blocks. A strand consists of a "center" which supports a specified number of wires around it in one or more layers. The strands provide all the tensile strength of a fiber core rope, and 92-1/2% of the strength of an independent wire rope core (IWRC) six strand rope.
Such physical characteristics as fatigue resistance and resistance to abrasion are directly affected by the design of strands. In most strands with two or more layers of wires, inner layers support outer layers in such a manner that all wires may slide and adjust freely when the strand flexes.
As a general rule, a strand made up of a small number of large wires will be more abrasion resistant and less fatigue resistant than a strand of the same size made up of many smaller wires.

---
Standard Rope Classifications
Most common wire rope constructions are grouped into four standard classifications, based on the number of strands and wires per strand, as shown in this chart.
All ropes of the same size and wire grade in each classification have the SAME strength and weight ratings, and usually the same pricing. Ropes within each classification may differ in working characteristics such as abrasion and fatigue resistance.

---
Basic Strand Constructions
Single Layer
What is sometimes called the "Single Layer Principle" is the basis for this strand construction. Probably the most common example is a single wire center with six wires of the same diameter around it. It is called simply, a 7-wire (1-6) strand.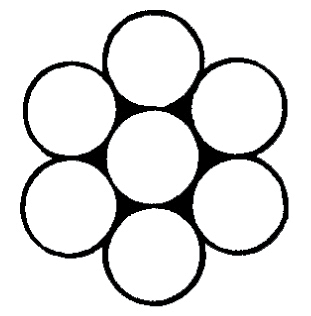 ---
Filler Wire
This construction has two layers of uniform size wire around a center wire, with the inner layer having half the number of wires as the outer layer. Small filler wires, equal in number to the inner layer, are laid in the valleys of the inner layer. Example: 25 Filler Wire (1-6-6f-12) strand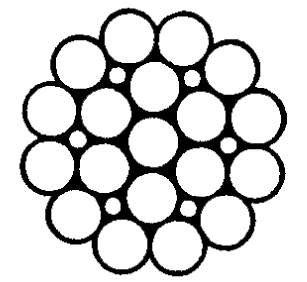 ---
Seale
The Seale Principle features two layers of wires around a center wire, with the same number of wires in each layer. All wires in each layer are the same diameter, and the strand is designed so that the large outer wires rest in the valleys between the smaller inner wires. Example: 19 Seale (1-9-9) strand.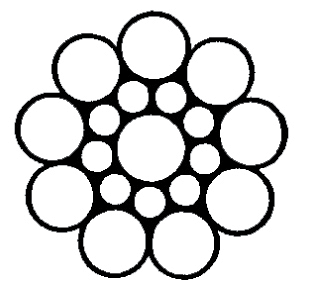 ---
Warrington
The Warrington Principle is a 2-layer construction with uniform-sized wires in the inner layer, and two diameters of wire alternating large and small in the outer layer. The larger outer-layer wires rest in the valleys, and the smaller ones on the crowns, of the inner layer. Example: 19 Warrington [1-6-(6+6)] strand.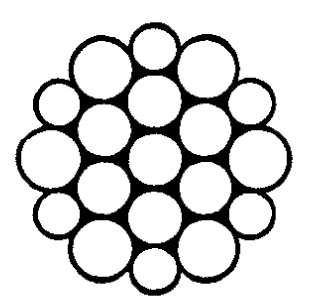 ---
Combined Patterns
When a strand is formed in a single operation using two or more of the above constructions, it is referred to as a "Combined Pattern." This example is basically a Seale strand in its first two layers. The third layer utilizes the Warrington Principle, and the outer layer is a typical Seale pattern of same-size wires. It is described: 49 Seale Warrington Seale [1-8-8-(8+8)-16] strand.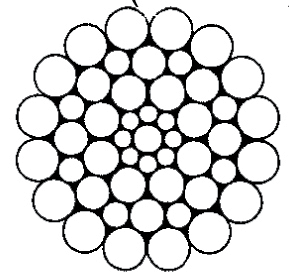 ---
Multiple Operation
In contrast to all the above strand types which are formed in a single operation, a Multiple Operation construction strand is one in which one of the above designs is covered with one or more layers of uniform-sized wires in a different work operation. The second operation is necessary because the outer layers must have a different length of lay or direction of lay. This example is a Warrington strand overlayed with 18 same-size wires. It is described: 37 Warrington 2-Operation [1-6-(6+6)/18] strand.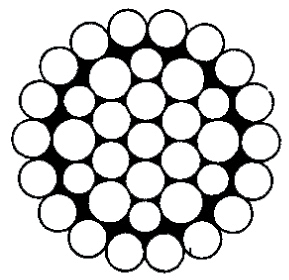 ---