Rigging a load is a complicated process that, without proper hardware, can result in damaged equipment or a failed lift. When the load in question needs to be lifted from the sides, or at an angle, rigging it becomes even more complicated. A hoist ring is a common piece of rigging hardware that's used as a securement point during an overhead lift.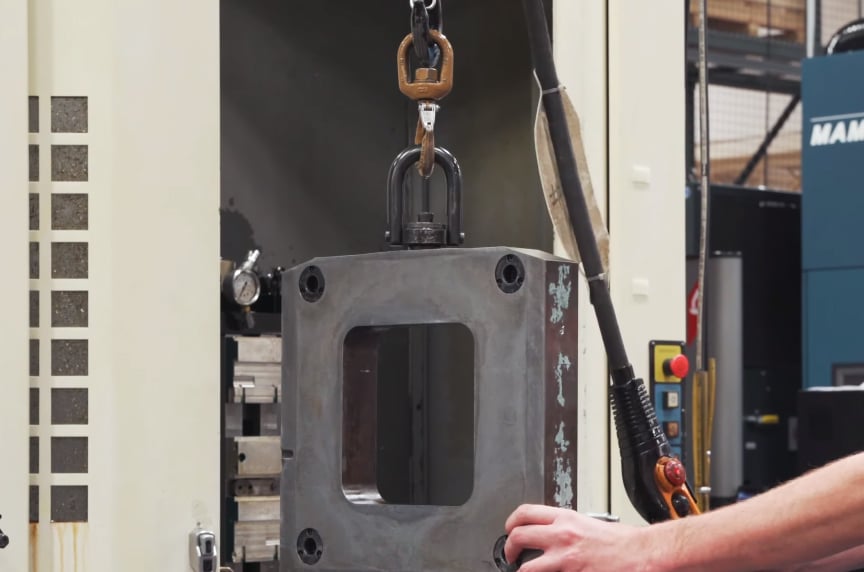 A hoist ring functions like an eye bolt, but it also has the capability to swivel and pivot. Like eye bolts, there are several different types and configurations of hoist rings.
Hoist rings are often used in place of an eye bolt when an overhead lift is angular. However, hoist rings are commonly misunderstood or used incorrectly.
We get questions all the time about the proper application of different types of hoist rings. To help educate our customers, here is some basic information about hoist rings we'll discuss in this article:
What hoist rings are
The parts of a hoist ring
Hoist ring markings/identification
Hoist ring removal from service criteria
Types of hoist rings
Hoist ring installation
What is a Hoist Ring?
A hoist ring—sometimes referred to as a swivel eye bolt—is a piece of rigging hardware that screws into an engineered lifting point on a load to connect a sling to the hoist.
The function of a hoist ring is similar to an eye bolt. However, a hoist ring has the capability of pivoting and/or swiveling to accommodate lifting at angles without incurring damage to the device. Eye bolts are stationary and can only accommodate angular lifts by factoring in a significant reduction to the Working Load Limit (WLL).
The rated load of a hoist ring ranges anywhere from 800 lbs. to 250,000 lbs. Depending on the size and shape of the load, lifts may be performed with the assistance of one or multiple hoist rings placed throughout the surface of the load.
Hoist rings can pivot 180° and/or swivel 360° from the screw's axis to accommodate load movement while maintaining the WLL.
A hoist ring is, essentially, an eye bolt that swivels and pivots to center the load.
Parts of a Hoist Ring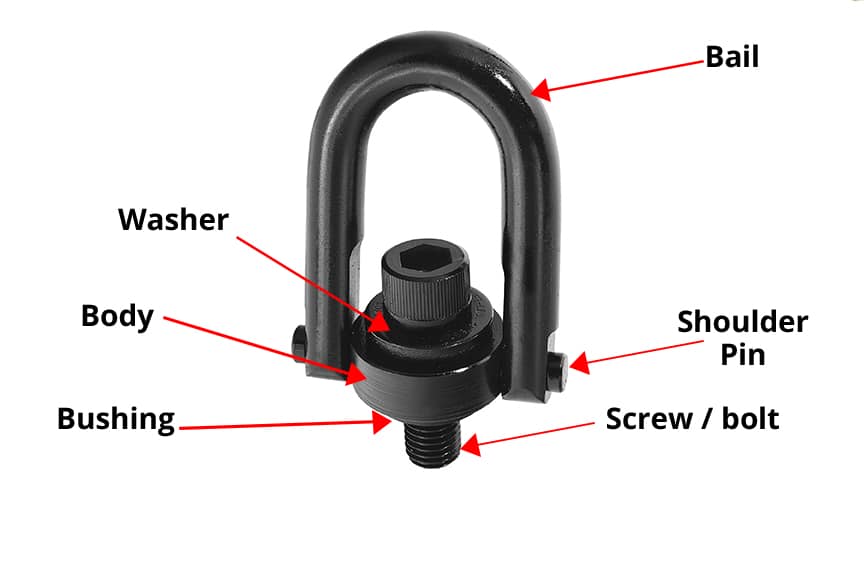 Washer: this is a barrier placed between the top of the screw and the body.
Body: the cylindrical portion in the center of the device that allows it to swivel 360°.
Screw / bolt: this is the threaded portion of the hoist ring that attaches to the load. It passes through the bushing and body of the hoist ring and screws into the load.
Bail: the metal loop that connects to the body and pivots back and forth 180° to accommodate for load movement. Different bail shapes—circle, triangular, U-bar, etc.—are used to accommodate different sling types and sizes.
Shoulder pin: this pin runs through the body, bail, and screw in a clevis configuration to secure the components together.
Bushing: acts as a barrier between the body of the hoist ring and the load. It should be flush with the load's surface when properly torqued.
Hoist Ring Markings / Identification
According to ASME B30.26 Rigging Hardware, each swivel hoist ring shall be durably marked by the manufacturer to show:
Name or trademark of manufacturer
Rated load
Torque value
Removal From Service Criteria
During the course of an inspection, remove the hoist ring from service if any of the conditions listed in ASME B30.26 Rigging Hardware are present:
Missing or illegible identification
Indications of heat damage, including weld spatter or arc strikes
Excessive pitting or corrosion
Bent, twisted, distorted, stretched, elongated, cracked, or broken load-bearing components
Excessive nicks or gouges
A 10% reduction of the original or catalog dimension at any point
Excessive thread damage or wear
Evidence of unauthorized welding or modification
Lack of the ability to freely rotate or pivot
Other conditions, including visible damage, that cause doubt as to continued use
---
---
Hoist Ring Installation
A common mistake when installing a hoist ring is to tighten it down until it won't tighten anymore. This is not proper installation technique and could lead to hoist ring damage or failure.
Each hoist ring comes with the manufacturer's specific torque value rating marked on the device. You must use a torque wrench—not your fingers or a regular wrench—to tighten the hoist ring down to the manufacturer's torque specifications.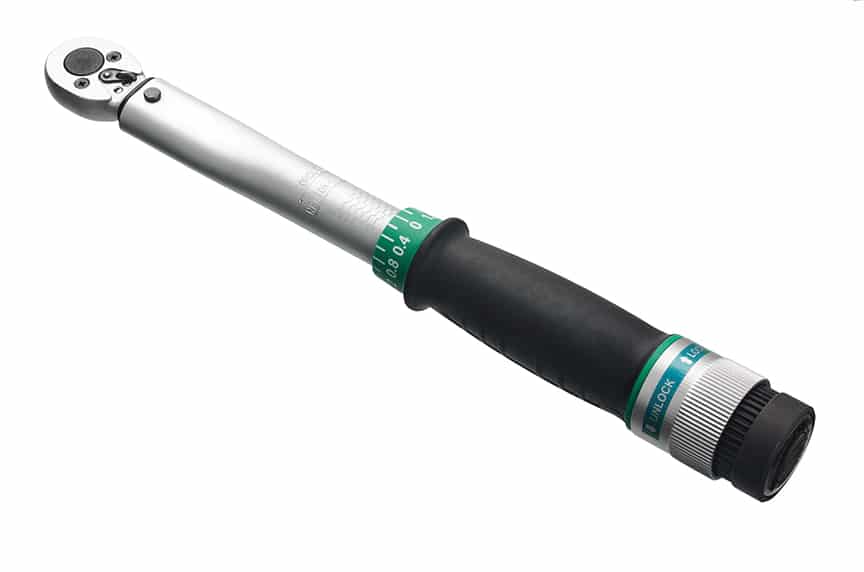 Proper installation of your hoist ring is imperative. If the hoist ring is under-torqued it may not be fully engaged with the load. If it's over-torqued you risk stretching the threads and permanently damaging the hoist ring.
A washer or spacer should never be used between the bushing and mounting surface. When properly torqued, the bushing will act as the barrier between the hoist ring and the mounting surface.
It is acceptable to install a hoist ring without the use of a torque wrench if the hoist ring has a built-in tension indicator. For example, the Jergens Lift CheckTM hoist ring has a Visual Tension Indicator that changes color when the hoist ring is torqued properly or too loose.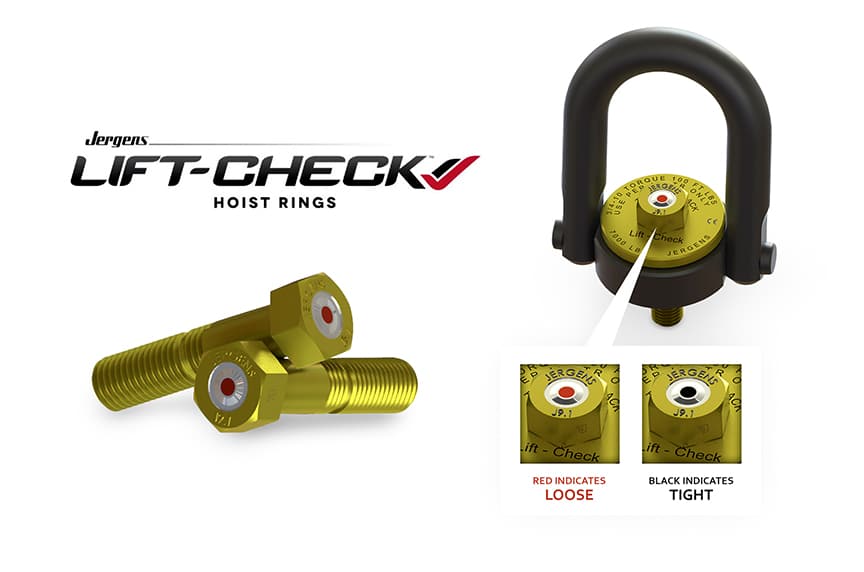 In the presence of a tension indicator, you can use your fingers or a classic wrench to tighten the bolt, as the indicator will let you know when the proper torque value has been reached.
You should periodically monitor your hoist rings' torque and tighten the bolts accordingly, as frequent use of the device may cause the bolt to loosen.
Types of Hoist Rings
The most common types of hoist rings are:
Swivel hoist rings
Side-pull and side-load hoist rings
Flip-flop hoist rings
Swivel Hoist Rings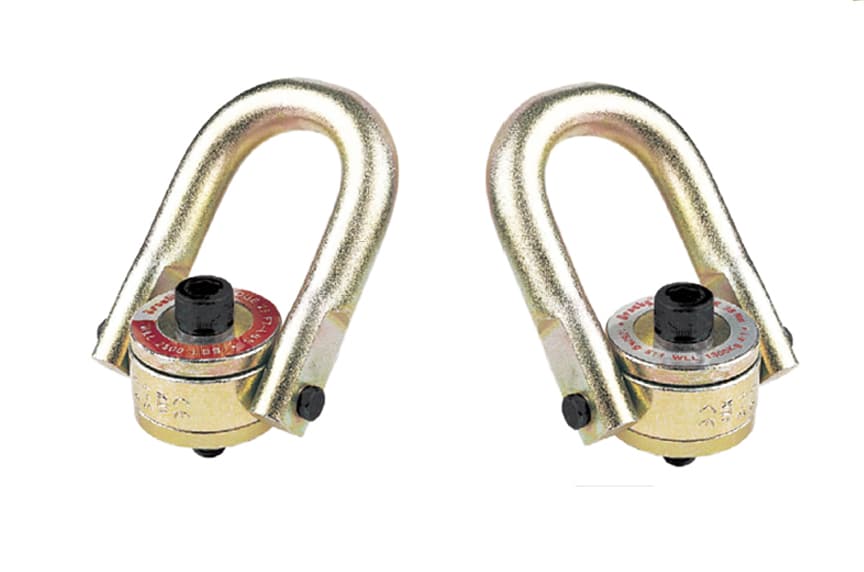 A swivel hoist ring—also known as a center-pull-hoist ring—is the most common type of hoist ring to come across on a job site. The bail, usually a U-bar, is connected through the center of the body with a pin in a clevis-like configuration.
A swivel hoist ring can both pivot 180° and swivel 360°. These design capabilities allow swivel hoist rings to lift from any direction while maintaining the full WLL.
These hoist rings are designed for lifting from the center. They should not be mounted to the side of a load, as the load could obstruct the bail's range of movement.
Side-Pull and Side-Load Hoist Rings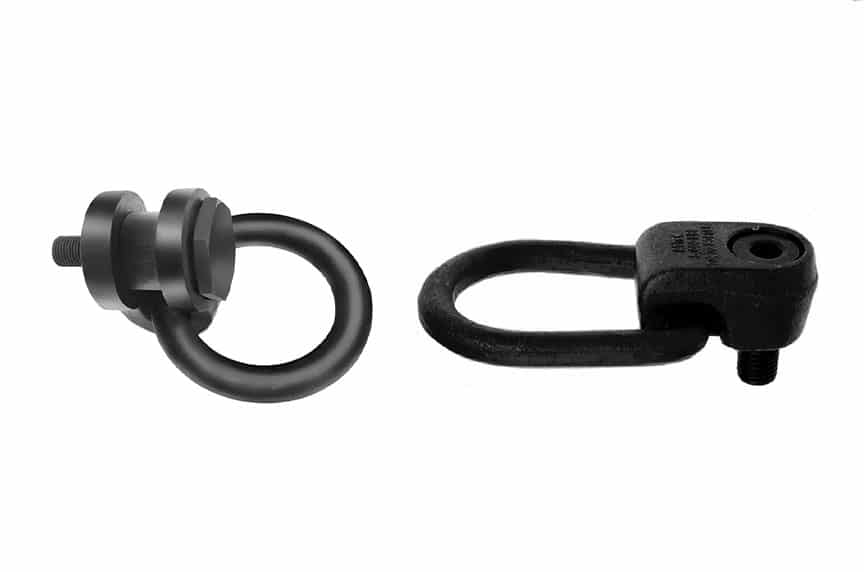 As the name suggests, side-pull and side-load hoist rings are designed for side mounting only. The bail on these hoist rings is attached adjacent to the screw, rather than attaching directly above the screw.
Side-pull and side-load hoist rings also pivot and swivel to self-align with the load. But, unlike swivel hoist rings, side-pull and side-load hoist rings do not maintain the full WLL as the bail pivots. As the bail pivots away from the bolt axis, the load capacity decreases.
Side-load hoist rings can pivot up to 90° from the bolt axis while still maintaining 75% of the rated load. Side-pull hoist rings, however, are rated for straight lifts only—the WLL could be reduced by up to 75% on angled lifts.
Riggers must also take special caution to ensure that the load itself does not obstruct the hoist ring's pivoting when lifted.
Side mounting is typically applicable for lifting items that lack top attachment points or require flipping or rotating during the lift. This is especially common in stamping plants and molding operations where lifts frequently require turning, flipping, and other non-lateral movements.
Flip Flop / Pivoting Lift Ring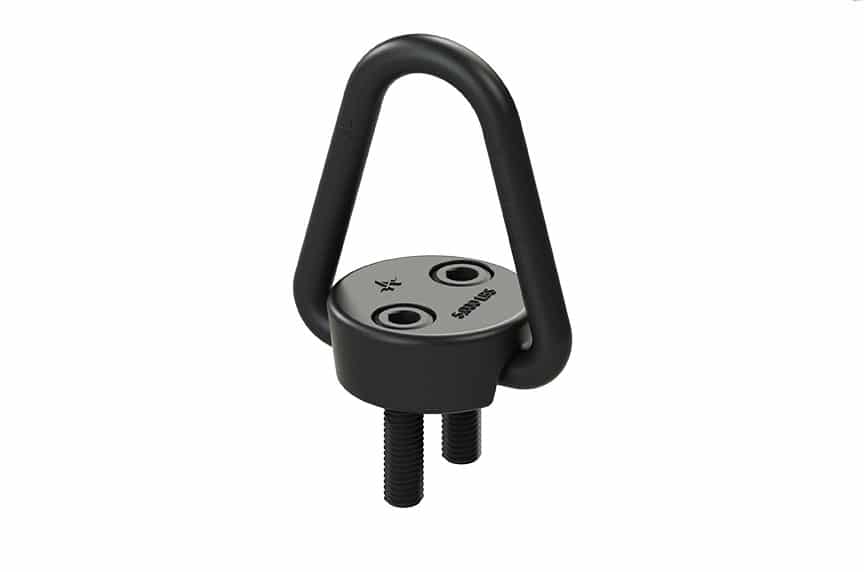 Flip flop hoist rings, also known as pivoting hoist rings, do exactly what the name suggests—they "flip flop" from side to side. In other words, flip flop hoist rings can pivot 180° but cannot swivel.
Like side-pull and side-load hoist rings, flip flop hoist rings are designed for side mounting only.
Wrapping it Up
Having a basic understanding of how to use a hoist ring is important to maintaining a safe lifting program.
When it comes to deciding which type of hoist ring to use, the most important information is whether your connection points are on the top or the side of your load. More often than not, loads can be top mounted and a swivel hoist ring is used. In rarer occasions where an item cannot be lifted or connected to from the top, a side-pull, side-load, or flip flop hoist ring must be applied.
Always remember that a torque wrench is necessary for hoist ring installation (unless there is a built-in tension indicator) and to regularly monitor the torque on your hoist rings. And like any other rigging device, be sure to follow the mandated removal from service criteria and identification standards.
At Mazzella, we stock and distribute hoist rings from several manufacturers, including:
We also offer a large inventory of rigging hardware including hooks, shackles, eye bolts, and more. If you want to schedule a consultation or receive a quote for your next lifting project, contact one of our Lifting Specialists today.

---
---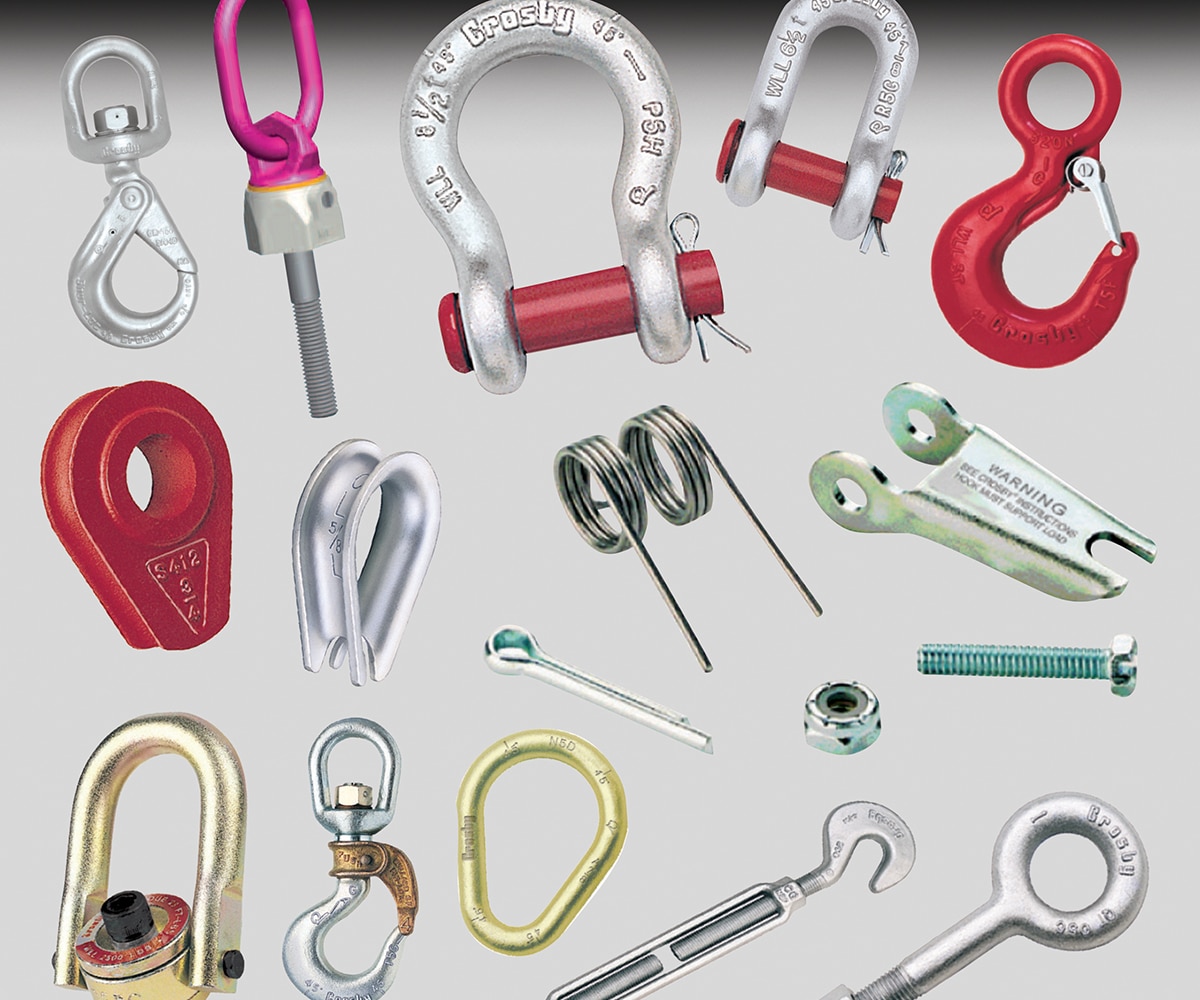 Rigging Hardware
Are you looking for access to a complete inventory of rigging and lifting products from the largest manufacturers in the world?
Contact us if you need shackles, hoist rings, eye bolts, hooks, master rings, links, turnbuckles, and more!
Learn more about lifting and rigging hardware!
Copyright 2020. Mazzella Companies.