We're all familiar with the high cost of injuries, lawsuits, equipment damage, and fines relating to lifting accidents.

Proper training is one of the best ways to ensure that your company's lifting and rigging program is in compliance with industry requirements and to help protect your employees against the risks associated with lifting and rigging.

Are you looking to get your employees trained on lifting and rigging industry standards and best practices? Maybe you aren't sure whether your personnel even require training, and are just looking to learn more about it and its associated costs.

One of the questions we're most frequently asked by customers is, "how much does your training cost?"

While that answer depends on where you go and what your needs are, we can tell you more about our training program and some elements that affect training costs.

Customer training needs and requirements vary widely, and many factors need to be considered when providing lifting and rigging training. Continue reading this article to learn more about:

What lifting and rigging training is
How to determine if your employees need lifting and rigging training
Factors that affect the price of lifting and rigging training
Cost of Mazzella lifting and rigging training
What our training program is like
What is Lifting and Rigging Training?
---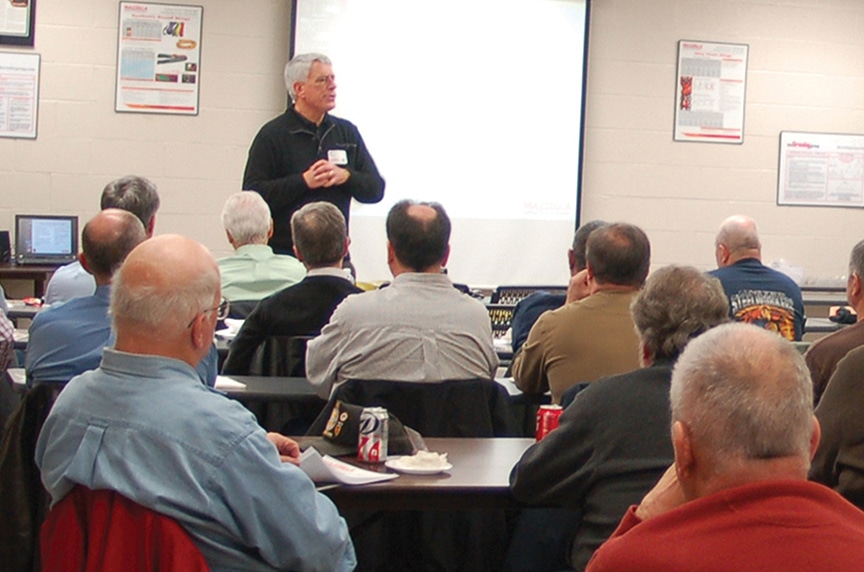 The purpose of lifting and rigging training is to educate a company's personnel on rigging "best practices," manufacturer's recommendations, and industry standards (those related to the Occupational Safety and Health Administration (OSHA) and American Society of Mechanical Engineers (ASME). Better educated employees can take what they learn to promote a safer, more efficient work environment.

Lifting and rigging training is often necessary in situations when companies hire new employees, or want to provide continued education for their more tenured employees. Training usually consists of a classroom session and could include a practical (hands-on) element as well.

All lifting and rigging training should cover applicable OSHA and ASME industry standards and how they apply to:

Planning a lift
Product care, usage, and inspection
Job site safety
And more
Do My Employees Need Lifting and Rigging Training?
---
If your employees' jobs require the use of lifting and rigging equipment, the short answer is: yes.

OSHA states: "The employer shall instruct each employee in the recognition and avoidance of unsafe conditions and the regulations applicable to his work environment to control or eliminate any hazards or other exposure to illness or injury."

ASME B30 standards require employers to provide training to their employees in the safe and proficient use of all products and equipment used in the performance of their jobs.

Anyone that uses lifting and rigging equipment should be subjected to a periodic lifting and rigging training program. This is particularly critical to employees that are new to the industry or new company hires. However, it is also important to provide tenured employees with a refresher course every so often to keep them up to date with changing industry standards.

Some companies choose to have their employees trained annually just to keep current with industry related updates and possible new products.

Depending on the industry category and type of facility you have, your motivation for getting your employees trained may be:

The safety and well-being of your employees
Employee retention
Liability / insurance requirements
Compliance with OSHA and other industry standards
A recent near miss or accident on the job site
Whatever your reason may be for inquiring about lifting and rigging training, it is never a bad idea to use it as a tool for developing more prepared, educated, and, ultimately, safer employees.

---
---
What Affects the Price of Lifting and Rigging Training?
---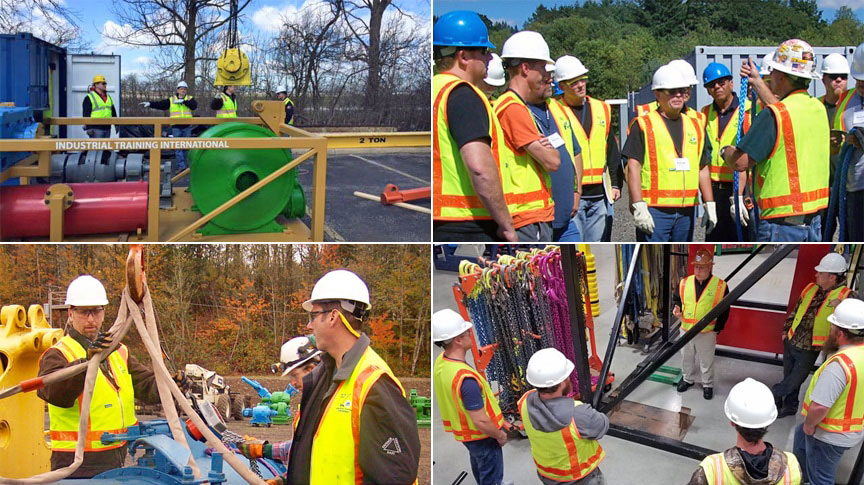 Depending on the provider, the pricing of lifting and rigging training can vary from "free" to over a thousand dollars per attendee based on a number of different factors.

When receiving a "free" training, it's important make sure you understand who is performing your training and what you're really receiving when someone gives you a free training.

Many factors affect the price of lifting and rigging training. Some of the most significant are:

Number of attendees
Length of training / number of sessions
Travel
Whether a certification is required
Number of Attendees
Most lifting and rigging training programs—including our own—will charge per student.

For pricing purposes, most programs will consider the number of attendees to take high volume session attendance into account. There is a difference when it comes to training ten people in one class vs. training 100 people over five separate classes.

Length of Training / Number of Sessions
Depending on the situation at your facility, your company may only require a short 1-hour training as a refresher, or an in-depth 8-hour training. Generally, the longer the training session, the higher the price.

Sometimes, the training sessions need to be spread out over several shifts. Since more sessions means more time required from the trainer(s), this will usually result in a higher cost.

Travel Expenses
The company you purchase your training from will normally send their closest qualified trainer to work with your employees. If a company does not typically service your region, their closest available trainer may need to travel a significant distance to service your facility. If this is the case, expenses like airfare, hotel, meal expenses, rental car, gas, etc. are typically calculated into the total cost of the training.

Whether a Certification is Required
Certification must be done by a third-party entity— the most common one in our industry is the National Commission for the Certification of Crane Operators (NCCCO).

If you are looking to have your employees become "Certified Riggers" as a result of a training course, expect a much higher price than found in basic lifting and rigging training programs. This is because courses that "Certify" are often several days long, usually performed at the trainer's facility, and are much more rigorous than basic lifting and rigging training sessions.

Please note that Mazzella does not certify attendees for lifting and rigging, nor do we provide "train the trainer" classes. For those requests, we have partnered with a company called Industrial Training International (ITI). ITI uses two Mazzella locations as ITI training center for its more detailed classes – one in Cleveland, OH and the other in Bartow, FL. When we refer customers to ITI, the customer then deals directly with ITI.

A certification program such as ITI's, or a similar entity, is, more expensive than our programs—these are the types of programs that will run over one thousand dollars per attendee. However, only a small percentage of the lifting industry require "Certified Riggers" in their operations.

What is the Cost of Mazzella Lifting and Rigging Training?
---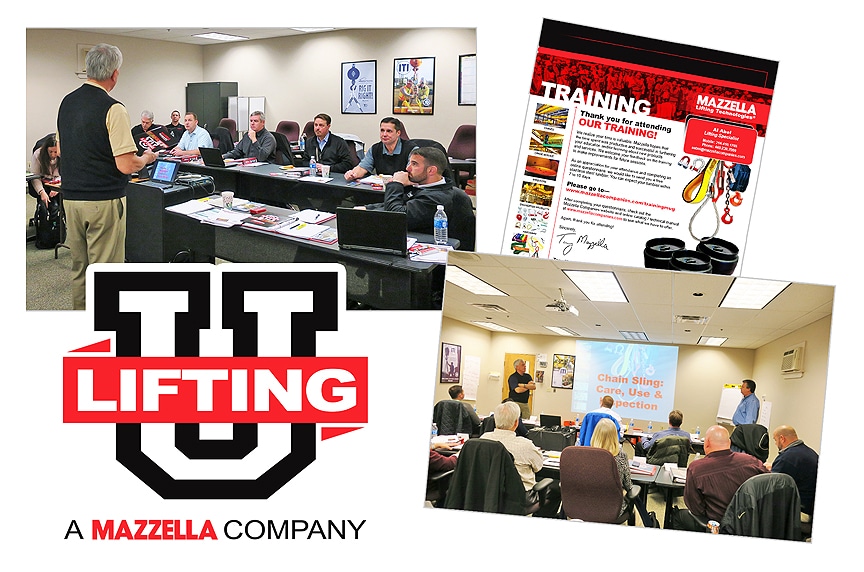 The price of a lifting and rigging training session from Mazzella varies. Mostly, it depends on the number of anticipated attendees and the length of the training session you are looking for—session length may range anywhere from a 30-minute toolbox talk to a full 8-hour shift.

The length of training you receive is up to you and mostly dependent on the level of training your employees require. This is something your Mazzella Lifting Specialist/Trainer will work through with you.

Our lifting and rigging training program is priced per person, and starts at less than $100 up to about $400 (with a minimum requirement of 10 attendees). Depending on how many individuals your facility needs to get trained, you may require several training sessions to get everyone through the program.

What is Mazzella's Training Like?
---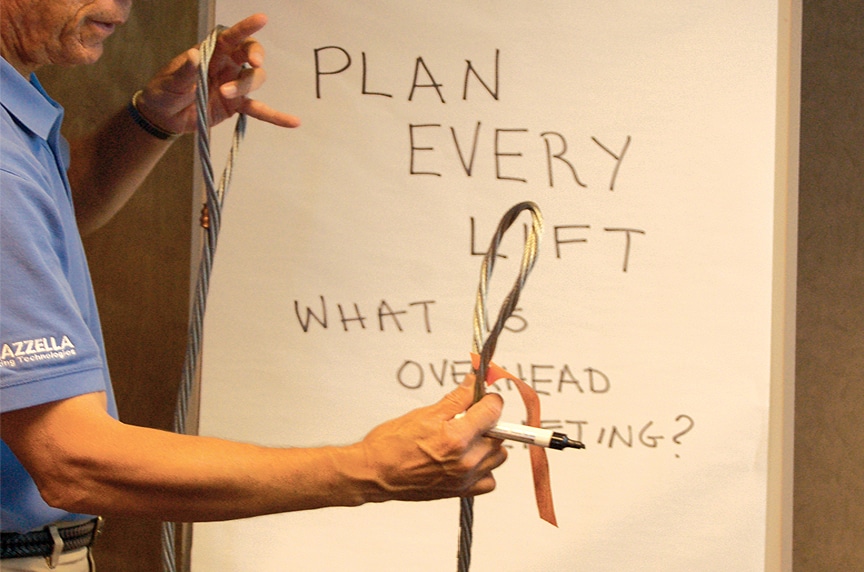 At Mazzella, we've developed a series of lifting and rigging training modules that are centered around a focused topic. Our training sessions are designed to teach your employees about the applicable OSHA and ASME standards as they relate to these modules:

Module 1 – Terms, Risk, and Rigging Technique
Module 2 – Plan Every Lift
Module 3 – Rigging Technique
Module 4 – General Rigging: Care, Use, and Inspection
Module 5 – Wire Rope Slings: Care, Use, and Inspection
Module 6 – Chain Slings: Care, Use, and Inspection
Module 7 – Synthetic Slings: Care, Use, and Inspection
Module 8 – Hooks, Shackles, Eyebolts, and Hoist Rings
Module 9 – Load Control
Module 10 – Safe Design and Use of Below-the-Hook Lifting Devices
Module 11 – Overhead Cranes and Crane Signals
In addition to these eleven modules for lifting and rigging, Mazzella also offers more detailed classes for fall protection including a basic fall protection class, an intermediate class, and an advanced competent person fall protection class.

Mazzella also offers an 8-hour overhead crane operator class beyond the basic lifting and rigging classes.

Essentially, the training is broken out and structured into a series of topics that you will select to customize the training to fit your company's needs. Our trainers will work with you to determine the most important modules to focus on for your facility's issues and problems.

So, for example, if your facility recently had a near miss involving a poorly maintained wire rope sling, our instructor could spend more time focused on wire rope sling inspection. Or, if your company uses only wire rope and chain slings, we could omit the other sling modules focused on synthetic slings like web slings and roundslings.

In addition to the training, each attendee at a Mazzella training will receive a:

Packet of interactive material
Dated certificate of attendance
Wrapping It Up
---
We hope that this article gave you some insight into:

What lifting and rigging training is
How to determine if your employees need lifting and rigging training
Factors that affect the price of lifting and rigging training
Cost of Mazzella lifting and rigging training
What our training program is like
Lifting and rigging training is necessary for educating personnel on industry standards and requirements as they pertain to rigging best practices.

A good lifting and rigging training program will cover OSHA and ASME standards as they apply to lifting and rigging hardware, equipment, and safety. Our program is offered on a modular basis and can be customized to fit your facility's needs.

The cost of lifting and rigging training is primarily based on the projected number of attendees and the desired length of your training session(s), which is ultimately driven by the needs of your company. Mazzella's training program is priced per-person on a sliding scale depending on the length of your training session.

How We Can Help
At Mazzella, we offer in-person rigging training sessions with our accredited trainers lasting anywhere from 30 minutes to 8 hours. Additionally, in light of recent pandemic-related circumstances, we have adjusted our training program to offer your company the option of both virtual remote and/or in-person training sessions!

If you are ready to schedule your training, or if you want to learn more, contact us to speak with a Lifting Specialist in your area today!

---
---
Copyright 2020. Mazzella Companies.