"Learning never exhausts the mind."
Famed Italian artist and scientist Leonardo da Vinci understood the importance of developing one's skills by learning throughout life. Though he lived nearly 600 years ago, his words echo in every facet of business and industry to this day.
In the lifting and rigging industry, making sure you and your team are properly trained can make a huge difference on the shop floor or construction site. Making sure there is paperwork to back up that training could save you a lot of time, money, and stress in the event of a workplace injury, which will require an OSHA (Occupational Safety and Health Administration) inspection.
In this third article of the OSHA inspection series, you'll learn the following:
The importance of Lifting and Rigging Training
If rigging training is required by OSHA
How to meet OSHA compliance
The different between proactive vs. reactive training
Why it's important to have records of completed training
The Importance of Lifting and Rigging Training
---
No matter what industry you work in, one thing all businesses are struggling with is finding good workers.
The employee shortage has a lot to do with well-trained professionals deciding to retire in recent years. Now, companies are hiring brand-new, inexperienced people coming into that company, and the big concern is training. What training are they getting?
Is Rigging Training Required by OSHA?
---
OSHA and ASME (the American Society of Mechanical Engineers) require … an employer to provide training to their employees on the safe use of rigging and lifting products and working at height. Mazzella Companies can help you fulfill these requirements by offering classes in many subjects at various durations customized to meet your company's training needs. Classes can be performed at your location, one of our locations, or remotely in a live, virtual format.
OSHA 1926.761 Training outlines the multiple lift rigging procedure, and states: "The employer shall ensure that each employee who performs multiple lift rigging has been provided training in the following areas:
Nature of hazards associated with multiple lifts
Proper procedures
Equipment to perform multiple lifts
Additionally, the ASME B30 Safety Standard also has training requirements for the use and inspection of overhead lifting and rigging equipment.
---
---
How to Meet OSHA Compliance for Lifting and Rigging Training
---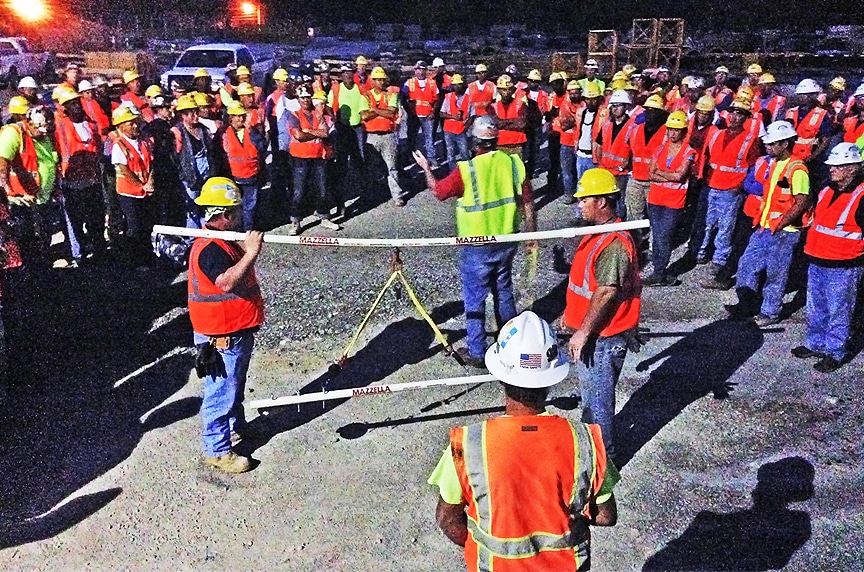 The way you meet OSHA compliance is through training, inspections and corrective actions. Sometimes, customers say, "I want you to come and do training." Before our trainers will come in to conduct a training seminar, they will first do a walk-through at your facility. During that walk-through, our trainers will take note of what equipment you use to execute overhead lifts.
Once that first step is taken, our specialists will mutually agree with you on dates to conduct the training. This avoids having one person in your company that "wants to check off the box" that training is happening, while another simply says, "we need to do some of those things," but does not follow through.
Proactive vs. Reactive Training
---
Recently, one Mazzella trainer received an email from a customer that read, "We've had a rash of recent near misses, and we believe it's time for us to do some more training at our company. Can you help us?"
That's an example of a proactive step.
Unfortunately, they experienced near misses. However, those near misses are just that. It did not become a recordable incident. Fortunately, they did not wait to ask for help until AFTER a recordable injury occurred.
Had they waited for an incident to occur before reaching out for help, that would be reactive training, not proactive. Mazzella encourages customers to utilize our service on a proactive approach. Hopefully, that will prevent accidents or near misses from happening.
Why Is It Important to Have Records of Training?
---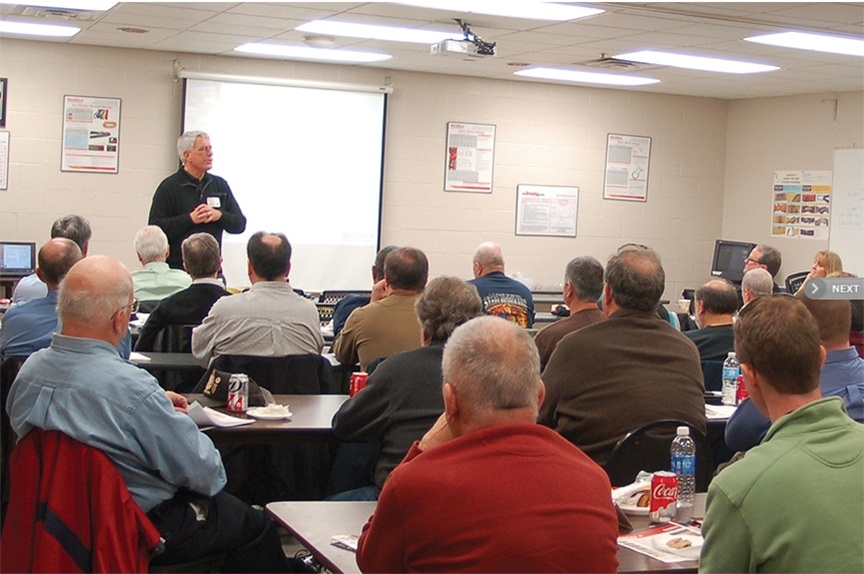 If you don't have a document that proves you provided training for your employees, in OSHA's opinion, you didn't do any training. You can't just say, "Oh yeah, we do training here." You will be asked to prove it if OSHA shows up to investigate a reported incident.
Those training records become very important, especially in the event that an incident occurs. Even if the records are nine years old, OSHA wants to know if a person involved in an incident was in that most recent training session. OSHA is looking for any proof of any training at any time. Mazzella keeps a copy of your training report and gives one to you for your records.
Why Should You Pay for Lifting and Rigging Training?
---
One of the most important questions you should ask is, "who is actually standing up there in front of my employees and what makes them qualified to perform the training?" Has the trainer actually been qualified or endorsed by a third-party? What type of industry experience and expertise do they have?
To be an effective trainer, you have to be able to relate to the customer's environment and hold their attention—and that is a skill above and beyond just memorizing industry standards. Being an effective trainer is harder than you think. Each trainer has their own distinct style to keep the class engaged, as well as informed, on a subject matter that can be considered a bit dry.
At Mazzella, we put together a team including Marketing, Management, and our best trainers—with the goal to transform our training program into what we feel is the best in the industry today.
Each of our trainers also attends a multi-day rigging inspection course, taught by ITI (Industrial Training International), and are required to prove they know the material, inside and out. Internally, our trainers attend workshops to teach them how to connect with people in their classrooms—and engage and hold the attention of their audience—before they're allowed to lead any training with our customers.
We understand the trainer makes all the difference when it comes to our customers' ability to understand and retain what is being trained, and we make sure we put the best of the best in your classrooms.
Mazzella qualifies our trainers by requiring them to complete an internal "train the trainer" program (which trains them to applicable OSHA and ASME standards and training techniques), extensive field experience, and additional training from third-party entities, including Crosby, Columbus McKinnon (CM), Harrington, Gorbel, ITI, and others.
How Can Mazzella Help with Your Lifting and Rigging Training?
---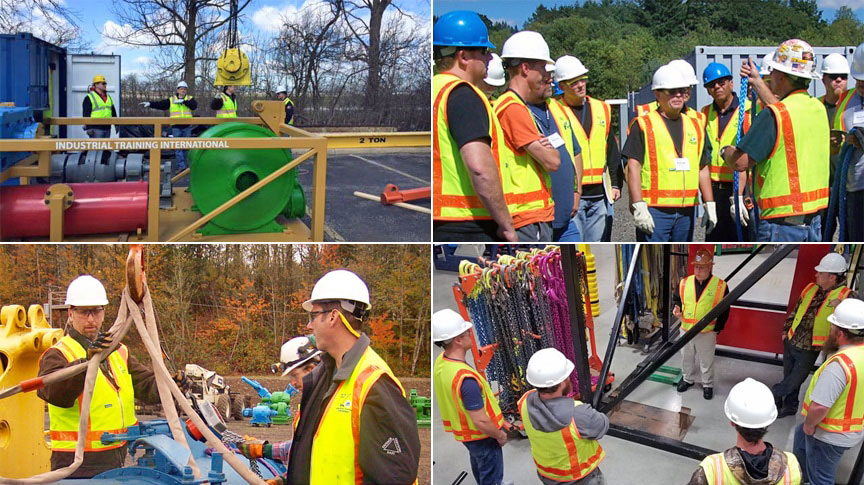 We provide basic lifting and rigging training to any class size or jobsite!
Several years ago, we made significant changes to our training division. We found that across the board, there were inconsistencies in the training materials, training duration, subjects covered, and the skills of our trainers.
We began looking at training from the customer's perspective and broke our training topics into individualized modules. This allows our trainers to work with the customer to customize the training to their needs. Some of the training topics we offer include:
Identifying and managing risk
Rigging technique
Planning every lift
Rigging hardware – care, use, and inspection
Lifting slings – care, use, and inspection
Load control
Safe design and use of below-the-hook lifting devices
Indoor cranes – safe lifting operations
Fall protection – identifying potential hazards when working at height
Mazzella trainings can be tailored to your needs, specifically in the following industries:
Manufacturing / General Industry / Durable Goods
Steel Mills
Paper Mills
Automotive
Mining
Oil and Gas
Ship Building
Foundries
Steel Processors
Steel Warehouses
Construction
Prospects
Customers working at height
Anyone with rigging, cranes, or working at height
If you require a specific lifting or rigging training course for OSHA compliance for slings, hoists and / or rigging hardware, Mazzella can assist you in creating a safe and reliable workplace.
Call us at 800.362.4601 or click here to learn more about our training programs, or schedule training for your workers!
---
---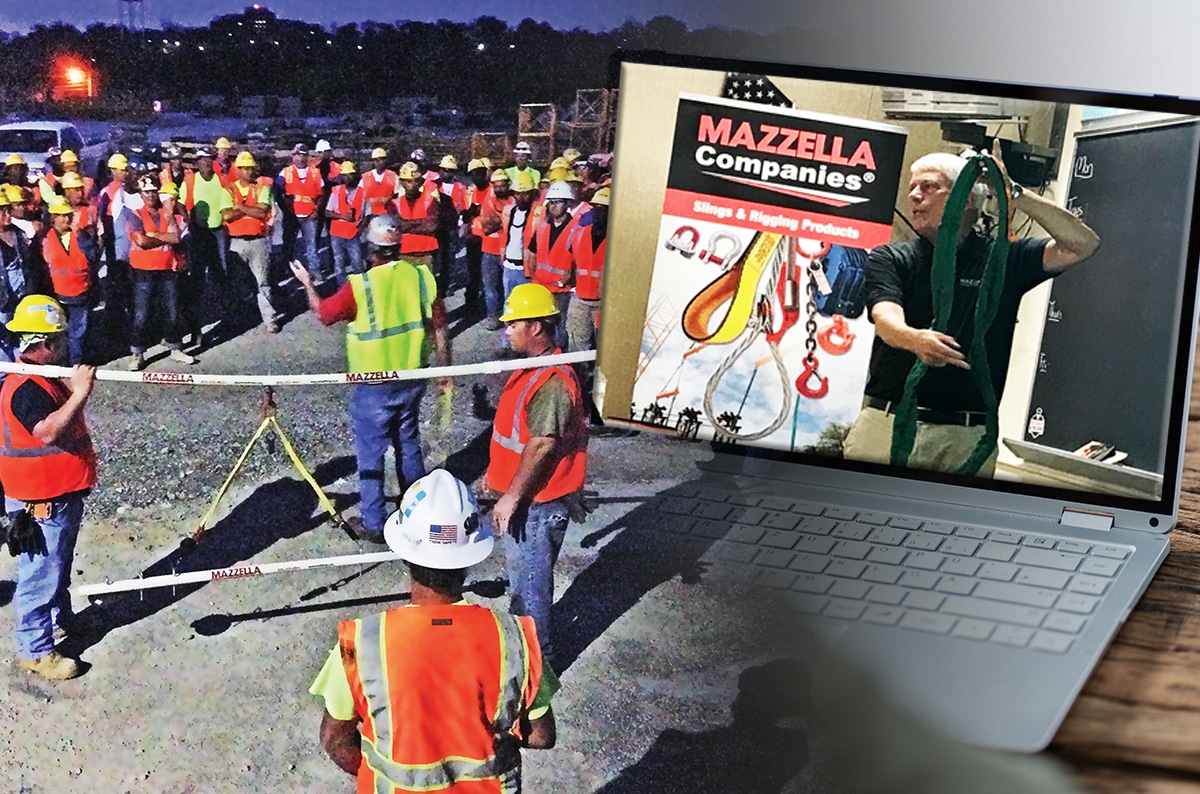 Lifting & Rigging Training
If you require a specific training course for OSHA compliance, Mazzella can assist you in creating a safe and reliable workplace. We qualify our trainers by requiring them to complete an internal train the trainer program (which trains to applicable OSHA and ASME standards and training technique), extensive field experience, and additional training from third-party entities, such as Crosby, CM, Harrington, Gorbel, and Industrial Training International (ITI).
Copyright 2022. Mazzella Companies.