Description
Features & Benefits:
Hoistaloy load chain for heavy duty or stainless steel chain for spark resistant, medium-duty loads
Positive action, heavy-duty shoe-type brake that holds the load
Multi-vane rotary air motor for high torque, smooth operation
Accurately machined heat-treated alloy steel spur gears
Spark resistant models available for hazardous environments
Pull cord or pendant throttle control available
Pull cord control hoists provide a lightweight, economical hoist for accurate control of loads
Optional pendant throttle control hoists offer ergonomic, one-hand control for ease of operation
Hook or lug suspension available
Inlet air swivel with built-in strainer provides free hoist movement
Aluminum frame and end cover contributes to the lightweight, easily portable and rugged design
External brake adjustment
Limit stops prevent over-travel in upper and lowering directions
Equa-torque gearing of alloy steel, heat-treated spur gears are accurately machined to provide a close-meshed, compact-gear reduction
Tapped exhaust port 1/2 NPTF…for clean room applications or to add a supplemental muffler to the built-in muffler for even quieter operation
Lifetime warranty
Metric rated
Made in U.S.A.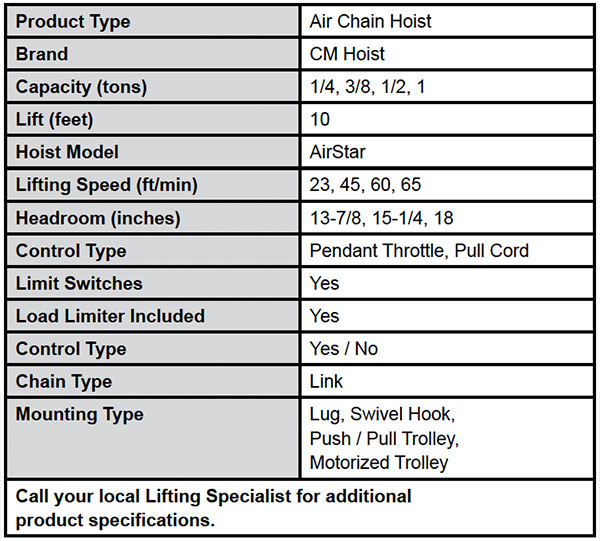 NEED HOIST REPAIR OR PARTS?
We do repairs in-house and stock a full line of parts.