Description
Features & Benefits:
Overload Protection
Overload clutch prevents lifting beyond load capacity, which may damage the hoist or supporting structure, or cause injury to the operator.
Ready For Heavy Duty Applications
H4 duty motor classification rated for heavy duty use.
Longer Service Life
Class F insulation and thermal switch in motor winding reduces motor overheating.
Helical Gears are oil-bath lubricated which provides better wear while reducing noise.
Powder coat painted housing and corrosion-resistant zinc-plated chain provides superior protection against the elements.
Hard-wired power and pendant cords reduce the risk of corrosion and loose connections.
Improved Serviceability
Open design allows quick access to AC Brake.
Easy access to Control Panel and simple wiring change to switch voltages.
Superior Load Control
Optional Variable Frequency Drive (VFD) with 3-Step infinitely variable pendant allows operator to adjust lifting speeds without interruption. Many competitors only offer a 2-Step pendant requiring service interruption to change lift speeds.
Eco-Friendly Energy-Saver
Efficiently designed gear train allows a smaller horsepower motor to operate at the same speeds and duty as our competition and reduces energy consumption. Shipped in boxes made of recycled material.
Made In The USA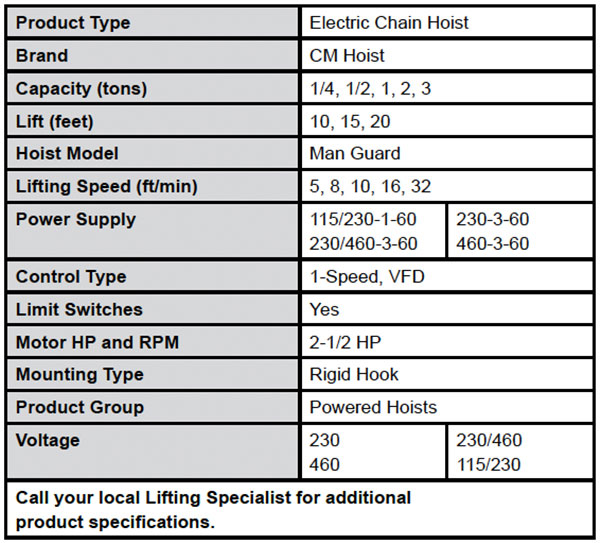 NEED HOIST REPAIR OR PARTS?
We do repairs in-house and stock a full line of parts.