Esmet Angular Contact Ball Bearing Swivels
Streamlined Design and Maximum Performance
Designed for high rotational speeds, these models react to low operational torque…the perfect swivels for longer ropes and cables.
Manufactured with two or more flush ground angular contact ball bearings.
Bearings are permanently lubricated with high-pressure grease and sealed at the factory.
Flush pins are available for overhead and underground electrical line stringing (please specify). Swivel ends are shaped to prevent snagging when gliding over sheaves and other potential obstructions.
Heat treated high strength alloy steel, zinc plated for corrosion resistance, provides the strongest yet lightest swivel available. Ultimate strength is minimum 4.5 to 1 over SWL (Safe Working Load).
All swivels proof-tested and certified.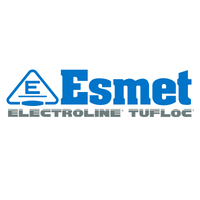 Description

All dimensions in inches
( ) For line stringing applications requiring a 3 to 1 Safe Working Load.
content-single-product