Description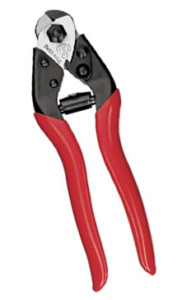 Type C-7
Length: 8″ / Weight: 10 oz.
A cable, when crushed or deformed in cutting, is difficult to use with fittings. These cable cutters, with unique triangular jaws, never leave a frayed end.
Cutters range from the lightweight Type C-7—Capacity: 3/16″ diameter and smaller.
---
Type CP Cutters—For Steel Strapping and Banding
Length: 8″ / Weight: 10 oz.
CP cutters are indispensable for cutting steel strapping and banding. They are also especially good for cutting string, twine, rope, tin and many other materials with ease.
The red plastic handle is fitted to the hand to make cutting comfortable. A thumb catch locks the cutter when not in use.
---
Type C-9
Length: 13″ / Weight: 1.5 Ibs.
Fills the gap between C-7 and C-12—cuts 1/4″ steel cable. Ideal for the tool kit.
---
Type C-108
Length: 22″ / Weight: 4.5 Ibs.
Simple construction with all parts protected against rust and salt water. Designed as an indispensable part of boat equipment. Especially suited for quick, easy cutting of shrouds, stays, halyards and other rigging of high-tensile wire rope or cable up to 5/16″ diameter. Inexpensive insurance for that rare time when a mast breaks.
The C-108 will cut virtually any material, including steel rods up to 5/16″ diameter and tempered steel spring wires up to 1/4″ diameter.
---
Type C-112
Length: 29″ / Weight: 8.25 Ibs.
Like the C-108, this cutter also has maximum force transmission, which applies the maximum leverage just at the right moment. This, coupled with Swiss precision blades, make the C-112 and the C-108 amazingly easy to use.
The C-112 will handle a maximum capacity of 1/2″ hitensile strands.
---
Type C-12
Length: 19″
Weight: 3 Ibs.
Capacity: 3/8″ diameter and smaller.
Type C-16
Length: 23″
Weight: 5 lbs.
Capacity: 5/8″ diameter and smaller.
Type C-16E (Electrical)
Length: 23″
Weight: 5 lbs.
Cuts ACSR cable up to 3/4″.