Jeamar Premium Steel Sheaves BB
Steel sheaves are manufactured from the highest-quality, fine-grain steel, ensuring uniformity of material, consistent high quality and greater strength. The innovative, cold-rolled forming process ensures an ideal groove profile. The inherent elasticity and resilience of steel makes for a tougher sheave to meet the most demanding applications.
---
Work hardening of the rope groove takes place during the forming process, which substantially increases the life of the sheave. The high-quality finish of the rope groove ensures minimum wear and abrasion between the rope and sheave, adding considerably to the rope life.
The strength of the steel used considerably exceeds that of cast iron.
Steel sheaves are designed with a minimum arc of support for the rope of 125 degrees, ensuring that the rope cross sectional shape is maintained under normal load conditions. Sheaves have a minimum sheave-to-rope ratio of 15:1. This ensures a large radius for the rope to bend around, which in turn decreases flexing of the rope and substantially increases rope life.
Steel sheaves incorporate either ball or taper roller bearings for maximum efficiency, reduced friction, smooth motion, long life and high speed.
The ball and roller bearings are sealed and lifetime lubricated for long life and minimum maintenance costs.
Description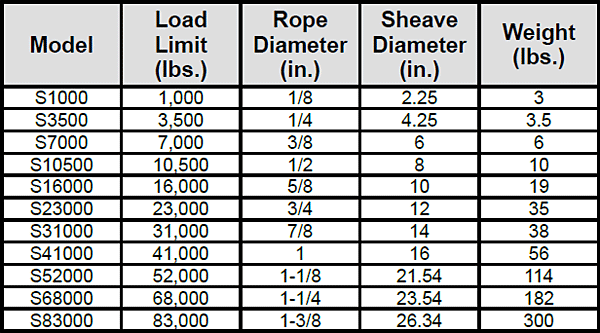 content-single-product