Description
Features & Benefits:
Triple-reduction hoist gearing is oil bath lubricated, operating in an oil-tight, cast aluminum gear case.
2-Speed Motor with a 4:1 ratio from high to low speed; giving a low speed for precise load handling and a high speed for fast throughput.
Machined Wire Rope Drum. Quality steel and deep-grooved with a rope guide to help ensure the rope stays in the grooves.
Reeved to a low-headroom design lower block for minimum headroom and maximum lift.
Wire rope is secured to the drum with three heavy ductile iron clamps and designed to have three extra wraps of wire rope on the drum with the rope at full extension (low hook).
Bearing-mounted trunnion hook that rotates 360° and swings back and forth 180° for easier load adjustment.
Upper / lower geared control circuit hoist motion limit switch.
An additional block-operated, upper-control circuit limit switch is available as an option.
Overcapacity limit switch prevents the hoist lifting excessive overloads.
Two wheels are driven; one on each side of the frame for maximum traction and uniform tracking.
Hoist and trolley controls are housed in a common NEMA 4/12 enclosure with hoist motion monitor, motor thermal overloads, over capacity limit switch and more.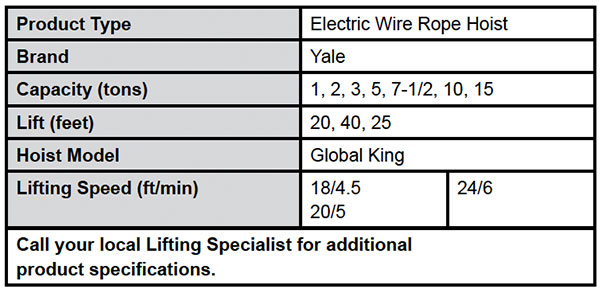 NEED HOIST REPAIR OR PARTS?
We do repairs in-house and stock a full line of parts.