"An ounce of prevention is worth a pound of cure."
Founding father Ben Franklin was referencing fire awareness and prevention in the town of Philadelphia, but his words ring true, too, for the lifting and rigging and material-handling industries.
As a Safety, Maintenance, or Operations Manager, overhead crane inspections are an important part of helping you stay in compliance with inspection standards laid out by sanctioning bodies like OSHA (the Occupational Safety and Health Administration), ASME (the American Society of Mechanical Engineers), ANSI (the American National Standards Institute), and CMAA (the Crane Manufacturers Association of America).
These standards are detailed, and sometimes, can be confusing to someone who doesn't work in them on a regular basis. As such, one of the first, and most frequently asked, questions is: "How much will my overhead crane inspection cost?"
While it is a simple question, the answer varies, as there are several factors that influence the cost of an overhead crane and hoist inspection.
In this article, we will outline the following topics and explain their effect on the cost of overhead crane inspections:
How often you need to have your cranes inspected
Why should you go with a third-party inspection company
How inspectors become qualified to do inspections
How can you prepare for an inspection
What Inspections Shall an Overhead Crane Receive?
---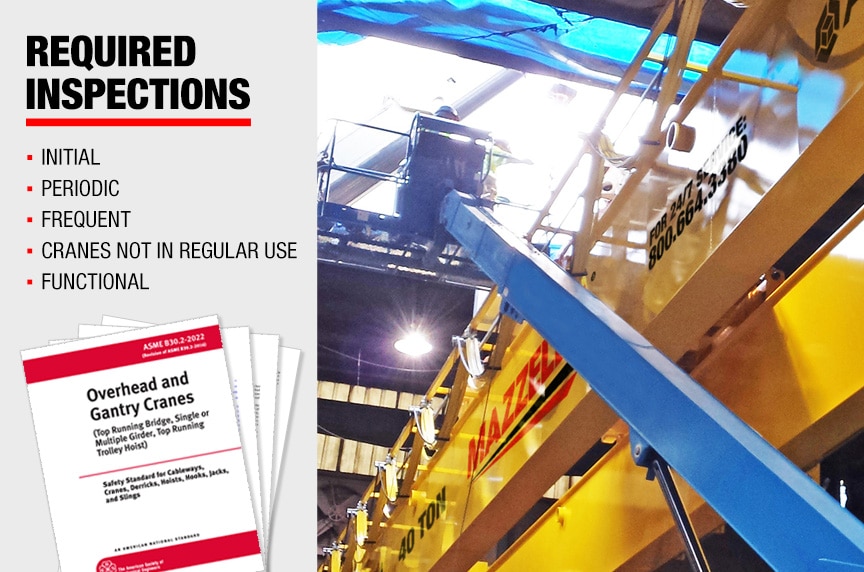 According to ASME B30.2 Overhead and Gantry Cranes, there are five types of inspections required for overhead cranes, including:
Initial
Periodic
Frequent
Cranes not in regular use
Functional
The functional inspections are to be performed by the crane operator on a daily basis. The intervals are going to be dependent on the critical condition of the components, as well as their exposure to wear.
The intervals are dependent on the critical condition of the components, their exposure to wear, malfunction, or deterioration. Qualified inspection experts can help determine the intervals based on the components, duty cycle, and OEM (original equipment manufacturer) recommendations.
---
---
How Often Should You Get Your Overhead Cranes Inspected?
---
A major factor in determining the cost of an overhead crane inspection is the frequency, or type of crane inspection, that is being performed. Knowing how often your overhead cranes need to be inspected is one of the first steps in determining the criteria for inspection and how often it will be performed. Developing an inspection program that will meet requirements for OSHA, ASME, and CMAA standards will help to keep you compliant for overhead crane inspection—scheduling only one annual inspection will not.
Inspection frequency is based on crane service, environmental factors, and application factors according to OSHA 1910.179:
"Inspection procedure for cranes in regular service is divided into two general classifications based upon the intervals at which inspection should be performed. The intervals, in turn, are dependent upon the nature of the critical components of the crane and the degree of their exposure to wear, deterioration, or malfunction. The two general classifications are herein designated as 'frequent' and 'periodic' with respective intervals between inspections…"
The section highlighted in bold above is the most critical piece of this statement, specifically, "the degree of their exposure to wear, deterioration, or malfunction." The degree of exposure of the crane's critical components is determined by the duty cycle of the crane, or crane service classification, as determined by CMAA:
Class A (Standby or Infrequent Service)
This equipment, including installation and maintenance cranes, usually operates at slow speeds for precise handling with long idle periods between lifts. Maximum capacity lifts are sometimes required.
Class B (Light Service)
This class of equipment includes cranes in repair shops, light assembly operations, service buildings, light warehousing, etc. and service requirements are light and the speed is slow. Loads vary from no load to occasional full-rated loads with 2-5 lifts per hour, averaging 10' per lift.
Class C (Moderate Service)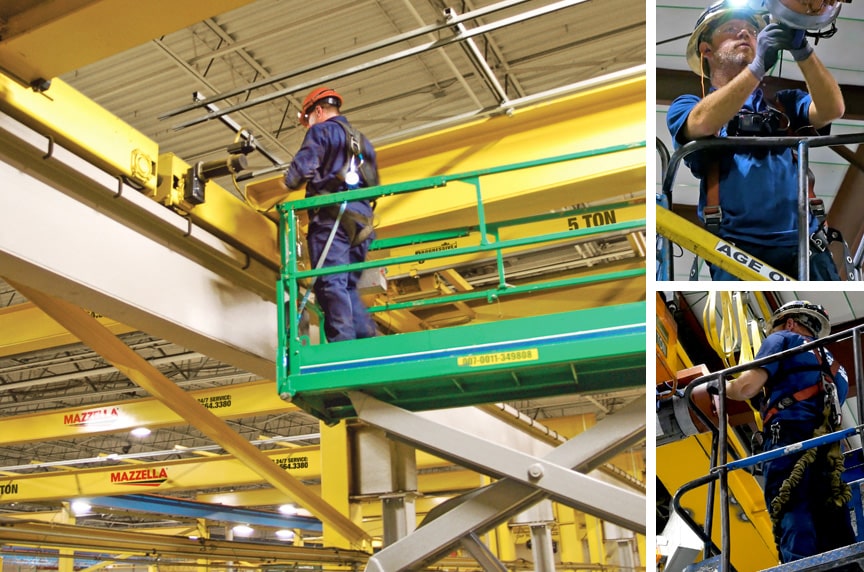 In terms of numbers, most cranes are built to meet Class C service requirements, including cranes used in machine shops or paper mill machine rooms. These types of cranes will handle loads that average 50% of the rated capacity with 5-10 lifts per hour, averaging 15' per lift.
Class D (Heavy Service)
Typical examples of these types of crane include ones used in heavy machine shops, foundries, fabricating plants, steel warehouses, container yards, lumber mills, etc. These types of cranes constantly handle loads approaching 50% of the rated capacity. High speeds are desirable for this type of service with 10-20 lifts per hour, averaging 15', with not 65% of the lifts at rated capacity.
Class E (Severe Service)
This equipment is a top-riding bridge or gantry type multiple girder electric overhead crane. Applications include magnet, bucket, or magnet/bucket combination, and are most commonly found at scrap yards, cement mills, lumber mills, fertilizer plants, container yards, etc. This service class requires a crane capable of handling loads approaching the rated capacity throughout its life with 20 or more lifts per hour at or near rated capacity.
Class F (Continuous Severe Service)
This equipment is a top-riding bridge or gantry type multiple girder electric overhead crane. Applications include custom-designed specialty cranes essential to performing critical work tasks affecting the total production facility. These cranes must be capable of handling loads approaching rated capacity continuously under severe service conditions throughout its life.
Inspection Types
So, now that we've identified the different types of overhead crane service classifications, we can lay out guidelines for inspection frequency. A crane will go through two types of inspections during the course of a year: Frequent and Periodic. Let's identify what these types of inspections are, and how often they need to occur:
Frequent Inspection
A frequent inspection is a visual and operational inspection performed monthly, or as often as daily. Inspection frequency is based on service, environmental, and application factors, as designated by a qualified person.
| CMAA Service Class | ASME B30.2 Service Class | Frequency of Inspection |
| --- | --- | --- |
| A / B / C | Normal | Semi-Monthly to Monthly |
| D | Heavy | Weekly to Monthly |
| E / F | Severe | Daily to Weekly |
Periodic Inspection
A periodic inspection is a detailed visual and operational inspection where individual components are examined to determine their condition. Inspection frequency can be quarterly to annually, and is based on service, environmental, and application factors as designated by a qualified person.
| CMAA Service Class | ASME B30.2 Service Class | Frequency of Inspection |
| --- | --- | --- |
| A / B / C | Normal | Annually |
| D | Heavy | Semi-Annually to Annually |
| E / F | Severe | Quarterly |
As you can see, a crane that is in a normal service class may only need a Periodic Inspection once a year and Frequent Inspections semi-annually. Cranes in heavy or severe service classes should have a Frequent Inspection performed weekly and need a Periodic Inspection 2-4 times a year. Determining how often you need to have your cranes inspected will affect the cost of developing an overhead crane inspection program.
Why Should You Go with a Third-Party Inspection Company?
---
There's definite value in going with a third-party inspection company rather than conducting the inspections yourself. Properly trained inspectors bring thousands of hours of experience working on the cranes to their work. They're able to provide very thorough documentation of the inspection of the overhead crane and its components, and you just can't get that in-house.
These dedicated experts do crane inspections all day, every day. They know what to look for, and often, are faster and more efficient with their inspections than you would be handling them internally. Plus, they're likely to notice potential issues with your crane or its components that you may have overlooked.
They have the knowledge and resources to make sure your cranes are reliable, and in compliance with OSHA regulations and ASME B30.2 standards.
What Makes Inspectors Qualified to Perform Inspections?
---
In addition to their time spent working on and repairing overhead cranes, inspectors go through intensive training to become true crane experts. This ensures you not only have an inspector, but you have someone that understands cranes because they worked on them and know the OSHA and ASME standards.
Currently, Mazzella is in the process of redefining its training program for overhead crane inspectors. The purpose is to know what experience inspectors had before coming to Mazzella, and how they have continued their education. Inspectors will have to answer the following questions:
How many hours did you have at another company?
How many hours do you have with us?
What training do you have?
What documents do you have so we can prove due diligence of your experience?
In the event of an incident during or after an inspection, this due diligence will help third-party companies provide documentation to show the inspector was properly trained.
How Can You Prepare For Your Inspection?
---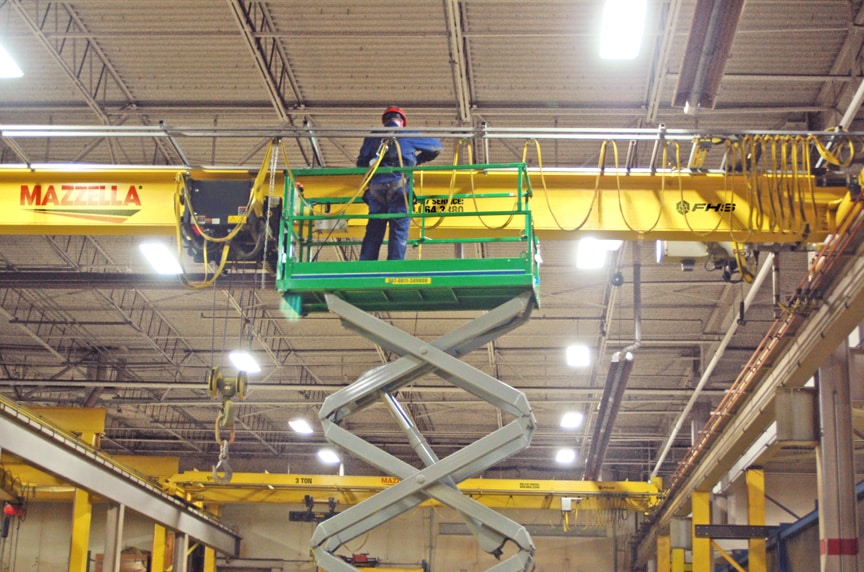 The No. 1 thing you can do to prepare is quite literally allow clear, free access to your cranes. Inspectors need to know if there's product underneath the crane or in the path of a manlift. Providing inspectors with clear access will allow you to avoid costly additional downtime.
Next, inspectors will take into consideration the production schedule of your facility. Inspectors literally look at hundreds of components, and it's best they do this uninterrupted.
In addition to considering the production needs of the company, the inspector will ask your operator(s) if there are any issues or problems with the overhead crane(s). Knowing about any kind of preexisting conditions will help inspectors focus on those issues while performing the inspections.
Does Production Need to Stop During the Inspection?
---
The quick answer is: Not Necessarily.
If you have a single overhead crane that services a particular line, that line definitely will be impacted because the inspections could last several hours. However, if you have multiple overhead cranes in different bays, the rest of the facility certainly can keep running.
If there are multiple cranes on the same runway, and inspectors are able to isolate one of them for inspection, the other crane(s) can certainly run to keep the production up. Doing so will require inspectors to take precautions to protect themselves from the other crane(s) that still are in operation on that runway.
How Long Will the Crane Be Down For the Inspection?
---
There are many different variables that determine the time required to conduct the inspection.
It really depends on the complexity of the crane. A top-running, double girder critical process crane with a 50 or 60-ton capacity certainly is going to take longer to inspection than a single girder or under-running crane.
The biggest determining factor of downtime is the number of components to be inspected.
What Can You Expect After the Inspection?
---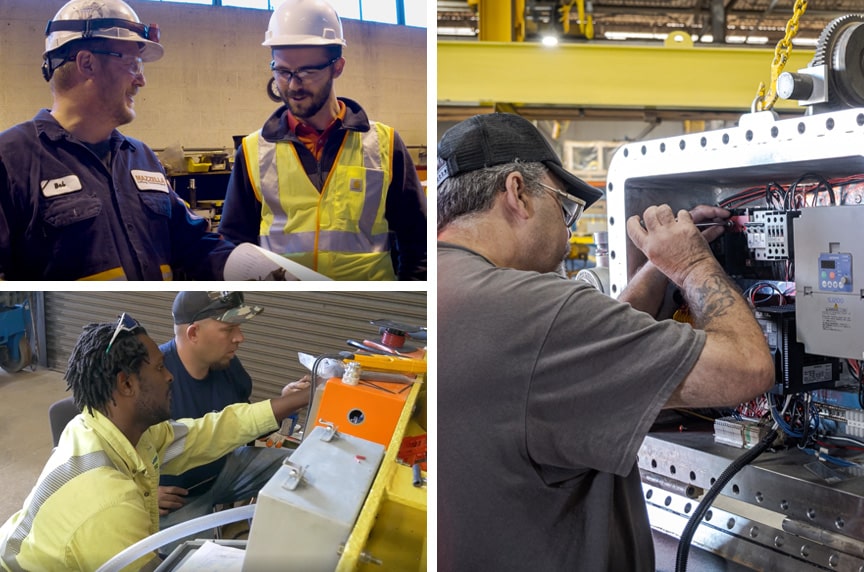 If Mazzella inspectors find any critical safety issues, OSHA violations, or even a reliability concern, they will immediately make contact with you to let you know what those issues are before returning the crane back to service.
We want to communicate the results to you, and then, come up with a plan to make the repairs, make the adjustments or whatever it is we have to do to get the crane running safely and reliably again.
Following the inspection, you will receive a detailed report, which will list the conditions of the overhead crane's components, as well as any recommended repairs. Then, we will quote those recommendations if you would like to proceed with the repairs.
Even if there is nothing wrong or in need of repairs on your overhead crane, you still will receive a detailed report for your records. This way, if you're ever audited by OSHA, you'll have the reports on file that prove your overhead crane(s) have been inspected and are in compliance with industry standards.
Should you lose your written reports, do not worry. Mazzella keeps records of all our inspections on file. If you needed another copy of the inspection report, we are fully capable of providing you with the proper documentation.
What Affects the Cost of an Overhead Crane Inspection?
---
There are several variables that determine the cost of an overhead crane inspection. The cost is going to come down to those factors, including:
Accessibility of the crane(s)
Complexity of the crane(s)
Number of cranes to be inspected
Number of components to be inspected
Is the inspection scheduled during a weekday, or is it best to do it on the weekend when production is down?
Based on your production needs, inspectors can develop a schedule that is cost-effective and minimizes the impact on your productivity.
How Much Does an Overhead Crane Inspection Cost?
---
On an average working day, you can expect to pay anywhere from $960 to $1,200 for an overhead crane inspection.
While those numbers aren't small, you must ask yourself, "How much is it going to cost to not perform required inspections?" If you don't do required inspections, you're opening yourself up for costly OSHA citations because of non-compliance. If there's an incident where someone is injured or killed because of an overhead crane issue, you could be liable for:
Outstanding medical bills
Future legal action
In-depth, intensive OSHA investigation
Citations for violations of safety standards
Why Is It a Bad Idea to Accept a Free Crane Inspection?
---
If you get an offer for a free quote, you should question the reputation and capabilities of that company and their inspector(s), as well as the quality of the inspections you would receive.
If you're getting a free inspection or a super low rate from a third-party company, it's typically because they expect something from you. It's not really free. You may not get accurate reports of your overhead crane's conditions because they could be looking to sell you their repair services. They're looking to get that spin-off work, which is why they're offering inspections at a such low rate.
Therefore, you need to ask:
How trustworthy is that actual inspection?
Are they qualified?
Will they provide proper documentation to show compliance?
The biggest things to consider when looking over a low-cost quote are the:
Quality of the inspection
Experience of the inspector performing the work

How many years of service have they performed crane inspections?

What's their training record?

What credentials do they have to be able to look at a critical condition on a hoist in your facility?
What Can Mazzella Offer that Goes Above and Beyond Other Third-Party Inspectors?
---
Our inspectors must log thousands of hours of repair time before they're even considered to be an inspector. They must first gain experience working on the equipment, and then, go through training to be inspection qualified.
Whenever our inspectors conduct work on your cranes, you're not just getting an inspector to check the boxes on a form. You're getting someone that understands the mechanical and electrical functions on the crane. They're able to perform inspections at a higher level than someone who doesn't have the opportunity to work on the equipment in the field.
Additionally, Mazzella has the resources to develop long-term solutions for issues you may have on your overhead crane(s). We're able to have a true partnership to come up with those solutions so your cranes can be safer and more reliable.
Also, Mazzella can partner with you to develop a maintenance strategy that will keep your cranes in top operating condition. Additionally, we offer upgrades and modification projects, as well as repairs that will enhance the productivity of your crane(s).
We can supply rigging equipment, below-the-hook lifting devices, and many other services that make Mazzella a true one-stop-shop for overhead lifting equipment.
How Can Mazzella Help You with Your Crane Inspection Compliance Program?
---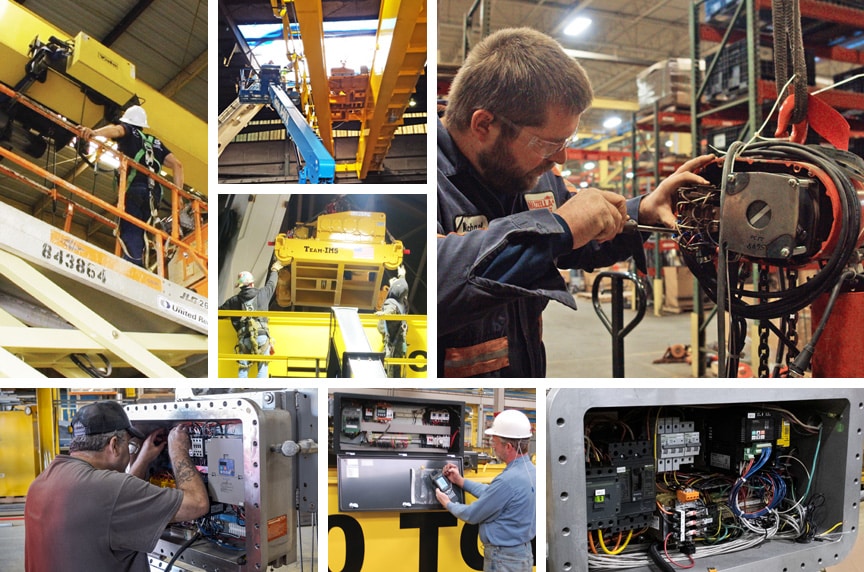 Now that you know the factors that affect the cost of an overhead crane inspection, it's time to do your research and begin the process of gathering and comparing quotes. It is best to schedule consultations with a few third-party companies to look at your facility and provide their expert opinion on the specifications and scope of your project.
Keep in mind that price should never be the only factor when selecting an inspection company or equipment supplier to partner with. You should only partner with a company that you truly feel comfortable with, and one that you feel will provide the best service and the most value.
The key to finding the right company to partner with—and to a great buying experience—depends on a number of different factors, including:
Project specifications – Make sure each manufacturer quotes off of the same information and specifications so that you can make a true side-by-side comparison of each company's capabilities and pricing.
Warranty – Make sure you have a clear understanding of the manufacturer's warranty policies on workmanship, components, and materials.
Incidentals – Additional surcharges related to material costs, taxes, freight, obtaining permits, rental of special equipment, etc.
Follow-up – Did a representative from the company reach out to explain their quote and make sure you understand everything?
Project timeline – Has the rigging supplier committed to meeting your specific timeframe and window for installation?
References – Are they willing to provide references? Ask other companies that they've worked with if they were satisfied with the following:

Overall relationship with the supplier

Overall quality of work and satisfaction with the delivery process

Commitment to keeping projects on track and within budget

Products and services that fit the agreed-upon specifications
Call us at 800.362.4601 or click here if you need inspections for rigging hardware, training, or inspections.
---
---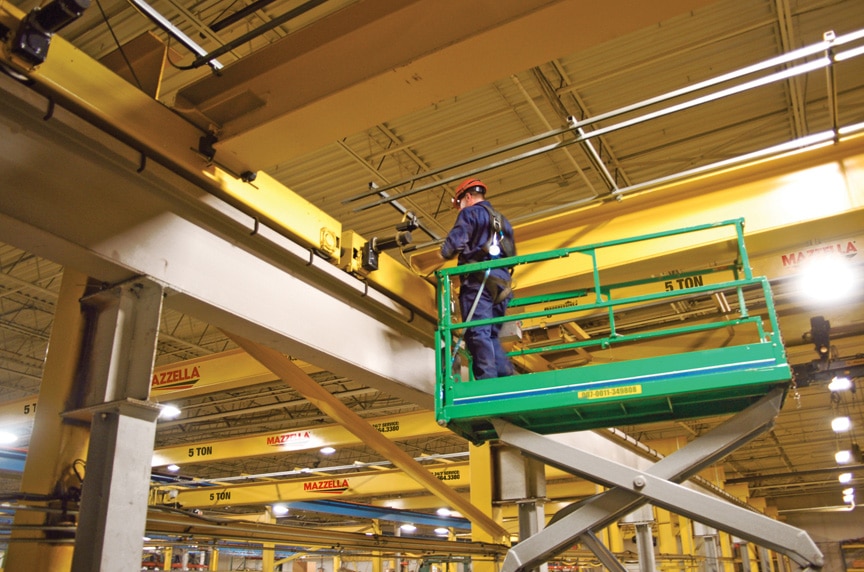 Overhead Crane & Hoist Service
We are an industry leader in hoist and overhead crane services. Our highly trained service staff specializes in solving complex problems in emergency situations. We find creative solutions to even the most challenging overhead crane service requirements. Our personalized approach to overhead crane and hoist maintenance is just one of the many benefits of our service team.
We strive to minimize your downtime. Our phones are answered 24 hours a day, 7 days a week and we work on all makes and models of crane and hoist. Mazzella FHS has over 100 full time technicians ready to answer the call at a moment's notice.
Copyright 2022. Mazzella Companies.