"Safety is not an intellectual exercise to keep us in work. It is a matter of life and death. It is the sum of our contributions to safety management that determines whether the people we work with live or die."
As a technical advisor to an inquiry on the Piper Alpha Accident, an offshore oil platform disaster off the coast of Scotland that killed 165 men, Sir Brian Appleton understood the importance of working safely. And while he may not have been referring to the lifting and rigging industry, his words ring true when it comes to rigging hardware.
Hoist rings are pieces of rigging equipment that, when used properly, can make overhead lifts easier and safer.
As part of the proper usage, and in accordance with ASME B30.26 Rigging Hardware, swivel hoist rings need to be inspected regularly to make sure they have the correct identification markings and are in proper working condition.
In this article, you will learn about:
Swivel hoist ring identification
Inspection frequencies
Repairs and maintenance
Removal from service criteria
Rigging best practices
Swivel Hoist Ring Identification
---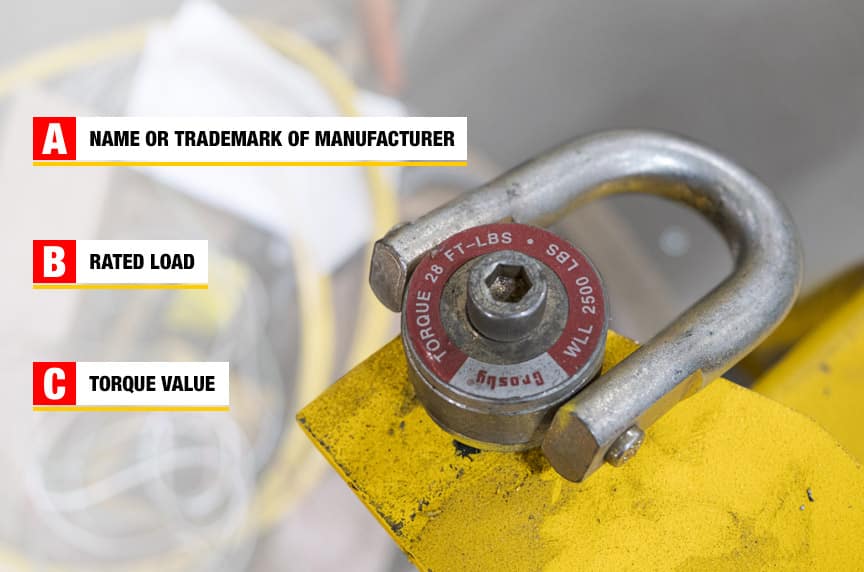 Each swivel hoist ring shall be durably marked by the manufacturer to show
a) Name or trademark of manufacturer
b) Rated load
c) Torque value
According to ASME B30.26-2.5, identification for swivel hoist rings, as well as turnbuckles, eyebolts and eye nuts, "should be maintained by the user so as to be legible throughout the life of the hardware."
Swivel Hoist Ring Inspections
---
ASME B30.26-2.8.1 General
All inspections shall be performed by a designated person. Any deficiencies identified shall be examined and a determination made by a qualified person as to whether they constitute a hazard.
ASME B30.26-2.8.2 Initial Inspection
Prior to use, all new, altered, modified, or repaired adjustable hardware shall be inspected to verify compliance with the applicable provisions of this Chapter. Written records are not required.
ASME B30.26-2.8.3 Frequent Inspection
A visual inspection shall be performed each shift before the adjustable hardware is used. Rigging hardware in semi-permanent and inaccessible locations where frequent inspections are not feasible shall have periodic inspections performed.
Conditions such as those listed in para. 26-2.8.5 or any other condition that may result in a hazard shall cause the adjustable hardware to be removed from service. Adjustable hardware shall not be returned to service until approved by a qualified person.
Written records are not required.
***The removal from service criteria in para. 26-2.8.5 is listed below.
ASME B30.26-2.8.4 Periodic Inspection
A complete inspection of the adjustable hardware shall be performed. The adjustable hardware shall be examined for conditions such as those listed in para. 26-2.8.5 and a determination made as to whether they constitute a hazard.
Periodic inspection intervals shall not exceed one year. The frequency of periodic inspections should be based on:
Frequency of use
Severity of service conditions
Nature of lifting or load handling activities
Experience gained on the service life of adjustable hardware used in similar circumstances
Guidelines for the time intervals are:
Normal service — yearly
Severe service — monthly to quarterly
Special service—as recommended by a qualified person
Written records are not required.
***The removal from service criteria in para. 26-2.8.5 is listed below.
---
---
Swivel Hoist Ring Removal and Repair
---
Consistent proper inspections will reveal when damage is done to a swivel hoist ring, and whether the piece of rigging hardware can be repaired or should be removed from service.
ASME B30.26-2.8.5 Removal Criteria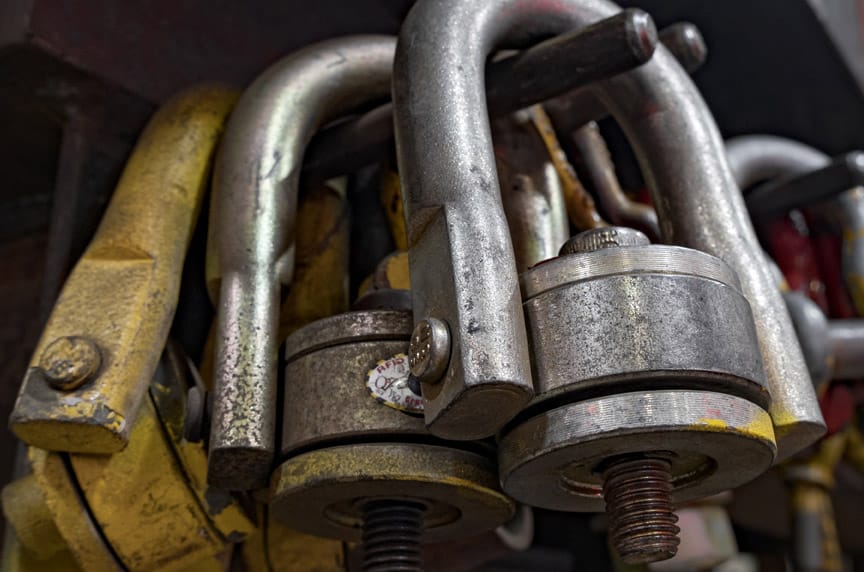 Adjustable hardware shall be removed from service if conditions such as the following are present and shall only be returned to service when approved by a qualified person:
Missing or illegible identification
Indications of heat damage, including weld spatter or arc strikes
Excessive pitting or corrosion
Bent, twisted, distorted, stretched, elongated, cracked, or broken load-bearing components
Excessive nicks or gouges
A 10% reduction of the original or catalog dimension at any point
Excessive thread damage or wear
Evidence of unauthorized welding or modification
For swivel hoist rings, lack of the ability to freely rotate or pivot
Other conditions, including visible damage, that cause doubt as to continued use
ASME B30.26-2.8.6 Repairs and Modifications
Repairs, alterations, or modifications shall be as specified by the adjustable hardware manufacturer or a qualified person.
Replacement parts, including nuts, pins, and bolts, shall meet or exceed the original equipment manufacturer's specifications.
Other Factors to Consider
Proof Test Requirements
New adjustable hardware is not required to be proof tested unless specified by the purchaser.
All repairs to swivel hoist rings with bushings or bearings should be proof tested.
Proof tested adjustable hardware shall be inspected after the test for the conditions stated in para. 26-2.8.5.
The proof load shall be a minimum of two times the rated load.
Effects of Environment
When swivel hoist rings are to be used at temperatures above 400°F (204°C) or below -20°F (-29°C), the hardware manufacturer or a qualified person should be consulted.
Rigging Best Practices
ASME B30.26-2.9.4.4 Swivel Hoist Rings
When used in a threaded hole, the effective thread length shall be 1.5 times the diameter of the bolt for 13 steel (see Fig. 26-2.1.1-4). For other thread engagements or engagement in other materials, contact the swivel hoist ring manufacturer or a qualified person.
When used in a through-hole application, a nut and washer shall be used. The washer and nut shall be in accordance with the swivel hoist ring manufacturer's recommendations. The nut shall be fully engaged (see Fig. 26-2.1.1-4).
The bushing flange (see Fig. 26-2.1.1-4) shall fully contact the load surface.
Spacers or washers shall not be used between the bushing flange and mounting surface of the load.
The swivel hoist ring shall be tightened to the torque specifications of the manufacturer.
The swivel hoist ring shall be free to rotate and pivot without interference during load handling activities (see Fig. 26-2.1.1-4).
The load applied to the swivel hoist ring shall be centered in the bail to prevent side loading.
Any attached load handling component shall be narrower than the inside width of the bail to avoid spreading (see Fig. 26-2.1.1-4).
Components shall be in good working condition prior to use.
Ensure that the swivel hoist ring WLL (working load limit) meets or exceeds the anticipated angular rigging tension (see Fig. 26-2.9.1-1).
Shock loading should be avoided.
How Can Mazzella Help with Your Swivel Hoist Rings?
---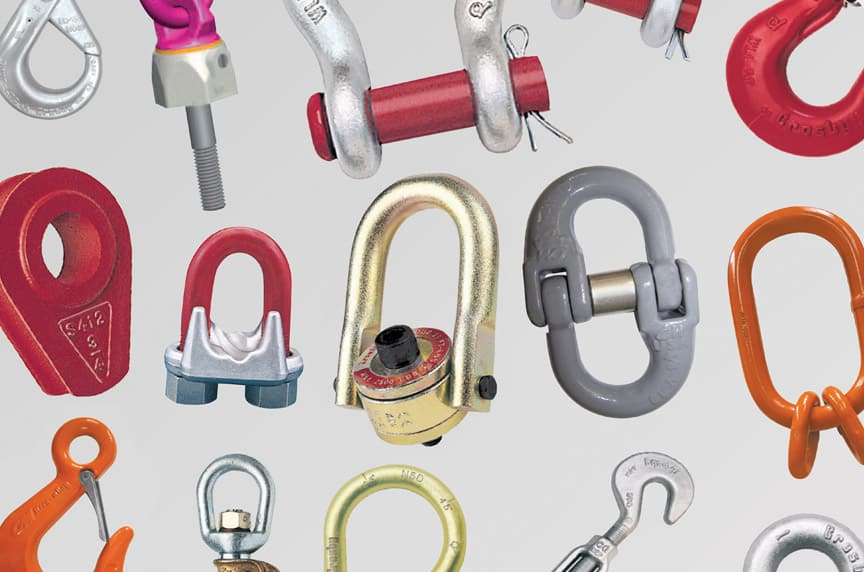 As a one-stop shop for your lifting and rigging needs, Mazzella has a diverse range of products and services that can help you execute safe lifts.
Hardware
We offer one of the largest and most complete inventories of rigging and lifting products in the country from some of the largest manufacturers in the world. Some of the products we stock are:
Rigging Training
If you require a specific training course for OSHA compliance for slings, hoists and / or rigging hardware, Mazzella can assist you in creating a safe and reliable workplace.
Our rigging training focuses on:
Overhead Cranes
Below-the-Hook Lifters
Lifting Slings
Rigging Hardware
Wire Rope
All Mazzella trainers have been accredited by our company through training by a third-party training company (Industrial Training International, Inc.), Mazzella Companies' internal Train-the-Trainer program, and are trained on OSHA and ASME standards.
Also, we provide site assessments. The purpose of an assessment is to systematically observe and record your lifting and rigging procedures, equipment, and records. This is not an inspection, rather a general assessment by which opportunities for improvement may be identified.
Rigging Inspection Services
OSHA 1910.184, ASME B30.9, B30.20, B30.26 & ANSI Z359 Require…
Periodic, documented inspections on slings, rigging hardware, lifting devices, and fall protection every 12 months, at minimum, and monthly to quarterly in more severe service conditions.
Our rigging inspectors are certified to make sure your products meet OSHA and ASME requirements. We also provide personal fall protection inspections and basic level non-destructive testing (NDT) inspections to support our visual inspections.
Call us at 800.362.4601 or click here if you need inspections for rigging hardware, training, or inspections.
---
---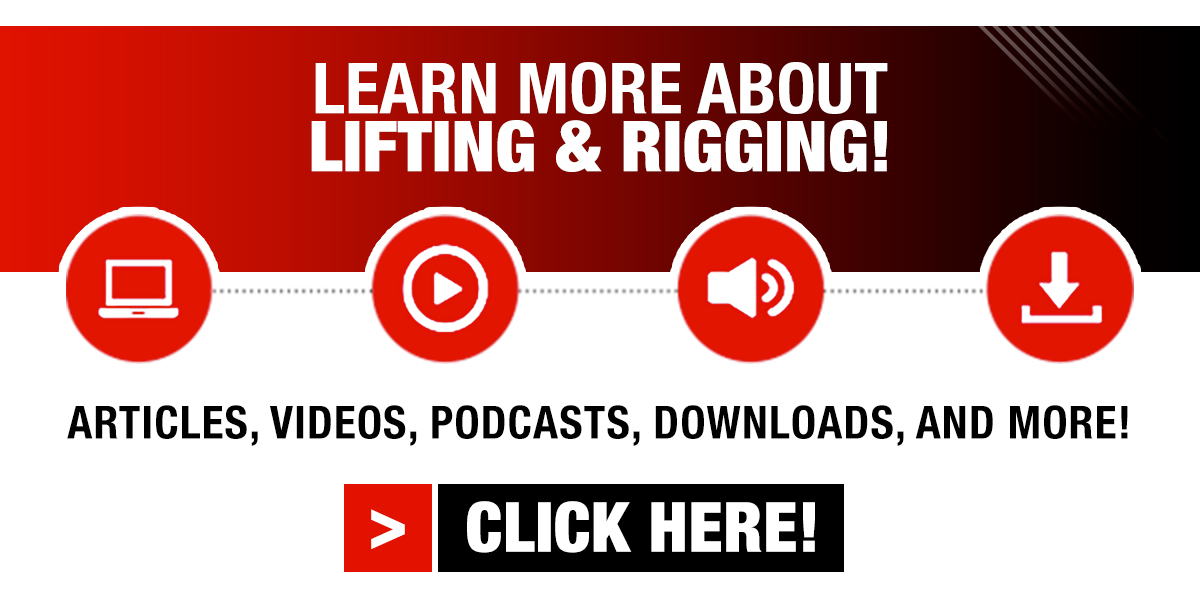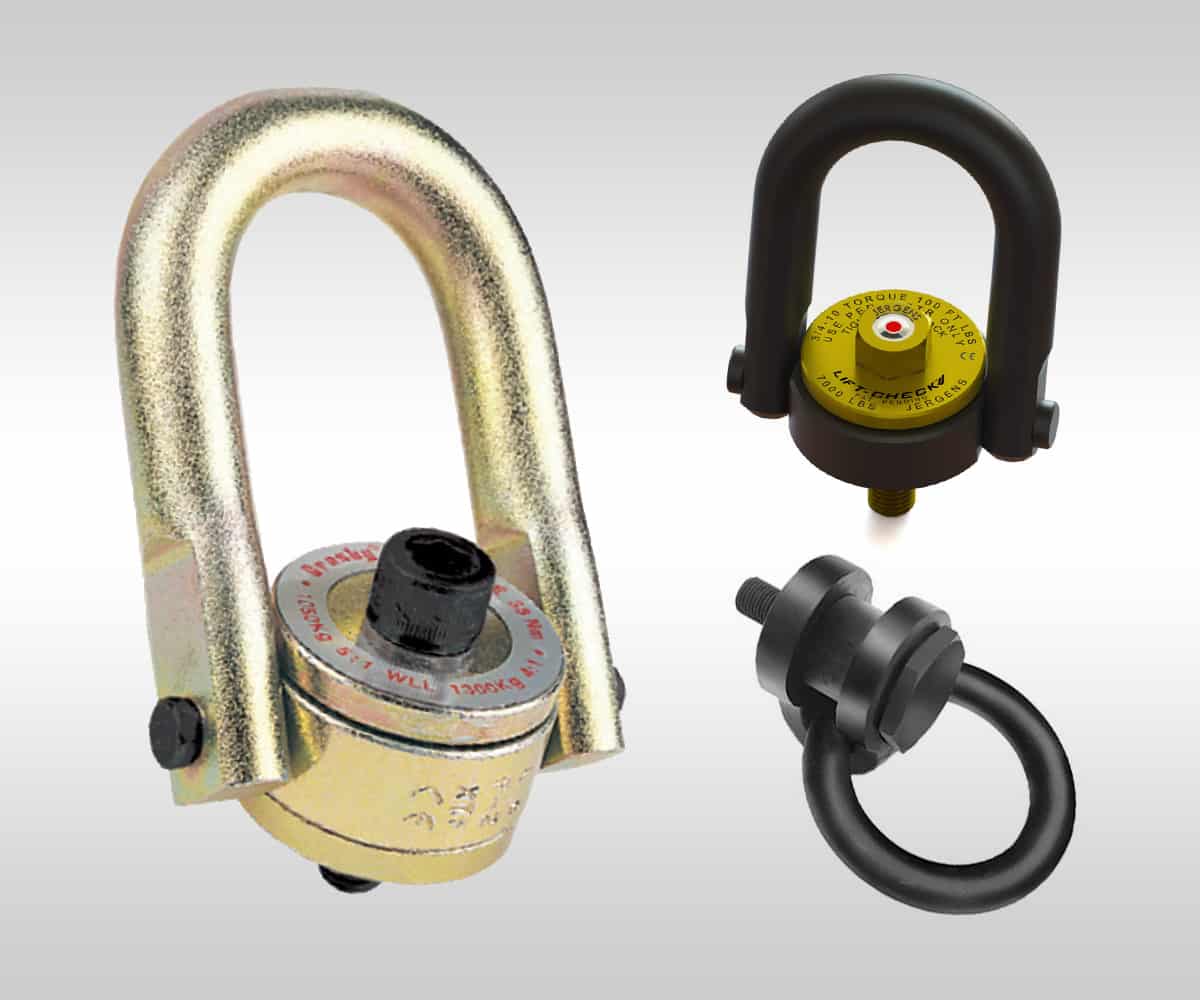 Swivel Hoist Rings
We partner with all the major rigging hardware suppliers in the industry. We stock and distribute all types of hoist rings from several manufacturers, including:
Crosby
Jergens
Actek
ADB
RUD
And more!
Copyright 2022. Mazzella Companies.