Do you and your work crews prefer to use chain slings instead of wire rope or synthetic rope slings, but find it difficult to make the proper on-site adjustments in an efficient manner?
Gunnebo Industries branded products, part of The Crosby Group portfolio, may have the solution you're looking for with a new product offering known as the GrabiQ Chain Sling System.
Made up of fewer components than a normal chain sling, the GrabiQ Chain Sling System is quicker to inspect in the field and about half of the weight of a more traditional setup, and there is no reduction in working load limit.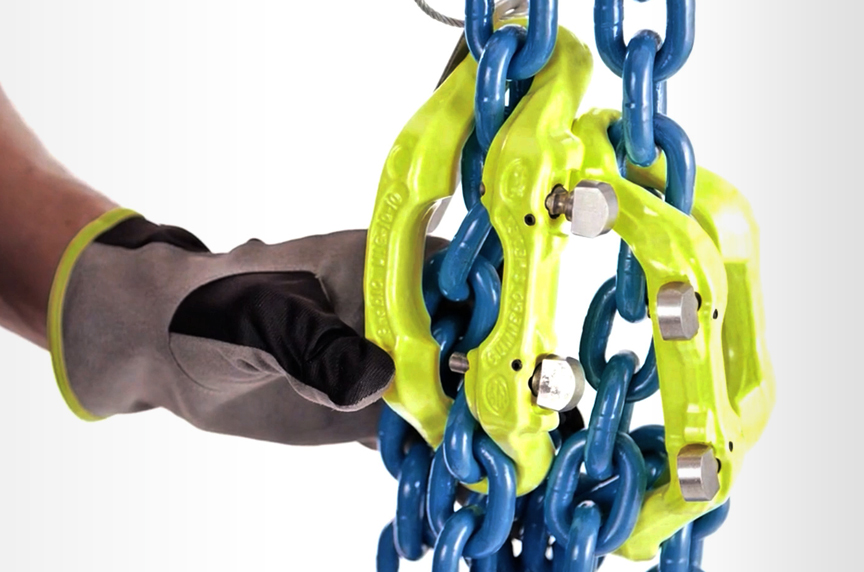 In this article, you will learn about:
GrabiQ product origins
The Master Grab Duo
How much training is required before use
The Midgrab Chain Shortener
Bad fit applications for the GrabiQ Chain Sling
Common problems using the GrabiQ Chain Sling
Other features and technologies in the GrabiQ Chain Sling
Maintenance and repairability
Best fit applications for the GrabiQ Chain Sling
Inspection requirements for the GrabiQ Chain Sling
GrabiQ Product Origins
---
The GrabiQ Chain Sling System really came about because of Gunnebo Industries' brand switch from using Grade 80 chain to Grade 100 chain.
Instead of just reproducing the product line as it was in Grade 80, The Crosby Group talked to customers and end-users and sought to make design improvements by getting feedback on:
What they liked about chain slings
What they didn't like about chain slings
Why they would use a wire rope sling or synthetic sling over chain slings
Adjustability is one of the main advantages with a chain sling. The durability is another part of it. It's very durable in harsh environments, and even in hot environments, especially when compared to synthetic slings and wire rope slings.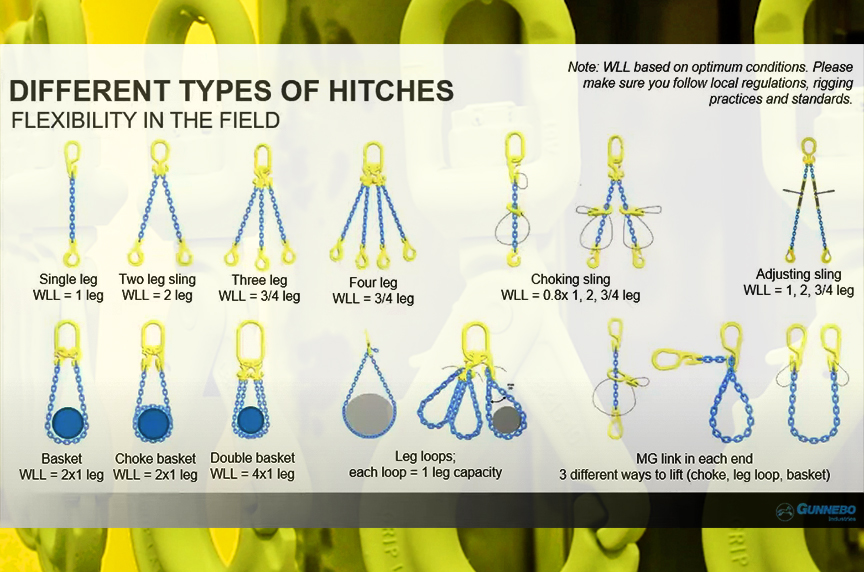 That's what end-users of Gunnebo Industries products liked about it, but what they didn't like was the weight that comes with chain slings.
With wire rope, you have a simple connection with the Flemish eye. There's not too many components, and it can be lighter weight, but with chain, there's added connectors like coupling links, and shortening hooks.
Additionally, end-users found that those components made it more difficult to:
Inspect
Assemble
Avoid bunching of the chain
The GrabiQ Master Grab Duo
---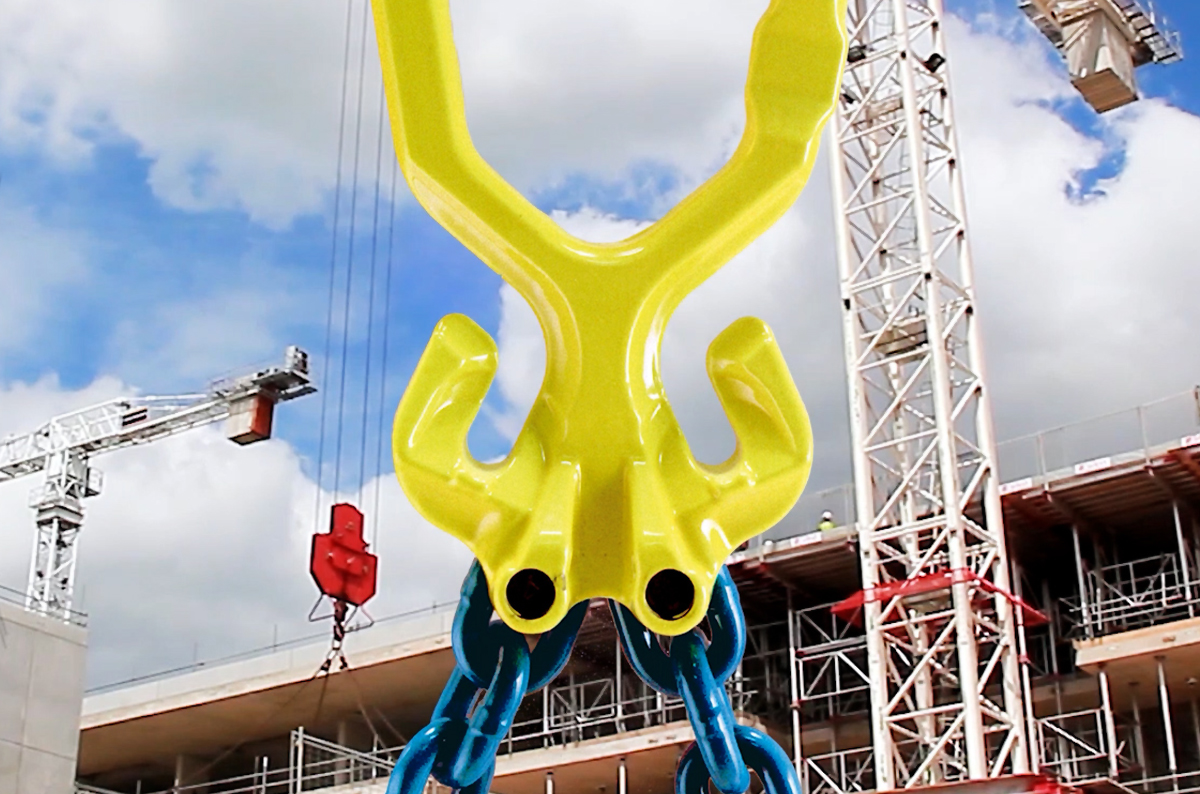 By switching from Grade 80 to Grade 100 chain, Gunnebo Industries branded products increased the working load limit by 25 percent compared to prior systems.
The "all-in-one" compact top link Master Grab Duo (MGD), which is one of the Gunnebo Industries brand's top-selling products, allows for easy adjustment of the length of the legs, as well as creating leg loops to lift bars or other objects that lack connection points.
Only one component is needed to create a chain sling solution with the same function as a traditional system using seven components. With fewer components, lifting operations also become much more effective, which saves both time and money.
---
---
How Much Training is Required Before Use?
---
Another really strong feature of the system is it can be made as simple or advanced as you want. If you go back to the MGD, it's really even more straightforward than a traditional chain sling. You just hang it on the crane hook and you're good to go.
If you need to shorten it, you can shorten it with the integrated grab hook.
There's very little training needed if you're used to working with chain slings or a GrabiQ Chain Sling.
The Midgrab Chain Shortener
---
You can move into more advanced additions to the GrabiQ Chain Sling System, including the Midgrab Chain Shortener, where you can put or shorten it anywhere on the chain.
Benefits to the Midgrab
Adjustability is, as mentioned, one of the main benefits of chain slings, but when you get into using long chain slings, for example when lifting precast concrete wall sections, you end up spending a lot of time waiting for the crane block to go up and down.
If you're waiting for that block to come all the way down, and it's at least 20' up in the air, it needs to come down to working height, which would be about 3' high. That block is moving maybe 20' a minute, so you're going to wait a minute for it to come down. Then, you're going to adjust it.
After that, you're going to bring it all the way back up again, wait another minute, and you're going to have two or three guys standing around waiting for this block to go up and down, plus the crane operator.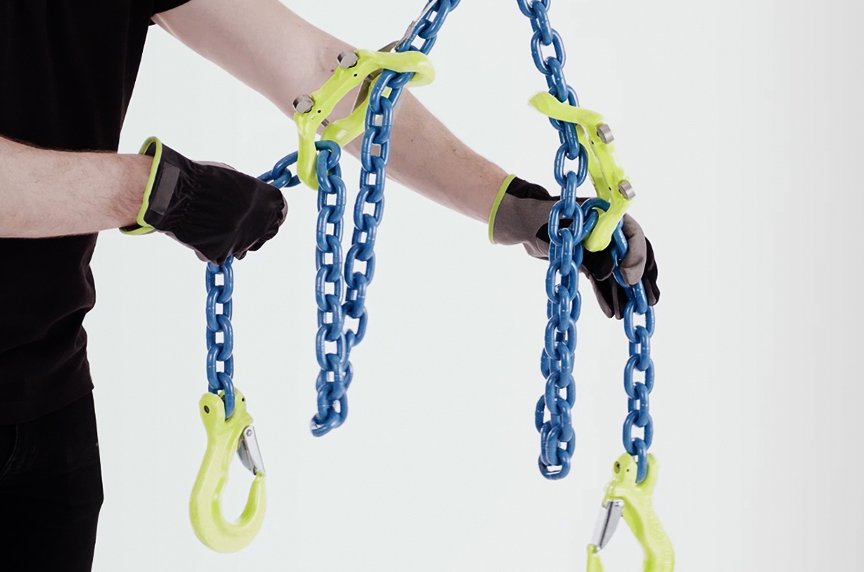 Then, you realize, "We need to shorten the chain by one more link on the left leg." You have to bring it down, and you're losing another minute. After making your adjustment, you bring it back up again. With the Midgrab, you can place it anywhere on the chain sling and adjust it down by the hook.
The Midgrab is a forged piece of equipment, and you don't have any reduction in working load limit when you're using it. It just mounts on the chain.
When shortening your chain sling, you simply slack the chain in the Midgrab, push the chain through, and then, pull the chain tight. Once the Midgrab is on the chain, you push the close devices. You just push them in, and twist a half turn. Now, you have the ability to shorten the chain down by the hook instead of having to lower that block all the way down 20'.
Bad Fit Applications for the GrabiQ Chain Sling
---
All types of slings have their benefits and drawbacks, and with any chain system, it still will be heavy. It still will be a lot of metal, especially as you go up in chain diameter and capacity. Like any chain sling, it will be heavier than a synthetic sling or wire rope sling of comparable working load limit.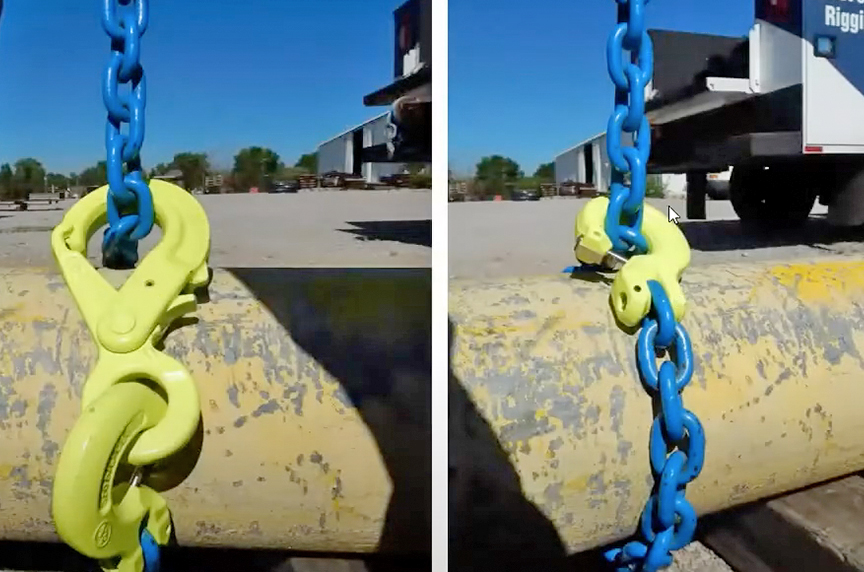 Sensitive surfaces are another issue with the GrabiQ, and chain slings in general. If you have painted surfaces, stainless steel or pipes, the chain is durable, but can actually damage loads.
As far as chain systems go, it's very versatile and flexible. It's very straightforward to use, but once you get into more advanced rigging techniques, such as using the Midgrab, the Flexileg system, or even further advanced and different types of hitches, it can get more complicated.
If you have inexperienced riggers, it might not be the best system for them. Training your workers before putting these products into service would be one way to lessen the risk factor and increase productivity.
Common Problems Using the GrabiQ Chain Sling
---
As you would have with any other sling type, it could be rigged incorrectly or you could be using the wrong sling angles. Also, riggers could be using the wrong working load limits.
With the more advanced type of hitches that can be used with the GrabiQ Chain Sling System and different components for greater flexibility, people might not realize how much they have to account for a reduced working load limit when using a choker, even though it's a choke fitting.
Some common problems can be remedied by understanding the fittings and links look different from traditional slings, being aware of how much you can lift with it, and rigging it properly.
Versatility is the big benefit of using the GrabiQ Chain Sling System, and another example is using a Gunnebo Industries GrabiQ C-Lok Type CL end fitting. This end fitting can be connected to a hook, used as a choker, or rigged back up to the master link. However, make sure you have a master link on the sling, and that it's appropriate for the lift, or you won't use the full basket capacity.
Can the GrabiQ System Be Used With Other Rigging?
---
As a system, the GrabiQ Chain Sling System is designed and developed to work with the GrabiQ chain, GrabiQ components, GrabiQ master links. It's easy to make sure if you have the right components if you utilize all of the components of the GrabiQ Chain Sling System.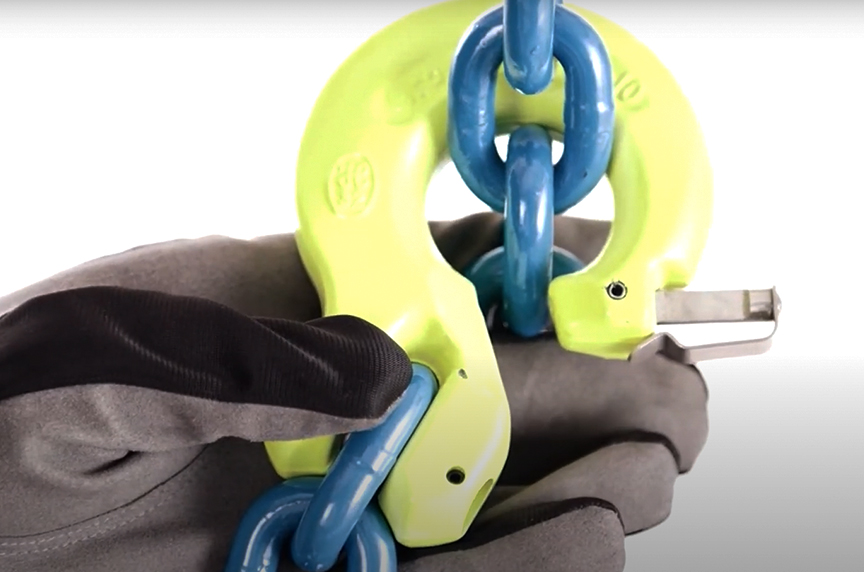 ***All systems are manufactured to a specific design, and it's important that all manufacturer's recommendations are followed. If you're just mixing products in the field, you could be increasing the risk for a failed lift, and/or serious injury to workers.
The Crosby Group has not tested the GrabiQ Chain Sling System using all of the competition's chains, and there are tolerances within the lifting standards. You could be using the Midgrab or another GrabiQ with a different type of chain, and it will not sit properly, and can lead to a reduction in the breaking load.
If you can keep everything in the same "family" of products, you're going to have more success because it's made by the same manufacturer. You want to do your research rather than doing any rigging in an unconventional way just because you're trying to get something done.
Other Features and Technologies in the GrabiQ Chain Sling
---
Flexibility is the key to the GrabiQ Chain Sling System.
It can handle working with several types of hitches. Also, you can adjust the leg length with much more precision using the GrabiQ Tensioner GT. It looks like a ratchet, but also, features a clevis, and is approved for lifting. It's proof-tested 2.5 times the working load limit and works with the GrabiQ Chain Sling System.
Some of the slings require a different type of end fitting. If you're making a choking sling, it would be preferable to use a CL choker instead of using a hook because you get a much tighter choke.
Also, you could use it together with a quick pin to hook it onto the chain, which creates a sliding-enclosed choker. It's more durable because it's a single-forged piece rather than several components. The choke is much tighter because of the length, so you have less risk of load slippage.
End Fittings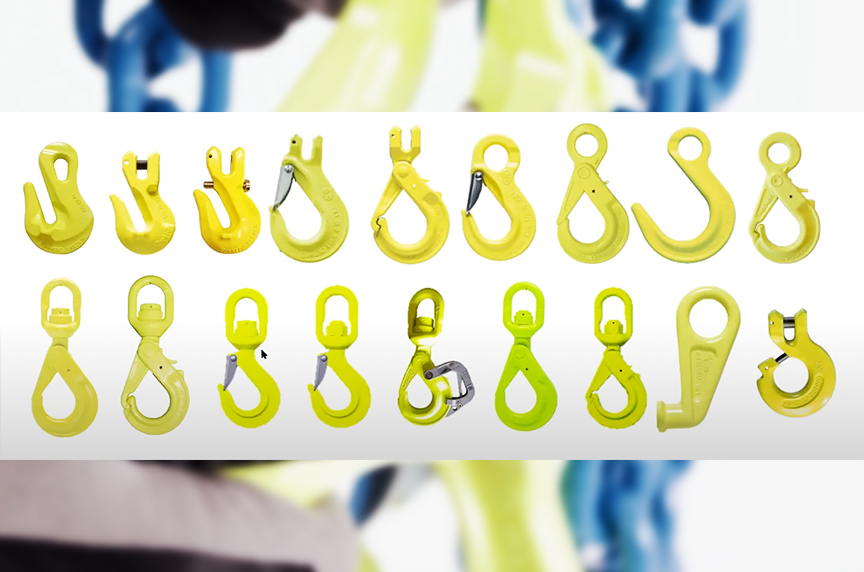 There are several types of end fittings that are used to create that flexibility, including:
Eye Grab Hooks
Clevis Grab Hooks
GrabiQ with locking pins
Sling hooks
Foundry hooks
Swivel hooks
Handles for increased safety
Container hook
These different options for end fittings are used to create different types of slings and different types of hitches depending on the work environments.
GrabiQ Flexileg
Why do you want to have the ability for an instant leg change?
Well, because it:
Enables sling change, leg by leg
Idle sling legs that are not being used can be removed easily
The quantity of sling material is reduced greatly
The chain sling can be rebuilt on site
Idle sling legs cause misleading tag information, as the working load limit will be incorrect. Not paying attention to working load limits can cause catastrophic injuries to workers, and damage to loads being lifted, as well as potentially risking public health should a lift fail.
GrabiQ Quick Pin
During the development stage, The Crosby Group troubleshooted a potential problem on the job site to see what the GrabiQ Chain Sling System could do.
Sometimes, you need to use a choking sling or basket connecting two legs of a four-leg sling. What do you do with the other two legs? Do you just tie them up and look at the table for the correct working load limit?
That's not the appropriate way to rig a load, and could create several issues, including:
Snagging on other objects
Injuring workers
With the GrabiQ Quick Pin, end-users can add or remove legs to the sling as needed.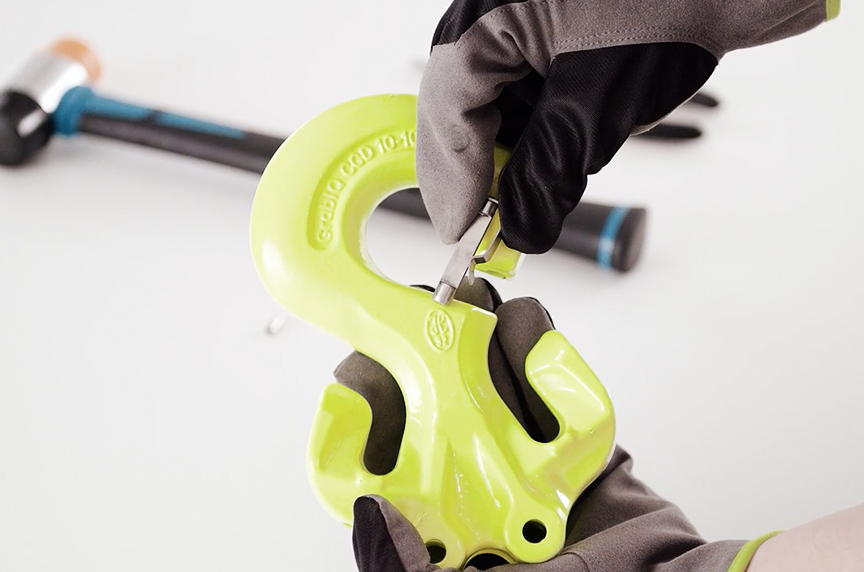 The Quick Pin offers its users:
Instant close/open functionality
Fits all GrabiQ C-connectors
Hand maneuverability with no tools required
The GrabiQ Flexileg Tagging System
The Gunnebo Industries branded portfolio includes a special tag that shows the capacity for one leg, two legs, three legs, four legs, and on the back side, it has a serial number and sub-tags that go onto each of these sub-assemblies that show the serial number, too.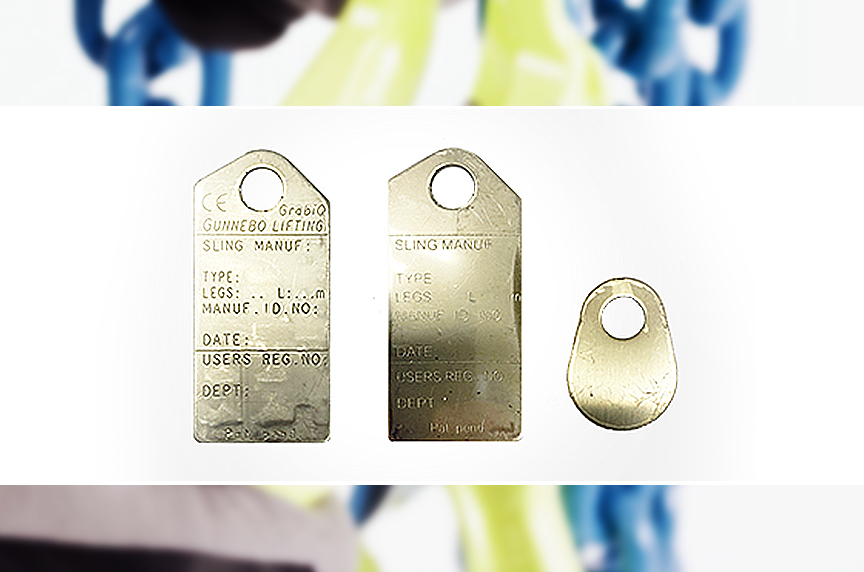 The tagging system gives end-users more flexibility when using the sling because you can create a one-leg, two-leg, three-leg, or four-leg sling on-site without having to use different types of slings.
This system is good for applications where a service truck or mobile crane will be doing several different types of lifts like moving rebar, concrete wall sections, and containers. The GrabiQ Chain Sling System allows you to do those lifts without the need for extra rigging gear.
The goal with this user-friendly system is to provide as many on-site solutions and eliminate as much confusion as possible. It was created to make sure end-users were making the right calls and lessen the opportunity for failure.
Maintenance and Repairability
The chain sling's repairability is another great benefit. It's much easier to change out a broken hook on a chain sling with a clevis than it is to change it out on a wire rope. Essentially, you would have to create a new leg on the sling, if not a new sling altogether.
The repairability is similar to what you would have with other chain slings. However, because you have fewer components, you should have fewer issues with it, and it should be easier to inspect and maintain.
Best Fit Applications for the GrabiQ Chain Sling
---
Where The Crosby Group has seen the GrabiQ Chain Sling System working much better than any other type of sling or chain slings are where the end-user needs that flexibility.
If you're in a shop and you're moving different types of tools around, or if you're on a construction site where you're lifting pipes, wall sections, or garbage cans, there's many different types of lifts being done that usually require several different slings.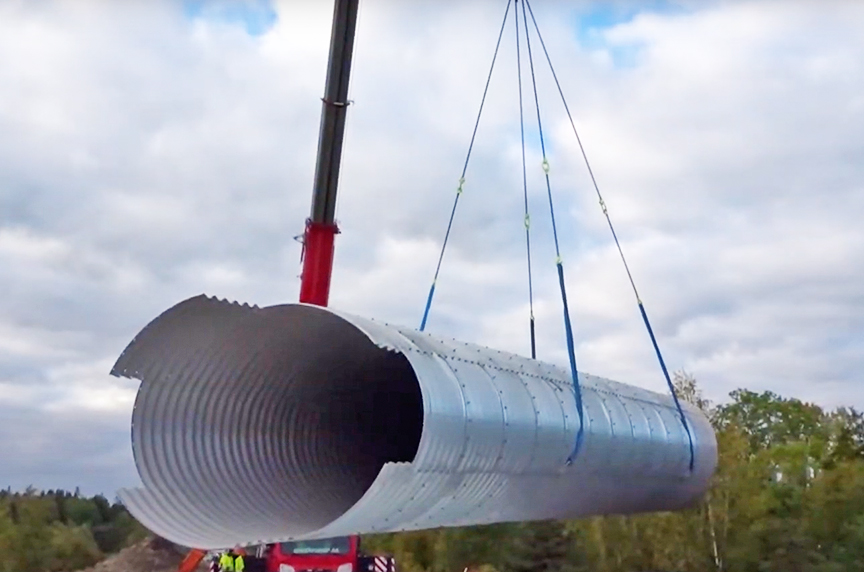 You need that flexibility, and that's where the GrabiQ Chain Sling System excels and works better than other systems because:
It's easy to use
You have the information on hand
You can make a decision on-site to adjust your sling to work safely
Rescue teams working at Mount Everest have utilized the GrabiQ Chain Sling System to stand up to harsh conditions and save injured climbers. With the GrabiQ Chain Sling System, the rescue team can safely lift injured people to the helicopter.
Inspection Requirements for the GrabiQ Chain Sling
---
The GrabiQ Chain Sling System still is a chain sling, and it will follow the chain sling inspection criteria in ASME B30.9 Slings.
If you have a self-locking hook, you need to check the clearance and tolerance of the hook tip vs. the hook body matchup. You need to inspect all of the loading points, as well as any opening in the hook, reduction in dimensions because of wear, or elongation of the chain.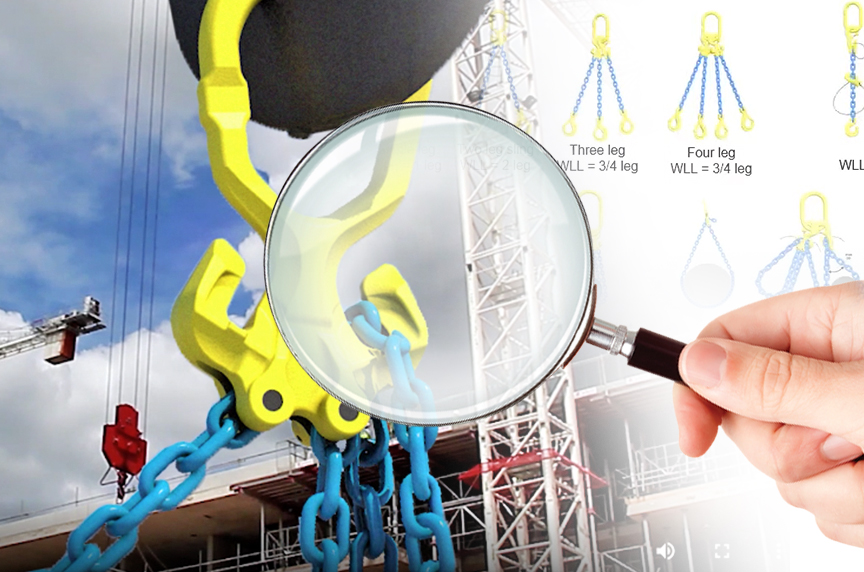 As a general rule, during normal use in normal conditions, you should send it in for a thorough inspection from a reputable third-party company at least once a year.
Make sure to keep a record of this inspection. If a hook needs to be changed, that should be noted in the inspection report, so you can keep track of the chain sling throughout its service life.
Wrapping it Up
---
By reading this article, we hope you better understand what the Gunnebo Industries GrabiQ Chain Sling System is, and how it would help make your job sites safer and more efficient.
Mazzella wants you to get your information from a reputable source, and our specialists go through product training with The Crosby Group to better help the end-users in the field.
Click here to contact a Mazzella lifting specialist for more information on the GrabiQ Chain Sling System, or to get answers to any of your rigging questions.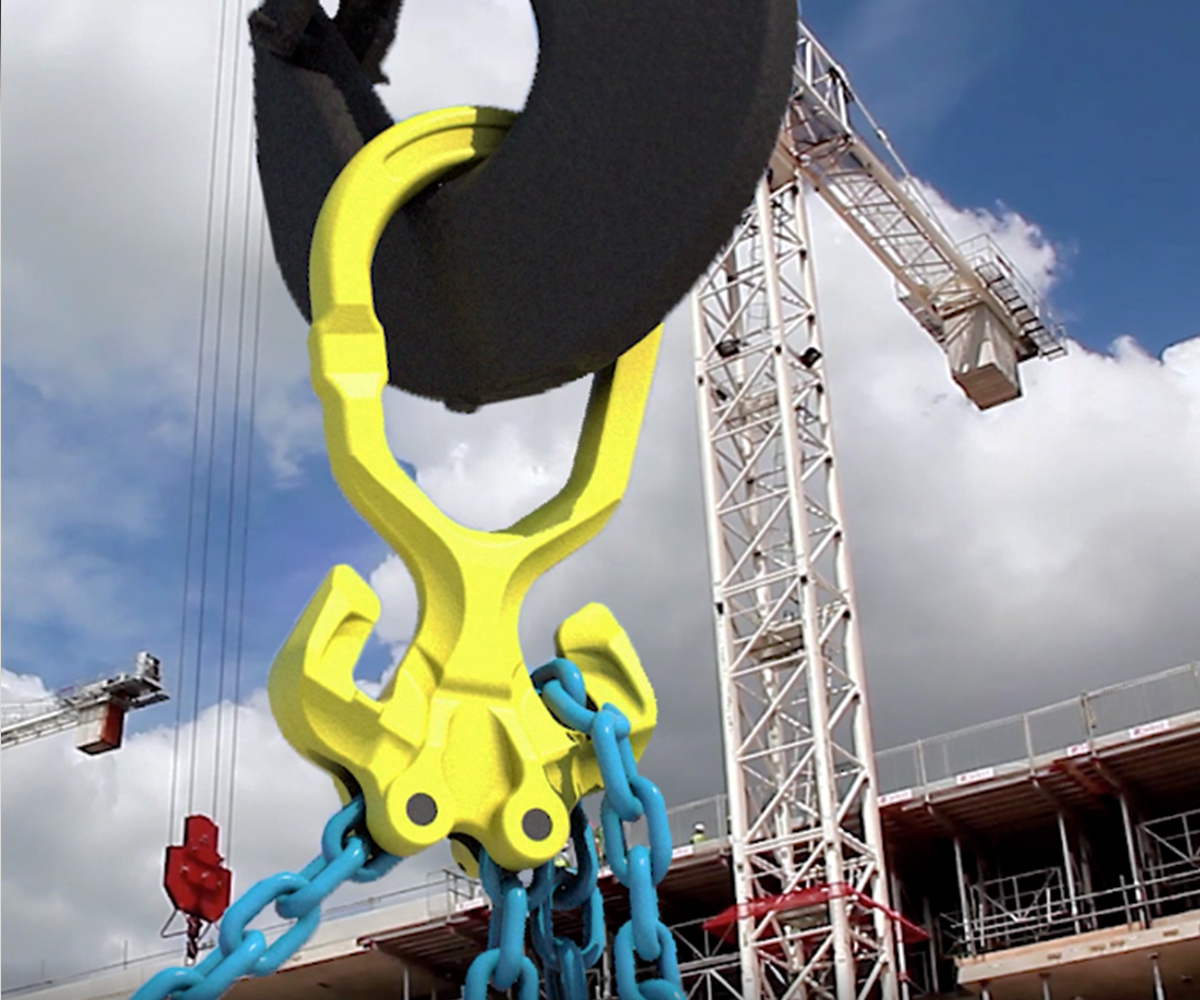 GrabiQ is an exciting family of alloy chain sling components. Instead of the old "one component does one job" fitting, GrabiQ combines (in a single component) up to three separate functions, replacing up to seven different fittings.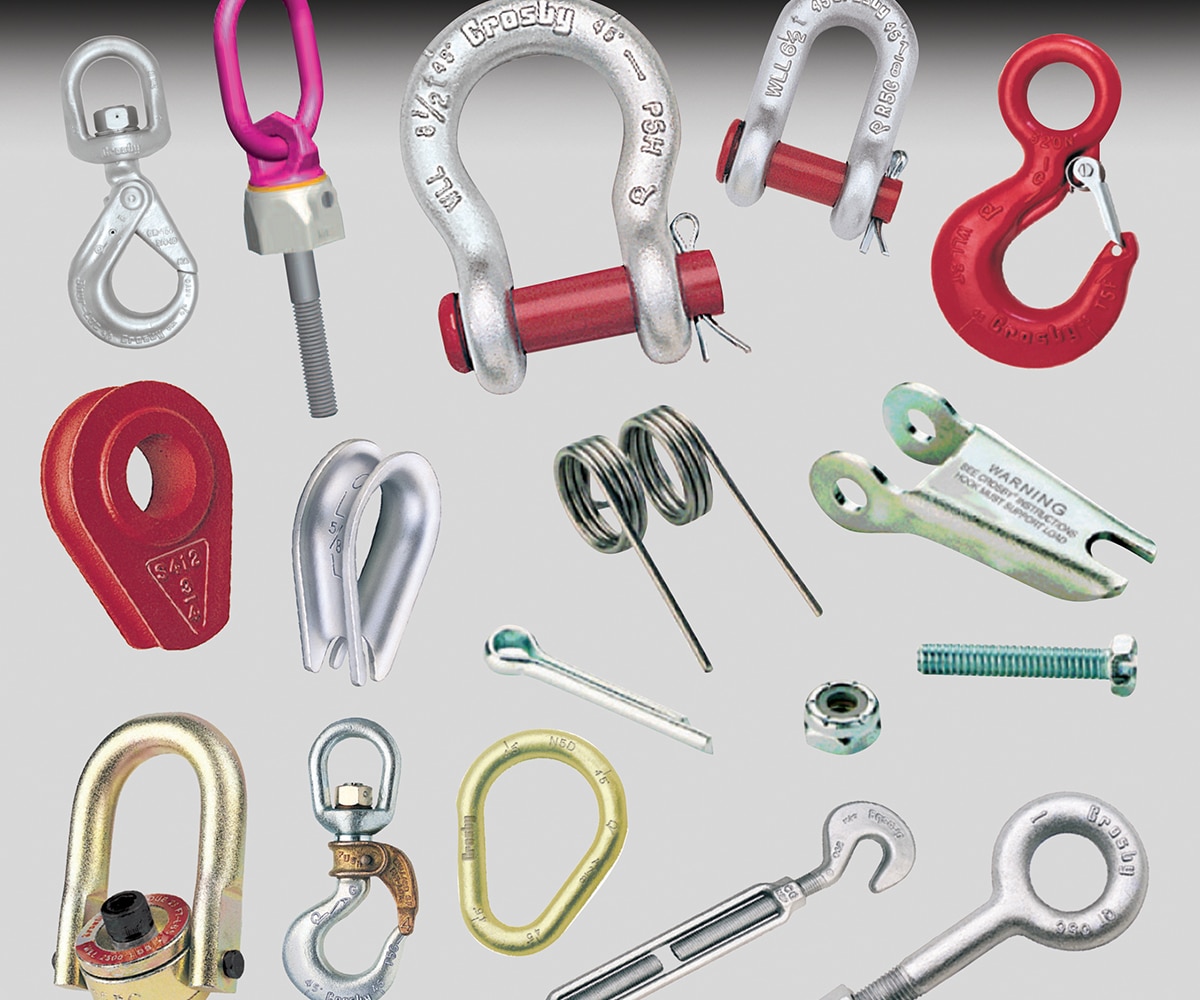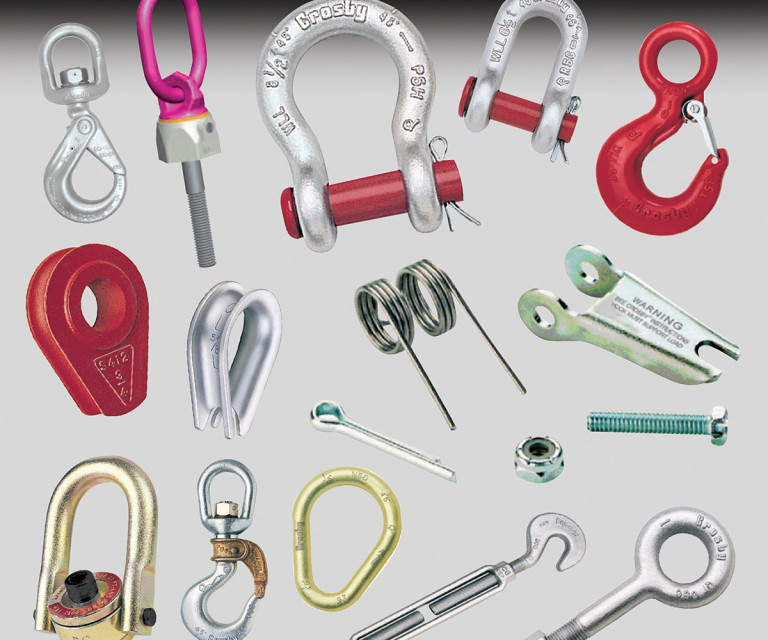 We offer one of the largest and most complete inventories of rigging and lifting products in the country from some of the largest manufactures in the world. Some of the products we stock are shackles, hoist rings, eye bolts, hooks, master rings, links, and turnbuckles.