"One machine can do the work of fifty ordinary men. No machine can do the work of one extraordinary man."
The words of American writer / philosopher Elbert Hubbard easily translate to the importance of safety while conducting overhead lifts. With safety being a main concern of companies around the country, technological advances have made it easier to protect workers.
According to OSHA Publication 2056, there are nearly 6,000 workplace fatalities in the United States and 50,000 deaths due to workplace-related illnesses each year. Also, there are 5.7 million non-fatal workplace injuries, and those injuries alone cost U.S. businesses over $125 billion annually.
Developing an in-house safety program is one way to prevent serious injuries / deaths on the jobsite.
In this article, we'll answer the following questions about creating an in-house safety program, including:
Why do you need an in-house safety program?
What are the requirements for a safety program?
How can you build your in-house safety program?
How can you win over the employees out in the field?
What advice should you follow when starting your own safety program?
Why Do You Need an In-House Safety Program?
---
At the end of the day, while productivity is important, the highest priority should be on sending people home safely. You want them to go home to their families and friends, and then, enjoy life in their downtime. Doing so helps boost individual and team morale.
By controlling or eliminating hazards in the workplace, you help reduce the risk of an accident. Think about how quickly the costs of a workplace accident or fatality can add up, including:
Lost wages
Workers' compensation
Low employee morale
Decrease in productivity
Workforce shortages
It's actually a requirement from OSHA, the Occupational Safety Health Administration, but that shouldn't be the only reason to set up an in-house safety program. OSHA outlines the minimum requirements, but really, you create such a program because it's the right thing to do. Ultimately, you want your coworkers to feel safe and your team members to go home in the same condition they arrived at work.
Undertaking the development of an OSHA-compliant in-house safety program is a sizeable investment for any company. However, while there are plenty of details to include in an in-house safety program, the pay-off for your company comes in knowing you are protecting your workers.
---
---
How to Deal with Pushback Against Safety Regulations?
---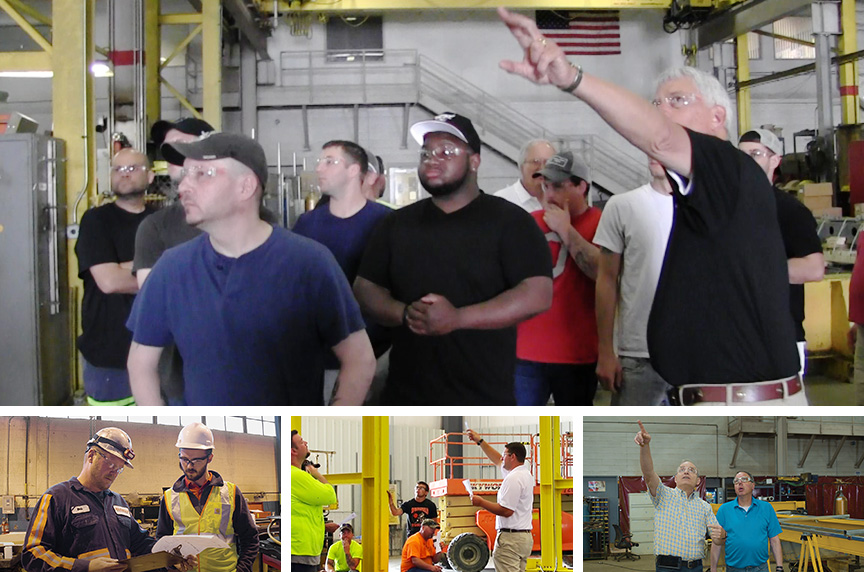 From a safety manager standpoint, the key is delivering standardized information to workers in a relatable way. You want them to understand the ways to enhance safety measures, and then, apply them in a practical way to their work. The easier you make the information to understand, the more likely it is that people will adopt the new practices.
Building relationships is another key to the success of any in-house safety program. You have to support your workers. As a safety manager, you can't say, "Hey, come to me or ask me," and then, not get back to them. You have to answer their questions or let them know that you'll get back to them with an answer if you don't yet have it. That's where the relationship grows, and it really starts to take shape when people own more of it and feel more comfortable coming to you with questions.
Remember, introducing new things to people who have been in their roles for long periods of time will come with challenges. However, making yourself available for something as simple as answering questions directly or helping them find the answers will go a long way in getting them to follow the rules of an in-house safety program.
Along with answering questions, explaining "the why behind the why" is helpful. It's important to say, "Here's what we need to do, AND here's why we need to do that." They need to understand they're not just doing it because some regulation says its needed. Instead, presenting real-world statistics of near-misses and workplace incidents involving loss of limb or fatalities will help drive home the need to be safer on the job. Just because something hasn't happened in the last 20 years doesn't mean it never will.
What Are the Requirements for a Safety Program?
---
When beginning the formation of your in-house safety program, it is important to:
Identify what you and your business do
Document your processes
Make sure everyone is properly trained to do their work
Implement an auditing process
It is important to outline the minimum standards expected of employees, especially when it comes to training frequency.
Example: If you're doing material handling, whether it's by crane or forklift, you want to make sure the people operating those machines are competent in the environment. If you have a warehouse, you want your employees to understand how to navigate that warehouse. If you have to load and unload storage racking, they need to understand how to do that specific task in your environment.
Doing as much in-house training as possible allows you to know exactly what guidance your employees are getting. Also, this lets you see if additional training is necessary for your workers.
If additional training is required, sending your workers to a third-party training facility is a great idea. While it comes with a deeper financial investment, educating your employees could prevent costly incidents on the jobsite.
Where Do You Start When Creating an In-House Safety Program?
---
Conducting a job safety analysis (JSA) focuses on the relationship between the worker, the task, the tools, and the work environment — and identifies hazards before they cause catastrophic injury / death. It is the single-most effective way to assess safety management on your jobsite or in your facility.
Hazards are the main cause of occupational health and safety problems. Identifying hazards is one of the first things you can do to help keep your jobsite safe. OSHA defines a hazard as a condition, or set of circumstances, which present a potential for harm. A hazard is often associated with a condition or activity that will cause illness (health hazard) or physical harm or injury (safety hazards).
After a hazard is identified, a determination is made on how to control or eliminate the hazard altogether. This plan needs to be communicated with all individuals involved to gain clarity on safe work. Anytime the job, task, or situation changes, the JSA plan needs to be revisited.
Taking the time to perform a job safety analysis is truly invaluable.
Also, working with a third-party company to build out a safety manual and plan would be helpful. If you have a customer that does well with its safety program, you could take information from them and adapt some of their policies to fit your needs.
Lastly, having your insurance providers conduct risk assessments on "walk-arounds" through your facility or jobsite is another way to help in the creation of your in-house safety program. They can call attention to certain risks that can help you put action into making improvements.
How Does a Safety Program Grow and Develop?
---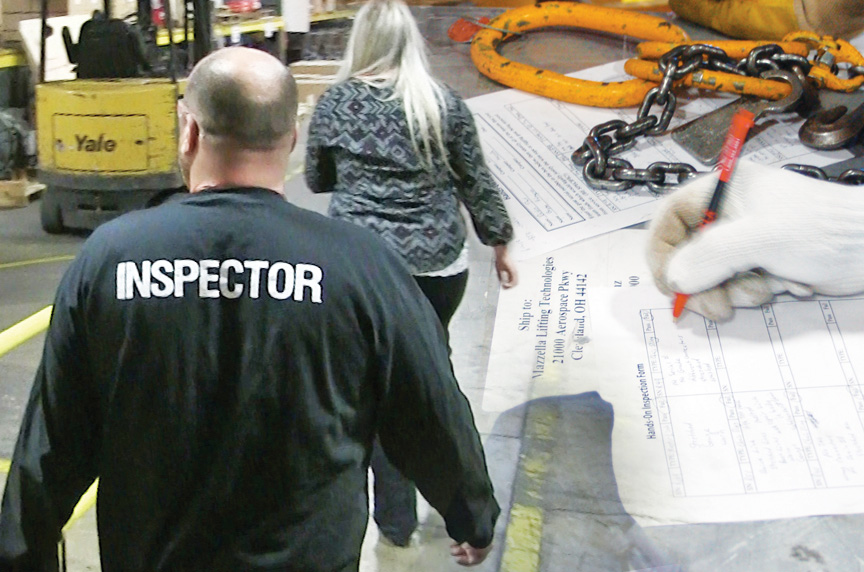 During the institution of your in-house safety program, you'll know it is starting to take hold when the words used in training become common in your workers' everyday vocabulary. Whether it be through daily huddles, weekly check-ins or more strategic sessions, safety should be a component of those meetings.
Also, it is important to check if any incidents occurred. If there have been any incidents, you want to document what happened, and how it will be corrected. Doing this will allow you to share information across your company, and that could prevent future accidents from occurring.
Making safety a core value of your company sets an important standard for your employees.
Whether it's new hires, job descriptions, or interviews, making sure safety is at the forefront of potential employees will help build positive momentum with an in-house safety program. Even if you have a fast-growing team, safety is not something that should be compromised.
How Do You Get Company Leaders Involved in the Safety Program?
---
By starting an in-house safety program, you have an opportunity to call out areas where improvements can be made through self-audits.
That could be anything from processes that could be streamlined or equipment modifications, and all points in-between. Even something as simple as discarding a faulty extension cord or improving the guard near a piece of heavy machinery, every step you take will help improve your company's safety record.
It is important to have your safety managers make the audits a positive experience. You don't need to do a surprise attack on your workers. That doesn't always work, and it can be perceived as a negative thing. Spending time with your team will help build a rapport with management. What you don't want is to be like, "I'm here to look at this, this and this, and get you in trouble." The more positive the audit experience is, the more willing people will be to adopt your safety program.
What Advice Do Safety Professionals Have for Someone Starting Their Safety Program?
---
Trying not to find fault with everything is a great place to start. Call out the good along with where you can improve.
Recognition for something as simple as wearing a seatbelt when you're operating the forklift, a "good job handling that lift," or "I see you're 100% tied off the entire time" helps drive people to do things right, all of the time. Sometimes, you only hear about things usually when it goes wrong. It's refreshing to hear about all the stuff that's going right.
Workers don't necessarily care what it is, so long as their work is recognized. They just want somebody to tell them when things are going well. Overlooking the positives often is a problem, especially in big companies. However, encouragement is a way to keep morale or productivity from slipping.
If an incident occurs, you never want to play the blame game. Don't say, "It's so-and-so's fault," or "They're to blame." Usually, when an incident occurs, it's a process breakdown. You want to look at corrective actions that can help you learn from the mistakes. You want to make sure you have care and concern for those involved in the incidents. Also, you want to find out the root causes because many times, it is the result of something out of the person's control. You want to focus on that, and commit to making the corrections.
Remember, you're not looking to throw somebody under the bus. You're looking to get everybody on the bus.
How Can Mazzella Help with Your Safety Program?
---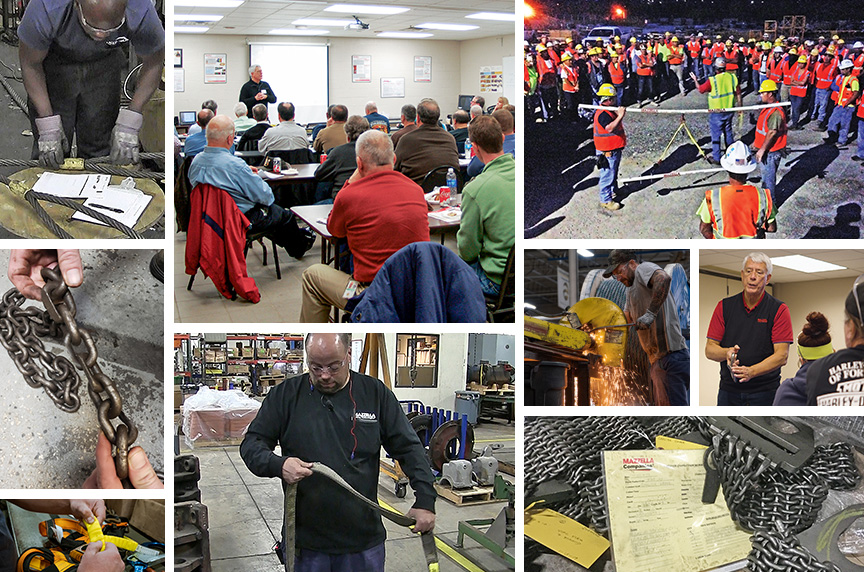 Lifting and Rigging Training
We provide basic lifting and rigging training to any class size or jobsite!
Several years ago, we made significant changes to our training division. We found that, across the board, there were inconsistencies in the training materials, training duration, subjects covered, and the skills of our trainers.
We began looking at training from the customer's perspective and broke our training topics into individualized modules. This allows our trainers to work with the customer to customize the training to their needs. Some of the training topics we offer include:
Identifying and managing risk
Rigging technique
Planning every lift
Rigging hardware – care, use, and inspection
Lifting slings – care, use, and inspection
Load control
Safe design and use of below-the-hook lifting devices
Indoor cranes – safe lifting operations
Fall protection – identifying potential hazards when working at height
Mazzella trainings can be tailored to your needs, specifically in the following industries:
Manufacturing / General Industry / Durable Goods
Steel mills
Paper mills
Automotive
Mining
Oil and gas
Ship building
Foundries
Steel processors
Steel warehouses
Construction
Prospects
Customers working at height
Anyone working with rigging, cranes, or at height
If you require a specific lifting or rigging training course for OSHA compliance for slings, hoists and / or rigging hardware, Mazzella can assist you in creating a safe and reliable workplace.
Rigging Inspection Services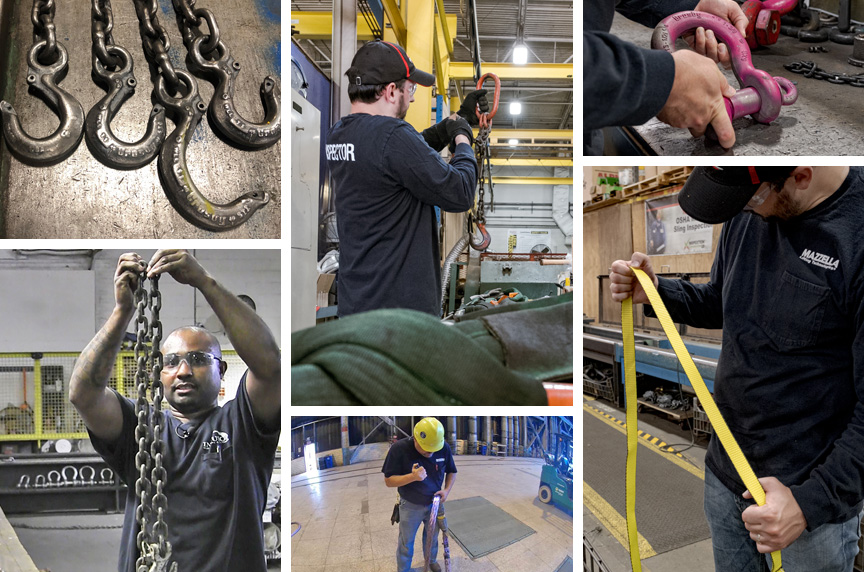 OSHA 1910.184, ASME B30.9 Slings, ASME B30.20 Below-the-Hook Lifting Devices, ASME B30.26 Rigging Hardware & ANSI Z359 Require…
Periodic, documented inspections on slings, rigging hardware, below-the-hook (BTH) lifting devices, slings, rigging hardware, lifting devices, and fall protection every 12 months, at minimum, and monthly to quarterly in more severe service conditions.
Our rigging inspectors are certified to make sure your products meet OSHA and ASME requirements. Also, we provide personal fall protection inspections and basic level non-destructive testing (NDT) inspections to support our visual inspections.
All Mazzella rigging inspections are done in accordance with OSHA 1910.184 and ASME B30.9 Slings inspection requirements for:
Wire rope slings
Alloy chain slings
Synthetic web slings
Synthetic roundslings
High-performance roundslings
Metal mesh slings
Synthetic rope slings
Also, we provide inspections for all types of rigging hardware. The goal of a rigging inspection is to systematically observe the condition of your lifting and rigging equipment.
After a rigging inspection, you'll better understand if your rigging hardware is properly marked, and if the overall condition of the equipment meets ASME service requirements. All of our inspections of rigging hardware include hooks, shackles, eye bolts, hoist rings, and are done in accordance with ASME B30.10 Hooks and ASME B30.26 Rigging Hardware requirements.
Mazzella also offers non-destructive testing (NDT) services, including magnetic particle testing / dye-penetrant testing. This is very basic level testing, and not often needed.
Fall Protection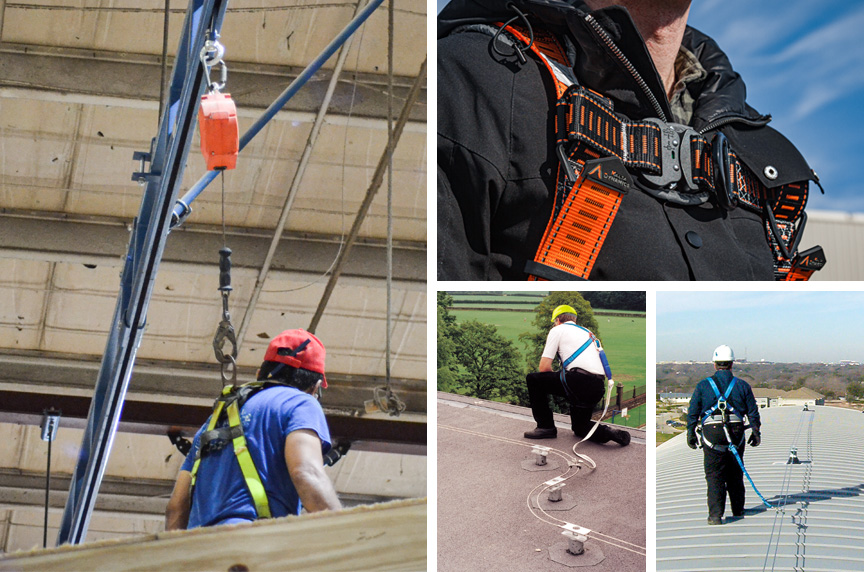 Mazzella has a team that works with you to find the best fall protection solution based on your needs. When Mazzella's structural engineer, sales rep and project manager come to your jobsite or in your plant, and we talk to you about what your employees are doing at height, we will help you figure out your best options for fall protection.
We have custom-configured several types of fall protection systems for businesses across the country that have diverse needs based on their working conditions. We are a leading supplier and installer of engineered fall protection systems in the U.S., as well as a distributor of soft goods like harnesses, lanyards, self-retracting lifelines, scaffolding and netting. All of our engineered systems and products meet or exceed the federal criteria required by OSHA and ANSI, and can be customized with your individual fall protection and financial needs in mind.
Also, Mazzella offers three types of classes that can train you to be OSHA compliant. That is the basic fall protection course. Additionally, there are intermediate and advanced classes for you and your company, the latter of which is a competent person training class.
We specialize in site analysis and evaluation, as well as employee training for equipment installed or products sold. Also, Mazzella offers general training, system inspection, documentation storage, and procedure development, like rescue plans.
Call us at 800.362.4601 or click here to learn more about our training programs, or schedule training for your workers!
---
---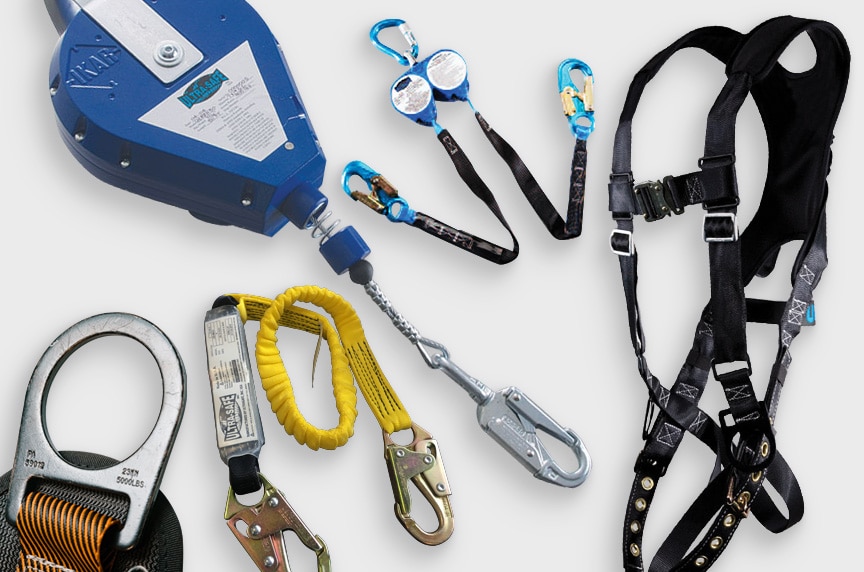 Fall Protection
Mazzella is a leading supplier and installer of engineered fall protection systems in the U.S., as well as a distributor of soft goods.
We specialize in site analysis and evaluation, as well as employee training for equipment installed or products sold. Also, we offer general training, system inspection, documentation storage, and procedure development, like rescue plans.
Copyright 2023. Mazzella Companies.