Description
The benefits of using high performance synthetic rope slings, instead of traditional wire rope, have not only been well-documented but are also put into practice every day by lifting companies worldwide.
Cortland's patented Plasma HMPE (Ultra High Modulus Polyethylene) synthetic fiber rope slings are lighter than wire rope, offer greater flexibility both in design and use, and are less labor-intensive to move. Plasma rope slings have been successfully replacing steel wire rope in lifting applications for more than 25 years.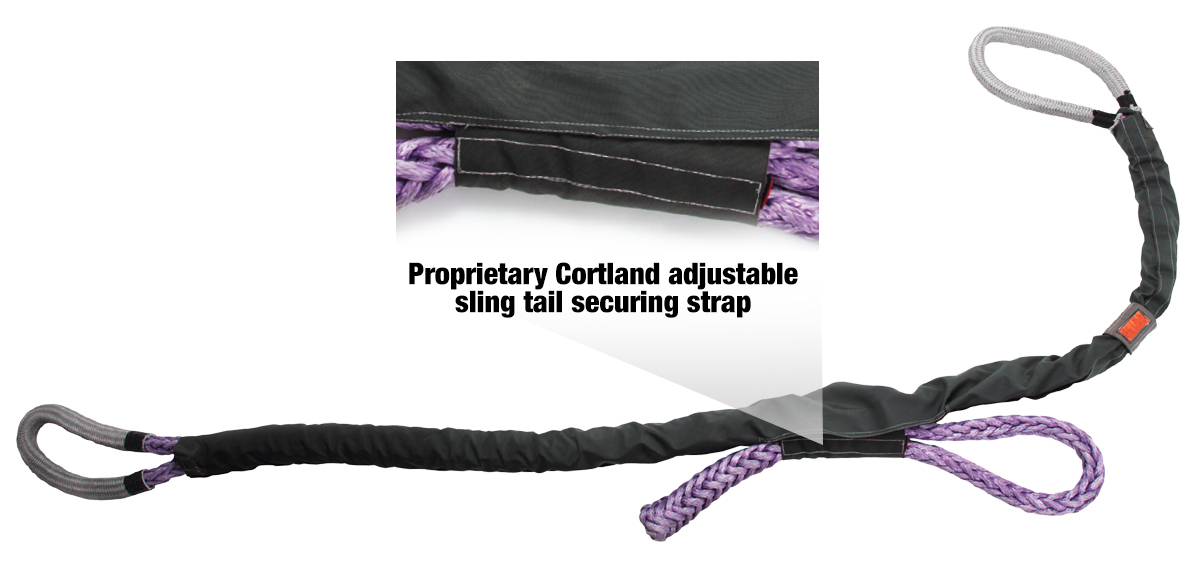 Features and Benefits:
HMPE high performance lifting sling
One permanent eye, one adjustable eye
Length adjustable, to use in a variety of applications
Opposing force tightens the adjustable splice, preventing any lengthening of the sling
Lightweight flexibility for safe and fast rigging
Minimum length dependent on rope diameter size; no max length limitations
Easy to inspect
Durable cut-resistant eye terminations
Many chafe guard options, offering increased protection yet allowing for inspection
---
Traditional lifting slings made from steel wire rope are heavy, inflexible, and difficult to rig.
Unlike wire, Plasma rope slings will not rust or corrode and have much better bend and tension-tension fatigue resistance. Single leg or multi-leg bridles using Extender slings are designed using high modulus synthetic fibers in a torque-free braided construction and offer the same strength and elongation characteristics as wire with only 1/7th the weight.
Extender slings are currently available with standard vertical lifting capacities from 10 to 250 tons. All single leg or multi-leg Extender slings are proof-loaded to 2x WLL (5:1), have less than 1% elongation under WLL, and are properly tagged.
Nominal diameter
(inches)
Size
(circ. in.)
Sling Rated Capacities
@ 5:1 WLL (lbs)
Minimum Eye Size
(inches)
Minimum OAL
(feet)
Vertical
(lbs)
Basket
(lbs)

Plasma 12 Strand

1/4
3/4
1,280
2,560
6
4
5/16
15/16
1,872
3,744
6
4
3/8
1-1/8
2,800
5,600
6
5
7/16
1-1/4
3,360
6,720
6
6
1/2
1-1/2
5,008
10,016
6
6
9/16
1-3/4
6,064
12,128
6
7
5/8
2
8,224
16,448
6
7
3/4
2-1/4
10,960
21,920
6
8
13/16
2-1/2
11,840
23,680
6
9
7/8
2-3/4
14,816
29,632
6
10
1
3
17,600
35,200
8
11
1-1/16
3-1/4
20,672
41,334
8
12
1-1/8
3-1/2
23,520
47,040
8
12
1-1/4
3-3/4
26,400
52,800
8
13
1-5/16
4
31,360
62,720
8
14
1-1/2
4-1/2
35,360
70,720
8
16

Plasma 12×12

1-5/8
5
46,560
93,120
12
18
1-3/4
5-1/2
50,240
100,480
12
20
2
6
56,800
113,600
12
21
2-1/8
6-1/2
68,480
136,960
12
23
2-1/4
7
76,960
153,920
12
26
2-1/2
7-1/2
84,800
169,600
12
27
2-5/8
8
95,360
190,720
12
27
2-3/4
8-1/2
105,600
211,200
12
28
3
9
124,800
249,600
12
30
3-1/8
9-1/2
136,000
272,000
18
32
3-1/4
10
150,400
300,800
18
34
3-1/2
10-1/2
177,280
354,560
18
36
3-5/8
11
200,000
400,000
18
37
3-3/4
11-1/2
210,720
421,440
18
38
4
12
243,200
486,400
18
40