Description
G-215 Round pin chain shackles meet the performance requirements of Federal Specification RR-C-271F Type IVB, Grade A, Class 1, except for those provisions required of the contractor.
Shackles can be furnished proof tested with certificates to designated standards, such as ABS, DNV, Lloyds or other certification. Charges for proof testing and certification available when requested at the time of order.
Shackles are Quenched and Tempered and can meet DNV impact requirements of 42 joules (31 ft-Ibs.) at -20°C (-4°F).
Look for the Red Pin®…the mark of genuine Crosby quality.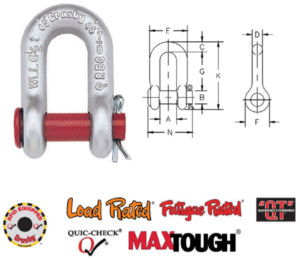 * Note: Maximum Proof Load is 2.0 times the Working Load Limit. Minimum Ultimate Strength is 6 times the Working Load Limit.