Description
The patented McKissick Split-Nut® is the standard retention system for standard crane blocks up to 100 tons.
Wide range of product available.
5 to 80 tons – Larger Models Available-
Sheave Sizes: 10″ to 20″.
Wire Line Sizes: 7/16″ to 1-1/4″.
All single point shank hooks are genuine Crosby®, forged alloy steel, Quenched and Tempered, and have the patented QUIC-CHECK® markings (Duplex hooks are available on most sizes).
Design factor of 4 to 1 (unless otherwise noted).
All Easy Reeve® Blocks are furnished standard with Roller Bearings.
Reeving Guides Standard – All Models.
Blocks thru 25 tons use 319N hooks with S-4320 latches.
Heavy Duty Positive Locking (PL) Latch – Models: 30 tons and larger.
Sheave lubrication through center pin – separate lube channel to each bearing.
Sheaves fully protected by side plates.
Dual action hook (swings and rotates).
Repair parts available through world wide distribution network.
All Easy Reeve® blocks, 16" and larger, are furnished with McKissick® Roll-ForgedTM sheaves with flame hardened grooves.
Manufactured by an ISO 9001 and API Q1 certified facility.
"Look for the Orange Hook…the mark of genuine McKissick® quality".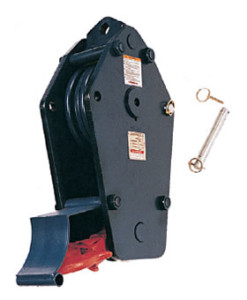 Center "Dead End" to promote better block travel under various reeving configurations.
Sheave Guards that open to allow block reeving without removing the rope end fitting.
Flat Bottom side plate for self standing during reeving process.
Forged Crosby® alloy steel hooks with patented QUIC-CHECK® markings and Heavy Duty positive locking hook latch.
---
Dead End Chart— Double, Triple & Quad Sheave Blocks