Description
For special requirements or custom designed sheaves, furnish the following important information:
Wireline Size
Shaft Diameter
Hub Diameter
Bore Finished
Nominal Outside Diameter
Hub Width
Rim Width
Nominal Tread Diameter
Other Special Requirements
---
Roll Forged Sheave Features
Unique upset roll forging process provides a thicker groove section for extra strength.
Stepped Hubs are precisely centered and mechanically locked in place.
Wireline grooves on sheave diameters of 14″ and larger are flamed hardened for extra wear resistance.
All sheaves have solid steel webs with holes for easy handling.
Sheave weights can be made heavier or lighter than shown to fit your specific application.
Sheaves available in sizes from 12″ – 72″, and wireline sizes from 3/8″ – 3″.
For more information, ask for our special brochure describing the complete roll forging process.
---
Sheave Bearing Application Information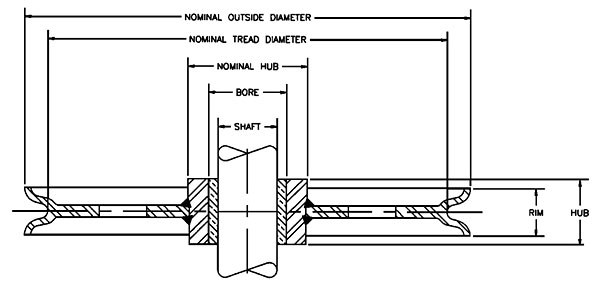 Bronze Bushing:
Slow line speed, moderate load and moderate use,
Maximum Bearing Pressure (BP): 4500 PSI
Maximum Velocity at Bearing (BV): 1200 FPM
Maximum Pressure Velocity Factor (PV): 55000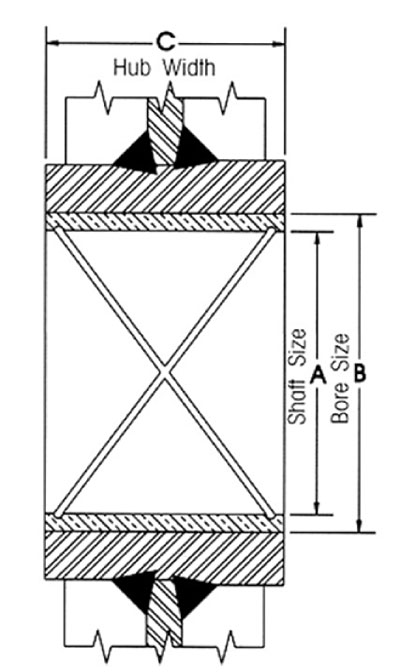 Formula for BP = Line Pull x Angle Factor ÷ Shaft Size x Hub Width
Plain Bore:
Very slow line speed, very infrequent use, low load.
Roller Bearing:
Faster line speeds, more frequent use, greater load.
Example:
Using a 14 in. sheave (917191) with a 4600 lb. line pull and a 80 degree angle between lines, determine maximum allowable line speed.
BP = 4600 lbs. (Line Pull) x 1.53 (Angle Factor) ÷ 1.50 (Hub Width) x 1.62 (Shaft Size) = 2896 PSI
BV = 55000 (PV Factor) ÷ 2896 (BP) = 19 FPM
Note: For underwater sheave applications, special bronze bushings are available.
Note: Consult the bearing manufacturer for applicable load.