Little Mule Series 300A Lineman's Hoist
1,500 and 3,000 Lb. Capacities with 9-1/4 and 4-1/4-Foot Standard Lifts.
Little Mule Model 300A Lineman's Hoist is a lightweight and rugged strap puller.
Features & Benefits:
Includes Hot Stick-Type Gate Latch on All Hooks, as well as Hot Stick Rings on All Hooks, Control Surfaces and Quick Disconnect Shaft. Overload Protection handle bends to warn of hazardous condition and prevents dangerous overload. 360° swiveling hooks equipped with latches for positive load engagement. Positive load holding in all environments. Double, interlocking pawl mechanism assures one pawl is engaged at all times. Lightweight & Rugged cast aluminum and zinc alloy housings. Corrosion Resistant stainless steel springs and shafts. Reduced Wear through rotating shafts are mounted on bronze bushings. Meets or Exceeds minimum 4:1 design factor and all requirements of ASME / ANSI Standard B-30.21. All units tested at 125% of rated load.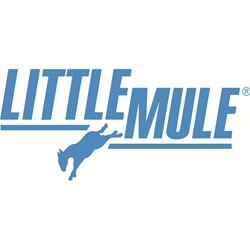 Description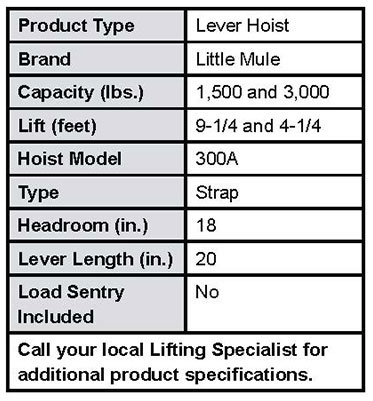 NEED HOIST REPAIR OR PARTS?
We do repairs in-house and stock a full line of parts.
content-single-product