Known as "The Gateway to the West," St. Louis is an historic town on the border of Illinois and Missouri that is home to 19 Fortune 1000 companies.
According to City-Data.com, St. Louis is home to Anheuser-Busch Companies, Inc., Emerson Electric, Graybar Electric, Panera Bread and Engineered Support Systems, among many other companies. St. Louis is becoming known more as a hub for industries looking to grow their businesses in the central region.
Some of the industries Mazzella serves in the St. Louis area include:
Steel mills
Oil and gas refineries
Aerospace
River business (barges and river transportation)
Agribusiness
Heavy industrial and general construction
Government
Entertainment
Utility business
Automotive
Railroad business
Each one of these businesses has unique needs to produce their goods and services, and that includes everything from warehouse racking to rigging and lifting equipment like hardware, slings, hoists, and overhead cranes.
When we quote lifting and rigging services and supplies for our customers in St. Louis, they often ask us: "If we don't go with Mazzella, who else would you recommend?"
That's why we've put together this list of the best rigging shops that serve the greater St. Louis area. We truly believe the more informed you are during the purchasing process, the better you'll understand how to address the needs of your business and get the best bang for your buck.
Best Rigging Shops in St. Louis
---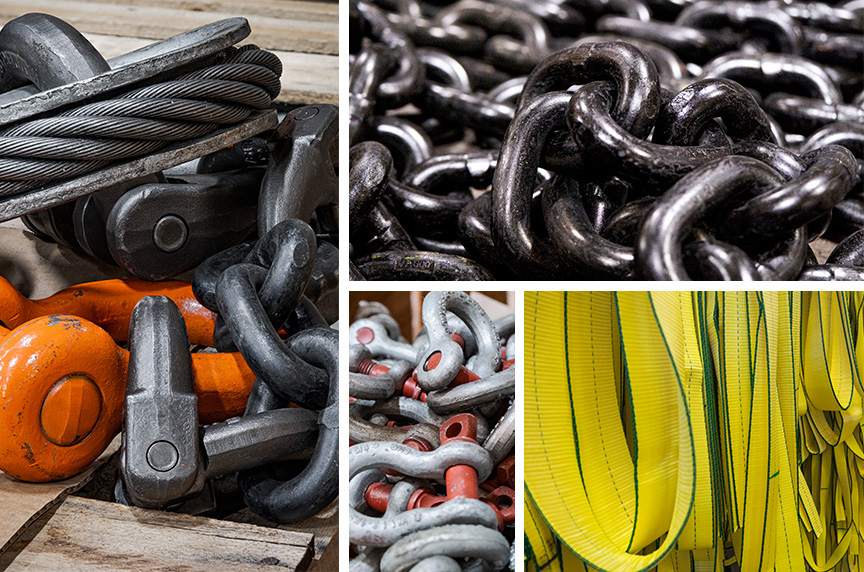 All-Way Wire Rope and Splicing
Founded: 1980
U.S. Headquarters: Bowling Green, Missouri
Insights: Founded as a family-owned company, All-Way Wire Rope and Splicing is built on the principles of delivering products and services of the highest quality and safety. The focus is providing exceptional customer service and being reliable to those depending on products and services.
Additional Products and Services:
Cargo control/load securement
Chain
Safety equipment
Rigging hardware
Hoists
Hydraulic tools and accessories
Slings
---
---
Knight Equipment
Founded: 1945
U.S. Headquarters: Bowling Green, Missouri
Insights: Founded by Aubrey Knight, and later sold to his son, R.J., Knight Equipment Company has expanded from wire rope to the ski industry. They have grown to do splicing, inspections and electromagnetic inspections at ski areas around the world.
Additional Products and Services:
Slings
Wire rope and chain assemblies for construction
Wire rope splicing
Visual inspections
Non-destructive wire rope testing and inspections
Proof testing
Electromagnetic wire rope inspection
Industrial Rope Supply Company, Inc.
Founded: Late 1800s
U.S. Headquarters: Cincinnati, Ohio
Insights: Industrial Rope Supply continues to expand its product offerings to meet the demands of its customers, including a wire rope press for a full line of fabricated wire rope products. Additionally, Industrial Rope Supply prides itself on delivering the best service industry through knowledge and service-oriented employees.
Additional Products and Services:
Chain
Wire Rope
Slings
Fiber rope
Scaffolding
Hoists
Rigging Solutions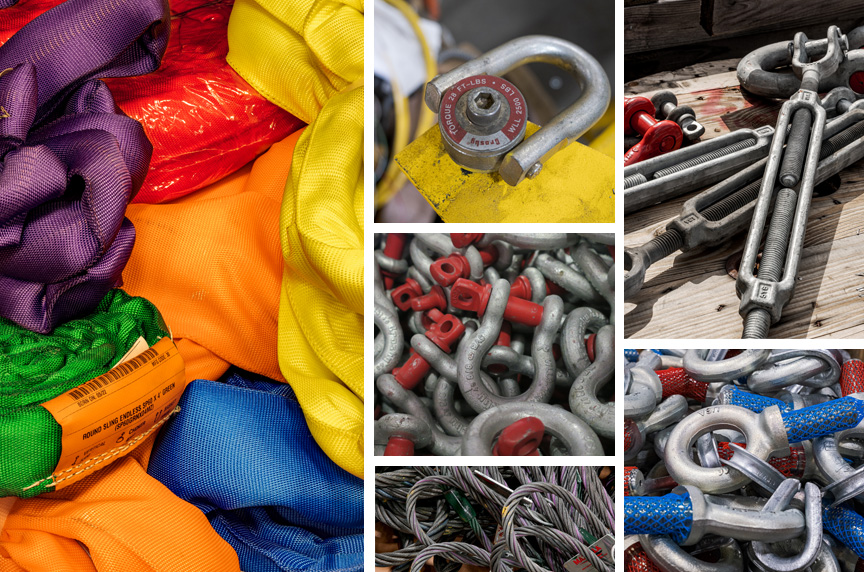 Founded: 2011
U.S. Headquarters: Alton, Illinois
Insights: A division of Industrial Motor Repair, LLC., Rigging Solutions provides in-stock and custom made-to-order products to its customers. Additionally, they offer inspection services to keep customers operating at efficient levels.
Additional Products and Services:
Slings
Wire Rope
Hoists/hoist repairs
Rigging inspections
On-site training
In-shop and on-site load testing
Rigging hardware
Custom below-the-hook lifting devices
Tri-State Rigging Equipment
Founded: 1970s
U.S. Headquarters: Bridgeton, Missouri
Insights: With more than 50 years of experience in rigging and material handling, Tri-State Rigging Equipment offers customers help with all rigging situations, from those that are repetitive to those that are most awkward. Between standard and custom product offerings, Tri-State has cost-effective measures to serve customers across the plains states, as well as in Canada and Mexico.
Additional Products and Services:
Lifting slings

Lifting sling sleeves and protectors

Rigging hardware
Below-the-hook lifting devices
Transport rigging
Hoists
Rigging inspections
Crane and hoist inspections/repair
How Can Mazzella Help You with Your Lifting and Rigging Needs?
---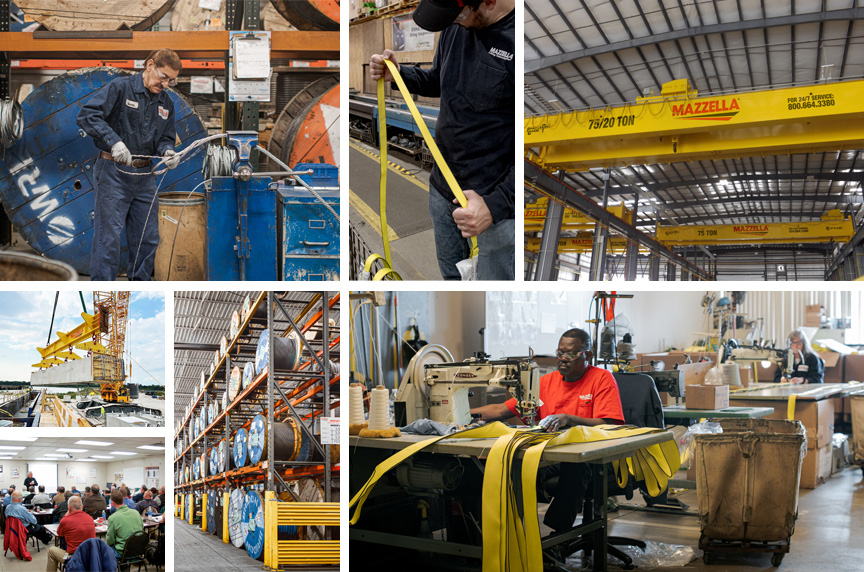 Starting the Process
Now that you have a better understanding of the best lifting and rigging suppliers in the St. Louis area, it's time to do your research and begin the process of gathering and comparing quotes. It is best to schedule consultations with a few manufacturers to look at your facility and provide their expert opinion on the specifications and scope of your project.
Keep in mind that price should never be the only factor when selecting a lifting and rigging equipment supplier to partner with. Everything from a shackle to a sling and hoist should improve your business' efficiency and production. You should only partner with a company that you truly feel comfortable with and one you feel will provide the best service and most value.
The key to finding the right company to partner with—and to a great buying experience—depends on a number of different factors, including:
Project specifications – Make sure each manufacturer quotes off of the same information and specifications so you can make a true side-by-side comparison of each company's capabilities and pricing.
Warranty – Make sure you have a clear understanding of the manufacturer's warranty policies on workmanship, components, and materials.
Incidentals – Additional surcharges related to material costs, taxes, freight, obtaining permits, rental of special equipment, etc.
Follow-up – Did a representative from the company reach out to explain their quote and make sure you understand everything?
Project timeline – Has the rigging supplier committed to meeting your specific timeframe and window for installation?
References – Are they willing to provide references? Ask other companies that they've worked with if they were satisfied with the following:

Overall relationship with the rigging supplier

Overall quality of work and satisfaction with the delivery process

Commitment to keeping projects on track and within budget

Products and services that fit the agreed-upon specifications
Standing Out
Mazzella is a certified Slingmax® manufacturer. Also, the 25,000 square foot facility in Granite City, Illinois features a:
40,000-lb. vertical test bed
200,000-lb. and 600,000-lb. horizontal test beds
Mobile spooler for on-site services for crane and utility ropes
Additionally, Mazzella's St. Louis facility offers the following products and services:
High-performance cordage
High-performance crane ropes
Welded chain assemblies
Off-the-shelf domestic slings
Inspections
Pre-stretching of synthetic assemblies
Vast Inventory
At Mazzella, we have you covered when it comes to all of your lifting and rigging needs. Mazzella has representatives and a brick-and-mortar office in the St. Louis area. With our ready stock inventory, we offer all industries a variety of lifting and rigging devices, including a complete selection of:
Wire rope
Lifting slings
Rigging hardware
Hoists
Fall protection
Whether you're an existing or new customer, Mazzella also provides the following value-added and post-sale services:
Hardware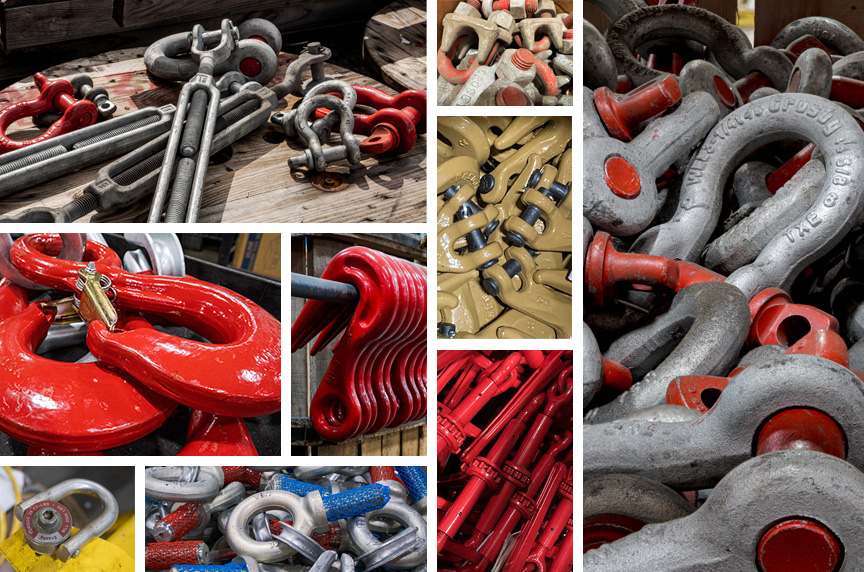 We offer one of the largest and most complete inventories of rigging and lifting products in the country from some of the largest manufacturers in the world. Some of the products we stock are:
Rigging Training
If you require a specific training course for OSHA compliance for slings, hoists and / or rigging hardware, Mazzella can assist you in creating a safe and reliable workplace.
Our rigging training focuses on:
Overhead cranes
Below-the-hook lifters
Lifting slings
Rigging hardware
Wire rope
All Mazzella trainers have been accredited by our company through training by a third party (Industrial Training International, Inc.), Mazzella Companies' internal Train-the-Trainer program, and are trained on OSHA and ASME standards.
Also, we provide site assessments. The purpose of an assessment is to systematically observe and record your lifting and rigging procedures, equipment, and records. This is not an inspection, but rather, a general assessment by which opportunities for improvement may be identified.
Rigging Inspection Services
OSHA 1910.184, ASME B30.9 Slings, ASME B30.20 Below-the-Hook Lifting Devices, ASME B30.26 Rigging Hardware & ANSI Z359 require…
Periodic, documented inspections on slings, rigging hardware, lifting devices, and fall protection every 12 months, at minimum, and monthly to quarterly in more severe service conditions.
Our rigging inspectors are certified to make sure your products meet OSHA and ASME requirements. Also, we provide personal fall protection inspections and basic level non-destructive testing (NDT) inspections to support our visual inspections.
Call us at 800.362.4601 or click here if you need inspections for rigging hardware, training, or any of our other services.
---
---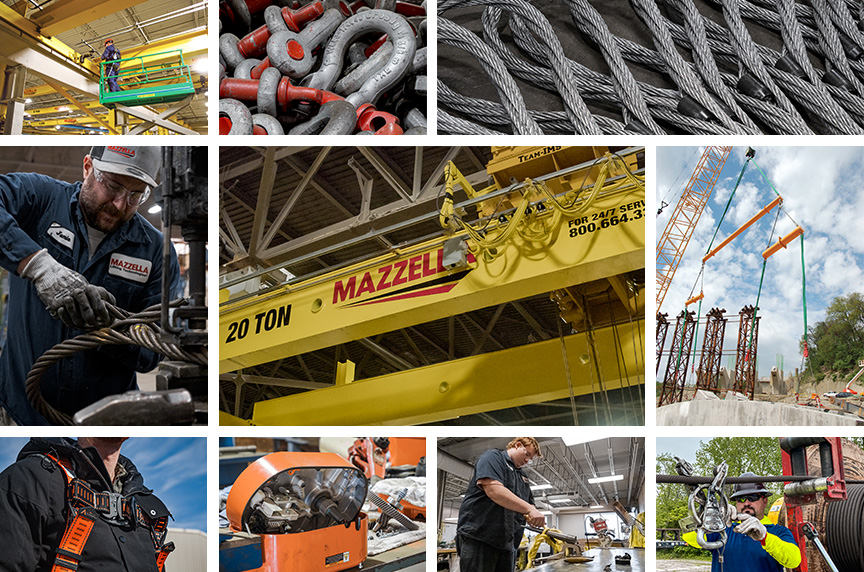 Lifting and Rigging
The Mazzella name is synonymous with quality slings. Mazzella's quality slings include chain, wire rope, nylon, polyester, cordage, and high-performance synthetic slings.
We also provide wire rope assemblies—both large and small. We manufacture bridge cables, crane cables, steel mill cables and thousands of OEM assemblies.
Copyright 2023. Mazzella Companies.