Is your shop operating with an unreliable chain hoist or looking for something a little more durable to stand up to the demands of your lifts? Do you find yourself overwhelmed with deciding between one product over another?
Instead of adding more confusion to the selection process, we're here to educate you on versatile products manufactured by a company with more than 150 years of experience in the lifting business that could benefit your shop.
In this in-depth look at Harrington EQ/SEQ Electric Chain Hoists, we examine:
Product design
Training required for use
Product lifecycle
Best fit uses
Bad fit uses
Maintenance/repairability
Inspections
Other product features
Harrington is a 154-year-old lifting and rigging company based out of Manheim, Pennsylvania, and an industry leader when it comes to products like the EQ/SEQ Electric Chain Hoists.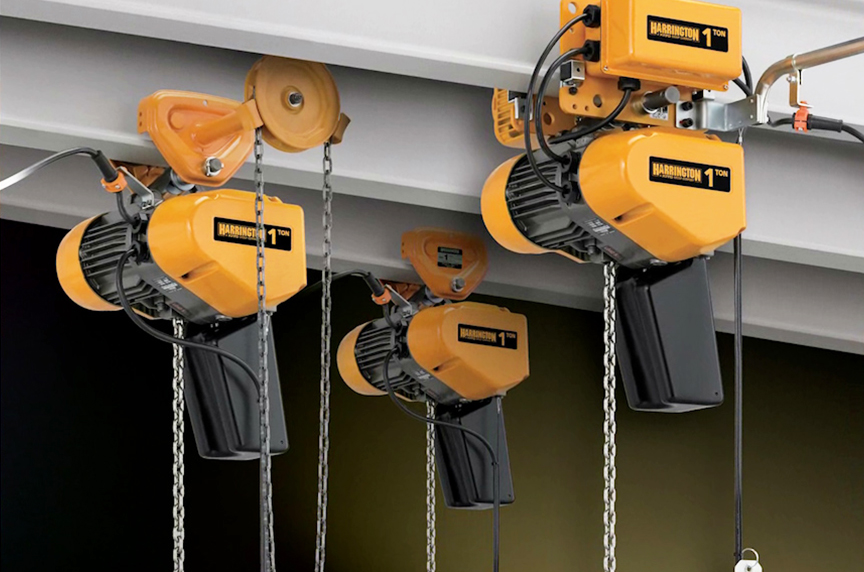 EQ/SEQ Electric Chain Hoist Design
---
Originally, Harrington started with just the SEQ model.
There was a need in the market for a single-phased hoist that had a Variable Frequency Drive (VFD). That led to the creation of the SEQ, but because of the style and robustness of the hoist, Harrington decided to offer it in a three-phase model as well (the EQ).
The Harrington EQ/SEQ Electric Chain Hoists are user-friendly because of their:
Simple construction
Unique load sheave
No-load high-speed
Limit switches
Chain guide
Standard count hour meter
Green construction
Perpendicular orientation
Friction clutch
Wear-resistant load chain
Totally Enclosed Fan Cooled (TEFC)
Pull-rotor motor brake with a 5-year warranty
UL/CSA certified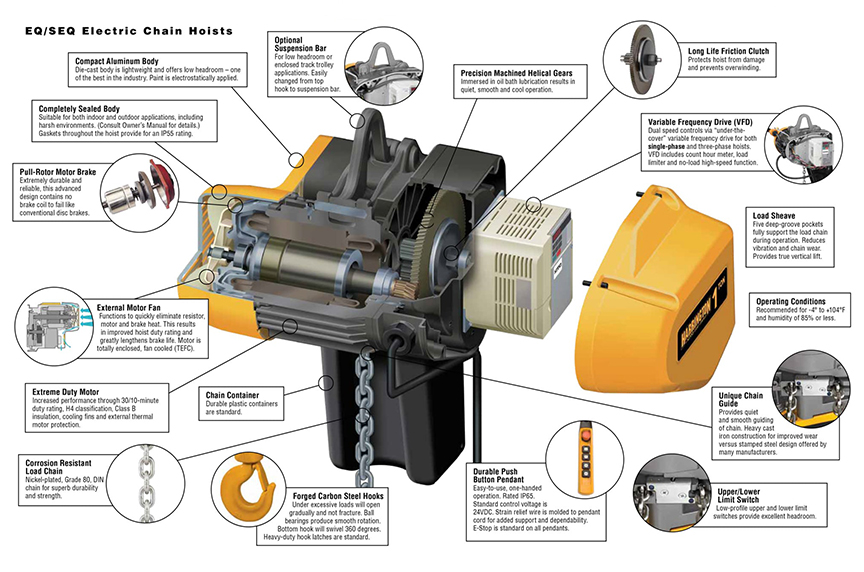 Simple Construction
This low-maintenance product was built without a transformer, magnetic contactor, brake contactor, or brake coil.
Unique Load Sheave
With an increased number of pockets, there is a reduction in chain vibration, which increases the life of the chain.
No-Load High-Speed
The hoist will speed up 1.3 times faster when working with less than 30 percent of a full load.
Limit Switches
Upper and lower-limit switches are micro and inside the body of the hoist, which gives them less chance of being damaged.
Chain Guide
With its heavy cast iron construction, the chain guide provides quiet and smooth guiding of the chain through the hoist.
Standard Count Hour Meter
The Standard Count Hour Meter records and displays the number of lifting/lowering starts and hoist on time, which helps you stay up to date on preventative maintenance.
Green Construction
Harrington is committed to making effective products for end-users, but also, does so while reducing the chain hoists' carbon footprints. Harrington uses a smarter-build approach that does not include harmful materials, making the EQ/SEQ Electric Chain Hoists RoHS (Restriction of Hazardous Substances Directive) compliant.
Perpendicular Orientation
PT (Push Trolley), GT (Gear Trolley) and MRQ motorized trolley mount hoists are configured as perpendicular to the beam.
Friction Clutch
The friction clutch is standard on EQ/SEQ models and provides consistent performance over a wide temperature range.
Wear-Resistant Load Chain
Harrington utilizes Grade 80 super-strength, nickel-plated load chain, which is certified to DIN (Deutsches Institut fur Normung or German Institute for Standardization) standards, and utilizes unique technology to greatly increase resistance to fatigue and wear.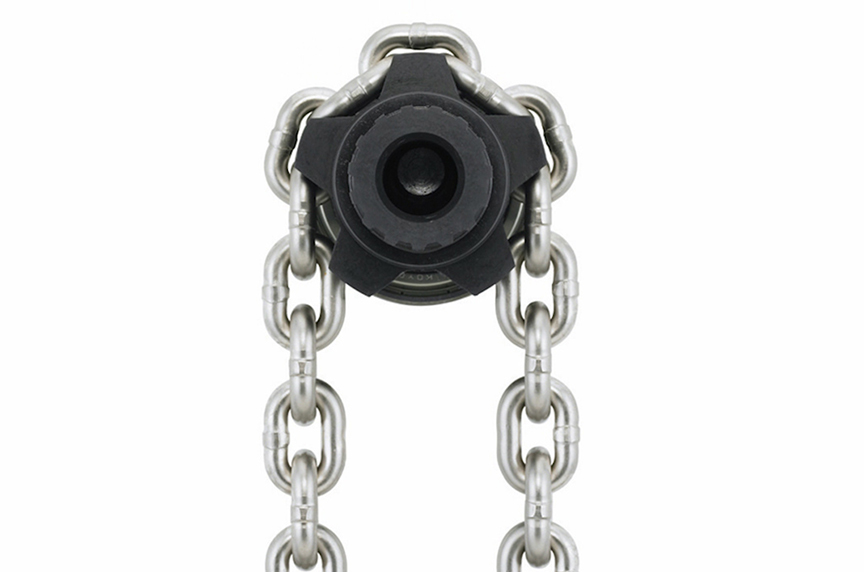 High Air Flow
The cooler motor and brake is because of an engineered motor fin, fan blade, and fan cover design.
Pull-Rotor Motor Brake
Extremely durable and reliable, the advanced design contains no brake coil to fail like conventional disc brakes. The product comes with a five-year hoist brake warranty.
UL/CSA Certified
The Harrington EQ/SEQ Electric Chain Hoists hold many certifications, including:
UL 508
UL 508A
UL 1004
CSA Std. C22.2 No. 33-M1984 (R2004)
CSA Std. C22.2 No. 14-13
CSA Std. C22.2 No. 66.1-06 (R2011)
How Much Training Is Required Before Use?
---
Not a lot of training is required to use the Harrington EQ/SEQ Electric Chain Hoists. Rigging training is a little bit different and takes more time, which is something Mazzella offers as part of its training programs.
The hoists are pretty easy for end-users because they are equipped with the VFD operations. They offer softer starts and stops, so it's easier for a newer person that is starting out in lifting rather than jostling the hoists to get that initial lift off the ground. It's a much smoother operation because the hoists don't require as many starts and stops.
Also, as you're moving the hoists, they won't jog as much, so there's less load bounce, which makes it a much safer application than an old-school contactor hoist.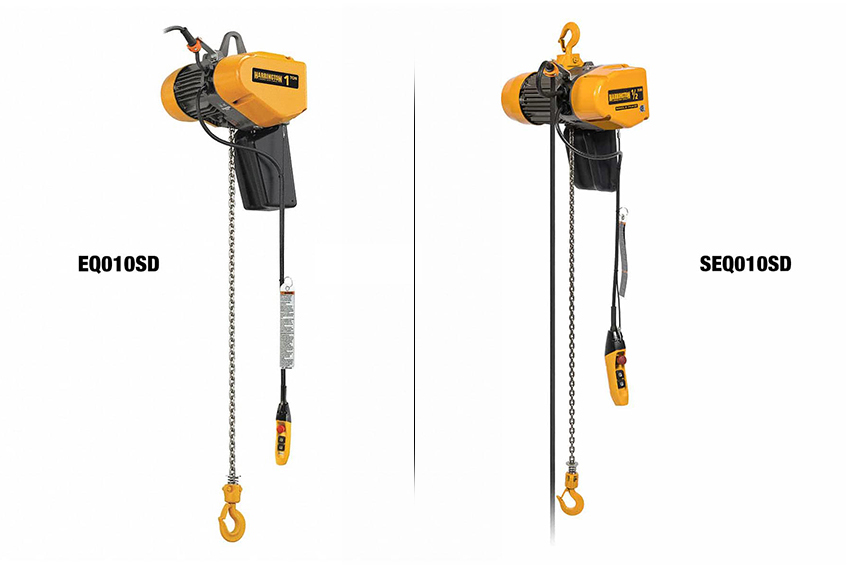 Service Life of EQ/SEQ Hoists
---
Harrington goes to market with the goal of having its hoists built to last over 10 years. The EQ/SEQ Electric Chain Hoists are relatively new, having been rolled out in 2017, and Harrington offers a five-year warranty on the brake.
Best Fit Uses for EQ/SEQ Electric Chain Hoists
---
These hoists are great for production areas where speed is needed. It's no-load, high-speed feature is one of the strongest benefits. When the load is less than 30 percent of the rated capacity, you gain an additional 30 percent of high speed.
The Harrington EQ/SEQ Hoists are a good fit for workstations, production lines, or companies who utilize jib cranes, gantries, or any type of enclosed track application that is one ton and under.
The Harrington EQ/SEQ Electric Chain Hoists have been utilized in many industrial applications because, like the RY Electric Wire Rope hoist, they're H4 classified, IP-55 rated, and there are certain degrees of dust and water that they can take. They're indoor and outdoor rated.
IP ratings are the worldwide identification system that manufacturers use to grade the ingress protection of their products. After "IP," the following numbers rate the products against solid materials and water.
What IP Ratings Mean
The first number refers to levels of protection from solids:
0: Not protected
1: Protected against objects up to 50 mm in diameter (i.e. equivalent to the back of the hand)
2: Protected against objects up to 12 mm in diameter (i.e. fingers or similar objects)
3: Protected against objects up to 2.5 mm in diameter (i.e. tools, thick wires)
4: Protected against objects up to 1 mm in diameter (i.e. most wires, screws)
5: Dust protected
6: Dust tight (complete protection from contact)
The second numeral addresses liquid protection:
0: Not protected
1: Protected against dripping water
2: Protected against dripping water when tilted up to 15 degrees from normal position
3: Protected against spraying water
4: Protected against splashing water
5: Protected against water projected from a nozzle
6: Protected against powerful water jet spray
7: Protected against water submersion up to 1 meter
8: Protected against submersion
By being IP-55 rated, the Harrington EQ/SEQ Electric Chain Hoists are dust protected and protected against water being projected from a nozzle.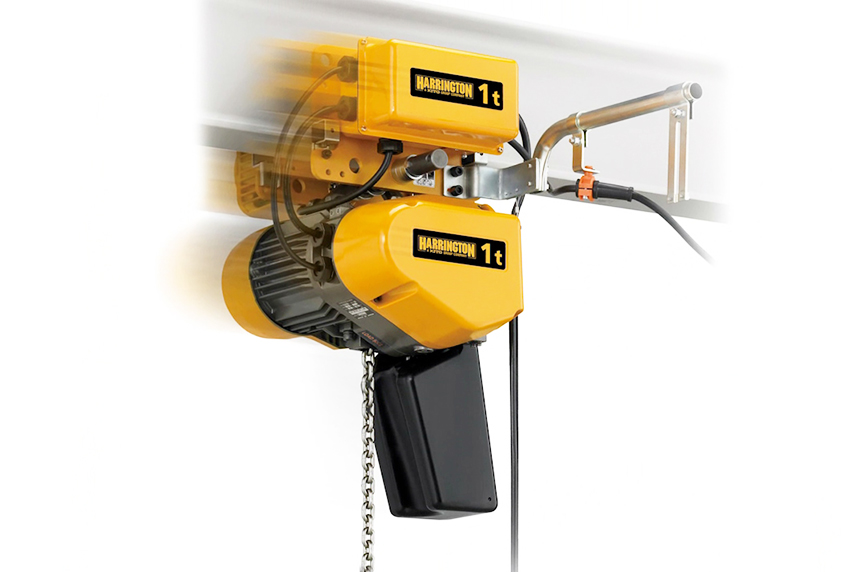 Bad Fits for EQ/SEQ Electric Chain Hoists
---
The biggest limitation of these hoists would be larger capacities. Anything over one ton, and Harrington recommends using their NER hoists instead of the EQ/SEQ hoists.
Maintenance and Repairability
---
As far as maintenance, every Harrington hoist comes with an owner's manual. Depending on the model of the hoist, the owner's manual will have listed classifications of service.
As the owner of the hoist, you have to figure out which of the following classifications you fall under:
Normal Service
Heavy Service
Severe Service
Under "normal service," which is defined as operations with randomly distributed loads within the rated load limit or uniform loads less than 65% of the rated load limit for more than 25% of the time.
"Heavy service" is defined as operations within a working load limit which exceeds "normal service." That is classified as hoists whose lifts exceed 65% of the rated load for more than 25% of the time or randomly distributed loads for over 25% of the time.
"Severe service" involves "normal service" and "heavy service" under abnormal operating conditions like weather or constant running.
Inspections
Once you determine what service classifications you fall under, then there are two different kinds of inspections:
Frequent inspection
Periodic inspection
Frequent inspections are performed by an operator or other designated person at the facility
For "normal service," frequent inspections would be needed monthly
With "heavy service," weekly to monthly
For "severe service," daily to weekly
Periodic inspections are performed by designated persons. Harrington partners with Mazzella to provide these services. These inspections occur:
At least yearly for "normal service"
At least semiannually for "heavy service"
Need to be done quarterly for "severe service"
If you need your hoists repaired, you can contact Mazzella, which is a Harrington repair center, or speak with Harrington directly if you're not sure who does repairs in your area.
By tracking the serial number of the product, Harrington can determine who the customer purchased the hoist from and guide you to that distributor first. If that company doesn't do repairs, Harrington would put you in contact with a service repair center in your area.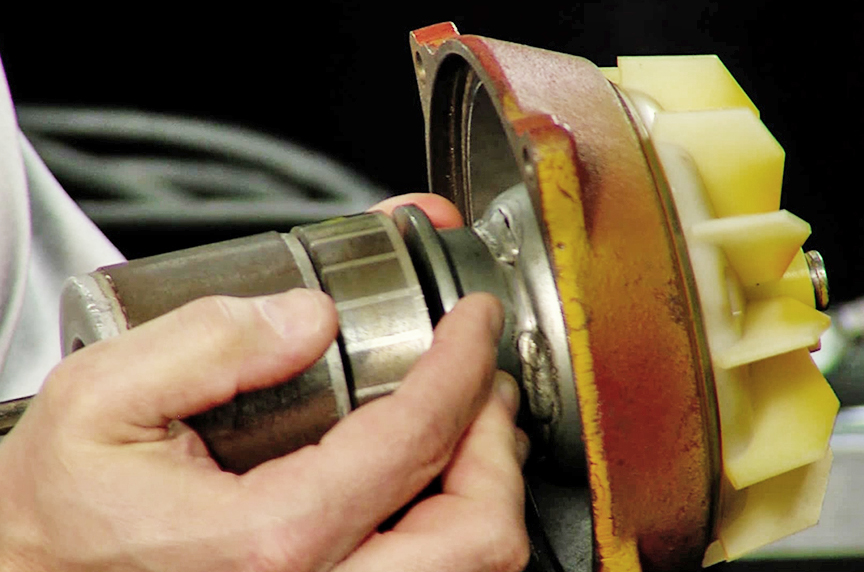 Electric Chain Hoists Parts and Service
---
Mazzella is a master parts distributor for Harrington and carries many products to fulfill customer needs.
The end-user cannot purchase replacement parts directly from Harrington, as it only sells products through distributors.
Other Features and Technologies
---
The Harrington EQ/SEQ Electric Chain Hoists are capable of up to 300 starts per hour. They do have a 30-minute motor rating and an IP-55 rating for indoor and outdoor use.
In the SEQ single-phase version, changing the voltage in the field is one of the unique features. This allows end-users to switch from 115 to 230 in the field, which is not typical for hoists.
The one-piece cast iron design for the chain guide is another similarity between the NER and SEQ. You can simply remove four bolts, and then, the chain guide. By unhooking the hook assembly, you can reeve the new chain through, replace the chain guide and cover, and you're back up and running.
With the Grade A nickel-plated chain, the plating is a patented process where the chain is cold-dipped. There's no electrification needed for the plating to adhere to the chain. Anytime there is electrification when it comes to plating, the chain becomes susceptible to hydrogen embrittlement.
All of the Harrington EQ/SEQ Hoists are UL 580 rated, and the overload limiter and thermal motor protections are all standard within the VFD. There are no additional parts needed for the overload limiter or thermal motor protection, which means that is less the customers have to worry about replacing.
Harrington aims to provide the lowest cost of ownership for hoists in the field. For end-users, that means:
Less repairs
Less parts needed
Outlasts most of the competition
Wrapping it Up
---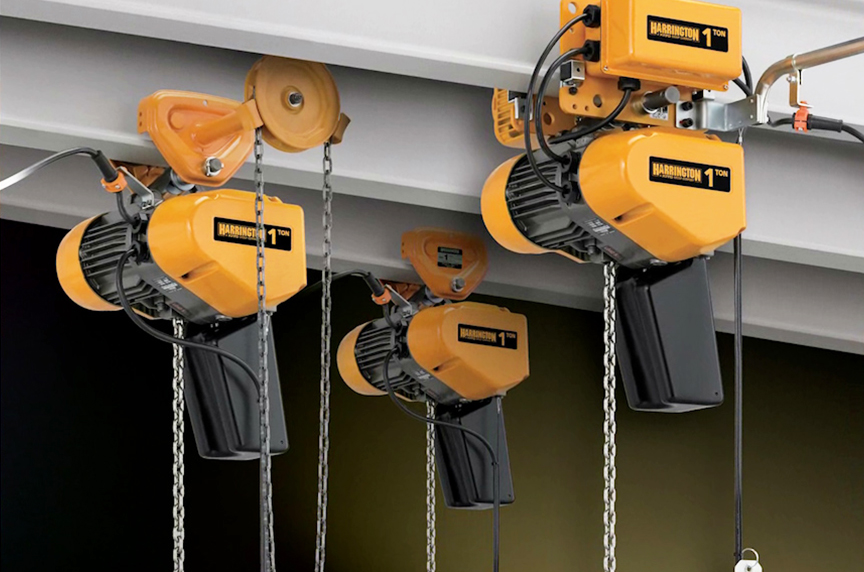 After reading this article, you have learned about the Harrington EQ/SEQ Electric Chain Hoists' design, features, best uses, and unique characteristics, including:
Simplified design/construction
Best fit for lifts of 1-ton or less
IP-55 rated for dust protection, water projection
Ease of replacing chain guide
Less need for repair/parts
Mazzella is one of Harrington's largest distributors and will be able to help you find the product suited for your company's needs.
If you would like to learn more about or begin the purchasing process of the Harrington EQ/SEQ Electric Chain Hoists, contact a Lifting Specialist
---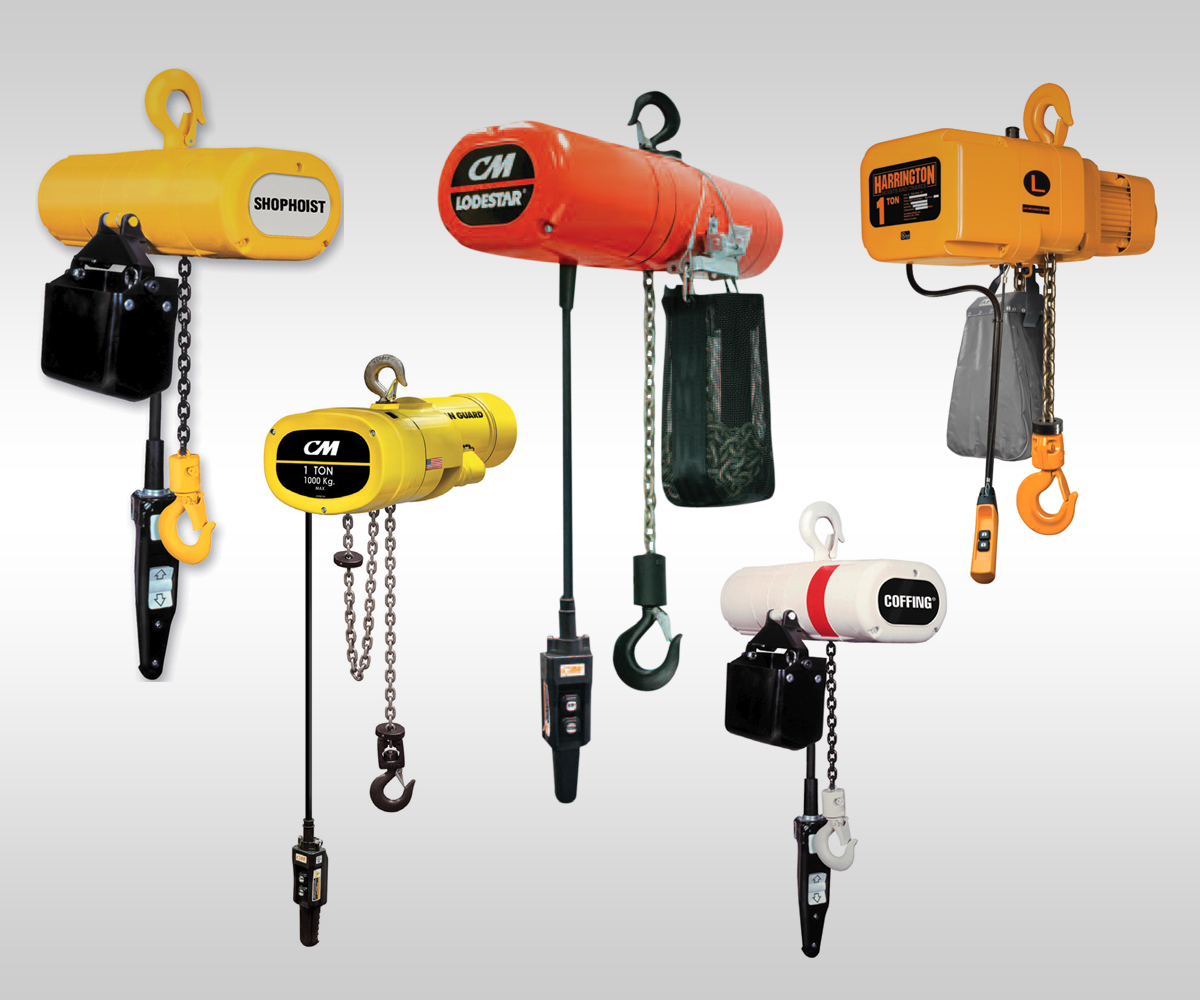 We provide all types of electric hoists, including wire rope and chain. We carry hoist units from most manufacturers and stock a full inventory of hoist parts for repairs. If you are not looking to replace a hoist unit, we also have a Hoist Repair Department available to get your hoist back up and running.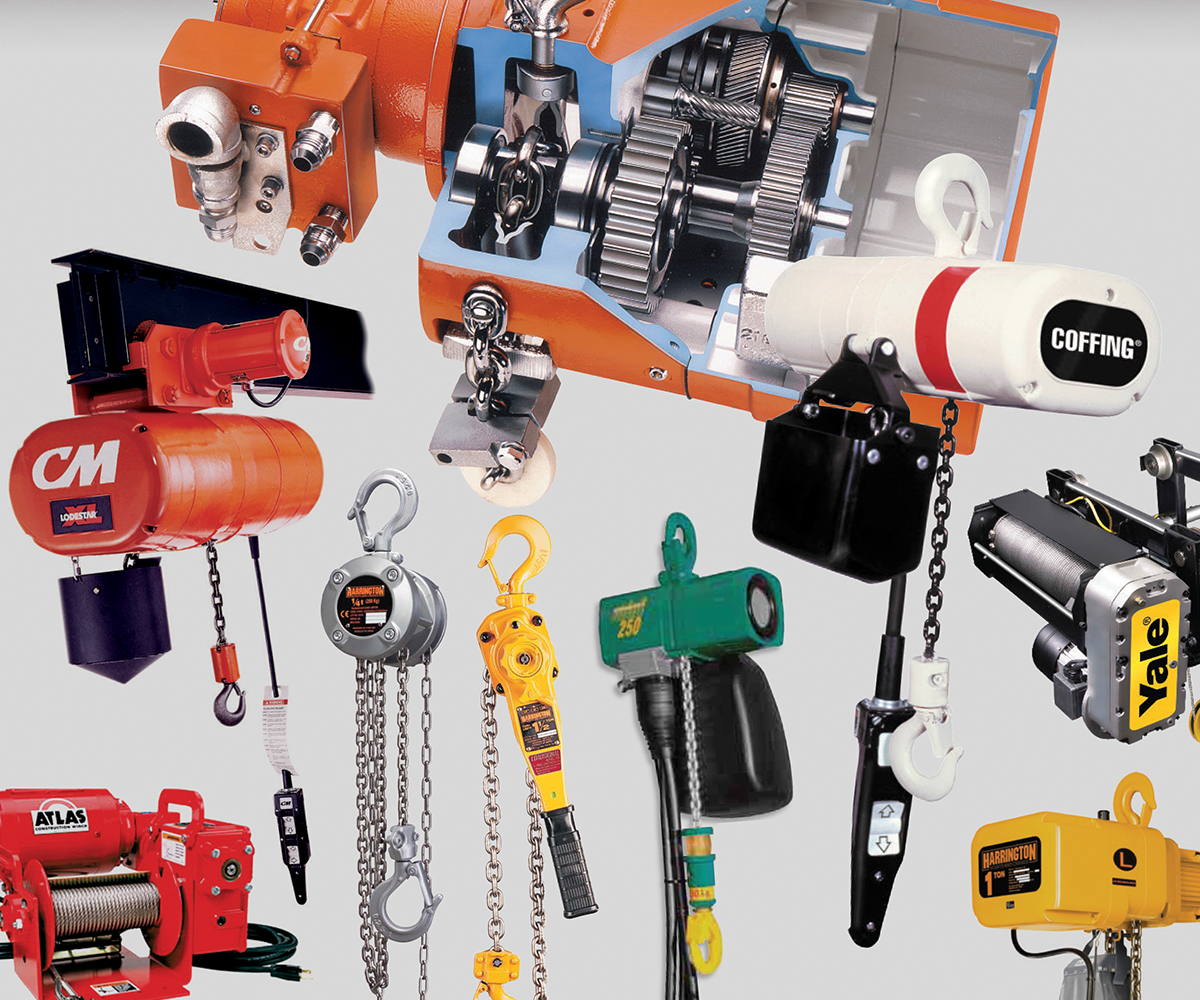 We are your one source for hoisting products with lifting capacities ranging up to 100 tons. We offer many types of electric, air, and manual hoists for limitless applications. We are also one of the largest authorized stocking master parts depots for Columbus McKinnon (CM) Companies and Harrington.
Copyright 2021. Mazzella Companies.