Coming in with hope, yet uncertainty, 2022 was a year of continuing to deal with issues in the lifting and rigging industry because of challenges in the supply chain, adjusting to higher costs of production, and finding quality employees to keep up with market demand.
The prices of raw materials and finished products in the manufacturing industry have fluctuated throughout 2022, and we know you've been feeling the effects. While the current inflationary market conditions are expected to challenge distributors and end-users into 2023, we're looking forward with hope that prices of raw materials and finished products will stabilize.
While looking forward to 2023 with optimism, we've compiled a list of the top lifting and rigging articles we published this year. These articles could help you better understand risk in your business and discover ways you can improve the safety and efficiency of your operations by:
Selecting the correct equipment for your tasks
Developing systems for load control that keep workers out of harm's way
Understanding changes to the ASME standards
Diagnosing issues with cranes and hoists in more efficient ways
Realizing the importance of having professionally designed products is better than in-house creations
Inspecting fall protection gear
Getting your crane ropes repaired to extend their service life
Understanding costs associated with ASME-compliant overhead crane inspections
How to Select & Install Trolleys for Manual and Powered Hoists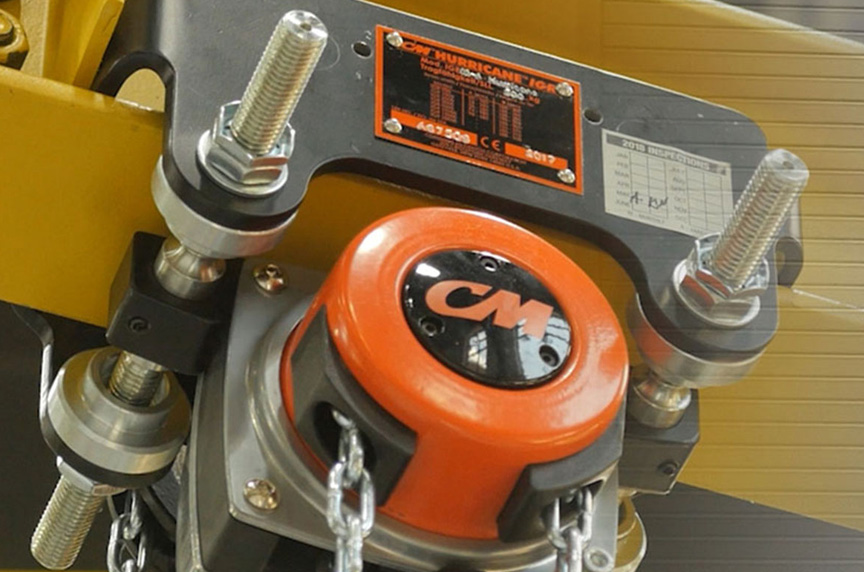 How do you select and install trolleys for manual and powered hoists?
While this may seem like a simple question, it has a complicated answer, one that manufacturers have sought to solve through intensive training programs for its distributors. The goal of the training was to understand standards set forth by OSHA (the Occupational Safety and Health Administration) and ASME (the American Society of Mechanical Engineers), and how to install these trolleys to meet those requirements to keep your overhead lifts as safe as possible.
In this article, you'll learn about:
Types of trolleys and beams
Selection and installation of trolleys for manual and powered hoists
Proper procedures for trolley use and inspection
Operation of the trolley and its brakes
Disassembly and reassembly of trolleys
Performing a routine inspection
Troubleshooting trolley issues
Properly fitting a trolley to a beam
---
What's a Tagline, and How Can It Help With Load Control?
"Safety doesn't happen by accident."
This quote from an unknown author is as true now as it was the day it was first spoken, especially when it comes to staying safe in the industrial, construction, and manufacturing industries.
"Line of fire" is a term used to describe being in harm's way on a jobsite. A person in the path of an object or hazardous energy is considered in the line of fire. Over 25% of all workplace fatalities result from line-of-fire incidents.
The use of taglines is a major way to prevent line-of-fire injuries during overhead lifts, as are planning your lifts, and identifying safety concerns on a job site.
By the end of this article, you'll be able to:
Describe what a tagline is
Define what it means to be in the "line of fire"
Understand the purpose of a Job Safety Analysis (JSA)
Identify line-of-fire hazards
Describe how to protect yourself and others from line-of-fire hazards
---
How Did an Archive Storage System Save Crown Information's Investment?
One decision to buy a facility neighboring a body of water nearly proved catastrophic for Crown Information Management in Winter Haven, Florida.
However, by contacting Mazzella FHS, a solution was worked out that protected the initial financial investment and has given Crown Information Management the opportunity to expand its business with even more room to grow.
In this article, you'll learn what Mazzella FHS did to help Crown Information Management grow their business, including:
Saving the initial investment made in buying the building
Installing a new archive system
Developing an archive system that could fit in and be supported by the existing building structure
Finding a unique solution to protect the building's concrete foundation
Providing interruption-free installation with no lost work days
Boosting the business by increasing and maximizing space
---
What Is the XSERIES Mobile Grabber® Mobile Fall Protection Unit?
Malta Dynamics is a full-service manufacturer of fall protection equipment, including harnesses, lanyards, helmets, safety glasses, and just about anything you would need to protect your workers while they are at height.
However, Malta Dynamics has become known for their XSERIES Mobile Grabber® fall protection unit in recent years. Malta's CEO, Damian Lang, recognized a need for affordable, reliable, and well-built mobile fall protection equipment. His goal was to deliver mobile fall protection equipment that is field-driven and field-tested.
The main problem Malta found was the inability for workers to tie off because the only point above them was the sky.
Places where this was an issue included:
Manufacturing plants
Airplane facilities
Roofing industry
In this article, we'll answer the following questions:
What is The XSERIES Mobile Grabber®?
How much training is required to use The XSERIES Mobile Grabber®?
What are the unique features and benefits to using The XSERIES Mobile Grabber®?
What is the inspection criteria for The XSERIES Mobile Grabber®?
What other fall protection gear is needed to use The XSERIES Mobile Grabber®?
---
ASME B30.9-2021: Updates & Revisions to the ASME B30.9 Slings Standard
ASME is a professional association and leading international developer of codes and standards associated with the art, science, and practice of mechanical engineering. ASME membership is comprised of engineers, scientists, government officials, and others who voluntarily contribute their technical expertise.
Every couple of years, the B30 Committee reviews, revises, and amends their existing standards and releases a new edition, based on:
Technological advances
New data
Changing environmental and industry needs
In this article, we'll discuss the revisions, updates, and additions to the new ASME B30.9-2021 Slings standard, compared to the previously released 2018 edition.
---
How Does the CM Intelli-Connect™ Help with Crane, Hoist Diagnostics?
Maximizing productivity and minimizing downtime in manufacturing, fabrication, automotive production, and other industries is of utmost importance. Having an overhead crane or hoist taken out of service can result in a multi-million dollar loss for high-production facilities. Then, diagnosing and repairing issues can be time-consuming.
As a production or maintenance manager, the last thing you want to do is pay workers while cranes and / or hoists are down. Plus, downtime impacts your production schedule, and could result in your missing a deadline to supply a customer. That can damage your reputation and impact your ability to generate future business.
That's why Columbus McKinnon's Automation Division developed a solution to improve safety and maximize uptime.
CM developed a new diagnostics tool, known as the Intelli-Connect™ to give operators and service technicians alike more information before going up in the air to begin an inspection to find a problem on a malfunctioning overhead crane or hoist.
In this article, you will learn:
What the Intelli-Connect is
The features and benefits of the Intelli-Connect
How the Intelli-Connect Mobile App works
Why the Intelli-Connect helps improve safety and production
---
Why Are Engineered Below-the-Hook Devices Better than Homemade Ones?
"Why would I waste time and money ordering a custom-engineered below-the-hook lifting device when I have an in-house engineer who could design and create one?"
We often hear this question, and it is one worth answering, as it could mean the difference between going home unharmed at the end of your shift or being seriously injured / killed should a homemade below-the-hook (BTH) lifting device fail during a lift.
While in-house engineers may have the mechanical skills and knowledge to make a device, they may not be familiar with the latest design standards, or have access to proof-testing equipment to make sure all design factors were considered.
By having an in-house engineer design and manufacture a below-the-hook lifting device, you and your company are assuming the risk, should it fail. Also, you could be exposing your employees to greater risk of injury / death should an incident happen during a lift made with that device.
The ASME sets standards for design, engineering, manufacturing, proof-testing, and inspecting below-the-hook devices. OSHA is tasked with investigating workplace incidents should below-the-hook lifting devices fail while in use.
In this article, we'll answer the following questions:
What are the ASME requirements for a below-the-hook lifting device?
Why isn't it a good idea to create your own below-the-hook lifting device?
What are the consequences of having an accident while using a homemade BTH lifting device?
Can a homemade below-the-hook lifting device become certified?
---
What Is the Inspection Criteria for Fall Protection Lanyards, SRLs?
"Carefulness costs you nothing. Carelessness may cost you your life."
A safety saying from the early 1900s is as true today as it was then, especially as it relates to personal fall protection equipment. Wearing personal fall protection equipment while working at height, including lanyards and self-retracting lifelines (SRLs), is a key to returning home safely at the end of every shift.
Lanyards and SRLs are critical pieces of "personal fall protection," and approved for use in:
Fall arrest
Positioning
Confined space rescue
Ladder climbing devices
It is of utmost importance to keep lanyards and SRLs in proper working condition to protect yourself against a failure that could result in injury or death.
In this article, we will look at the following:
What personal fall protection equipment needs to be inspected?
If a lanyard / SRL tag is legible, what happens next?
What type of inspections shall a lanyard / SRL receive?
Who performs lanyard / SRL inspections?
What are the requirements for a lanyard / SRL inspection?
---
What Is a Button, and What Does it Do For a Wire Rope?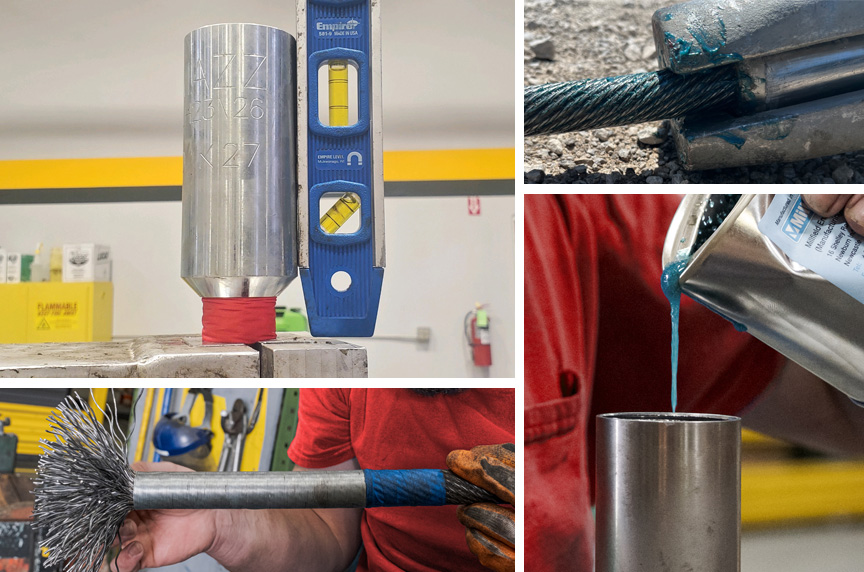 Have you struggled to reach that maximum pull strength with some of your end fittings? Having a button installed on your crane ropes may be the answer you're looking for to give you that maximum pull strength.
What can you do if an emergency Becket or another end fitting will allow you only to get close to maximum pulling strength, but not to 100%? The answer may be closer than you think, as Mazzella can install poured buttons on your wire rope, and that will allow you to reach the maximum pull strength.
Having been in the lifting and rigging business since 1954, Mazzella understands the investment you make in your equipment. We're here to help you maximize your rigging gear, including your wire rope and cranes.
In this article, we will answer the following questions for you:
What is a button?
What does a button do for your wire rope?
Does a button extend the life of a wire rope?
What is the installation process for a button?
Is there a break-in period for buttons?
---
How Much Does an ASME-Compliant Overhead Crane Inspection Cost [2022]?
"An ounce of prevention is worth a pound of cure."
Founding father Ben Franklin was referencing fire awareness and prevention in the town of Philadelphia, but his words ring true, too, for the lifting and rigging and material-handling industries.
As a Safety, Maintenance, or Operations Manager, overhead crane inspections are an important part of helping you stay in compliance with inspection standards laid out by sanctioning bodies like OSHA, ASME, ANSI (the American National Standards Institute), and CMAA (the Crane Manufacturers Association of America).
These standards are detailed, and sometimes, can be confusing to someone who doesn't work in them on a regular basis. As such, one of the first and most frequently asked questions is: "How much will my overhead crane inspection cost?"
While it is a simple question, the answer varies, as there are several factors that influence the cost of an overhead crane and hoist inspection.
In this article, we will outline the following topics and explain their effect on the cost of overhead crane inspections:
How often you need to have your cranes inspected
Why should you go with a third-party inspection company
How inspectors become qualified to do inspections
How can you prepare for an inspection
---
What's the Verton EVEREST SpinPod, & How Does It Make Lifts Safer?
"Everything we do is aimed at solving critical issues associated with lifting and orientating your loads."
That is the mission statement for Verton, a Crosby Group company focused on making load control easier and safer through technology.
With their fully-defined mission, Verton created the EVEREST SpinPod, which is a load-oriented solution that eliminates the need for taglines and pulls workers away from overhead lifts. The primary goal is safety and being safety-minded, keeping your workers away from a load, away from pinch points, and managing risks with taglines.
In this article, we'll help you answer the following questions:
What is the Verton EVEREST SpinPod?
What features does the EVEREST SpinPod offer you?
Why would you want to use the EVEREST SpinPod?
Where has the EVEREST SpinPod been used in the field?
What are the criteria for repairs, inspections?
---
How Can Mazzella Help You As You Look Forward to 2023?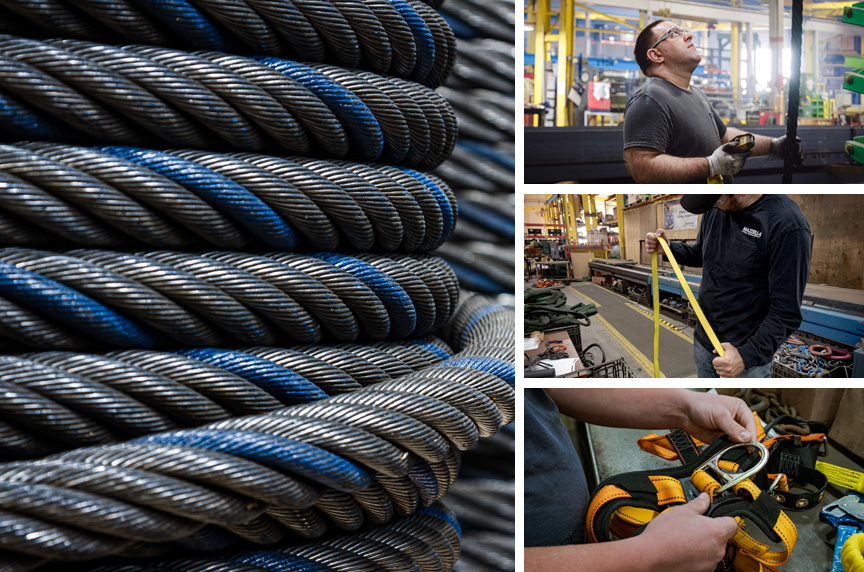 While 2022 provided all of us with more unique challenges as demands on production continued to grow, we have seen companies become innovative in their product design and creation.
This innovation helped develop better lifting and rigging solutions that will:
Extend the life of your slings
Improve safety for your overhead lifts
Make sure you get the proper equipment ordered and installed
Create safer work while at height
Lead to investing in yourself and your career
At Mazzella, we pride ourselves on being able to help you improve the safety and efficiencies of your businesses. When you have a problem you need help with, we have a talented team of Engineers, Lifting Specialists, Product Specialists, and Technicians who can help design and develop a creative process or solution.
If you're looking for an experienced and trustworthy partner as you move forward into 2023, we'd appreciate the opportunity to provide a quote or consultation on your next overhead lifting or material-handling project. Contact us to discuss your next project!
From all of us at Mazzella, we wish you and your employees Happy Holidays and continued health, safety, and success in 2023!
Copyright 2022. Mazzella Companies.