Mazzella Lifting Technologies (a member of Mazzella Companies), a manufacturer and distributor of lifting and rigging gear, opens a new branch in Oklahoma City, OK. The Oklahoma City location is centrally located to provide products to oil and gas operations, crane rental companies, and general construction.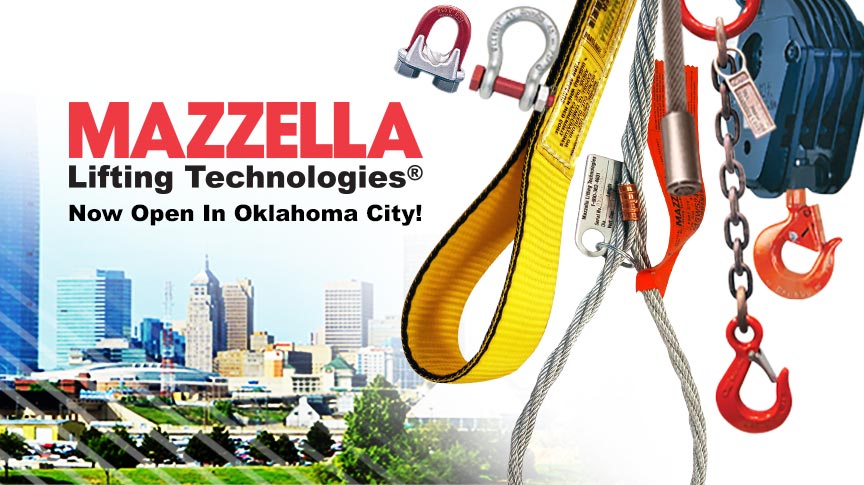 "Our expansion into the Oklahoma market provides further diversification of our customer base, increases our services and capabilities, and strengthens our experience and knowledge of the oil and gas segment. In addition, we are providing wire rope installation for well servicing and crane rental companies." says Craig Hayward, Chief Sales Officer of Mazzella Companies.
Craig also states, "Our Branch Manager, Tyler Henley, has over ten years of experience in the rigging and specialty rope industry. His professionalism and relationships throughout the region offer us a unique perspective and an opportunity for rapid growth."
Mazzella will maintain an inventory of wire rope, specialty ropes, fall protection, chain and fittings, synthetic slings, rigging hardware, hoists, hoist parts, pullers and other related rigging products.
"This is an exceptional opportunity for me to grow as an individual with an established and successful organization like Mazzella Companies, while continuing to build on my experience in the oil and gas market. Mazzella has a 62-year history of being an innovator with vast and growing manufacturing and fabrication capabilities." says Tyler.
Tyler graduated from the University of Central Oklahoma and started with Howard Supply an oilfield supply company in 2007. He worked in sales; focusing on the well servicing market. This experience led into the wire rope industry. In 2010, Tyler made the move to a cable spooling service business and focused solely on the well servicing business.
He used his vast knowledge on the spooling and install business to transition into the mobile crane business. This new endeavor will further increase his product knowledge and experience in the rigging business, as well as, move Mazzella into a completely new industry and service offering.
The branch will be located at 301 South Eagle Street, Oklahoma City, OK 73128 and will open on April 1, 2017.
Visit www.mazzellalifting.com for more information.