Having an overhead crane in service and peak operating condition is a top priority for your company, and the Occupational Safety and Health Administration (OSHA).
So, what happens when there is an incident with your overhead crane and OSHA gets called? What do you do to fix the situation, and how do you keep it from happening again? It is important to understand the safety, maintenance, and operations standards of an overhead crane.
There is a lot to consider when determining if your overhead crane program is in compliance with OSHA standards—including how your inspection, preventative maintenance, repairs, and rigger and crane operator training initiatives match industry best practices.
Following the documented OSHA standards and best practices for overhead crane inspection and preventative maintenance will help keep crane and hoist equipment operating at top efficiency, your employees safe, reduce costly downtime, and extend the life of the equipment.
In this article, we will cover:
What OSHA is looking for if there was a bad accident or fatality
What goes into an overhead crane inspection
The importance of documentation
How you can keep yourself and your cranes on the right side of OSHA
What Is OSHA Looking For If There Was an Accident or Fatality?
---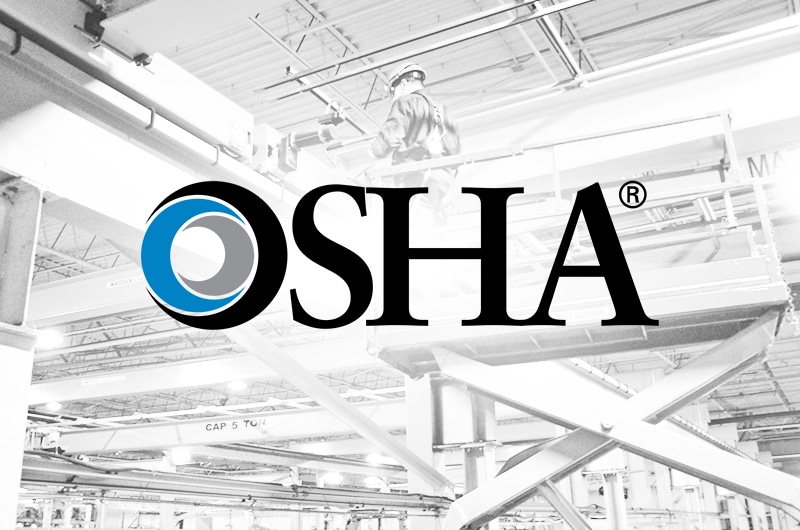 OSHA would come inspect your overhead crane under the following situations:
A random audit
If someone calls in an anonymous complaint
An incident resulted in an injury, near-miss, or fatality
OSHA inspectors are looking to see the records you have on file. Then, they will check for repairs you have made after your inspection, and any training you have provided to your employees. OSHA inspectors will comb through those records and repairs, as well as hazards encountered with working on a crane.
In the event of an incident, OSHA inspectors will go into much more detail to specifically look at the cranes. They will go in-depth to see if there is anything in violation of the "General Duty Clause" contained in the OSHA Act of 1970. Most of the crane citations we've seen in recent years are under this clause.
We've seen that when a fatality occurs during operation of an overhead crane, OSHA conducts a thorough inspection. OSHA inspectors are going to look at that crane operator's training. Also, they will look at the company's crane program, and policies for crane operation. In addition to citations, OSHA will reemphasize to the company that an operator can't do anything except operate the crane while an overhead lift is being performed, or a load is suspended.
Under OSHA 1910.179(n)(3)(x), the employer shall ensure the operator does not leave his position at the controls while the load is suspended.
Most Cited Issues with Overhead Cranes
Top citations for overhead cranes, or any lifting equipment include:
Non-legible capacity markings, which would be on the bridge
Wire rope damage
Pendant labels and condition
Bottom block capacity markings and condition
Below-the-hook lifting device markings and condition
Rigging equipment markings and condition
Lack of documentation of frequent and periodic inspections
Improper grounding for electrified overhead crane systems
According to ASME B30.2 Overhead and Gantry Cranes (Top Running Bridge, Single or Multiple Girder, Top Running Trolley Hoist), "Crane operator training shall be provided to promote proficient performance of a crane operator in conformance with the provisions of this Volume.
Training shall include those items that apply to the crane and the particular application of the crane. Refer to para. 2-3.1.3 as a guide for sources of training material.
Training programs and their contents shall be based upon:
Physical characteristics of the workplace
Performance characteristics and complexity of the crane
Type of load to be handled, such as, but not limited to the following:

Multiple piece loads
Raw materials
Bulk materials
Machine assemblies
Hot molten materials
Hot materials
Fragile or durable materials

Responsibilities of the crane operator and other persons involved in the movement of the load. Refer to paras. 2-3.3.2 and 2-3.3.4.
Other persons, such as, but not limited to, maintenance personnel, test personnel, and crane inspectors, when it is necessary to operate a crane in the performance of their duties, shall be trained in accordance with the training requirements of this Volume.
---
---
What Standards Will OSHA Reference When Citing You?
---
There is a big misconception because OSHA 1910.179 only covers double girder, top running cranes, gantries, or similar devices. Anything that falls under that realm is governed by OSHA 1910.179.
Everything else, which would be a single girder top running or jib crane does not fall under OSHA 1910.179, but is governed by Section 5 of the OSHA Act of 1970, which is commonly referred to as the "General Duty Clause."
OSHA will write a citation for any violation of anything other than OSHA 1910.179 under Section 5 A1. The abatement section will reference a lot of cases, but ASME (American Society of Mechanical Engineers) standards don't have the same force of law as OSHA 1910.179.
OSHA's not going to cite a violation if your overhead crane is not in line with ASME standards. However, they will either cite OSHA 1910.179, or the "General Duty Clause."
What Are Frequent and Periodic Inspections?
---
The most common overhead crane violations that our Field Service Technicians see is due to a lack of understanding of the difference between frequent and periodic inspections.
Knowing how often your overhead cranes need to be inspected is one of the first steps in determining the criteria for inspection, and how often it will be performed. Developing an inspection program that will meet compliance requirements for OSHA, ASME, and Crane Manufacturers Association of America, Inc. (CMAA) standards will help to keep you compliant for overhead crane inspection—scheduling only one annual inspection will not.
Inspection frequency is based on crane service, environmental conditions, and application factors according to OSHA 1910.179:
"Inspection procedure for cranes in regular service is divided into two general classifications based upon the intervals at which inspection should be performed. The intervals, in turn, are dependent upon the nature of the critical components of the crane and the degree of their exposure to wear, deterioration, or malfunction. The two general classifications are herein designated as 'frequent' and 'periodic' with respective intervals between inspections…"
The section highlighted in italics above is the most critical piece of this statement. Specifically, "the degree of their exposure to wear, deterioration, or malfunction." The degree of exposure of the crane's critical components is determined by the duty cycle of the crane, or crane service classification, as determined by CMAA:
Class A (Standby or Infrequent Service)
This equipment, including installation and maintenance cranes, usually operates at slow speeds for precise handling with long idle periods between lifts. Maximum capacity lifts are sometimes required.
Class B (Light Service)
This class of equipment includes cranes in repair shops, light assembly operations, service buildings, light warehousing, etc. and service requirements are light and the speed is slow. Loads vary from no load to occasional full-rated loads with 2-5 lifts per hour, averaging 10' per lift.
Class C (Moderate Service)
In terms of numbers, most cranes are built to meet Class C service requirements, including cranes used in machine shops or paper mill machine rooms. These types of cranes will handle loads that average 50% of the rated capacity with 5-10 lifts per hour, averaging 15' per lift.
Class D (Heavy Service)
Typical examples of these types of cranes include ones used in heavy machine shops, foundries, fabricating plants, steel warehouses, container yards, lumber mills, etc. These types of cranes constantly handle loads approaching 50% of the rated capacity. High speeds are desirable for this type of service with 10-20 lifts per hour, averaging 15', with not 65% of the lifts at rated capacity.
Class E (Severe Service)
This equipment is a top-riding bridge or gantry type multiple girder electric overhead crane. Applications include magnet, bucket, or magnet / bucket combination, and are most commonly found at scrap yards, cement mills, lumber mills, fertilizer plants, container yards, etc. This service class requires a crane capable of handling loads approaching the rated capacity throughout its life with 20 or more lifts per hour at or near rated capacity.
Class F (Continuous Severe Service)
This equipment is a top-riding bridge or gantry type multiple girder electric overhead crane. Applications include custom-designed specialty cranes essential to performing critical work tasks affecting the total production facility. These cranes must be capable of handling loads approaching rated capacity continuously under severe service conditions throughout its life.
So, now that we've identified the different types of overhead crane service classifications, we can lay out guidelines for inspection frequency. A crane will go through two types of inspections during the course of a year: Frequent and Periodic. Let's identify what these types of inspections are, and how often they need to occur:
Frequent Inspection
| CMAA Service Class | ASME B30.2 Service Class | Frequency of Inspection |
| --- | --- | --- |
| A / B / C | Normal | Semi-Monthly to Monthly |
| D | Heavy | Weekly to Monthly |
| E / F | Severe | Daily to Weekly |
A frequent inspection is a visual and operational inspection performed monthly or as often as daily. Inspection frequency is based on service, environmental, and application factors, as designated by a qualified person.
Periodic Inspection
A periodic inspection is a detailed visual and operational inspection where individual components are examined to determine their condition. Inspection frequency can be quarterly to annually, and is based on service, environmental, and application factors, as designated by a qualified person.
A crane that is in a normal service class may only need a Periodic Inspection once a year and Frequent Inspections semi-annually. Cranes in heavy or severe service classes should have a Frequent Inspection performed weekly and need a Periodic Inspection 2-4 times a year. Determining how often you need to have your cranes inspected will affect the cost of developing an overhead crane inspection program.
Why Is Inspection Documentation Needed for Overhead Cranes?
---
First and foremost, it's a requirement under OSHA 1910.179. OSHA wants to see documentation for everything that's been done to train crane operators. OSHA's stance is if something is not documented, it did not happen. What would a prudent man do in the same situation? Even though a mono, single girder crane is not covered by OSHA 1910.179, the standards still say we shall perform inspections. We shall document it. If it's not covered by OSHA 1910.179, it's certainly covered by the "General Duty Clause."
There are parts of the overhead crane that need documented monthly inspections, including:
Importance of Knowing OEM Standards
In OSHA 1910.179, you shall have a maintenance program per OEM (Original Equipment Manufacturer) directive or the OEM manual. If the OEM says you need to perform a certain inspection at a certain interval, then you have to do it because it becomes OSHA law by virtue of that regulation. Many times, people think they just have to look at OSHA 1910.179 or the ASME standard, but it doesn't stop there. You have to look at the OEM manual. There are certain cranes that require certain components to be looked at during certain intervals.
Keeping any / all inspection reports will show OSHA your due diligence on the inspection, and any subsequent repairs. Whether they've been completed or they're in process, it's really the start of the chain of proving your due diligence.
If a hazard presented is not addressed by any specific OSHA standard, a citation under the "General Duty Clause" may be appropriate. ASME standards like ASME B30.11 Monorails and Underhung Cranes might be used to establish the recognition of the hazard and abatement.
OSHA sometimes makes use of a consensus standard as evidence to support a citation. However, it does not mean the consensus standard has become an OSHA standard or the force of law. It is the job of the periodic inspectors to reeducate customers to operate cranes the right way. If an OSHA inspector goes on site, and a third-party company is doing what they're supposed to do, you should not receive any crane citations for any of your equipment.
What Safety Systems Can You Have on an Overhead Crane?
---
Whether you're considering upgrading or modernizing your older crane system, or you're designing the specifications for a new overhead crane system, your number one goal should be to improve the safety of the overhead crane equipment and production processes at your facility.
With modern technologies becoming more readily available and more affordable, the safety features available for overhead crane systems have never been better. Newer technologies now allow for:
Remote monitoring and diagnostic information for individual components
Automated drives to control the speed and motion of the crane
Radio controls
Overload sensors and read-outs
At Mazzella, we offer service, upgrades, repairs, and inspections for all types of overhead cranes and hoists.
How Can Mazzella Help You With Your Overhead Crane Inspections?
---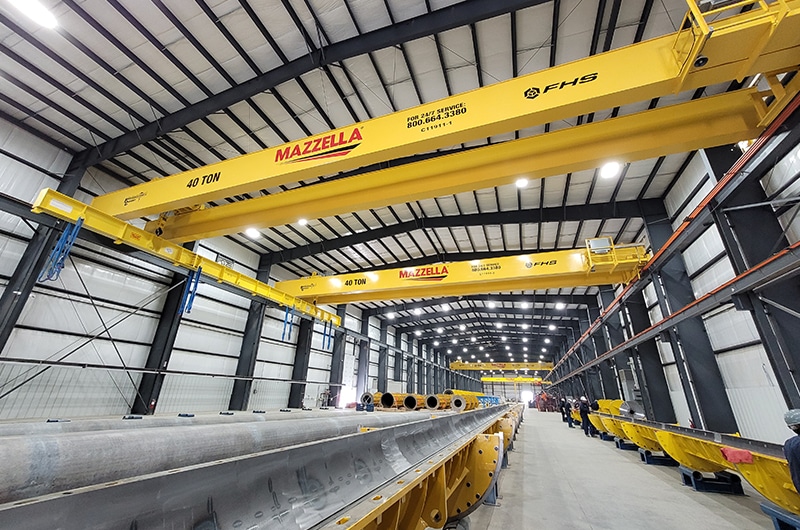 Mazzella is a leading manufacturer of world-class overhead cranes with over 65 years of experience. We engineer and build custom solutions ranging from light-duty, economical cranes up to large-capacity, high-duty cycle cranes with welded plate-box girders.
We provide all types of overhead crane systems, including bridge cranes, gantry cranes, workstation cranes, jib cranes, monorail cranes, and more!
We have on-staff engineering and computer-aided design (SolidWorks) capabilities to build customized indoor cranes and runway systems to a lifting capacity in excess of 150 tons.
Our work is done in full compliance with CMAA, NEC, OSHA and ASME standards. We have extensive electrical / control engineering capabilities, as well as AWS (American Welding Society) certified welders (AWS D1.1 and D14.1).
Also, Mazzella is an industry leader in hoist and overhead crane services. Our highly trained service staff specializes in solving complex problems in emergency situations. We find creative solutions to even the most challenging overhead crane service requirements.
We strive to minimize your downtime. Our phones are answered 24 hours a day, 7 days a week, and we work on all makes and models of cranes and hoists. Mazzella FHS has over 100 full-time technicians ready to answer your call.
Each of our trucks has a scissor lift, diagnostic equipment, tools and many of the parts that your crane or hoist may need to return to service. We carry VFDs (variable frequency drives), radio controls, contractors and much more!
Call us at 800.664.3380 or click here to speak with one of our Overhead Crane Specialists!
Click here to speak with our Crane Service Specialists.
---
---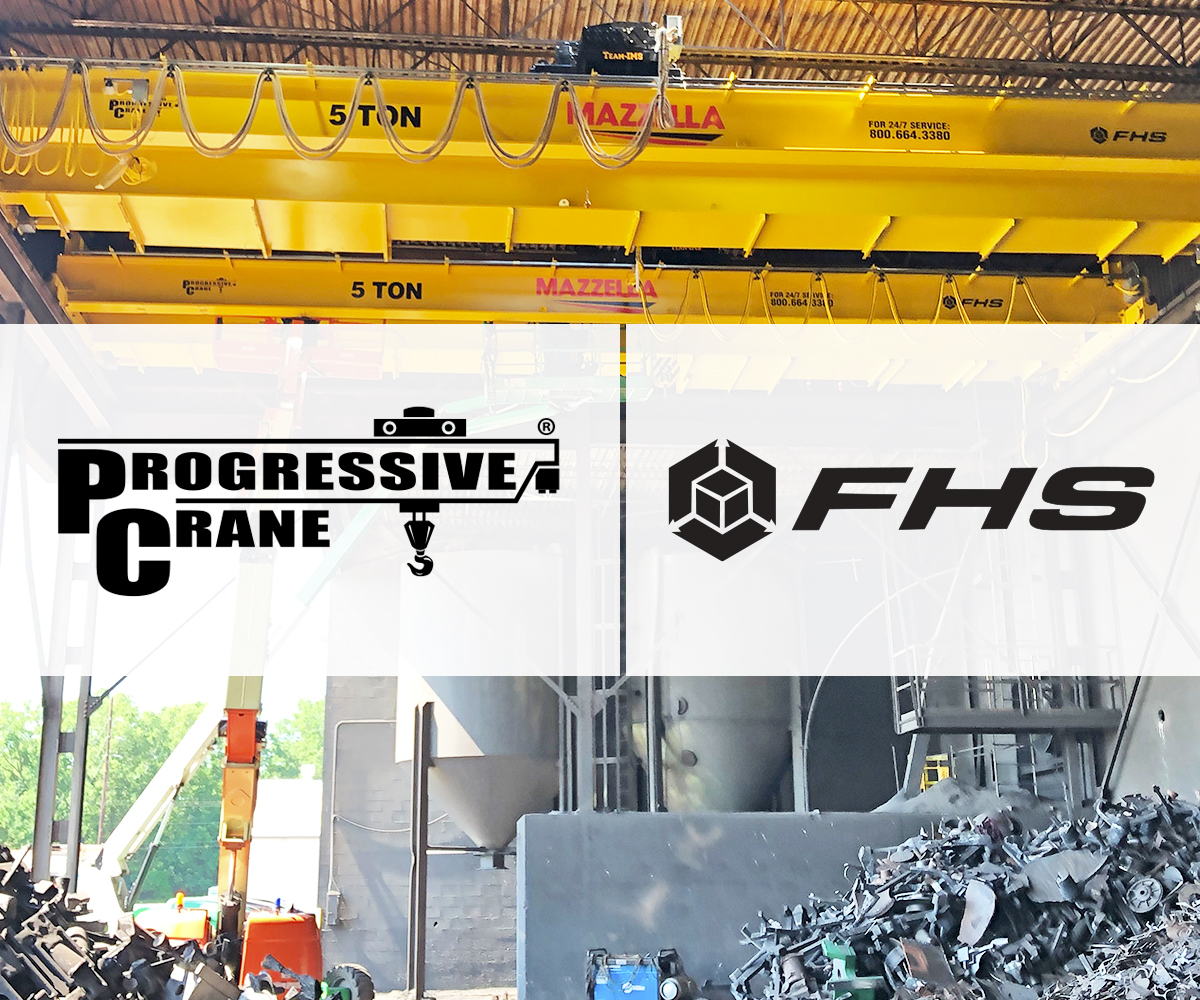 Overhead Cranes
We are a leading manufacturer of world-class overhead cranes with over 65 years of experience. We engineer and build custom solutions ranging from light-duty, economical cranes up to large capacity, high-duty cycle cranes with welded plate-box girders.
We provide all types of overhead crane systems, including bridge cranes, gantry cranes, workstation cranes, jib cranes, monorail cranes, and more!
Copyright 2022. Mazzella Companies.