"An accident won't arrive with a bell on its neck."
There is a lot of truth to this Finnish proverb, especially when it comes to executing overhead lifts. However, in the last 20 years, there have been significant technological advances made to avoid collisions when using overhead cranes.
By embracing technological advances with these engineered collision avoidance systems, many companies have created safer working environments for their employees.
In this article, we will answer the following questions:
What are smart non-contact measurement solutions?
How was crane safety viewed in the past?
What technological advances are making overhead cranes safer?
What is the limit switch mentality?
How can you overcome resistance to new technology?
What Are Smart Non-Contact Measurement Solutions?
---
Working safely with overhead cranes involves attention to detail, focus, and oftentimes, more help than just the naked eye. This involves creating safer work zones with smart non-contact measurement solutions.
While safety starts with warning signs of potentially dangerous environments/situations, posting signage throughout a facility has proven to be unsuccessful at avoiding overhead crane collisions or issues with the loads being lifted. To continue making work zones safer, overhead crane manufacturers went through a progression of increasing safety with technology:
Electric switches
Motors with relay switches
Photo sensors with photo eyes
Lasers
GPS (Global Positioning Systems) units are still in development, and have had less success than current crane monitoring systems. This is because GPS units are less accurate and can only get true readings within a yard of the crane.
Non-contact solutions are any sort of solutions for cranes that do not deal with contact sensors, including limit switches.
The smart non-contact solutions use sensors, such as laser sensors and other non-contact sensors with smart controls to enhance and modernize what a crane does. These sensors make it safer to operate basic and more complex lifts.
---
---
What Can These Systems Do?
---
Through our distribution partnerships, including with Laser-View Technologies, Inc., Mazzella has modernized overhead cranes for collision detection in recent years.
Progressions in technology and increased emphasis on safety brought these warning systems to the next level with electromechanical limits. These limits are located in proximity switches and used in conjunction with relay controllers. They are mounted onto the crane girders to tell the operator:
The crane's location
Where the hoist trolley was
Where the hoist was on the crane itself
That progressed into motor encoders and relay logic to determine precise positioning of the crane and hoist trolley. The encoders led to photo-electric sensors and photo eyes with large targets. It was reflected back to the emitter to determine whether or not it was within range. Now, technological advances have grown to include laser-driven non-contact measurement solutions.
Is There More Emphasis on Safety Now than in the Past?
---
The Occupational Safety and Health Administration (OSHA) was established in 1972, and its purpose is to monitor worker safety in certain industries. Safety is a major factor in what end-users must consider before executing overhead lifts.
When our experts go into production facilities, especially stamping plants, the level of concern for employees is much higher now than ever before. Because workers have more distractions now than in the past, "no fly zones" have become a more popular request. Be it cell phones or other factors, distractions prevent workers from focusing their full attention on the loads a crane lifts.
Technology has grown so fast that today, cranes can be outfitted with monitoring devices at an economical price. Similar to new cars being outfitted with sensors for collision avoidance, cranes can be modified or built with similar warning systems. Twenty years ago, this technology may have been mocked, but now, as workers become more technologically savvy, it is a welcomed addition to the jobsite.
What Technological Advances Have Made Cranes Safer?
---
Older laser sensors had limited ranges, as did some photo-electric devices. However, the lasers used on cranes now can span a 1,600' runway. Now, you always know where that crane is on the runway, and don't have to guess, "Is it working? Is it not working? Am I getting too close?"
It's a much more exact science, as the sensors are:
More reliable
Have longer ranges
Operating in a more stable manner
More accurate
Today, operators can continuously monitor where that crane is, and where the trolley and hoist are located.
What Is the Typical Collision Avoidance System Setup?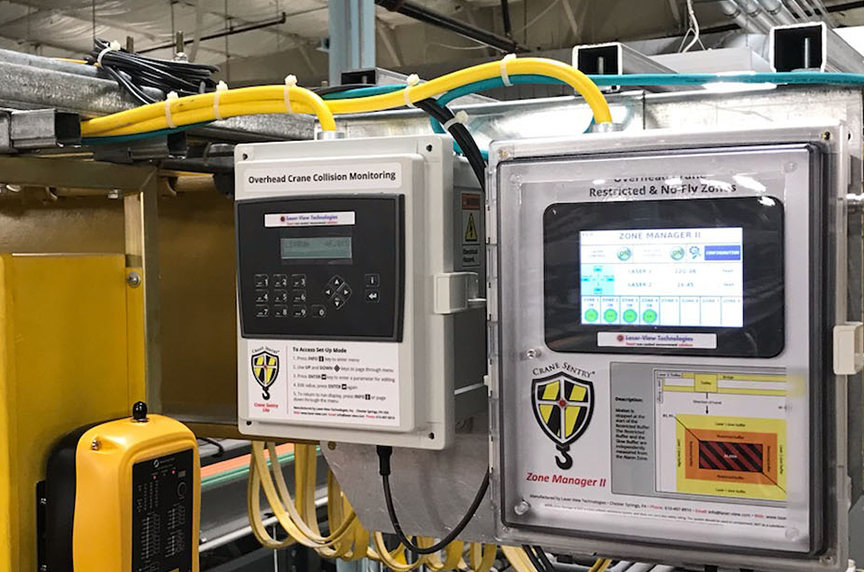 When you want these systems installed on your cranes, Mazzella uses two lasers. One looks at the trolley position, as well as the hoist position. The other looks at the overhead crane's bridge position. This allows operators to know the exact locations of the crane along the bridge, as well as the trolley and hoist positions at all times.
There's never a time that it's unknown where your crane is. Because of that, we cannot reliably stop a collision with another machine, or the physical building structure, but also, make sure the crane slows before coming to a stop.
The other piece of the puzzle is there's more computing power built into newer programmable logic controllers (PLCs). PLC controllers will run much more consistently than a regular computer. By using PLCs, operators can:
Run very fast, powerful programs through the controller
Monitor all the sensors and zones at once
Know the positions of the equipment
Monitor outputs to the variable frequency drive of the crane and or wireless outputs to other pieces of machinery
In addition to the lasers, the technology for wireless devices has vastly improved in recent years. Now, you can have the ability to slow and stop a crane, and also, warn other cranes of potential collisions or accidents.
Remote Work and Monitoring
With Wi-Fi capabilities, you have the ability to set the limits on cranes from the ground. That means you can use your phone, iPad or computer to make adjustments to the crane without needing to go into the air. From a safety standpoint, that eliminates your risk of a fall or need for fall protection equipment.
Additionally, Wi-Fi capabilities open up the possibility of remote monitoring and access to diagnostics. You can literally remote into a crane from your office and monitor how the crane moves loads. These collision avoidance systems can be custom-configured based on your needs. The systems can help you figure out if a zone keeps shutting the crane down because:
You're too close to another piece of equipment
Have a slow zone
Improperly set equipment
By being done remotely, it will reduce maintenance costs overall. Now, you will not have to pay a third-party crane service company to come out to your facility and diagnose a very simple problem.
Time Saver
Along with the improved/increased control from the ground, being able to avoid going into the air to work on an overhead crane adds to the efficiency of the maintenance team. You no longer have to take the crane out of service for a prolonged period of time, bring in a manlift, or go into the air to diagnose the issue.
That helps reduce downtime and improve production efficiency.
What Is the "Limit Switch Mentality"?
---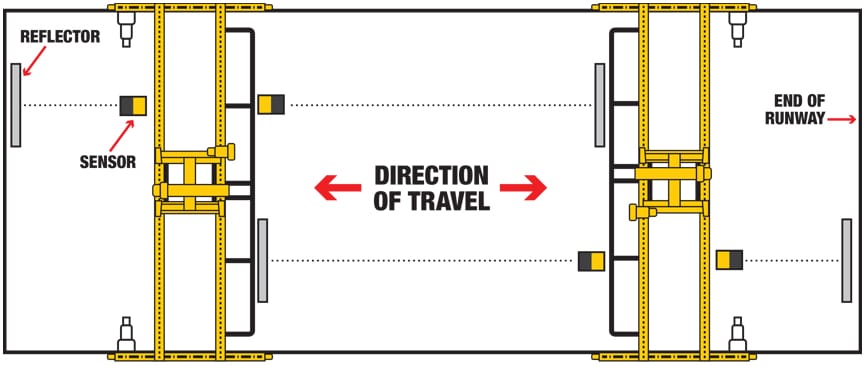 The biggest hurdle our overhead crane specialists have encountered in the field is the "limit switch mentality." That means overhead crane operators often say: "Well, I can monitor my cranes with limit switches."
While there is some truth to that, the older technology and mindset only go so far. Yes, limit switches themselves are more affordable devices. However, you must physically mount the limit switches onto your cranes. Every time it's not right, you've got to get on the manlift and adjust the switches manually. Switches are a maintenance issue because when they get damaged, dirty, or shift out of position, you have to move and reset them.
In terms of the "limit switch mentality," people just think they can control their overhead cranes with limit switches because they're familiar with the on-off functions. However, once operators see how the lasers are used, that reaction has gone from "No, we don't need lasers" to "Oh, wow. That's cool. We don't need limit switches anymore."
How Do You Overcome Resistance to New Crane Technology?
---
When something works for a long time, it can be difficult to convince people that new products or technological advancements are a worthwhile investment.
Older generations of workers might say, "You're not going to put anything electronic on my equipment because I don't know how to work on it." As the younger generations come along with a higher willingness to embrace technology, that "limit switch mentality" of keeping it simple is outdated. For younger generations, keeping things simple often involves working with electronic systems.
Having multiple zones monitored by limit switches may require them to be installed inside an enclosure. That presents the need for a larger enclosure. As the panels get larger, the wiring gets more complex, and there's more opportunity for failure, not just in the switch itself, but in the relays, also. There's a lot more maintenance involved.
Also, the use of lasers and "no-fly zone" systems still allow you to control the crane. If anything, it helps you have better control of the crane. Now, you can concentrate on doing your job more efficiently and with less worrying about avoiding hazards.
How Can Mazzella Help You With Your Overhead Cranes?
---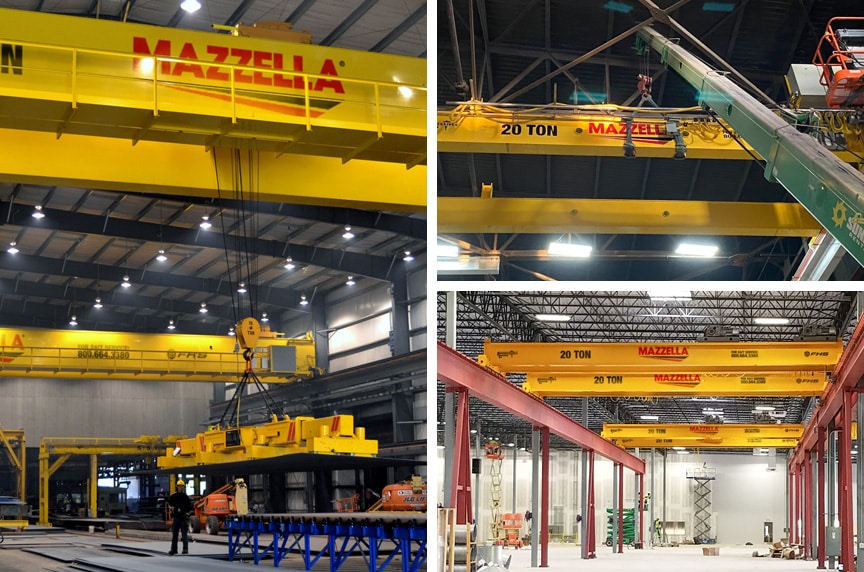 Mazzella is a leading manufacturer of world-class overhead cranes with over 65 years of experience. We engineer and build custom solutions ranging from light-duty, economical cranes up to large capacity, high-duty cycle cranes with welded plate-box girders.
Mazzella provides all types of overhead crane systems, including, but not limited to:
Workstation cranes
Monorail cranes
Mazzella has on-staff engineering and computer-aided design (SolidWorks) capabilities to build customized indoor cranes and runway systems to a lifting capacity in excess of 150 tons.
Our work is done in full compliance with standards from the CMAA (Crane Manufacturers Association of America, Inc.), NEC (the National Electrical Code), OSHA and ASME (the American Society of Mechanical Engineers). We have extensive electrical / control engineering capabilities, as well as AWS certified welders (AWS D1.1 and D14.1).
Additionally, we are an industry leader in hoist and overhead crane services. Our highly trained service staff specializes in solving complex problems in emergency situations. We find creative solutions to even the most challenging overhead crane service requirements. Our personalized approach to overhead crane and hoist maintenance is just one of the many benefits of our service team.
Mazzella strives to minimize your downtime. Our phones are answered 24 hours a day, 7 days a week, and we work on all makes and models of cranes and hoists. Mazzella has over 100 full-time technicians ready to answer the call at a moment's notice.
Call us at 800.664.3380 or click here if you need inspections, services, or repairs on your overhead cranes!
---
---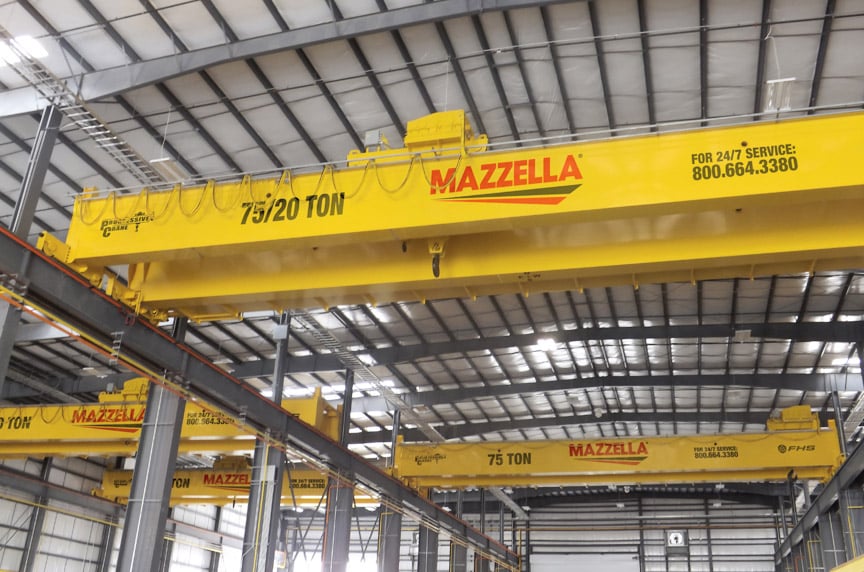 Overhead Crane & Hoist Service
We are an industry leader in hoist and overhead crane services.
Mazzella strives to minimize your downtime. Our phones are answered 24 hours a day, 7 days a week and we work on all makes and models of crane and hoist. Mazzella FHS has over 100 full time technicians ready to answer the call at a moment's notice.
Copyright 2022. Mazzella Companies.