"Truth is confirmed by inspection and delay; falsehood by haste and uncertainty."
The words of Roman historian and politician Tacitus may not have been documented specifically for inspections of lifting and rigging equipment, but the principles apply all the same to those looking to make safe overhead lifts.
Tears in your synthetic slings, dog legs in your wire rope, a couple of homemade below-the-hook devices. Unfortunately, these items that should be taken out of service have been discovered on job sites throughout the country.
Using damaged or uncertified rigging gear in the execution of an overhead lift is not in compliance with industry standards set forth by ASME (the American Society of Mechanical Engineers) and OSHA (the Occupational Safety and Health Administration). On the most severe level, they can cause injury or death. Additionally, damaged rigging gear can damage a load, equipment used in the lifts, and / or facilities where the lifts take place.
Making sure your rigging gear is being properly inspected is key to keeping your workers safe.
In Part 4 of the OSHA Inspection Series, we'll describe the following:
OSHA rigging inspections
Rigging documentation
Identification training
Regular inspections of your rigging equipment
How Does OSHA Oversee Lifting and Rigging Safety?
---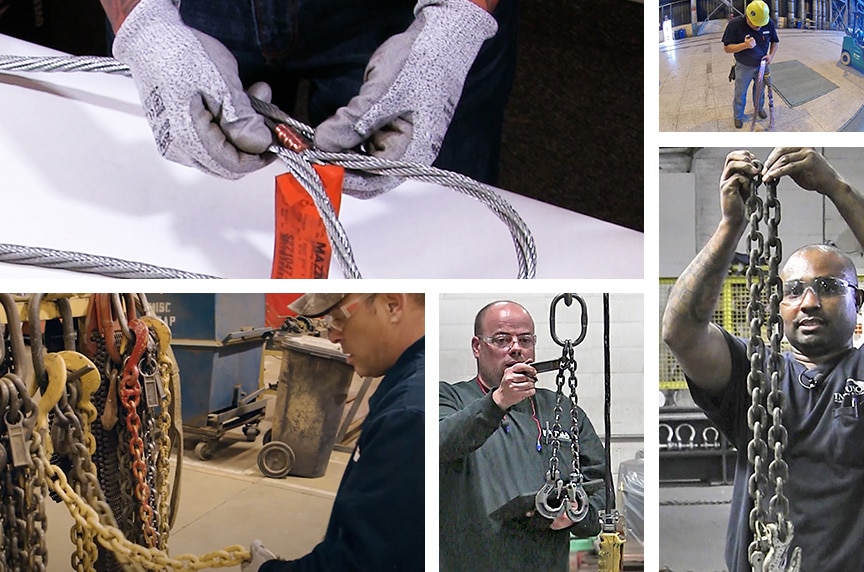 OSHA was founded in 1970, as part of the Occupational Safety and Health Act of 1970, in which Congress created an oversight body as part of the United States Department of Labor to ensure safe and healthful working conditions for workers.
OSHA 1910.184 – Slings and ASME B30.9 Slings are the standards that outline the usage of slings in the field. However, OSHA is not in the business of writing standards. They write the law based on industry standards, and then, enforce it.
ASME is the body responsible for creating and periodically revising all standards for the lifting and rigging industry in the United States. All types of rigging gear to be examined during an inspection can cover up to seven different ASME standards.
While slings are a major component of a rigging inspection, another set of gear in need of inspections are hardware, which can be shackles, hoist rings, lever tools, and any of the different items within ASME standards.
To stay in compliance with OSHA, you need to:
Enforce all standards
Comply with the standards
Perform proper training
Conduct proper inspections
Keep documentation in place for those inspections
---
---
What Will Be Looked At During a Rigging Inspection?
---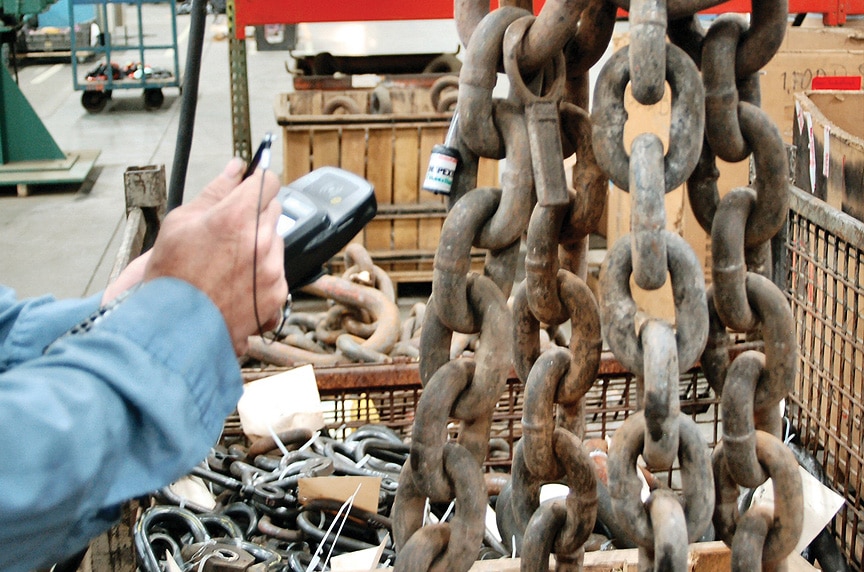 A Mazzella rigging inspection starts with the identification of the manufacturer for every piece set to be inspected.
When our Rigging Inspectors look at an alloy steel chain sling, the first thing they look for is the sling tag. If the tag is missing or illegible, it's an immediate failure. That applies not only to alloy steel chain slings, but also:
Synthetic web slings
Roundslings
High-performance roundslings
Synthetic rope slings
Metal mesh slings
***Please refer to the Mazzella Rigging Gear Inspection Field Reference Guide for more information on what would disqualify a sling from service.
If the correct information is on the tag, then rigging inspectors start doing what Mazzella calls a hand-over-hand inspection, where they look at every inch of the lifting and rigging device. If it's an alloy steel chain sling, a rigging inspector will start at the top. If there is a master link, they check for damage. Then, they work through the coupling links all the way down through each link on each leg of chain to the end fittings at the bottom, which are the various type of hooks.
For synthetic web slings and roundslings, rigging inspectors are looking for:
Chemical or UV damage
Burns
Cuts
Tears
Abrasion
Broken or worn stitching
Rigging Hardware Inspections
For shackles, rigging inspectors are looking to see if it is a domestically manufactured piece of hardware. Additionally, they are looking for the proper identification stamp. Oftentimes, rigging inspectors find import parts with the country of origin stamped on them instead of a manufacturer.
Rigging hardware must have the manufacturer's name clearly stamped on its body. Otherwise, the piece(s) of hardware will be disqualified from service.
When it comes to lever tools and manual hoists, the manufacturer's placard must be in place with all the required information. Across all ASME standards, there are different identification requirements for what must be on the item and legible.
Inspections on Homemade Below-The-Hook Devices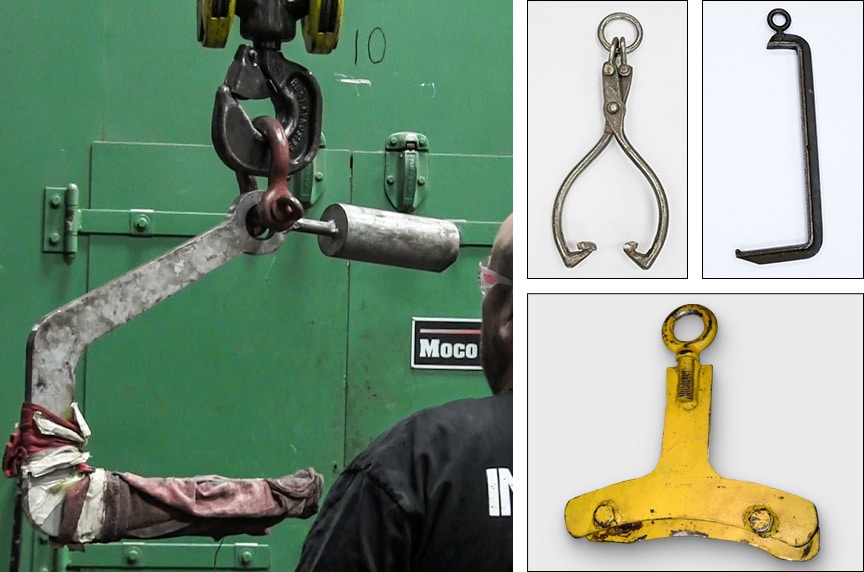 Mazzella does not conduct inspections on homemade below-the-hook lifting devices because they often do not have the proper identification tags. Even if an ID tag is on the device, it may not contain what is required by the ASME BTH-1 Design of Below-the-Hook Lifting Devices standard.
When Mazzella rigging inspectors come across homemade below-the-hook lifting devices, they understand people have the right intentions. However, was it manufactured to ASME BTH-1 Design of Below-the-Hook Lifting Devices standards, which contains specific requirements for the actual design and construction of the device?
By showing the customer the standards, it sometimes ignites a conversation where they tell the inspectors, "We have decades-old devices in our facility. Are you going take everything and throw it out?" Our rigging inspectors will help you decide how you can implement OSHA and ASME-compliant below-the-hook devices that are designed, manufactured, tested, and then, put into service.
If the BTH device was built in-house, rigging inspectors will ask the following questions:
Do you have all your engineering prints in place?
Have you load-tested the device?
What documentation do you have for the device's design?
Do all the calculations for the device consider new design factors?
Often, it's a complex conversation when our rigging inspectors arrive on-site, especially when the customer says, "We've been using it for 50 years. There's not been one problem."
Our rigging inspectors will direct you to a Lifting Specialist that can help you safely move your loads from point A to point B. Our inspectors are there solely for pass-or-fail inspections. Are you only using the homemade below-the-hook device because "that's just the way we've been doing it?" If so, we want you to understand, "We've always done it that way" isn't a great answer. Once you accept that concept, then you can start moving forward.
What Happens After You're Cited By OSHA For Failing to Perform Rigging Inspections?
---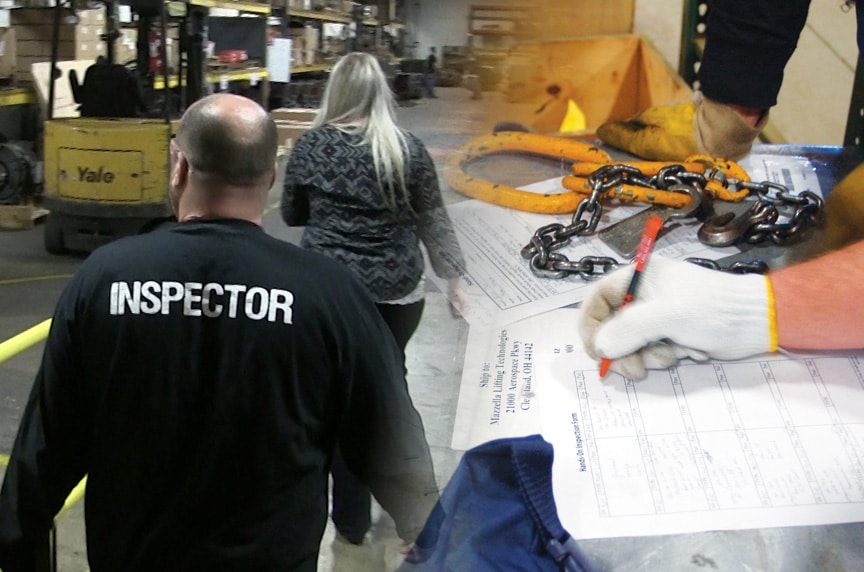 If you call Mazzella after being cited after an OSHA visit for failure to provide a rigging inspection, we're going to start documenting all our conversations because there is a lot of research that has to be done, and a quick fix may not be available for your problem. You want to document that you're taking the necessary steps to be in compliance with ASME standards.
Secondly, we will ask you the following questions:
Do you have training programs in place?
Are your operators trained?
How big is your facility?
How many items do you have to be inspected?
We will work with you to complete a front-load sheet so everyone understands what compliance work needs to be completed. Then, we can schedule a date and time to get the inspection completed and get that documentation in place. If you fail an OSHA inspection, their inspectors will be doing a follow-up visit to make sure you have corrected all violations of the standards.
How Can Mazzella Help with Rigging Inspections?
---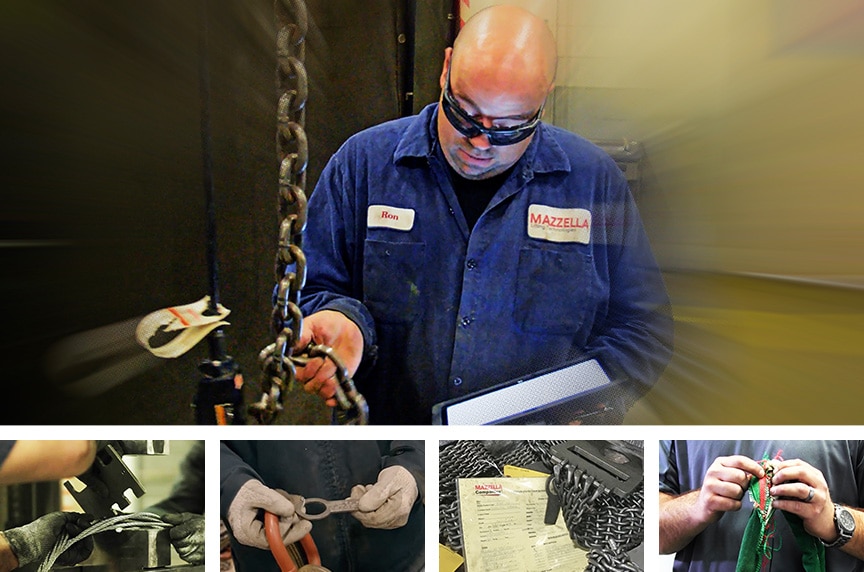 Periodic, documented inspections on slings, rigging hardware, below-the-hook (BTH) lifting devices, manual hoists not installed at height, and personal fall protection are required not to exceed every 12 months at a minimum, and monthly to quarterly in more severe service conditions.
Our team of rigging inspectors is certified to make sure your equipment meets OSHA and ASME requirements. We also provide personal fall protection inspections and basic level NDT (non-destructive testing) inspections to support our visual inspections.
We offer on-site sling inspections for all types of slings. Our highly-trained and qualified personnel will help ensure your lifting slings are in good working condition, in compliance with OSHA and ASME requirements, and provide documentation for your records.
All Mazzella rigging inspections are done in accordance with OSHA 1910.184 and ASME B30.9 Slings inspection requirements for:
Wire Rope Slings
Alloy Chain Slings
Synthetic Web Slings
Synthetic Roundslings
High-Performance Roundslings
Metal Mesh Slings
Synthetic Rope Slings
Also, we provide inspections for all types of rigging hardware. The goal of a rigging inspection is to systematically observe the condition of your lifting and rigging equipment.
After a rigging inspection, you'll better understand if your rigging hardware is properly marked, and if the overall condition of the equipment meets ASME service requirements. All of our inspections of rigging hardware include hooks, shackles, eye bolts, hoist rings, and are done in accordance with ASME B30.10 Hooks and ASME B30.26 Rigging Hardware requirements.
Mazzella also offers non-destructive testing (NDT) services, including magnetic particle testing / dye-penetrant testing. This is very basic level testing, and not often needed.
Call us at 800.362.4601 or click here to learn more about or schedule your next rigging inspection!
---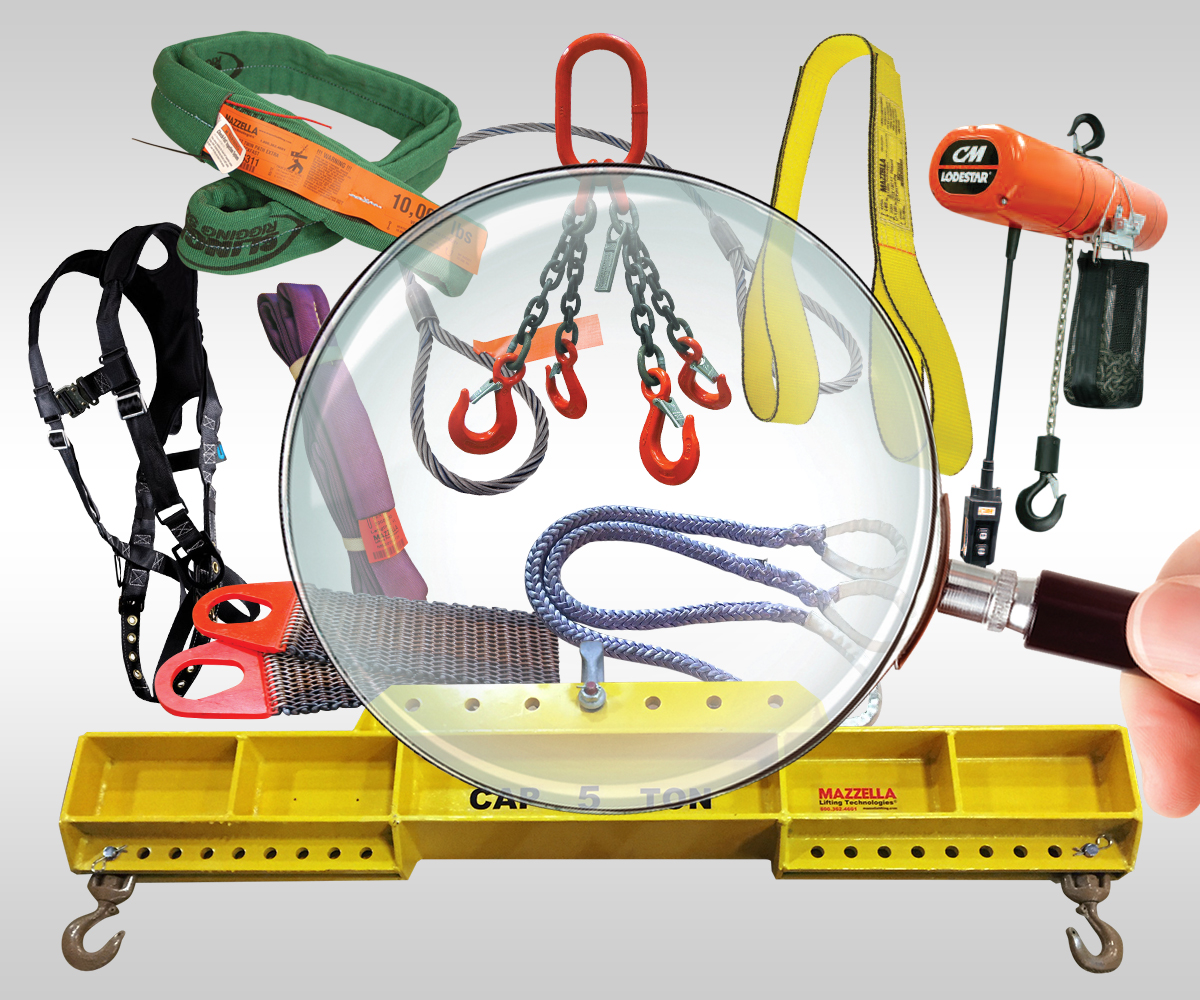 Rigging Inspection Services
OSHA 1910.184, ASME B30.9, B30.20, B30.26, & ANSI Z359 require periodic, documented inspections on slings, rigging hardware, lifting devices, and fall protection every 12 months, at minimum, and monthly to quarterly in more severe service conditions.
Call us at 800.362.4601 or click here if you need inspections for slings, rigging hardware, lifting devices, or fall protection!
Copyright 2022. Mazzella Companies.