"It takes leadership to improve safety."
When racing legend Jackie Stewart coined this phrase, he probably had little-to-no idea that his words could be applied to overhead lifting and rigging. However, many companies, including Gunnebo Industries, a Crosby Group brand, and Columbus McKinnon (CM) followed the same mindset and developed the self-closing hook to improve safety in the construction industry.
Also known as a self-locking hook, safety hook, or positive-locking hook, these devices are hooks with latches that are designed to close under their own power. When you put a load on these hooks, they literally snap shut on their own, and that facilitates jobsite safety.
Due to their design principles, these hooks cannot open while under load, and that's why it's called a safety hook in some markets.
These hooks come in many types, including:
In this article, you'll learn the answers to the following questions:
Why was the self-closing hook created?
What makes a self-closing hook different from other hooks?
Why would you use a self-closing hook?
Are there disadvantages to using a self-closing hook?
Where have self-closing hooks been utilized in the field?
Why Was the Self-Closing Hook Created?
---
Gunnebo Industries invented its self-closing hook in the 1960s. It was created for the construction industry when it was discovered that riggers used latch hooks or hooks with no latches at all to make their lifts.
Back then, all the hooks that were on the market were either foundry-type hooks without latches or sling-style hooks with spring-loaded latches. The problem is that after a while, the spring-loaded latches get:
Worn out
Stuck
Caught / snagged on objects and break off of the hook
When any of those conditions happen, the hook can no longer be used because it is not compliant with the ASME B30.9 Slings standard and OSHA regulations. Along with being non-compliant with ASME (American Society of Mechanical Engineers) and OSHA (Occupational Safety and Health Administration) standards, these conditions are out of compliance for many international regulations, too.
The latches need to be attached to the hook if it's designed to be fitted for a latch. However, in certain instances, like in a foundry, a latch actually would create a higher risk for end-users. In that case, you would use a foundry hook that is designed to be used without a latch, but that scenario is uncommon. In most cases, a latch needs to be on the hook for it to be safe. This will help avoid a load from slipping out either while or before a hook is rigged to a load.
---
---
What Makes a Self-Closing Hook Different from Other Hooks?
---
The main advantage of self-closing hooks is that it will close itself when you're loading it, which makes operations much safer.
With a spring-loaded latch on a sling hook, it's a little bit cheaper because it's just a single-forged piece with a metal latch attached. Self-closing hooks are two forged pieces with a more complex spring design. For swivel hooks, there are multiple forged pieces of metal.
Between Gunnebo Industries and Crosby self-closing hooks, as well as others on the market, there are subtle differences. If you choose to use a lower-cost self-closing hook, it might be missing some of the features of the higher-quality products.
Crosby Self-Closing Hooks
With the Crosby self-closing hook, it has a slim fit or a pin that's flush with the surface. Also, it features an enlarged thumb grip because you don't want to put your fingers inside the hook. With the self-closing hooks, you need to push the trigger to open them.
The enlarged thumb grip allows you to hold the hook and open it without putting your fingers inside. Even with gloves on, it's easy to operate. Then, with the trigger being recessed, it will be more difficult to strike it while you're loading. If your crew drags its chain slings on the ground, the hook trigger is more easily damaged because it is external.
The thumb access for the trigger on the Crosby hook is mounted fairly far down on the hook body. This stops the latch from rotating onto your thumb when you're opening it.
Gunnebo Industries Self-Closing Hooks
Gunnebo Industries self-closing hooks are designed a little bit differently. Instead of designing the trigger to be located further down, the Gunnebo Industries hook has a rotation stop. It actually stops the latch from rotating onto your thumb. Similar to Crosby's hook, the Gunnebo Industries product has a recessed trigger to avoid damage. It has an enlarged thumb access, so you can open it without putting your finger into the hook. It's a slimmer design compared to the Crosby model, but still easy to handle.
Also similar to the Crosby hook, you have a flush rivet. In many of the cheaper hooks, you will have a bolt and a nut that extends up at the hook body and can easily get damaged. Both the Crosby and Gunnebo Industries hooks are machined after heat treatments, which means the fit is very tight. There is barely any gap between the hook body and the hook latch, which minimizes the risk of a wire rope or other slings slipping out while under load.
Although the self-closing hooks are more expensive than standard hooks, the biggest benefit is safety for your employees. Additionally, because the hook is a forged latch, and it's integral to the hook body, it's much more durable. Even on the most durable Gunnebo Industries or Crosby standard hook, the spring will wear out. Should the latch spring fail or the latch come off the hook, your work needs to be stopped until a compliant replacement can arrive on-site. Having more durable hooks will reduce your downtime because of missing latches.
CM & Peerless Self-Locking Hooks
Like Gunnebo, CM and Peerless have self-locking hooks that come in various sizes and types, including:
Peerless self-locking eye hooks are available in the following sizes:
7/32" (2,700-lb. working load limit)
3/8" (8,800-lb. WLL)
1/2" (15,000-lb. WLL)
5/8" (22,600-lb. WLL)
These Italian-made hooks are Grade 100 metal and each weigh less than 15 lbs.
CM's self-locking hooks are clevis and eye types.
The clevis hooks come in the following sizes:
9/32" (4,300-lb. WLL)
1/2" (15,000-lb. WLL)
The eye hooks come in the following sizes:
9/32" (4,300-lb. WLL)
1/2" (15,000-lb. WLL)
5/8" (22,600-lb. WLL)
These United States-made hooks are Grade 100 metal and each weigh less than 20 lbs.
Why Would You Use a Self-Closing Hook?
---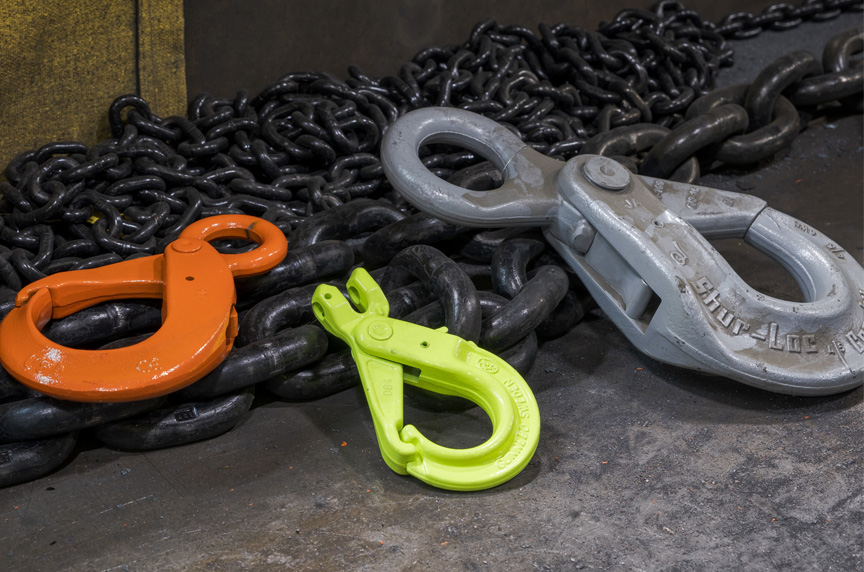 Safety is the main reason for using a self-locking hook.
Whenever you put a load on it, the hook snaps shut. While there's a load on the hook, it cannot be opened. Because of this safety feature, you're reducing the risk of the load falling out and the potential for work-site accidents.
There's less risk involved with using a self-locking hook over a latch hook just because they'll always be closed when attached to a load. There's no risk of the load slipping out while it's in the air because it hits a wall or encounters elements that shift the load.
What Are the Disadvantages to Using a Self-Closing Hook?
---
Although there are many benefits to using a self-closing hook, there are some drawbacks, as well.
Mainly, the disadvantages include being:
More expensive than a standard hook
Heavier than standard hooks
More cumbersome to open and close in certain applications than a latch hook you can readily attach to a load, crane hook, or lifting device.
For general lifting purposes, there's really not any bad-fit applications. In most cases where you can use a standard hook, you should be able to use a self-locking hook. There could be certain types of loads, or connections, where it would be impossible to use the self-closing hook.
These self-closing hooks are rated for the same temperature as a foundry hook. You can go up to 750° F with the correct down ratings. However, in a hot environment, the hook is going to get hot, and you may have to handle it. There could be applications in a steel mill where you're not able to open the hook and a foundry hook is a more appropriate and safer option.
Where Have Self-Closing Hooks Been Utilized in the Field?
---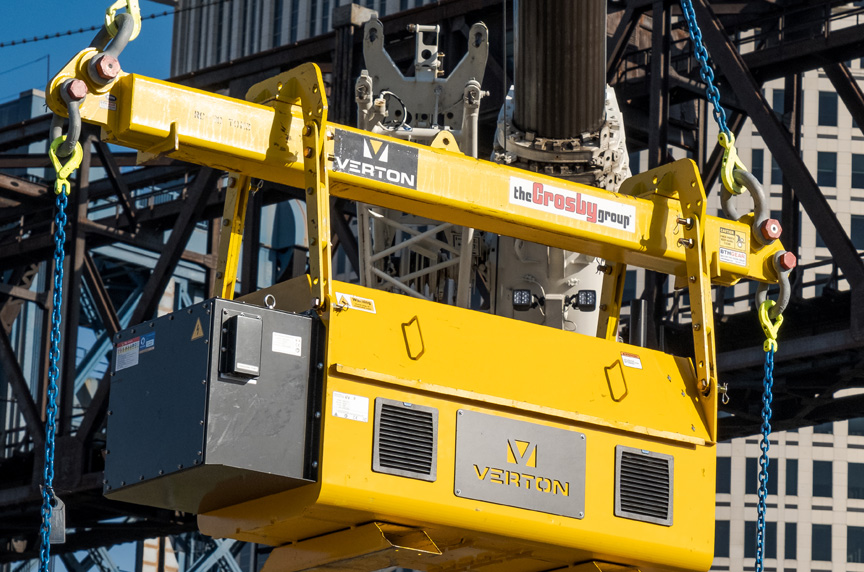 Because of its origins in Sweden, European companies have used the Gunnebo Industries self-closing hook for decades. There's been more adoption in Europe, particularly in construction and industrial applications, than in other parts of the world. In fact, Gunnebo Industries and Crosby are seeing more safety hooks sold to European customers than standard sling hooks.
North American companies are further behind in the adoption of this technology. However, people in the construction industry noticed that in the 1990s, the self-closing hook began gaining popularity with riggers.
In the United States alone, the self-closing hooks are becoming more common in:
Offshore applications
Oil and gas production
Industrial applications
Construction industry
These self-closing hooks are manufactured to comply with all global standards. These hooks are manufactured to the ASME B30.10 Hooks standard, as well as the European standard (EN 1677-3) and ASTM A952/A952M, which are for sling components with forged fittings.
Feedback from Customers
When people use the hook, Gunnebo Industries and Crosby have heard positive feedback. While many users have found it more cumbersome to use at first, when they see the safety benefits of it, and get used to operating it, they have found few drawbacks.
For people that have experienced an accident or equipment failure, they're really who see the benefits right away. It's become a popular product among those who have seen a load slip off because it hit a wall or wind took hold of it.
How Can Mazzella Help with Your Lifting and Rigging Needs?
---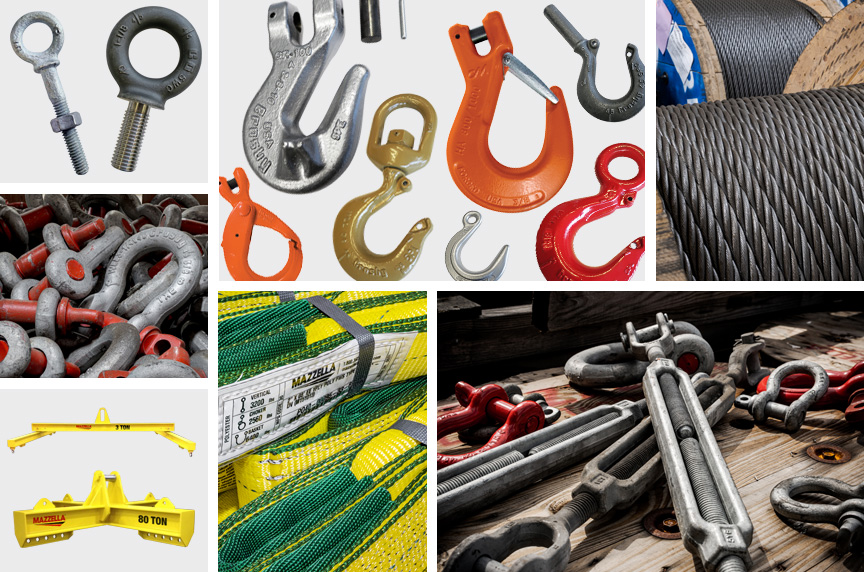 At Mazzella, we have you covered when it comes to all of your lifting and rigging needs. With our ready stock inventory, we offer all industries a variety of lifting and rigging devices.
Hardware
We offer one of the largest and most complete inventories of rigging and lifting products in the country from some of the largest manufacturers in the world. Some of the products we stock are:
Rigging Training
If you require a specific training course for OSHA compliance for slings, hoists and / or rigging hardware, Mazzella can assist you in creating a safe and reliable workplace.
Our rigging training focuses on:
Overhead cranes
Below-the-hook lifters
Lifting slings
Rigging hardware
Wire rope
All Mazzella trainers have been accredited by our company through training by a third-party company (Industrial Training International, Inc.), Mazzella Companies' internal Train-the-Trainer program, and are trained on OSHA and ASME standards.
Also, we provide site assessments. The purpose of an assessment is to systematically observe and record your lifting and rigging procedures, equipment, and records. This is not an inspection, but rather, a general assessment by which opportunities for improvement may be identified.
Rigging Inspection Services
OSHA 1910.184, ASME B30.9 Slings, ASME B30.20 Below-the-Hook Lifting Devices, ASME B30.26 Rigging Hardware & ANSI Z359 require…
Periodic, documented inspections on slings, rigging hardware, lifting devices, and fall protection every 12 months, at minimum, and monthly to quarterly in more severe service conditions.
Our rigging inspectors are certified to make sure your products meet OSHA and ASME requirements. Also, we provide personal fall protection inspections and basic level non-destructive testing (NDT) inspections to support our visual inspections.
Call us at 800.362.4601 or click here if you need inspections for rigging hardware, training, or any of our other services.
---
---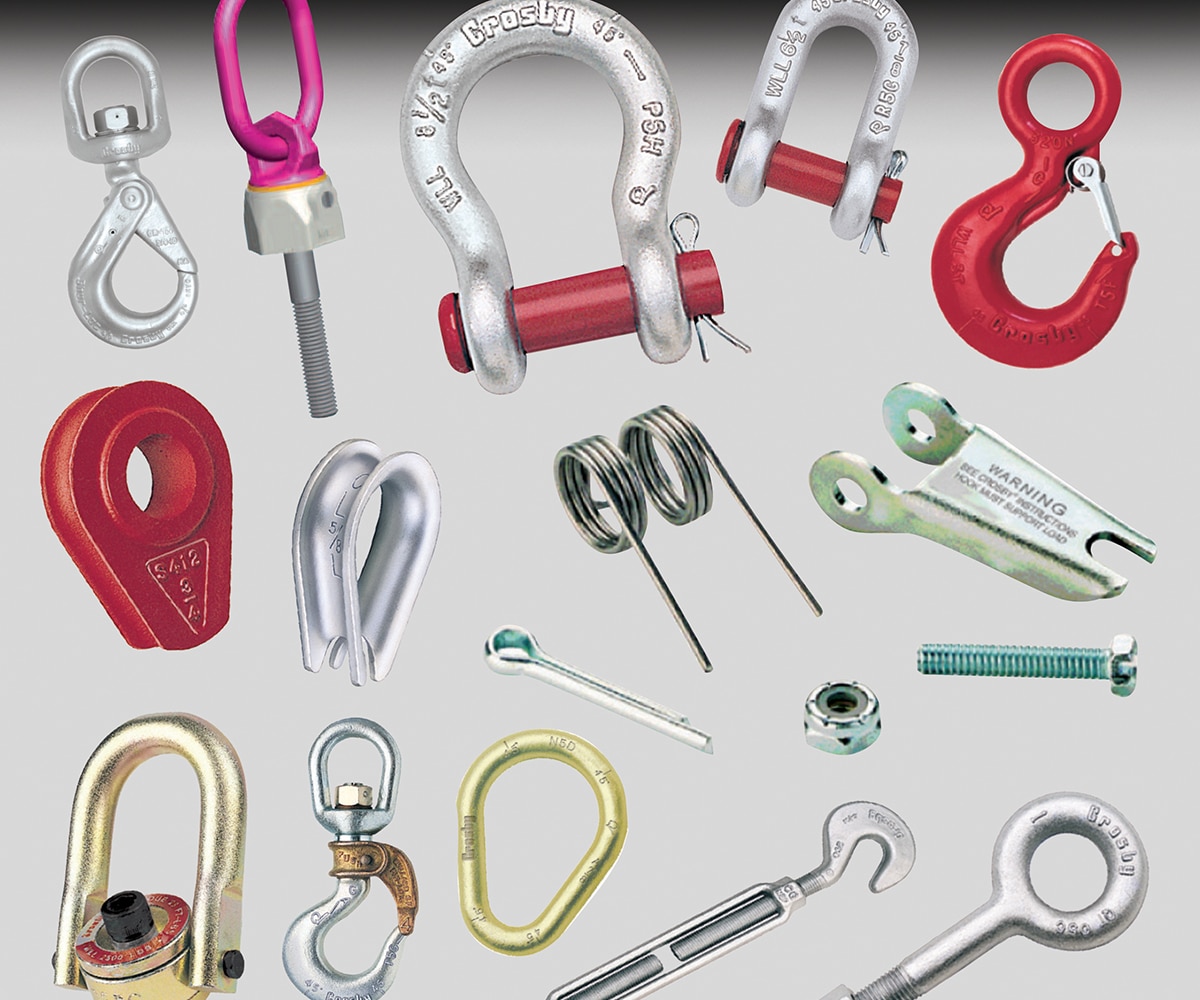 Rigging Hardware
Are you looking for a full line of rigging hardware products? We offer one of the largest and most complete inventories of rigging and lifting products in the country from some of the largest manufactures in the world. Some of the products we stock are shackles, hoist rings, eye bolts, hooks, master rings, links, and turnbuckles.
Copyright 2023. Mazzella Companies.