For an upstart or rapidly growing business, buying used industrial equipment can provide a number of benefits without breaking the budget. Acquiring used equipment like forklifts, CNC machines, lathes, mills, or machine presses can add another dimension to production capabilities—which can lead to production efficiencies, improved product design, and eventually new growth opportunities.
For business owners who are handcuffed by an equipment budget, or may be looking to cut costs, a used overhead crane can seem like the perfect solution for their material handling needs. However, not all industrial equipment—especially overhead cranes—can easily be retrofitted from one application to another.
A used jib crane, workstation crane, or portable gantry crane could be retrofitted into a smaller shop to assist in light-duty manufacturing, assembly, or fabrication. But, bridge cranes and gantry cranes require precision engineering, and it can be challenging to find used crane equipment that:
Matches the duty cycle of the original application to your lifting application
Installs within the confines of your existing building's structure and supports
Satisfies current safety codes and industry design standards (CMAA, OSHA, ASME, etc.)
At Mazzella Companies, we have two companies (Progressive Crane and FHS, Inc.) who design and build world-class overhead crane systems. We have over 40 years of experience in the overhead crane industry and can build custom solutions ranging from light-duty economical cranes to large-capacity, high-duty cycle cranes.
Our team of Engineers and Project Managers partner with customers who have all levels of experience in purchasing an overhead crane system. We often get questions about whether it's safe to install a used overhead crane, and if so, what types of problems you might encounter down the road. In this article, we'll provide an honest look at the advantages and disadvantages of buying and owning a used overhead crane system.
Where Can You Find Used Overhead Cranes for Sale?
Before you can buy a used overhead crane, you need to know where to look to find one. Like anything else, some options are better than others and you should always do your research prior to buying used crane or hoist equipment.
You can typically buy used crane and hoist equipment through:
Used industrial machine brokers
Equipment or heavy machine auctions
Scrap or salvage yards
Third-party sellers on sites like Craigslist or eBay
What to Look for Before Buying Used Overhead Crane Equipment
An equipment broker should allow you to come on-site to see and inspect the crane equipment, or hire a third-party expert to inspect it on your behalf. You'll also want to find a reputable company that is honest and ethical and has solid online reviews or can provide you with references.
You'll want to work with a company who regularly inspects and/or refurbishes the equipment they receive prior to selling it. A broker may not know the full history or service life of the crane, but they should be upfront about the condition of the equipment before they sell it to you. You'll want a clear understanding of what's in good working condition, what's missing, and what needs replacement or repair. It's essential to understand the condition of the crane equipment before making a purchase:
How old is the crane system? If it's nearing the end of its service life, it may not make financial sense to invest in a piece of aging equipment that will require frequent maintenance and repair.
How often was the crane system in use? The broker may not have a lot of information, but you should try to get some idea of the duty cycle or service classification by understanding how it was used and how often it was used.
Are they selling you all of the major components? Are the bridge, trolley, hoist, and end trucks included? What kind of electrification system does it use? Are runway and support beams available or will you need to have a runway system fabricated?
If the runway and other structural supports are available, what kind of condition is the steel in? Is the runway a freestanding system or designed to tie back into building supports?
Does the system power on? Are the electrical and mechanical systems in good working condition?
Are there maintenance records available from the previous owner? Similar to buying a used vehicle, you'll want to understand if the crane system and components were regularly inspected and serviced in accordance with industry and manufacturer standards.
An equipment broker may be the best choice if you choose to buy a used overhead crane system. Auctions, scrap yards, and online sellers may not let you see or inspect the equipment prior to the sale. They also may not be able, or willing, to give you information on the history and condition of the crane equipment prior to the sale—caveat emptor!

---
---
Used Overhead Cranes vs. New Overhead Cranes: A Comparison
There's no question that buying an overhead crane will improve efficiency, improve production, and make overhead lifts more ergonomic and safer. If you're thinking about buying a used overhead crane system, there are a number of important factors to research and consider before moving forward with a purchase.
Price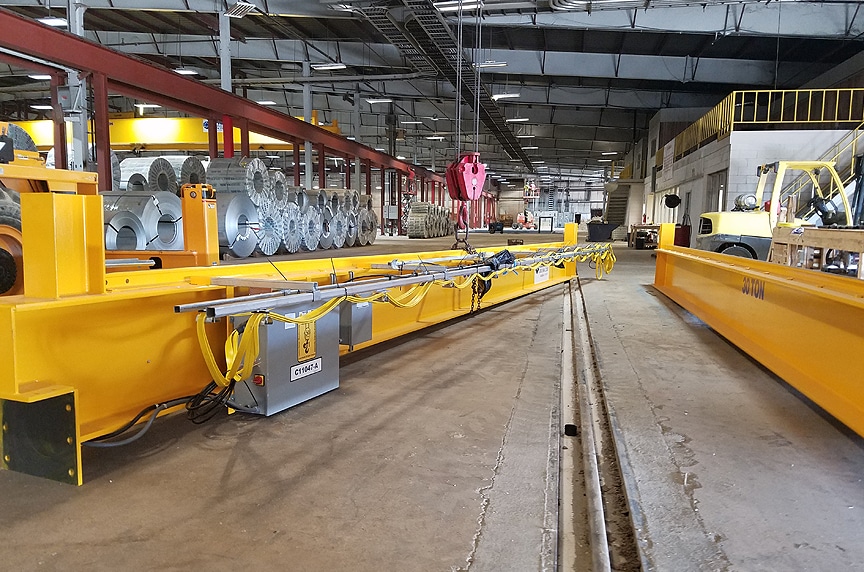 If you buy a new crane from an overhead crane manufacturer, there will be higher costs upfront. You're paying for additional services like engineering, the sourcing of material and components, project management, fabrication, freight/delivery, installation, and the initial startup and load testing of the equipment.
However, most overhead crane manufacturers offer turnkey systems and will manage the project from the first consultation through installation. When you receive the quote from the manufacturer, all or most of the services listed above will be included in the project proposal. If not, you can ask the manufacturer to include them in their proposal or provide you with an estimate.
For a used overhead crane, the initial investment will be significantly less expensive. However, you're really only saving on the cost of the equipment and the components itself. There are a number of other expenses that you may have to factor in, coordinate, and budget for:
Repairing or replacing components that are missing or don't work properly
Engineering study to determine proper duty cycle and service class of the individual components and the system as a whole
Structural survey to determine if your building and/or foundation can support this crane system
Pickup and delivery of the crane to your facility
Installation
Inspection and/or testing of the installed crane system prior to startup
The real problem with buying a used system is that you never truly know what the final cost is going to be. When you buy your system, you'll have to consider the costs of additional fabrication or modification to retrofit it into your facility. You'll also have to consider additional expenses to survey and possibly reinforce your building's foundation and structural supports to support a crane system. In addition, costs can quickly add up when replacing or repairing festooning and electrical panels, or the hoist and other mechanical components.
These additional costs can run into the thousands, if not tens of thousands, of dollars that you may not have accounted for—and there's really no guarantee that this crane will be a reliable solution for your material handling needs.
Whether you buy a new or used crane system, you should also understand some of the hidden costs of overhead crane ownership, including:
Annual routine maintenance
Replacement parts and repairs
OSHA-mandated inspections
Training for your operators, riggers, and maintenance personnel
Availability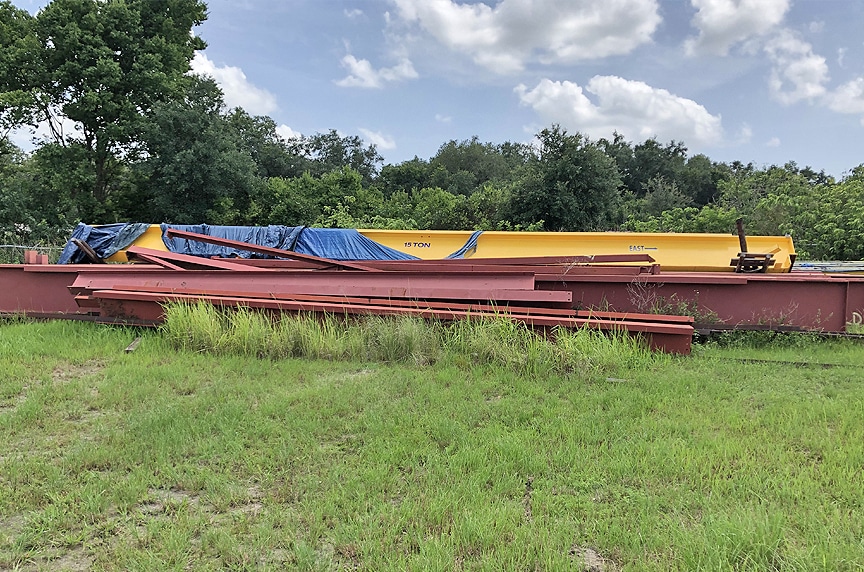 Depending on the design and complexity of a new overhead crane, it can take anywhere from 90 days to 12+ months to design, source the components, fabricate, and install your crane system. When buying a new overhead crane, you can expect to invest significant time and energy into the following processes:
Initial consultation with crane manufacturers
Reviewing and revising approval drawings
Preparation for delivery and installation
Start-up configuration and employee training
Fortunately, when you partner with a reliable overhead crane manufacturer, they take care of a lot of the legwork for you and will walk you through the process step-by-step.
When you buy a used overhead crane, you'll have immediate access to the system that you bought. However, you can expect to do a lot of the work on your own to get the system to your facility, installed, and in working order. This may include any of the following:
Coordinate an engineering study and/or a structural survey of the crane equipment and of your building
Source missing systems or components and repair parts
Arrange for delivery and installation
Arrange for an initial inspection and load testing before start up
Engineering and Duty Cycle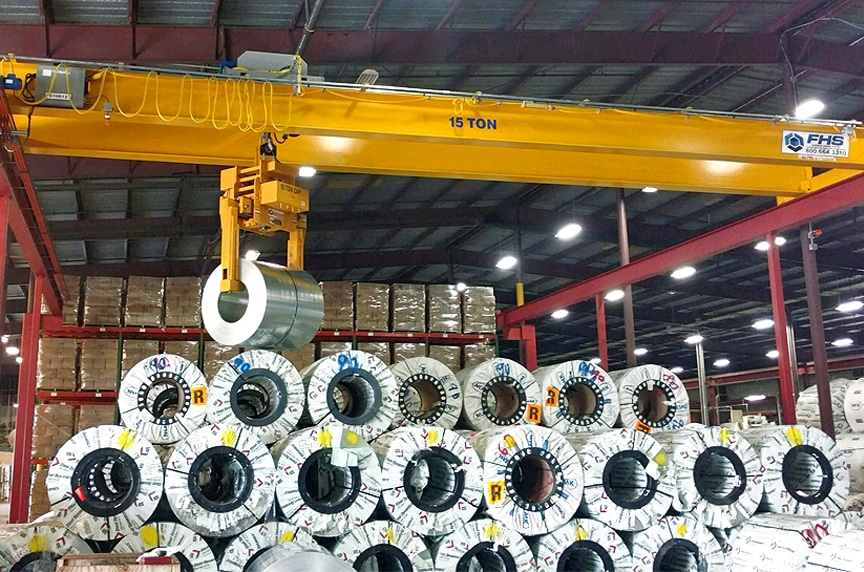 Selecting the right crane service class and duty cycle for an overhead crane is critical for a customer who is trying to balance the initial investment of a crane system with the cost of future maintenance. When you buy a used crane it's likely that you're not going to have a true picture of what application it was originally designed for, or any of the specifications of the component systems.
If you purchase a crane that's under-specified for your lifting application, it will result in a lower initial investment, but will cost you more in maintenance and downtime throughout its service life. If you buy a system that was originally designed for a heavier-duty application, it may work out in your favor. You just need a clear understanding of how it was used, how often it was used, and what type of service life is remaining on components like the brakes, motors, and drives.
Unfortunately, it's rare to purchase a used crane with a full understanding of its history and specifications. It may be difficult or impossible to get access to maintenance records, history of repairs, usage/operating time, and any upgrades or modifications made to the crane or hoist equipment.
You can have an engineering study performed, where you essentially pay a third-party to reverse engineer the crane and its individual components. This can give you an idea of the crane's duty cycle and an estimate of the remaining service life of electrical and mechanical components.
When you buy a new overhead crane system, engineers and estimators do all of the legwork to specify a crane that is the most economical and safest design for your lifting application. Selecting the right duty cycle or service class of an overhead crane helps ensure that the components of the crane are durable enough to withstand the load and usage requirements throughout its service life.
These four factors are the most important requirements that a crane manufacturer will use to determine the duty cycle for a new overhead crane:
Rated Load – Estimation of the loads lifted at or near capacity
Service – Total hours in operation per day
Number of Lifts – Average lifts and trolley and bridge movements made each hour
Distance – Average length of each movement
Other factors that may not directly affect the overhead crane classification, but are still taken into consideration when designing and specifying a new overhead crane, include:
Speed – how quickly can the crane transfer materials or equipment? How many lifts per hour can the crane perform?
Maintenance requirements – will the crane need to be serviced regularly and how will maintenance or repair affect production and downtime?
Operating environment – In what type of environment or conditions will the crane be operating?
Future needs – Any changes or increases in production requirements down the road? If you design a Class C crane, but know that down the road you'll be lifting heavier loads or using your crane more frequently, you may need to consider a Class D range crane.
Machine Condition and Reliability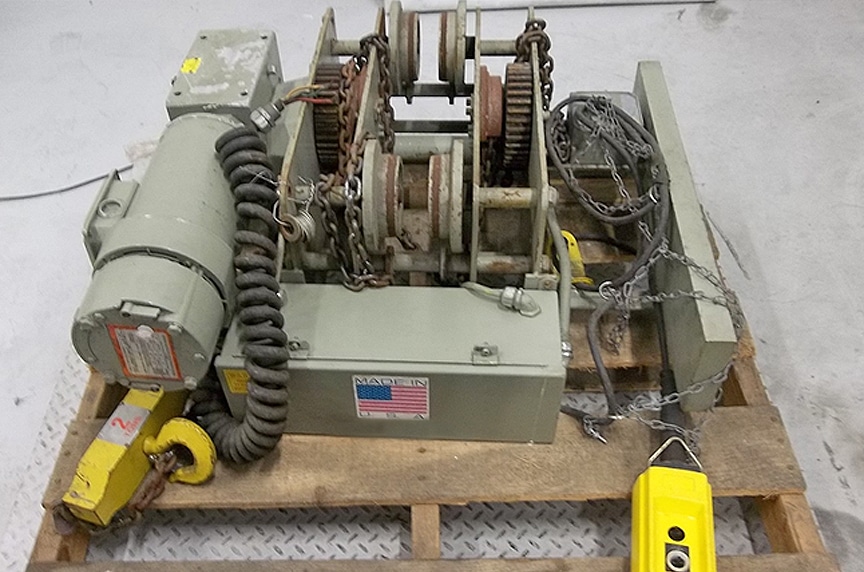 Another important consideration is to understand the condition of the equipment you'll receive when you buy a used overhead crane. If you can buy from a reputable seller, they should allow you or a third-party to come on-site and evaluate the condition of their equipment, prior to buying.
Try and get an understanding of the environment that the crane is coming from. Was it sitting in a vacant building for a long time and needs to be decommissioned? Was it taken apart and stored outside where it was exposed to environmental conditions? Or, is it sitting somewhere in a storage or warehousing facility?
A reputable seller or broker may even be able to put power to it so you can see how the electrical and mechanical systems operate. This will allow you to see how the motor and operator controls work—and give you an idea of any additional work that may need to be performed to make the system fully functional.
Look for signs of any of the following, which could indicate a compromised system and could affect crane safety and reliability when in use:
Hydraulic fluid or oil leaks
Excessive corrosion or pitted metal
Missing or broken parts
Components that are seized or not moving freely
Irregular welds on steel or mechanical pieces
Bent or damaged beams
You should be aware that it may not be feasible to evaluate the condition of a used crane system when you buy from an auction, scrap yard, or online seller. Many sellers will offer it "as is" and may not offer any support or troubleshooting post-sale.
Obviously, when you buy a new system from an overhead crane manufacturer, all of the components will be brand new. The electrical system is properly grounded and all electrical work is done in compliance with industry standards using new and properly sized wires. All individual components will be brand new from the supplier and will be properly adjusted, lubricated, and backed by warranty. All runway, bridge, and structural beams will be fabricated from new steel, in proper alignment, with a fresh coat of paint and no corrosion.
When you buy new from a reputable manufacturer, you'll also have the peace of mind that all work is performed under warranty and in compliance with current industry regulations and standards.
Delivery, Installation, and Load Testing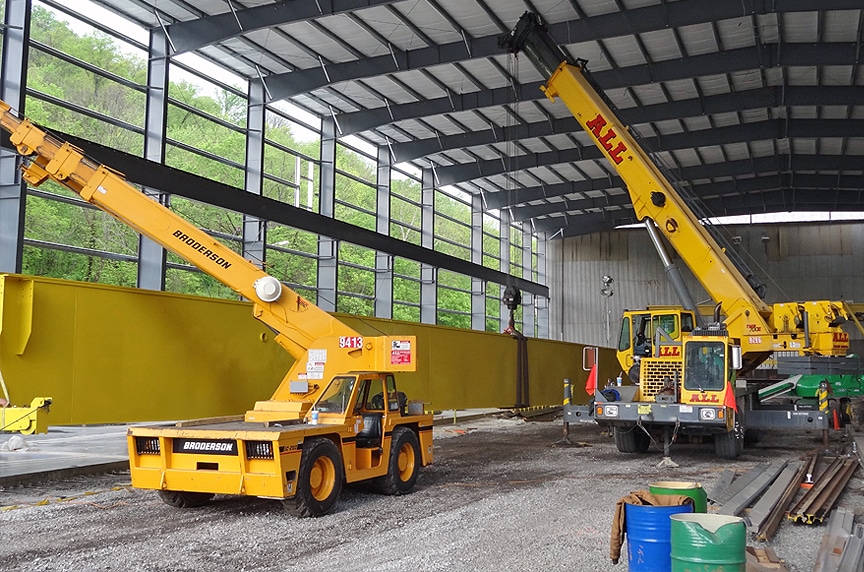 As we mentioned earlier, when you buy a used overhead crane, you're responsible for coordinating a lot of the logistics. You'll most likely need to arrange for a flatbed to pick up the crane system from the seller and transport to your facility.
You should also source a reputable crane dealer, local crane service provider, or find a rigging or erection service company who can assemble and install the crane in your building. Once the system is up on the runway and fully supported, you'll want to have a full crane inspection performed for OSHA/ASME/CMAA compliance.
A qualified person shall determine whether conditions found during the inspection constitute a hazard and whether a more detailed inspection is required. Any unsafe conditions uncovered during inspection shall be corrected before operation of the crane is resumed. Adjustments and repairs shall be done only by designated personnel.
You could take any savings gained from buying used equipment and apply it towards developing a comprehensive crane inspection and preventative maintenance program. This can help to protect against catastrophic failures, equipment downtime, and also make sure your crane is up-to-code with industry regulations.
Whether you buy a new crane, or a used overhead crane, you'll have to have the crane inspected and tested. Once the upgrade work has been completed, the crane will need to be started up and load-tested to make sure everything is in working order. A third-party testing company may be brought in to perform the test and ensure that the crane will operate safely and productively. Per OSHA 1910.179 Overhead & Gantry Cranes regulations, your new crane system will need to have two operational tests, plus a rated load test performed prior to initial use:
Testing of the hoist operation up and down; trolley travel; bridge travel; limit switches; and locking and safety devices
Testing of the trip setting of the hoist limit switches to make sure the actuating mechanism of the limit switch is functioning properly
Load test the crane at no more than 125% of the rated load and keep test reports on file where readily accessible
The weight for load tests must be "known," so the load testing of the crane can be performed using a certified weight from a load-testing company, or the known weight of a variety of materials including concrete, steel, or water weight bags.
Warranty / Technical Support / Replacement Parts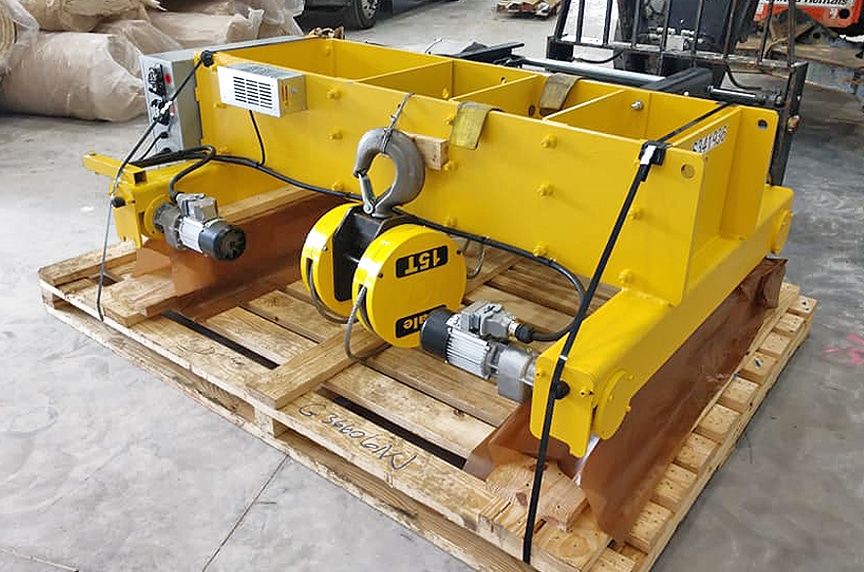 Buying a new overhead crane will provide you with the highest level of post-sale service, support, and peace of mind. When you partner with a reputable crane manufacturer, all of the individual systems are specified for the lifting application and backed by a 5 to 10-year warranty should any non-wearable system components break down prematurely.
Used overhead crane equipment may come with a limited 30-day warranty, or no warranty at all. Most used equipment is sold with an understanding that you're receiving the crane as-is and any repairs or modifications are the responsibility of the buyer.
With a new crane, you'll have the full support of the manufacturer and any of the vendors they use. Post-sale and post-installation, there's usually a window that allows for the manufacturer to offer on-site support for troubleshooting, to help dial in the controls and operation of your crane, and to train your employees on how to use the new equipment.
If you buy used crane equipment, you're on your own to try and track down a service provider that can troubleshoot issues and who may carry repair parts should anything break down or wear out prematurely.
Another benefit to buying new is that modern technologies are more readily available and more affordable. Safety features available for overhead crane systems have never been better and modern technologies now allow for:
Remote monitoring and diagnostic information for individual components
Variable frequency drives to control the speed and motion of the crane
Radio controls
Collision avoidance systems
Brake slip detection
Overload sensors and read-outs
One of the major advantages to buying a new crane is you get the benefit of brand new components and modern design. You know that if it needs to be serviced down the road, it will be easier and more economical to find replacement parts through the manufacturer or through one of their distributors.
Depending on the age of a used crane system, it can become more and more difficult to find electrical and mechanical replacement parts. The original manufacturer may no longer be in business, may no longer have a distribution network, or the parts themselves may be obsolete. If you're even able to find the parts, they may have extremely long lead times, and come at a steep price.
For parts that are obsolete, some crane service companies are able to reverse engineer or rebuild parts for older crane systems—but this can be expensive and come with long lead times as these are most often custom-designed and one-off builds.
Wrapping it up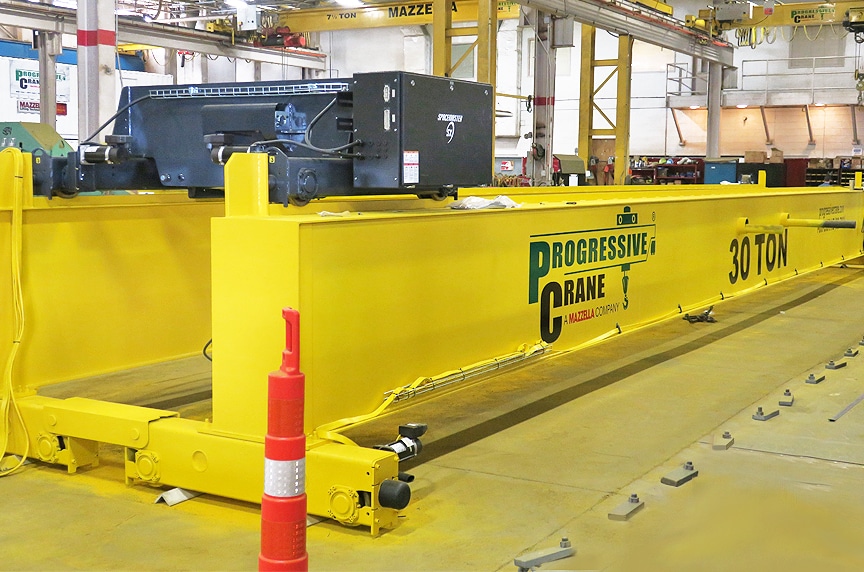 Whether you're buying a new overhead crane or a used overhead crane, you'll only get as much out of the system as you put into it. If you do your research, partner with a reputable supplier, and understand how you'll be using it, you should get a reliable system that will improve production efficiencies. If you're buying on cost alone and think you can "make it work," you'll likely end up with more headaches and a potentially unsafe and problematic crane system.
Keep in mind that price should never be the only factor when selecting an overhead crane company to partner with. An overhead crane system is a complex and critical piece of equipment used to improve your business' efficiency and production. You should only partner with a company that you truly feel comfortable with and one that you feel will provide the best service and the most value.
At Mazzella Companies, we have two companies (Progressive Crane and FHS, Inc.) who design and build world-class overhead crane systems. We have over 40 years of experience in the overhead crane industry and can build custom solutions ranging from light-duty economical cranes to large-capacity, high-duty cycle cranes.
Our expert team of Engineers, Estimators, and Project Managers can help you design and specify a cost-effective crane system for your facility, production, or budgetary needs. Since every business is unique, and no two cranes are alike, we offer free quotes and consultations for overhead and material lifting projects.
If you're interested in learning more about how an overhead crane system can improve the efficiency and safety of your facility, or want to schedule a consultation, contact us today to speak with a Crane Specialist.

---
---
Copyright 2019. Mazzella Companies.