With so many different types of rigging products out in the field, safety and production managers have their hands full when it comes to keeping their gear in service, understanding each product's inspection requirements, and keeping their employees safe.
Different types of lifting slings—including chain slings, metal mesh slings, wire rope slings, synthetic web slings, and synthetic roundslings—all have their own removal from service criteria, sling tag requirements, and inspection frequencies. On top of that, items like hooks, rigging hardware, and below-the-hook lifters all have their own unique inspections requirements as well.
Some facilities may have so much rigging equipment, or a lack of resources, that they can't keep up with OSHA and ASME inspection frequencies and requirements. Or, they may be stretched too thin to give inspection and documentation the proper time and effort that it deserves.
At Mazzella, we understand the amount of effort and coordination it can take to stay in compliance with OSHA and ASME's industry standards. We have a dedicated business unit made up of highly-trained and qualified employees that focuses only on the inspection of lifting and rigging equipment, below-the-hook lifting devices, and personal fall protection equipment.
Our rigging inspection program has a team of full-time inspectors that are certified through Industrial Training International to meet OSHA 1910.184 and ASME B30.9 requirements for sling inspection.
If you're considering bringing in a third party to inspect your rigging gear, make sure you read this article before they even walk through your door. Our goal is to help you prepare for a rigging inspection, so everything runs as smoothly as possible, and also to help you avoid any surprises or extra charges during the course of a rigging inspection.
Are You Looking for a Rigging Inspection That Satisfies OSHA and ASME Requirements?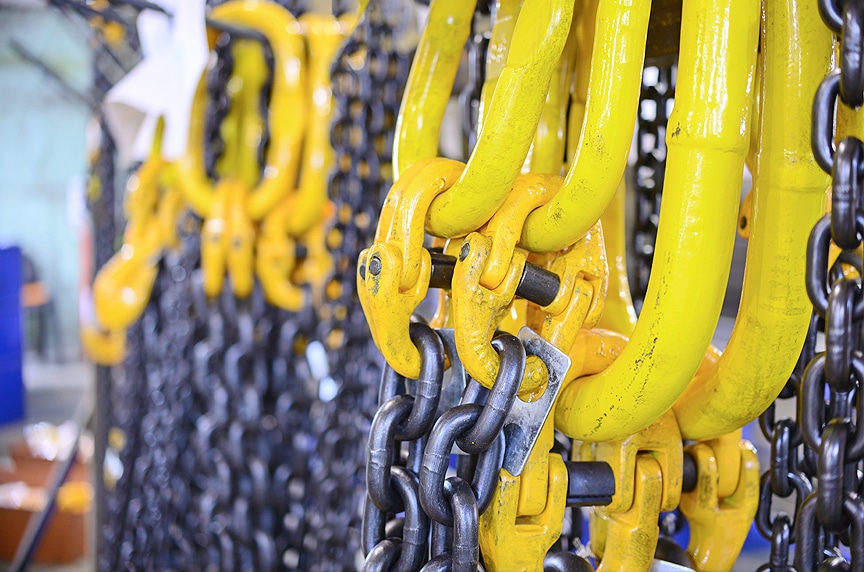 First things first: are you reaching out to a third-party inspection company because you want to be in compliance with OSHA slings standards and other applicable ASME B30 standards?
The standards for lifting sling inspection are OSHA 1910.184 and ASME B30.9. Both of these standards offer inspection guidelines and they also provide criteria for removal from service. The employer has a responsibility to see that the slings in their facility are inspected according to these standards.
OSHA states that the employer has the responsibility to inspect and document lifting slings at a minimum of 12-month intervals. The employer is also required to maintain a record of the most recent thorough inspection. Failure to maintain and retain inspection records is one of the most common issues we see that can prevent a company from reaching full OSHA compliance.
The following standards are what our inspectors are trained to and what they use when inspecting, assessing, and documenting the condition of your rigging gear during the course of an inspection:
| | |
| --- | --- |
| OSHA 1910.184 | Slings |
| ASME B30.9 | Slings |
| ASME B30.10 | Hooks |
| ASME B30.16 | Overhead Hoists (Underhung) |
| ASME B30.20 | Below-the-Hook Lifting Devices |
| ASME B30.21 | Lever Hoists |
| ASME B30.26 | Rigging Hardware |
In some instances, there may be additional standards outside of OSHA or ASME to which your rigging gear needs to be inspected. This can occur for a number of different reasons, including:
You may work for a company that has developed more thorough internal standards related to the inspection of rigging or lifting equipment.
You work in a state that has additional occupational health and safety standards like MIOSHA (Michigan) or Cal/OSHA (California).
You work in an industry that has developed their own specific health and safety standards. Ex: companies who operate within the mining or marine industries.
In most cases, this won't be a problem for a third-party inspection provider, but they need to be aware that these additional standards are required during the consultation process. You will need to provide them with documentation of each additional standard, as well as walk them through exactly what needs to occur during the inspection. This will help them understand the scope of the inspection and identify additional criteria that would be above and beyond an inspection for OSHA/ASME compliance.
The more upfront you are with this information prior to scheduling the inspection, the more time the inspectors have to prepare for the rigging inspection and familiarize themselves with the additional standards. It also helps avoid any surprises and additional charges if the inspectors weren't aware of these requirements prior to coming on site.

---
---
Do You Have a Prior Inspection Report That Provides the Types and Quantities of Rigging Gear That Need to Be Inspected?
When looking for a company to bid on your inspection, the cost of a rigging inspection will depend on a number of variables. However, no variable will be more important than the inspectors than knowing the different types of rigging gear that will need to be inspected, and the total number of each type.
For example, if you have a facility that has 100 synthetic roundslings, 50 chain slings, 10 wire rope slings, and three spreader beams, that inspection may take significantly longer than another facility who has 15 chain slings they need to have inspected. This will help them provide you with an accurate quote, and help them schedule and prepare for the rigging inspection.
If you have previous rigging inspection reports and the amount of gear you have on-hand hasn't changed dramatically since, the rigging inspectors can use this as a reference point to provide you with a quote for their time and labor.
If You Don't Have a Prior Inspection Report, Will You Do Your Due Diligence to Provide the Inspectors With an Estimate of the Number of Items to Be Inspected?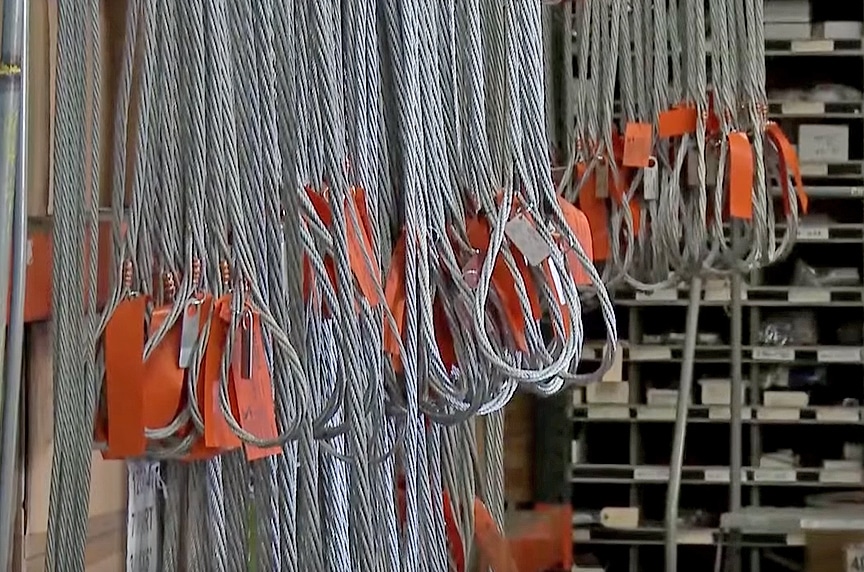 Put in the work to prepare for a rigging inspection. Put together a list of any of the items that you want inspected. This will help the rigging inspector come up with an accurate estimate for their services and also help them with scheduling and logistics.
Not only will this help get you the best price, but it also helps them determine the number of inspectors they'll need to send, and the amount of time their inspectors will spend on site. Anything longer than eight hours in a single day would add overtime pay to the total cost. A multi-day inspection would obviously cost more based on the total number of days (or hours) required, and the total number of inspectors required to complete the inspection in a timely manner.
Ultimately, the type of gear being inspected comes down to the customer's needs and wants. It may make the most economical sense to have the inspectors systematically go through all of your equipment at once to take advantage of their time and travel while they're already on-site.
Keep in mind that over the course of an inspection, a rigging inspector can inspect any of the following product types:
Lifting Slings: alloy chain slings, wire rope slings, synthetic roundslings, synthetic web slings, metal mesh chain slings, synthetic rope slings
Rigging Gear: lever tools or chain falls (not permanently mounted), hoist rings, eye bolts, shackles, turnbuckles, hooks, etc.
Below-the-Hook Devices: Lifting beams, spreader beams, c-hooks, die-handlers, etc.
Personal Fall Protection: Harnesses, lanyards, and retractable devices
It can be much more cost-effective to plan and prepare for the rigging inspection and have the inspector(s) go through everything, and document the inspection. This is much more economical than having them come out for a sling inspection, and then making a separate trip out six months later to perform a below-the-hook inspection.
What Special Information Will the Inspectors Need to Know Before They Come on Site?
There are a few other factors that can affect how smoothly a rigging inspection goes—and ultimately, save you time and money if they know about these items upfront:
Training
Is additional safety training required for an inspector to come on your job site or access your facility? Additional training will add on to the number of hours required for the inspection and increase costs. It's best to let your rigging inspection provider know about this upfront so they can build it into their quote.
Special Equipment or Services
Will the inspector need to provide any type of special equipment for magnetic particle testing, or on-site proof testing? Will the inspector need to apply inspection tags to material that was looked at during the course of the inspection?
Environment
Abnormal or hazardous environments (chemical baths, hot metal, extreme heights, etc.) will require additional equipment and/or additional protection for an inspector to come on-site. It may even require an inspector with specialized training who is familiar with and qualified to work in an environment with potential hazards. An inspector will need to gather up any PPE required as they prepare for your rigging inspection.
Drug Testing / Background Checks
Do third-party service providers need a drug test before they come on site? Do they need to have a background check performed prior to their visit? A background check or drug test requires additional time to process and will need to be scheduled accordingly, prior to the day of inspection. Knowing about these requirements ahead of time can reduce surprises and help avoid delays in performing the inspection.
Wrapping it Up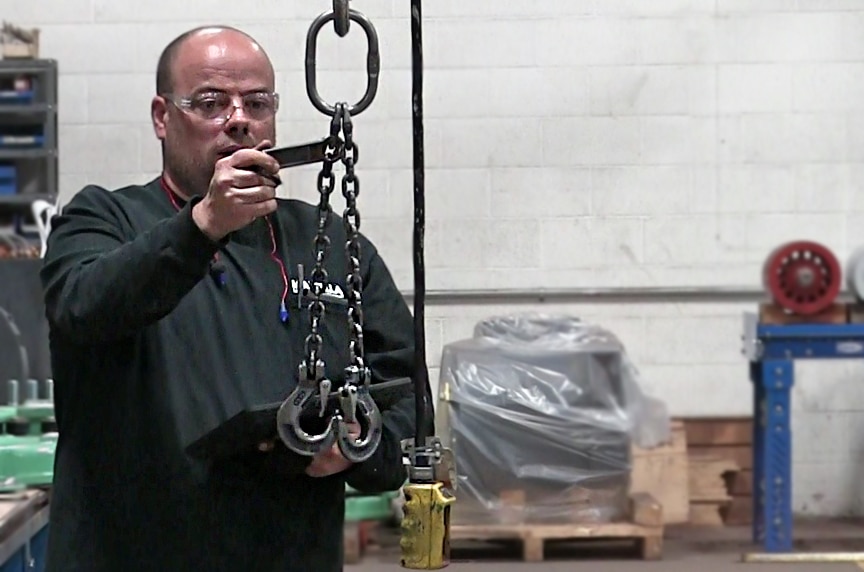 To ensure a smooth rigging inspection process from the initial quote to the moment the rigging inspector shows up at your door, make sure you and the inspection team have discussed the following:
Are there any additional standards (besides OSHA and ASME) that the rigging inspection team should familiarize themselves with?
Do you have a previous inspection record that documents all of the slings, hooks, shackles, and other rigging equipment that needs to be inspected?
If not, will you take the time to put that list together? Remember, the most cost-efficient inspection would include all rigging equipment and can also include other items like below-the-hook lifting devices, and personal fall protection equipment.
What other specific information do the inspectors need to know to perform their job? Do they need special equipment, or do they need to have a background check or drug test performed before they come on-site? Will they need to sit through a safety training prior to entering your facility?
If you're not confident in your knowledge of the applicable OSHA and ASME standards, or just don't have the resources to put a lifting and rigging compliance program into place, you should consider a third-party inspection provider.
Mazzella is a leader in rigging inspection—with all of our field inspectors being certified through Industrial Training International to meet OSHA and ASME requirements. Our sole focus is to help with your in-plant inspection needs and we will partner with you to ensure the peace of mind that safety compliance brings.
We run a proactive program to reach out to you monthly, quarterly, or annually—depending on the agreement that you have in place. This helps to take a lot of the guesswork out of when the inspections will occur, and also helps take some of the responsibility off of your shoulders to remember to schedule your inspections. We also provide digital reporting outputs and we retain copies of all inspection records to ensure that our customers are in full compliance with OSHA requirements.
As a distributor and manufacturer of all of the equipment that we inspect, we have unique insight into the proper usage, standards, and application of rigging gear. If you're interested in learning more about our rigging inspection program and how we can help keep you in compliance with OSHA and ASME standards, contact us today to schedule a consultation.

---
---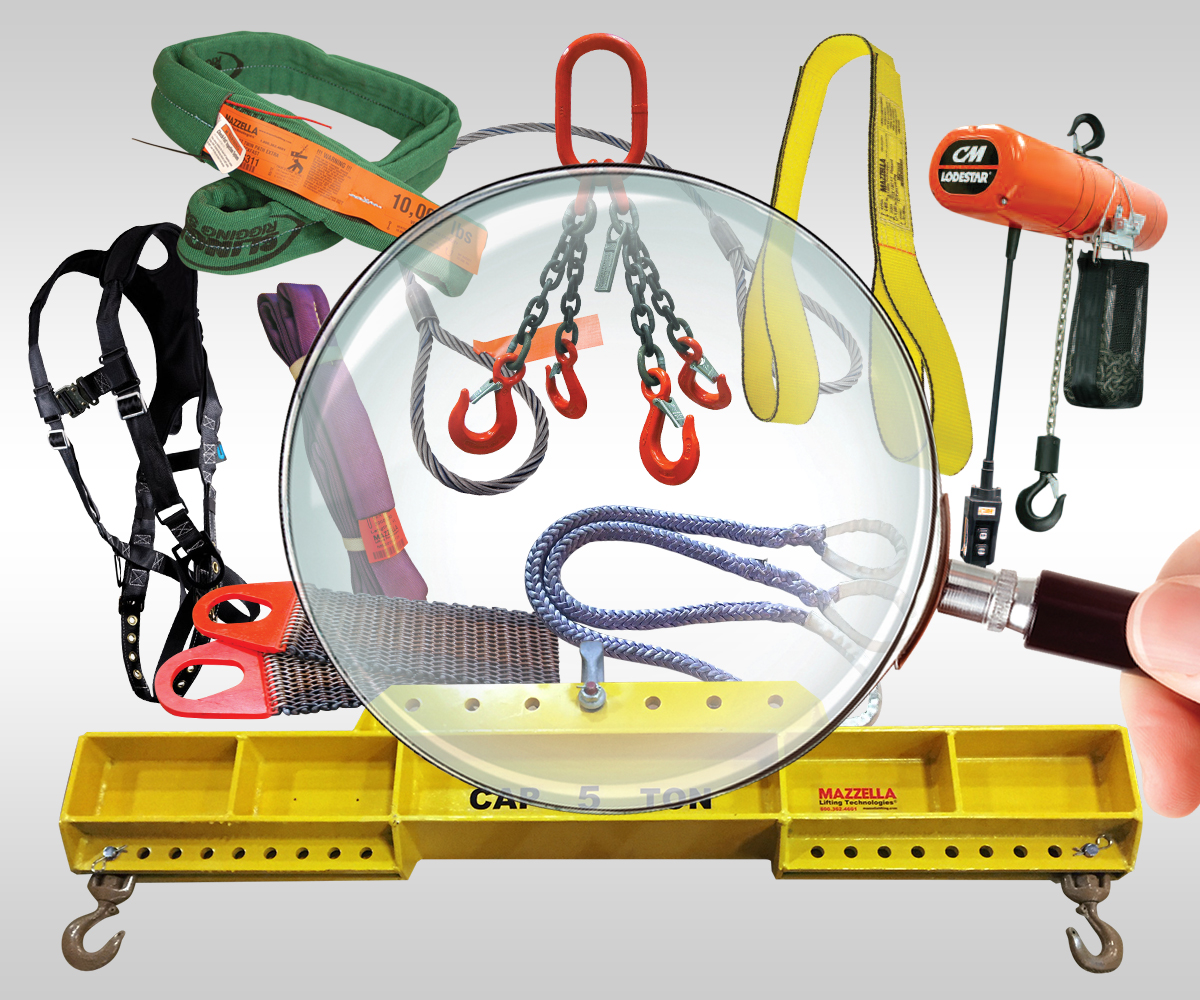 Rigging Inspection Services
OSHA 1910.184, ASME B30.9, B30.20, B30.26, & ANSI Z359 require periodic, documented inspections on slings, rigging hardware, lifting devices, and fall protection every 12 months, at minimum, and monthly to quarterly in more severe service conditions.
Call us at 800.362.4601 or click here if you need inspections for slings, rigging hardware, lifting devices, or fall protection!
Copyright 2018. Mazzella Companies.