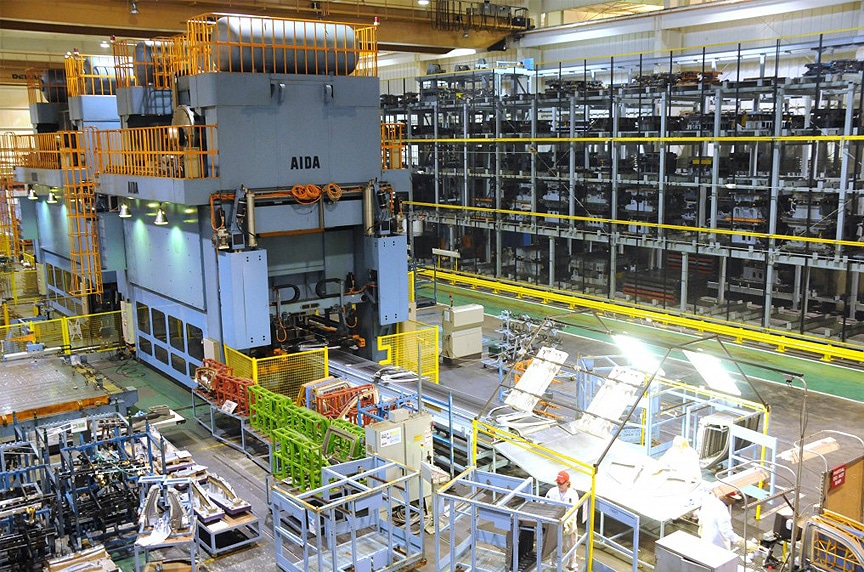 Over the years, automation has eliminated a number of production processes that required skilled labor and manual lifting and rigging procedures. In many manufacturing environments, technology controls these processes and procedures almost entirely—with minimal human assistance—particularly in the automotive industry.
However, one area of manufacturing that still relies on skilled labor to perform lifting and rigging procedures is the process used for automotive stamping. Here, flat sheet metal is loaded into a press where a tool and die form the metal into a finished shape. In these shops, dies can be handled with traditional rigging like lifting slings and rigging hardware. Or, specially-engineered devices can be used in conjunction with overhead cranes to provide safer and more precise and reliable handling of the dies for service and maintenance.
Mazzella is one of the largest independently-owned companies in the overhead lifting and rigging industries. We have over 65 years of experience servicing a variety of customers in the industrial, commercial, and specialty application markets. We manufacture and distribute a wide range of lifting products, including:
Overhead cranes
Below-the-hook lifting devices
Lifting slings (wire rope, alloy chain, synthetic web and roundslings, metal mesh, and synthetic rope slings)
Rigging hardware
Personal fall protection equipment and engineered lifeline systems
To supplement our products, we also provide crane operator, safe rigging practices, and fall protection training.
In this article, we'll identify and discuss a number of different lifting and rigging challenges we've encountered while working with customers who perform stamping and die handling procedures. Our goal is to expose you to some of the solutions that are available for these unique lifting and rigging processes.
Assessing Your Lifting Equipment and Practices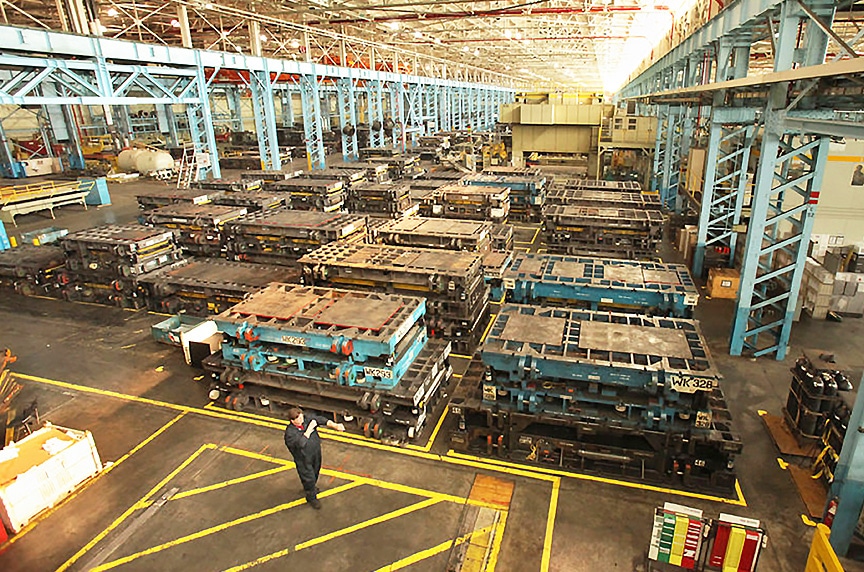 In all lifting applications, best practice is to self-evaluate your lifting and rigging procedures. The purpose of doing an in-house safety and compliance assessment is to have your team systematically observe and record your lifting and rigging procedures, equipment, and documentation. This is not an inspection or an audit. But instead, is a general assessment by which opportunities for improvement may be identified.
In stamping applications, it can be beneficial to bring in another set of eyes to provide a neutral site assessment of your lifting and rigging equipment and procedures. A third-party can evaluate your lifting program and practices as they pertain to the applicable OSHA and ASME standards.
The assessment itself is rather simple and painless—most consist of a short list of questions concerning the care, use, inspection, training, and documentation of your lifting and rigging equipment and those who use it.
The first thing that a third-party safety and compliance assessor may want to do is to review your documentation, including:
Training records for those that use and inspect your lifting, rigging, and overhead cranes
Training materials and frequency of training
Frequency and thoroughness of your inspection records and any subsequent repairs or actions taken from those inspections
Established purchasing processes for lifting and rigging products
From there, they can then assess the actual use, care, and storage of your rigging equipment. Although it's not an inspection, assessors will look to make sure that your lifting and rigging equipment is properly tagged, stored, and maintained and then document the general overall condition of the equipment.
The site assessment is a tool for the customer and not meant as a "gotcha" audit, but rather to identify opportunities for improvement and compliance.
Using the Proper Rigging Hardware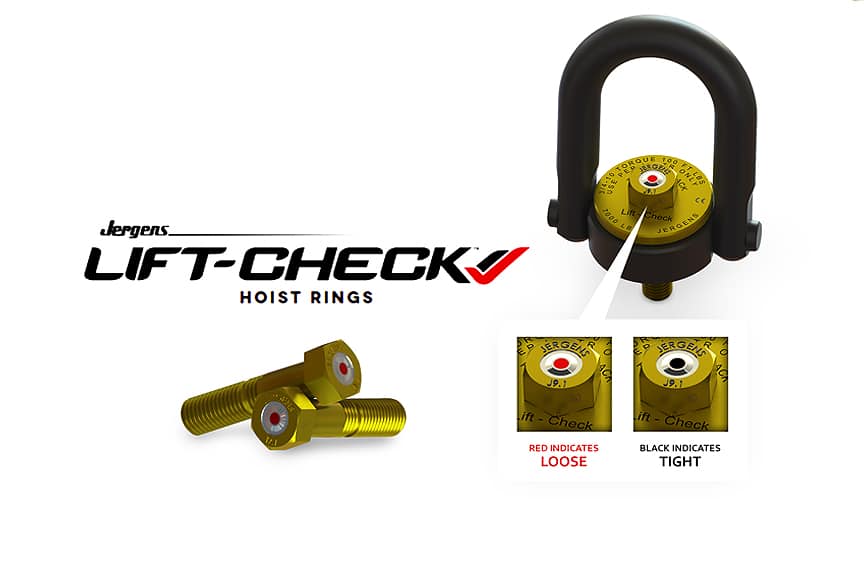 When performing a site assessment, we often observe issues with the type of hardware being used when lifting or flipping dies. Some companies will use eye bolts as a connection point for a hook or sling on smaller dies.
We suggest never using eye bolts when lifting dies. In fact, we suggest never using eye bolts for any type of lifting application. Too many things can happen to eye bolts when using them for lifting—including side pulls, metal fatigue, and cross-threading…and all of them are bad. We've often seen piles of bent eye bolts at stamping facilities, even though there are products on the market that are better suited, (though more expensive), for lifting dies in stamping applications.
One of the better suited products for lifting and turning dies are hoist rings. Hoist rings swivel and are engineered so that they can be pulled in various directions while preventing side loading. Although they're better suited for lifting dies than eye bolts are, there are a few things to consider when using hoist rings.
Hoist rings often get left out of the annual or frequent inspections because they're left attached to the dies that they are intended to lift. However, hoist rings should be included in the inspection of all other rigging hardware, and should be inspected according to ASME B30.26 standards.
Also, hoist rings are meant to be torqued to a specific specification based on the manufacturers' recommendation. But, rarely do customers know this—or if they do, they aren't torquing them properly, or it isn't even a part of their work process or procedures. In fact, you'd probably be hard-pressed to find a torque wrench anywhere in the vicinity of a hoist ring at a stamping facility. If the riggers are using a torque wrench, the hoist ring is rarely torqued to the proper specifications—often under-torqued or over-torqued by the rigger—"just to make sure they're good and tight."
However, new innovations such as Jergens Lift-Check™ hoist rings allow for tightening to proper specification without a torque wrench. These rings actually have a visual indicator on the top of the bolt that will turn from red to black when the hoist ring has been properly torqued.
The bottom line is that swivel hoist rings are better suited and properly engineered for lifting dies than eye bolts. When using hoist rings, always follow the manufacturer's recommendations for proper care, use, and inspection.
Selecting the Proper Lifting Slings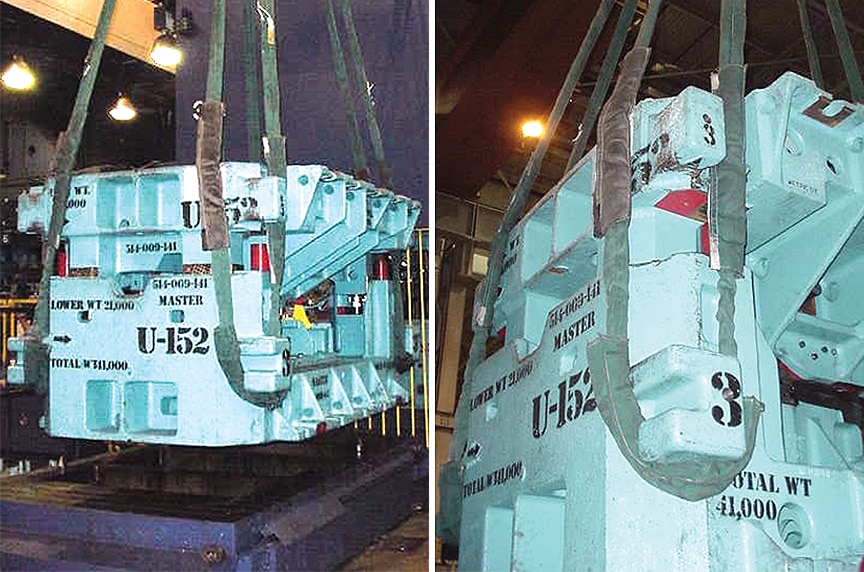 There are many different types of lifting slings that can be used to perform die and mold lifts. All lifting slings can be used to safely lift, move, and position loads in a stamping facility, but there are a number of different factors that can affect how you select the right type of sling for your specific lifting application:
Weight of the load
Overall weight of the sling (for example, steel slings vs. synthetic slings)
Number of attachment points
Hitch type
Abrasion or cut resistance
Some years ago, most die and mold handling lifts were performed using chain slings. Alloy chain slings are still viable options, particularly for smaller dies and molds because they're durable, repairable, and can be easily inspected. However, dies that weigh 20, 40, or 60+ tons require the use of chain slings that are extremely heavy and difficult for the rigger to maneuver and manipulate on their own.
For safety and productivity reasons, many die handlers are turning to lighter and more flexible synthetic slings such as high-performance Twin-Path™ roundslings. These slings are a fraction of the weight—only 10% of the total weight of a steel sling—and offer additional inspection features such as the Check-Fast® Inspection System, which is designed to improve job site safety.
The Check-Fast® External Warning Indicator (EWI) provides a criteria for pass/fail inspection when the internal load-bearing core yarn may be damaged. The Check-Fast® Inspection System can also indicate ultraviolet (UV) light degradation, fiber-on-fiber abrasion, fatigue, and severe overload. If the sling is overloaded beyond its rated capacity, the EWI is designed to retract before the sling fails. The sling inspector now has an objective "GO/NO-GO" inspection device rather than relying on subjective and labor-intensive inspection techniques to guess if the load-bearing core yarns are in good condition.
However, synthetic slings are not as durable as steel slings when it comes to abrasion and cut resistance. Corner protectors or edge guards should be used to protect against cuts and tears—especially when used in die and mold handling applications. Often, the lifting lugs on the bottom dies are used to lift both halves of a die. In doing so, the sling comes in contact with the top edges of the top half of the die, which can potentially cut or tear through the sling. There are many types of protective sleeves or guards that can be used for these applications, including Synthetic Armor and CornerMax® pads to protect against the rigors of die handling. CornerMax® Pads and CornerMax® Sleeves provide engineered cut protection.
Synthetic rope slings, such as high-performance Plasma® slings, have also become more popular in stamping facilities for die and mold handling due to their similar weight to strength ratios. Also, Plasma® slings usually have a smaller diameter than other high-performance slings—allowing for a better fit around the die's lifting lugs. However, when used for die handling applications, additional corner and edge protection should be used to protect against cutting and tearing caused by lifting lugs and sharp corners.
Wire rope slings are also an option for lifting dies. Although they're heavier than high-performance slings, they're normally less expensive and offer some comfort and familiarity to those who have always used wire rope in lifting applications.
Multi-part wire rope slings, like the Mazzella 7-Part™ wire rope sling, offer superior strength and flexibility and resist kinking and setting. They're also versatile and can be configured in different sizes, lengths, or configurations—including single, two, three, or four-leg bridles. As always, we suggest using proper sling protection with your 7-part die lift to protect against sharp edges and corners.
---
---
Specifying the Service Class and Duty Cycle for an Overhead Crane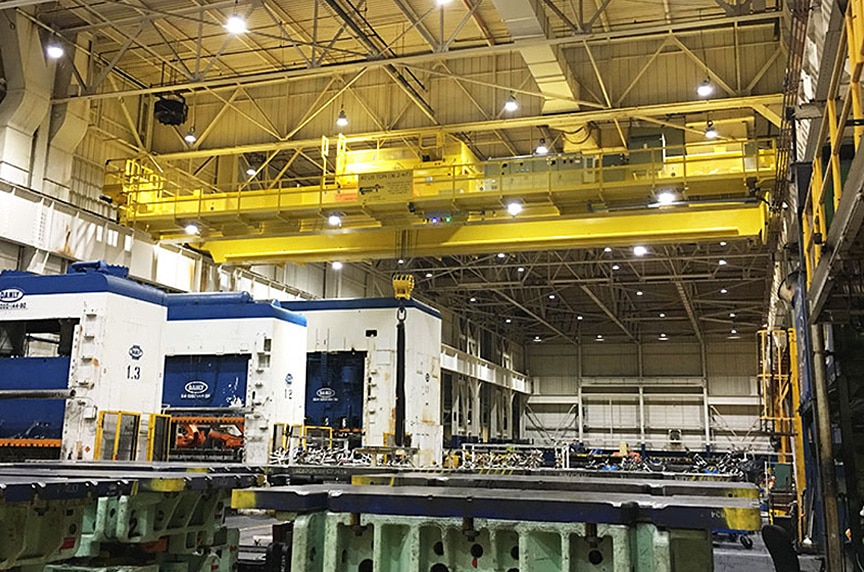 Unfortunately, special considerations for the design and capabilities of the crane itself are too often an afterthought when putting together a lifting program for die handling. Die handling is tough on overhead cranes—shock loading, side loading, and swaying or drifting loads all cause excess wear and tear to a crane's motor, gear box, couplings, and brake components.
When designing and specifying an overhead crane meant for die handling, it will normally be built to Class D service specifications. Crane service classifications allow you to select and build an overhead crane that is the most economical and safest design for your lifting application. Selecting the right duty cycle or service classification helps ensure that the components of the overhead crane are durable enough to withstand the load and usage requirements. It also can help protect against costly maintenance and repairs and loss of production due to equipment downtime.
Luckily, with modern technologies becoming more readily available and more affordable, the safety features on overhead crane systems have never been better. Newer technologies like anti-sway, anti-collision, crane path lighting, and variable frequency drives should all be considered to improve the safety and efficiencies of overhead lifts.
Designing the right crane, or upgrading or modernizing your existing crane, to handle the rigors of die handling or stamping applications is beyond the scope of this article, but never leave it out of the equation when considering safety and efficiency of die handling. Please go to our Lifting & Rigging Learning Center to access the many articles, videos, and podcasts we've put together on purchasing or upgrading an overhead crane system.
Using Below-the-Hook Lifting Devices
Sometimes, using a traditional wire rope sling, alloy chain sling, or synthetic sling just isn't enough to safely and securely move a load from one location to another, or it may take too long to secure the load using traditional rigging. A custom-designed below-the-hook lifting device can help solve all of these issues and keep your employees safe and your loads secure.
But, below-the-hook devices are sometimes an afterthought when safety and compliance personnel self-assess their lifting and rigging programs for compliance. It's not that uncommon to see a company who has taken the steps to evaluate their overhead cranes, mobile cranes, and slings or rigging equipment for compliance, but have overlooked their below-the-hook lifting devices.
Flipping Dies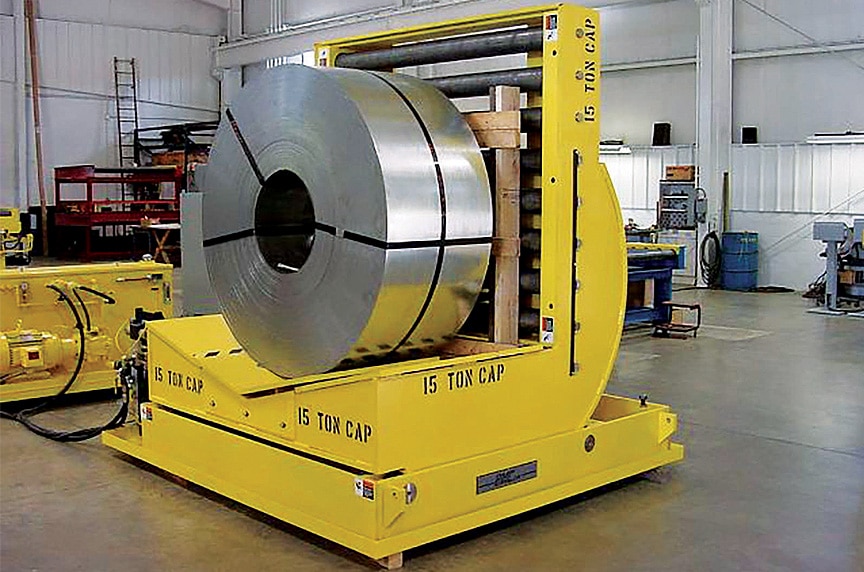 Flipping dies for maintenance or storage is always a harrowing experience even for the most experienced riggers and crane operators. Most stamping facilities use two sets of slings and flip the dies with their main and auxiliary crane in tandem. However, there are companies that can help solve the issue of flipping coils or dies with specially-engineered below-the-hook lifting devices such as "Up-Enders" or motorized flipping devices. These can be used to turn or rotate coils or large dies safely instead of flipping them over with a crane and rigging equipment.
Die Horses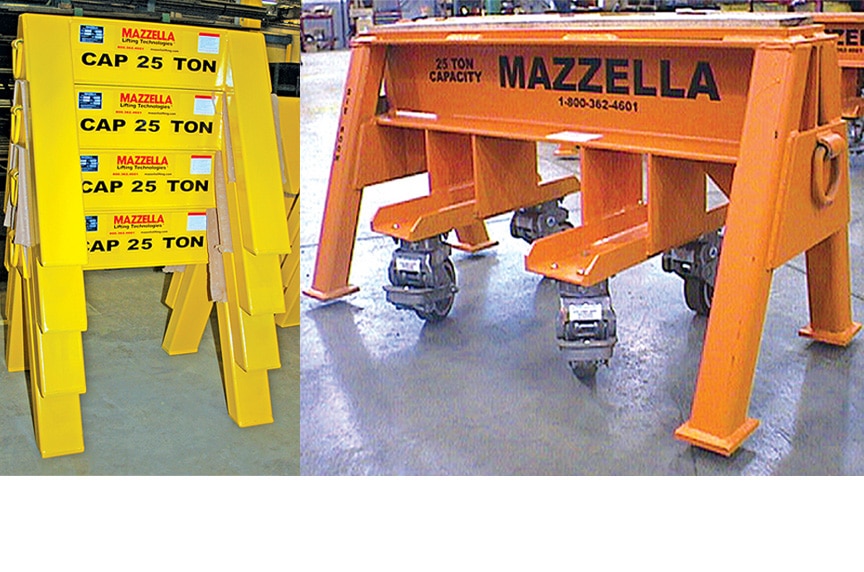 One of the most concerning problems we see in stamping plants are the supporting devices used to suspend their dies while being maintained or re-worked. Even in today's safety-conscious and highly-litigious time of ours, dies are still being suspended by homemade die horses or tables. The craftsmanship varies, but the fact is that these homemade die horses aren't load rated, engineered, or properly tagged per ASME B30.20 / ASME BTH-1 design standards.
We've been making load-rated die horses for twenty years and we still see dangerous and unrated horses in use today. We hear all kinds of excuses, like: "We've used these for years" or "We have 100 of them and it would cost too much to replace them."
The bottom line is, for these specially-engineered products to be in compliance with industry standards, they need to be:
Inspected regularly
Tagged or marked with the rated load and other requirements per ASME B30.20 and ASME BTH-1
Engineered specifically for the job they're performing
If you partner with a reputable manufacturer, they'll take care of most of these requirements—it will just be your responsibility to make sure that all markings and tags remain legible and that your below-the-hook devices are inspected and you retain the inspection records.
Implementing a Fall Protection Program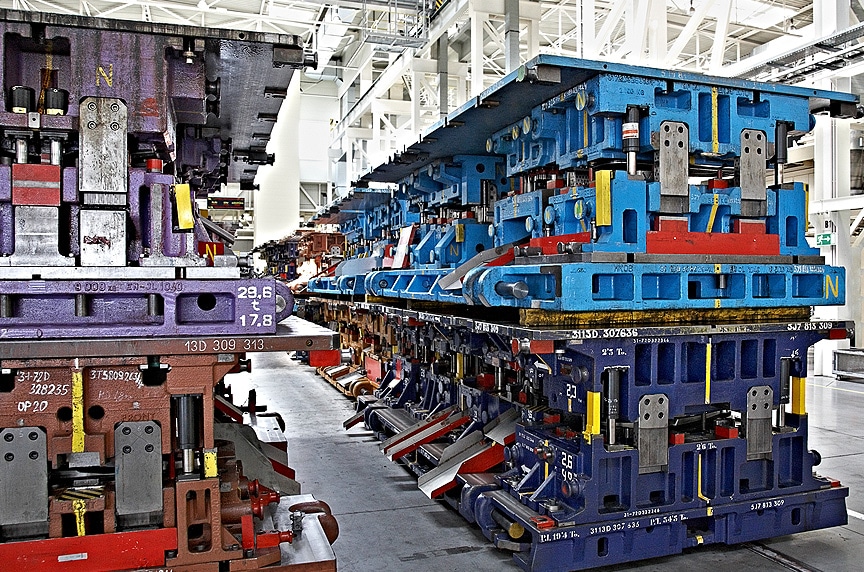 Fall protection is a relatively new issue that we've seen in stamping plants. Often, dies can be in excess of 6 feet tall, so a rigger has to use a ladder to climb on top of the dies and hook up the rigging to the lifting points. The dies are usually stacked closely together to conserve floor space, so maneuvering a ladder though the die area can be difficult, time-consuming, and a job site hazard. However, for General Industry, OSHA requires fall protection for employees working at heights of 4 feet or more.
If personal fall protection equipment is being used in your facility, your employees need to be trained and the harnesses, lanyards, and retractables need to be inspected regularly to remain in compliance with ANSI/ASSE Z369.2 requirements.
We realize that standard types of fall protection systems can interfere with the operation of an overhead crane system in a die handling and stamping facility. In these cases, we always suggest having a fall protection expert review the options with you so they can evaluate your fall protection needs and constraints.
At Mazzella, we're capable of designing and installing engineered lifeline systems, inspecting personal fall protection gear, as well as providing customized fall protection training programs.
Wrapping it Up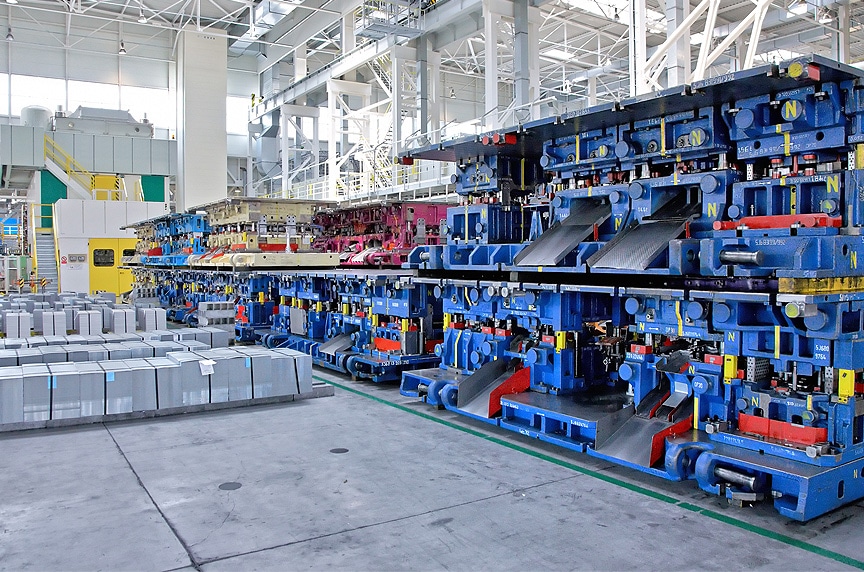 Die and mold handling can be complicated and dangerous. Spending the time to properly assess your lifting practices and the equipment your team is using to handle dies and molds, is well worth the time and effort to ensure your fellow workers are safe and your processes are efficient.
At Mazzella, we offer site assessment services where our trained and certified personnel will come on-site and observe your lifting practices, review your documentation and training records, and look at the equipment that you use to make lifts. The assessment that we provide is based on adherence to ASME standards, as well as best practices that we've observed in over 60-years of experience in the lifting and rigging industry.
If you're interested in scheduling a consultation, contact us to speak with a local branch and we'll connect you with the right team to get an in-house site assessment scheduled. Once uncovered, our assessment team can always find ways to address and help solve safety and compliance issues regarding cranes and lifting equipment.

---
---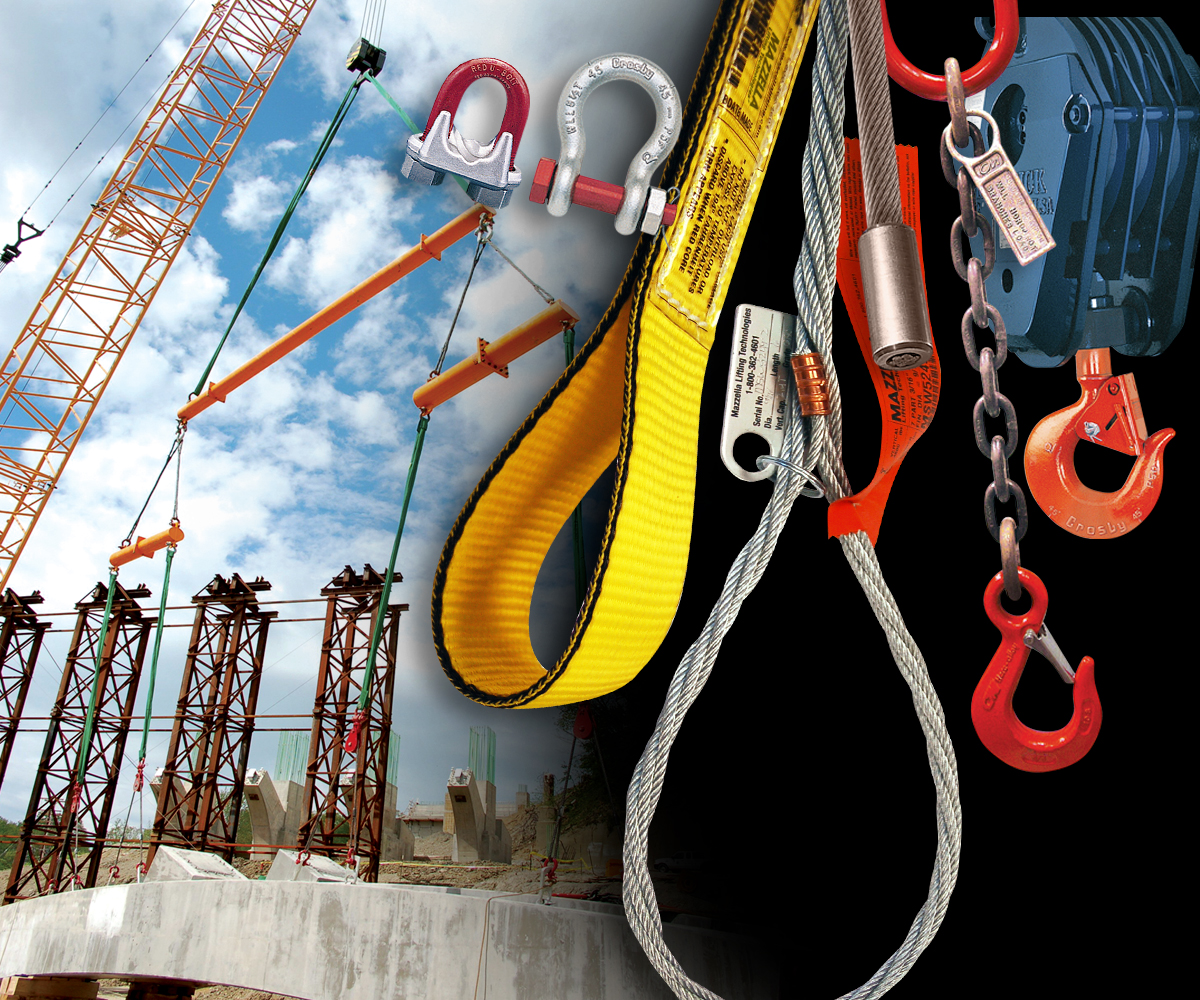 Lifting & Rigging Products
Are you looking for lifting and rigging products that you can trust for your next project? We partner with the largest manufacturers in the world to stock and provide you with the products you need to make your next lift, including all types of lifting slings, rigging hardware products, wire rope, hoists, hoist parts, pullers, and other related distributed products.
Contact us today to get the lifting and rigging products you need!
Learn more about our selection of lifting and rigging products!
Copyright 2018. Mazzella Companies.