How do you choose the correct lifting point to make a safe and successful overhead lift?
A lifting point is what you use to connect the load needing to be lifted to your rigging gear. They could be anything, including, but not limited to:
Swivel Hoist Rings
Load Rings
Bolt on and weld on D-Rings
Eyebolts
To answer the question of how to choose the correct lifting point for your application, we reached out to Jay Schroeder, regional sales manager for Caldwell / J.C. Renfroe Lifting Solutions in Rockford, Illinois to help outline what you need to know before choosing a lifting point. RUD has been creating innovative chain systems and lifting components for more than 140 years.
In this article, we will learn what you should know about your lift before selecting the correct point. Also, we will learn about the different lifting points offered through Caldwell's RUD line.
Is My Lift a Bolt-On or Weld-On Lifting Application?
---
Bolt-On Lifting Points
Before determining what type of lifting point you need to use, a lifting specialist will ask you the following questions:
Does what you're lifting already have a hole that a lifting point can be inserted?
If not, do you have an area where a hole can be made for a bolt-on attachment?
Is this a through-hole application?
Will the lifting point be on the load all the time, or is it for a one-time lift?
If you say, "Well, I don't know," the lifting specialist will follow up by asking:
If there is a hole in the load suitable for attaching a lifting point, what is the size of the hole?
What does the product weigh?
Will the load be lifted by one point or multiple points?
By asking these questions, lifting specialists can start to determine if a bolt-on option will work for you.
Weld-On Lifting Points
If you say, "It's a weld-on application that is going to stay on the equipment," a lifting specialist will ask:
Where are the lifting points located?
How are the loads being lifted?
What working load limits do you need for your lifting points?
All of RUD's lifting points have working loads limits based off the worst-case scenario. Because end-users don't necessarily realize what they're lifting, RUD tries to incorporate the safety into the lifting points from the beginning. These lifting points are subjected to external heat. Whether it's a torch or a heat-treat oven, something that's producing external heat around it, those actions are bringing it back into an annealed*** state.
***According to Merriam-Webster, annealing is "the process of heating, and then, cooling a material (typically steel or glass) usually for softening and making less brittle." It is also defined as "to cool slowly, usually in a furnace."
Over their lifespans, RUD products will start to change colors. Once they turn black, they will be compromised by 25% and need to be removed from service and replaced. However, it is important to know the difference between instant heat vs. sustained heat.
Example: People will say, "If it's stretched, or if it's overloaded, that produces heat." That's an instantaneous heat, and not a sustained heat, so it won't change colors. The lifting points only change colors under sustained heat.
---
---
What Bolt-On Lifting Point Options Does RUD Manufacture?
---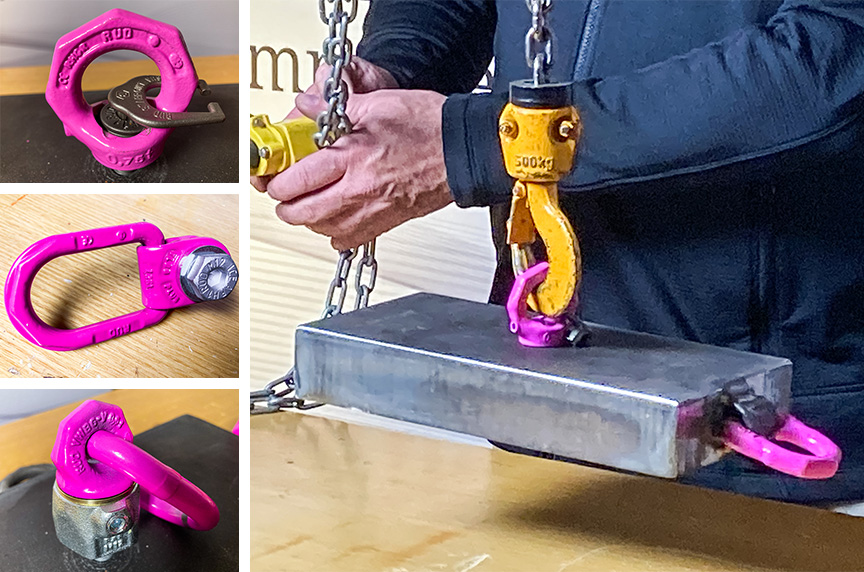 RUD manufactures several types of bolt-on lifting points to meet your needs in the field. Here is a look at its more popular lifting point options.
VRS Starpoint
The VRS Starpoint features a captive bolt, which means it cannot come out of the load during a lift. There is a "key," which is used just like an Allen wrench. You put the key into the head of the bolt, and then, the bolt into the load.
To tighten the lifting point, you rotate it in a clockwise fashion. Once the bolt is tight on the load, you remove the key. The ring will swivel independent of the bolt because the key has been removed. This ensures the bolt will not back out of the load during an overhead lift.
What's important to remember here is if the VRS Starpoint is being used for a one-time, straight-up lift, the bolt being "hand tight" is sufficient. Otherwise, RUD has established torque values that you need to torque it down to, per the safety instructions.
If you plan on using four Starpoints in one lift, they would all be bolted in separately. As you make your lift, they will all independently turn to the path of least resistance for your top rigging and be able to make a safe lift.
These lifting points have been very popular in moving motors, gear boxes, and other places where you only need one lifting point and not four. While the Starpoint can be used in conjunction with four lift points, a lot of times, this product is used for single-point lifts. Additionally, these RUD bolt-on lifting points can be used if you need a point to swivel, or to replace a shouldered eye bolt.
To remove the lifting point from a load once you have finished your lift, you reinsert the key and rotate it counter-clockwise.
This product is offered in inch and metric sizes up to M 64.
VRS Starpoint Characteristics
The VRS Starpoint has several characteristics that make it versatile for in-field use, including:
Clear indication of the working load limit (WLL) in metric tons and lbs. for side load direction F, which is not allowed with standard eyebolts
Provides plane seat of the special hexagon bolt
Adjusts to load direction before loading
Can work in temperatures from -40°C to 350°C
VLBG/VLBG-Plus
The VLBG comes in the imperial inch sizes, while the VLBG-Plus comes in metric sizes. The difference is the metric sizes use an ice bolt, and this is a proprietary material to RUD. It's a little bit harder than the 12.9-gauge steel used in their inch bolts.
The bolt is captive with a snap ring. However, if the bolt is damaged, or a longer bolt is needed, you can easily change out the bolt in the field or your shop with a RUD-issued bolt.
These products require a torque wrench to get to the proper torque value. If the bolt is properly torqued, the lifting point will spin independent of the bolt. When you're done, you can lay it over for a low profile. The advantage of using this product is it always will swivel out to the side. A disadvantage would be if you're only using a single pick point because it's going to lift slightly off-center. It does not offer you a chance to make a true over-center lift. Caldwell advises you to this lifting point in at least pairs, if not for four lifting points at one time.
One advantage to RUD's products, with the exception of the VRS, is there are little dimples around the body. These are wear mark indicators. If they're compromised, that's a 10% reduction in those wear marks. Once you can no longer feel them, you need to replace your lifting point.
VLBG Characteristics
The VLBG has several characteristics that make it versatile for in-field use, including:
360° turn radius
RUD Universal bolts and nuts for VLBG are 100% crack detected
The hex-head-bolt is suitable for internal and external wrench mounting for types with metric threads
Surface protection: CORRUD – DT – at least 20 times better corrosion protection than zinc plating (except for the spot face) after length shortening
Can work in temperatures from -40°C to 350°C
VWBG-V
This product has ball bearings on the inside, and it is best used for when you're swiveling under load. Because the VWBG has ball bearings, it will not back out of the load. This product is screwed into the load using a torque wrench to torque down to the proper settings. Then, it is suitable to use in an overhead lift.
You can use this product singularly, in pairs or for four lifting points at one time. Also, the ring is going to rotate independently of the bolt. The advantage of this product is it is over center, so you can make a true over-center lift.
The VWBG-V product line has the largest range of working load limits. It can handle 5" to M90 and M100 size bolts.
VWBG-V Characteristics
The VWBG has several characteristics that make it versatile for in-field use, including:
360° swivel / 180° pivot capabilities under load because of the ball bearing design
Loadable in any direction. Safety factor 4:1
Suspension ring manufactured acc. EN 1677-4 grade 80 (100% magnetic crack detected and proof loaded)
Wear marks in the main load directions of 45°, 60° and 90°
Can work in temperatures from -40°C to 350°C
ACP
The ACP is RUD's only product that meets all ASME B30.26 Rigging Hardware requirements. All other bolts are made to the DIN standard, which is the German manufacturing standard. The reason RUD's other products don't meet ASME B30.26 standards is because the torque values are not labeled on the bolt, and also, the working limit is 4:1 instead of 5:1. The ACP is stamped with the 5:1 working load limit, and also, the torque value on the bolt.
Sometimes, when you make a lift with a center-pull hoist ring in a side-pull application, it can get bound in an over-center position. When it does break free, you could shock-load the crane. With the ACP, the hoist ring can never get over the center of the bolt. No matter how you load this ring, it always will rotate to the path of least resistance. This will allow you to keep the load ring from getting stuck in a bound position.
ACP Characteristics
The ACP has several characteristics that make it versatile for in-field use, including:
Unique RUD spring mechanism
No stopping of the lifting bail
No possibility of dangerous transverse loads
Wear lenses for checking discard criteria
Can work in temperatures from -40°C to 350°C
***All of these products come with an RFID chip, and that's a 16-digit Alpha-numeric code that you can use for inspection purposes, and / or any kind of tracking purposes within your facilities. Also, all of these products are offered in inch, or imperial sizes, and metric sizes.
What Weld-On Lifting Points Does RUD Manufacture?
---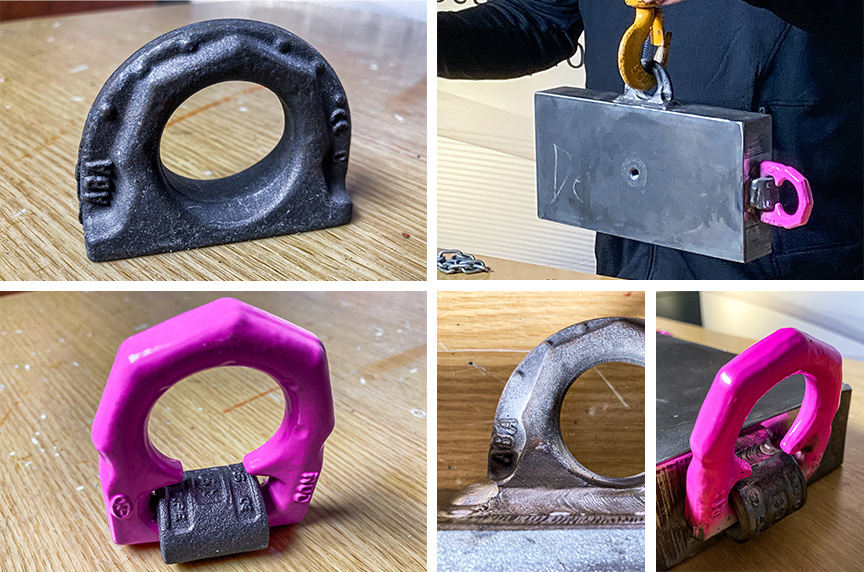 ABA
The ABA is a universal lifting and lashing point. It has a beveled edge, which makes it easy to weld onto your load.
It can be loaded and lifted from any direction. In a worst-case scenario, when it is used at an angle, the load still can be lifted. RUD offers this product up to 31.5 tons.
ABA Characteristics
The ABA has several characteristics that make it versatile for in-field use, including:
Patented markings for easy determination for removal from service
Tempered base body, which is wear-resistant
Can work in temperatures from -40°C to 400°C
VLBS
With the VLBS, the main advantage is it has a spring, which actually helps it remain upright. This allows for one-handed welding when it is attached to the load.
The other advantage is when there's no load on it, you can fold it down, and it's out of the way. If you're working on the backside or front side of the load, it's out of your way. RUD offers this product good for lifts up to 16 metric tons.
VLBS Characteristics
The VLBS is forged out of high tensile CrNiMo (Chromium-Nickel-Molybdeum)– steel with an innovative design that offers many advantages:
Up to 50% higher working load limit
The two protective supporting lugs (inside the load ring) are patented, and they improve the connection with the attachment, in addition to the protected clamping spring.
The support effect is exceptional, especially if the ring is side-loaded or the lifting point is welded on an uneven workpiece
Pink powder coating, which is a recognition attribute and heat indicator

Easy and quick-to-weld assembly

Compact and shapely design

High dynamic and static strength

Can work in temperatures from -40°C to 400°C
***Once these products are welded on, they become part of the equipment. They no longer become a lifting point where they can be taken out.
How Can Mazzella Help You with Your Lifting and Rigging Needs?
---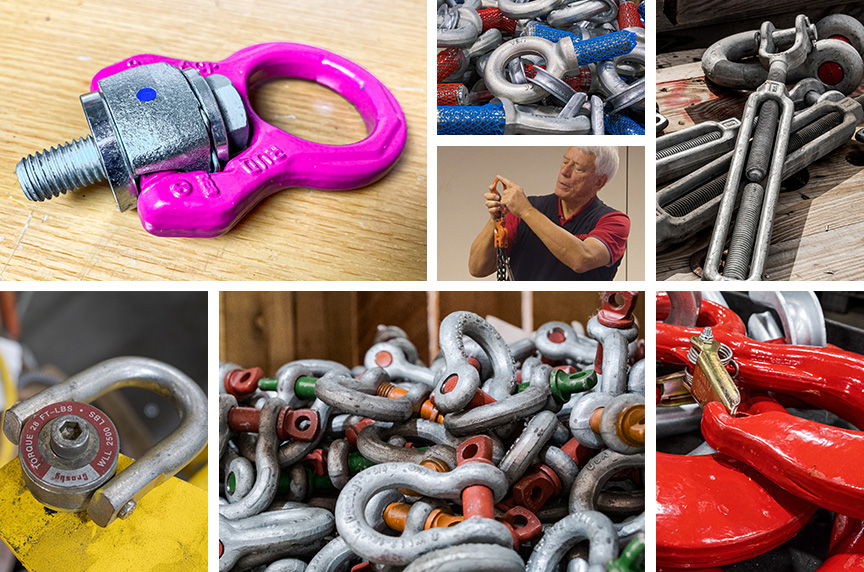 At Mazzella, we have you covered when it comes to all of your lifting and rigging needs. With our ready stock inventory, we offer all industries a variety of lifting and rigging devices.
Hardware
We offer one of the largest and most complete inventories of rigging and lifting products in the country from some of the largest manufacturers in the world. Some of the products we stock are:
Rigging Training
If you require a specific training course for OSHA compliance for slings, hoists and / or rigging hardware, Mazzella can assist you in creating a safe and reliable workplace.
Our rigging training focuses on:
Overhead cranes
Below-the-hook lifters
Lifting slings
Rigging hardware
Wire rope
All Mazzella trainers have been accredited by our company through training with a third-party training company (Industrial Training International, Inc.), Mazzella Companies' internal Train-the-Trainer program, and are trained on OSHA and ASME standards.
Also, we provide site assessments. The purpose of an assessment is to systematically observe and record your lifting and rigging procedures, equipment, and records. This is not an inspection, but rather, a general assessment by which opportunities for improvement may be identified.
Rigging Inspection Services
OSHA 1910.184, ASME B30.9 Slings, ASME B30.20 Below-the-Hook Lifting Devices, ASME B30.26 Rigging Hardware & ANSI Z359 require…
Periodic, documented inspections on slings, rigging hardware, lifting devices, and fall protection every 12 months, at minimum, and monthly to quarterly in more severe service conditions.
Our rigging inspectors are certified to make sure your products meet OSHA and ASME requirements. Also, we provide personal fall protection inspections and basic level non-destructive testing (NDT) inspections to support our visual inspections.
Call us at 800.362.4601, or click here if you need inspections for rigging hardware, training, or any of our other services.
---
---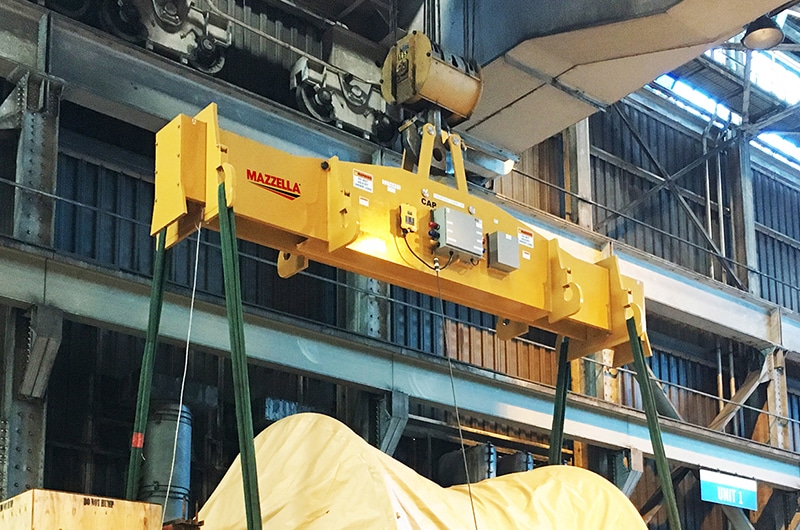 Below-the-Hook Lifting Devices
We have more than 65 years of experience in designing and developing custom engineered products, below-the-hook lifting devices, and lifting attachments for use with all types of cranes.
On-staff engineering and our commitment to ISO 9001: 2015 guides us to continued success in quality products and processes.
Copyright 2023. Mazzella Companies.